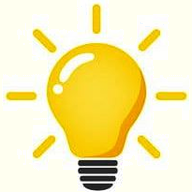 Whatever I Fancy Blog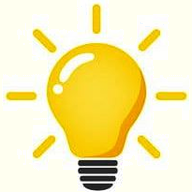 incorporating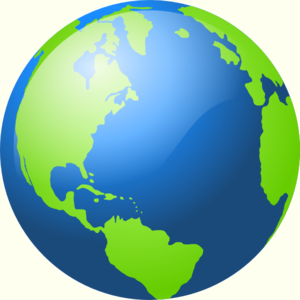 Climate Blog UK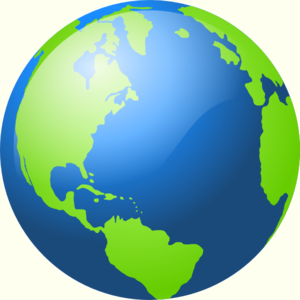 and 'living with'

Coronavirus Blog UK

Comment | Opinion | Questions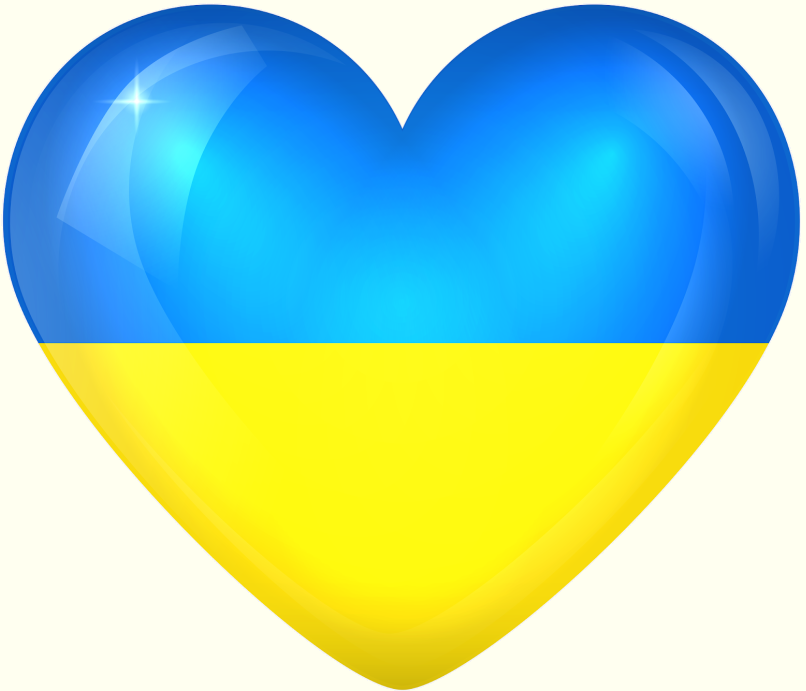 [Entries are in reverse date order, latest at the top. Comments and cont­ri­but­ions are welcome to the email address at the bottom.]



Tuesday 31st January





This is uplifting, a beacon of light amidst the chall­eng­ing gloom of climate threat and food pov­er­ty, a wel­come coun­ter­point to the rot­ten ant­ics of the gov­ern­ment. We've just been inv­ited by friends to an even­ing at The Long Table, as worthy a Stroud inst­it­ut­ion as you can get.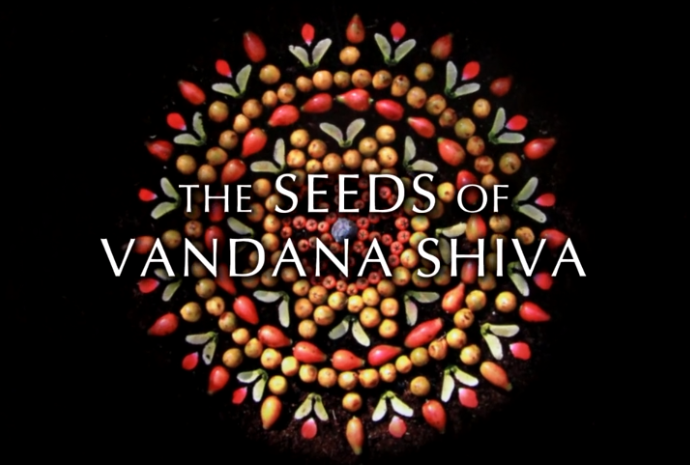 Stroud Film Festival

The Seeds of Vandana Shiva

Saturday, 18 February 2023 5:00pm-9:00pm





"How did the wilful daughter of a Himalayan forest cons­erv­ator bec­ome Mons­anto's worst night­mare? The Seeds of Van­dana Shiva tells the rem­ark­able life story of Gand­hian eco-act­iv­ist Dr. Vand­ana Shiva, how she stood up to the corp­or­ate Gol­iaths of ind­ust­rial agr­icul­ture, rose to prom­in­ence in the seed sav­ing and orga­nic food move­ments and is insp­ir­ing an int­ern­at­ion­al crus­ade for change. The Long Table are del­ight­ed to be part­ner­ing with Stroud Film Fest­iv­al to host this screen­ing of The Seeds of Vand­ana Shiva, a film which res­on­ates so strongly with our aim of incr­eas­ing local food res­il­ience and put­ting food at the centre of the comm­un­ity.





"Pre- screening, we will be serving a del­ic­ious meal, Long Table style, which will of course be pay-as-you-can."


Here's some more blurb from the Long Table website:

"The Long Table was founded by Tom Herbert and Will Mansell in an old Brims­combe ware­house in 2018. This happ­ened after Tom met with Will Mans­ell of The Grace Net­work, of which The Long Table is now a key part. They shared a mut­ual dis­may of how soci­ety is doing food badly, leav­ing people un­well and lone­ly. Shame­ful­ly, one third of all food grown and prod­uced is never eaten. And so a new kind of Com­mun­ity Int­er­est Comp­any was born, with a team from a vari­ety of soc­ial roots that shared one vision. Our aim is to make loc­ally sourced and lov­ing­ly prep­ared food avail­able to every­one, reg­ard­less of their soc­ial or fin­anc­ial back­ground. Something we now call Food Equa­lity."


Visit the website here:


Monday 30th January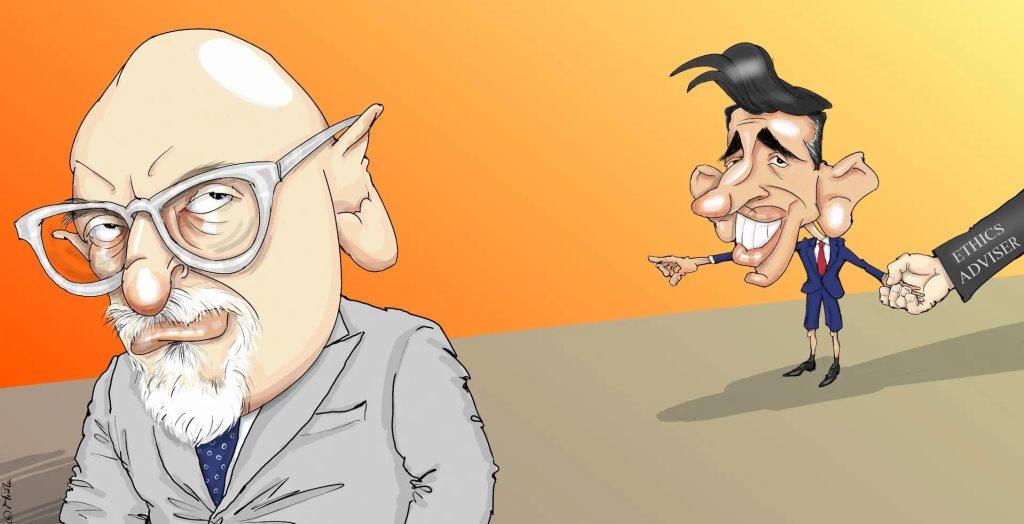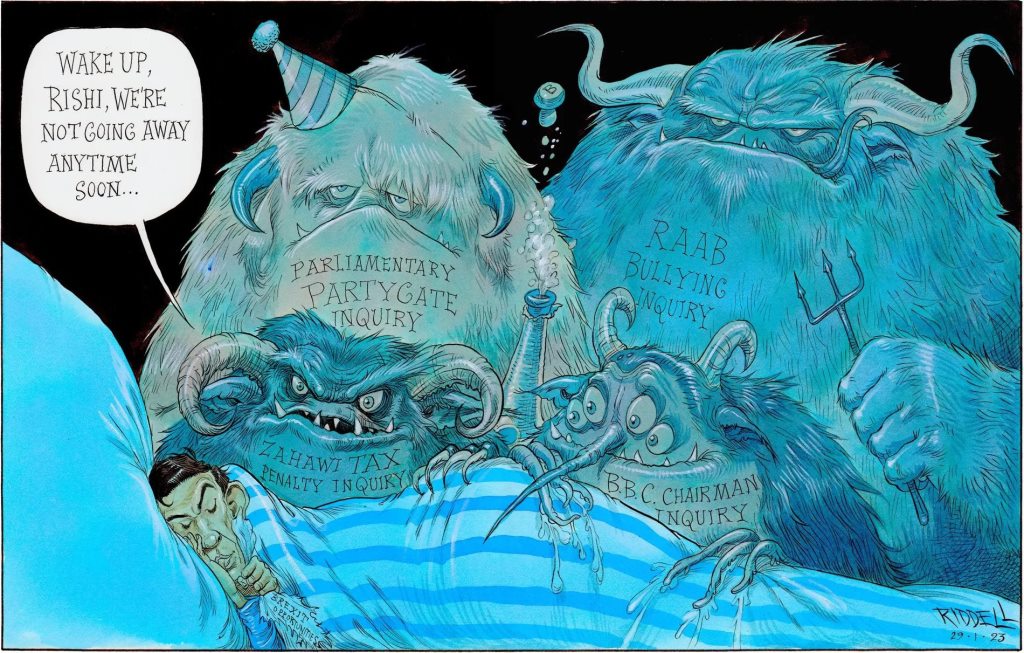 How telling that the number one story yesterday should have been about the sack­ing of the chair­man of the Cons­erv­at­ive Party. Not news of econ­omic prog­ress, a break-through scien­tif­ic dev­el­op­ment nor just­ice ach­ieved for a des­erv­ing ord­in­ary person. Nope. Just self-seek­ing Tory sleaze and dis­hon­esty.

What a shame that I should have been scouring the GOV.UK web­site not for use­ful guid­ance or exp­lan­at­ion but for the off­ic­ial #tax­gate letters sent by Sir Laurie Mag­nus, Rishi Sun­ak and Nad­him Zah­awi. Yes, they are there ... but what a waste of time and money, doc­um­ent­ing the trans­gress­ions of our lead­er­ship rather than their ach­ieve­ments. I'm sure you've seen them but for the record here they are: Magnus to Sunak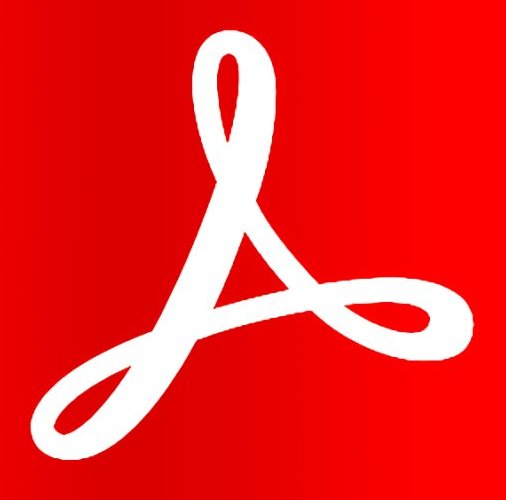 , Sunak to Zahawi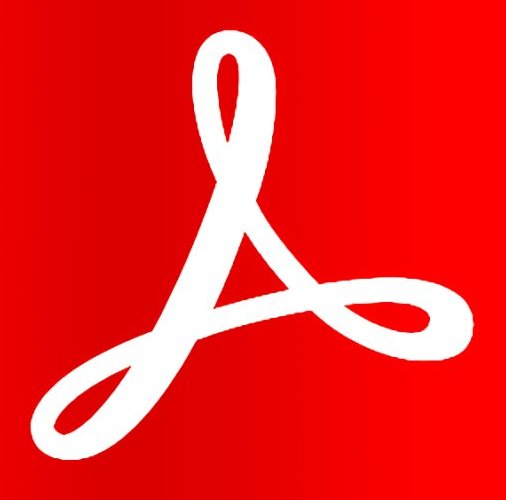 and Zahawi to Sunak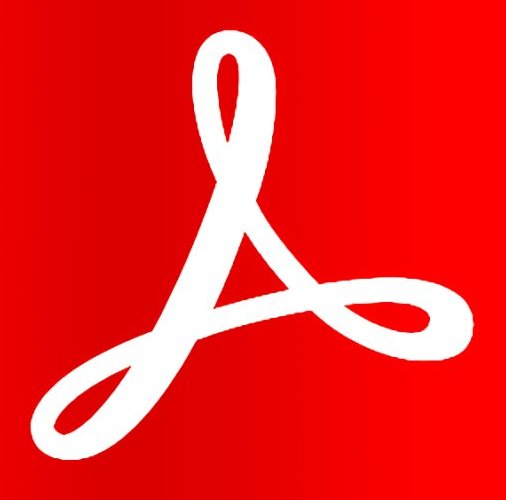 .

Sunak said:


"It is also with pride that I, and previous Prime Ministers, have been able to draw upon the services of a Kurdish-born Iraqi refugee at the highest levels of the UK Government."


Zahawi commented in reply:


"I arrived in this country fleeing persecution and speaking no English. Here, I built a successful business and served in some of the highest offices in government."


Which privilege he then abused.

This is the government hell-bent on making more diff­ic­ult the lives of the des­per­ate seek­ing sanct­uary.

Sunday 29th January


The joke's (almost) over now. No first match fairy tale victory, cruelly denied in extra time: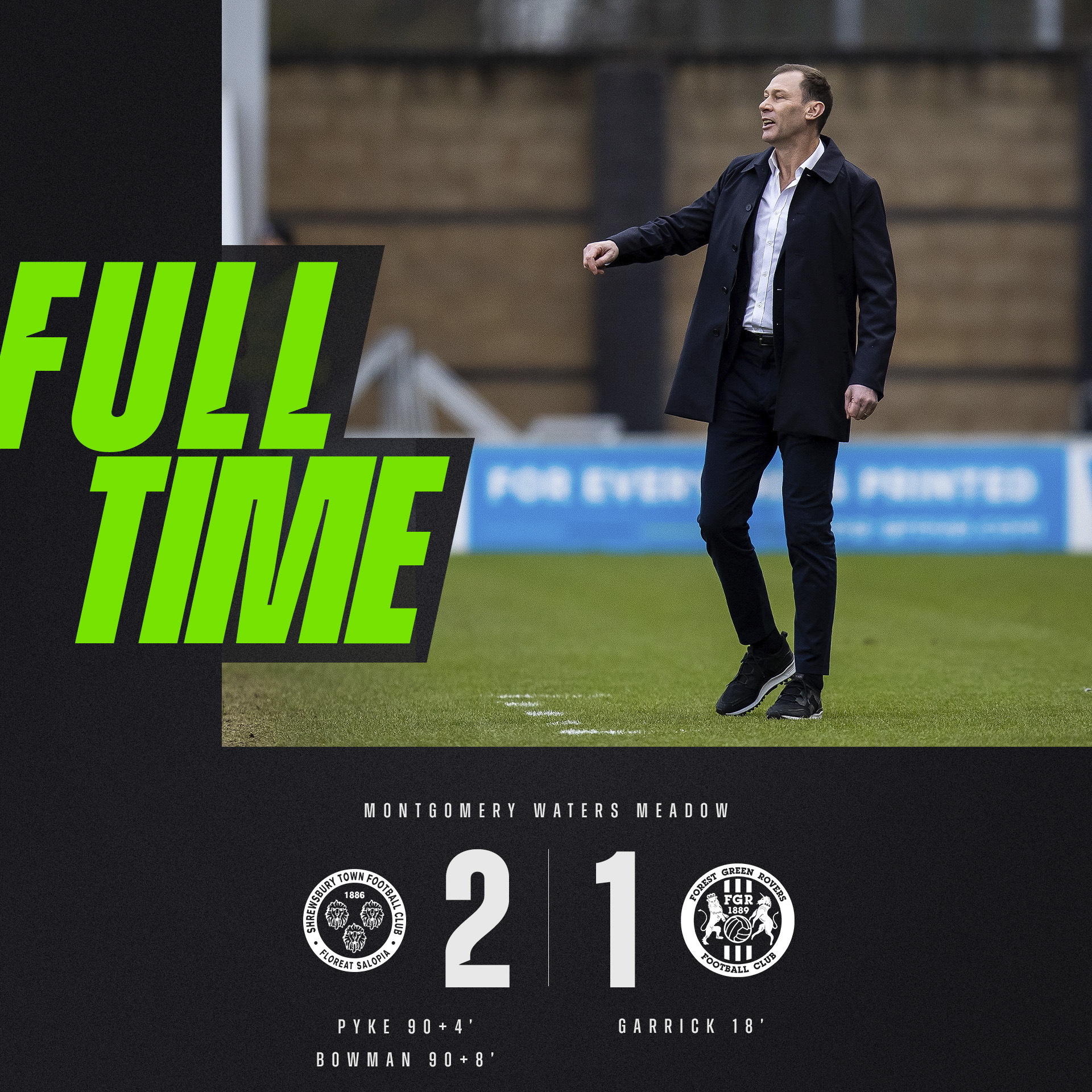 I reckon Big Dunc told the lads to get stuck in:





Meanwhile, I have the answer to my vegan question of two days ago:




"The earth is warming up, isn't it?" No shit, Dunc.

Would this have helped tired FGR legs in the dying moments of the game? Son Ben sent a photo of Thursday's birthday lunch in Bilbao: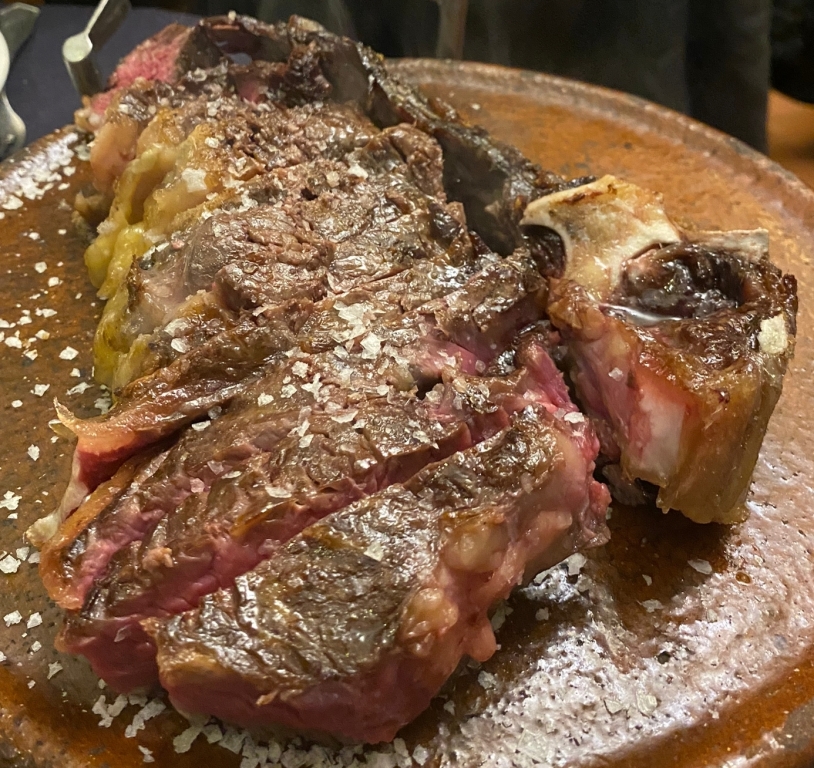 Saturday 28th January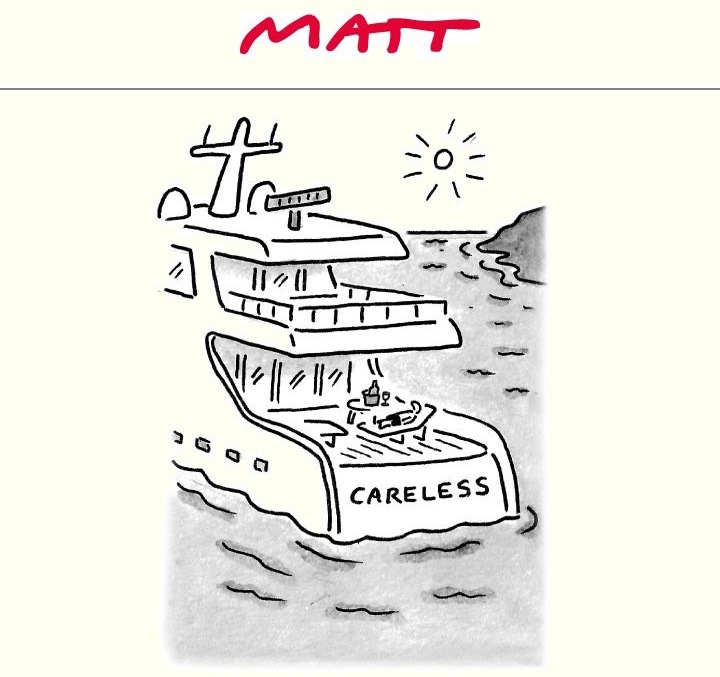 Friday 27th January


Football and Forest Green Rovers again today. Apol­og­ies to those not int­er­est­ed - but it's quite a story.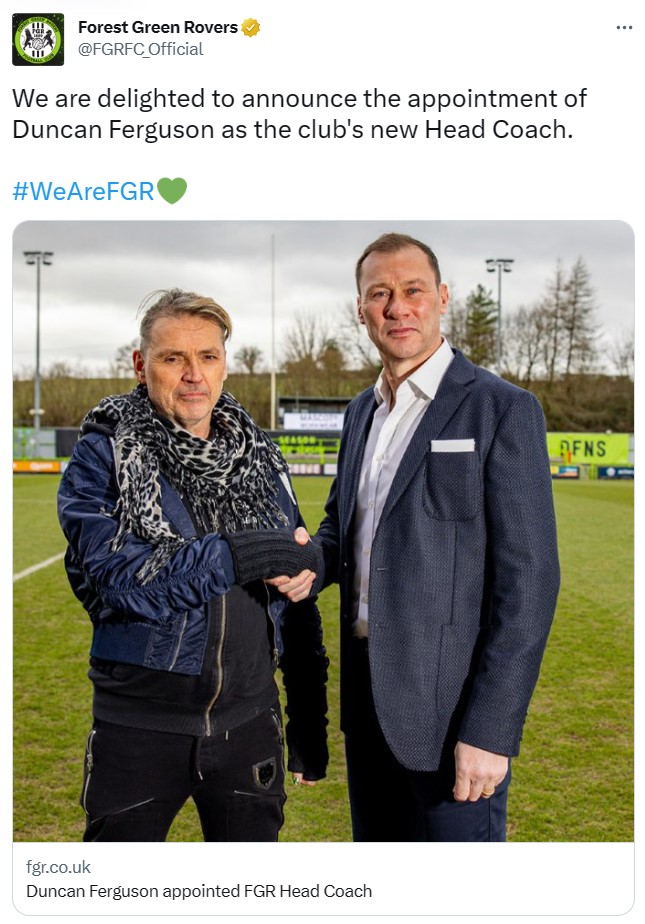 A bit of background for the uninitiated. "Big Dunc" - 6' 4" - was in his play­ing days a rob­ust No. 9 for Scot­land and most prom­in­ent­ly for Ever­ton. Good with his head, both on the pitch and ...

... off. Here's a chunk of his Wikipedia entry:


"Ferguson has had four convictions for assault - two arising from taxi rank scuffles, one an altercation with a fisherman in an Anstruther pub, and one for his on-field headbutt on Raith Rovers defender John McStay in 1994 while playing for Rangers, which resulted in a rare conviction for an on-the-field incident. The first incident led to a £100 fine for headbutting a policeman and a £25 fine for a Breach of the Peace, while the second resulted in a £200 fine for punching and kicking a supporter on crutches. He was sentenced to a year's probation for the third offence. For the 1994 on-the-field headbutting, he received and served a three-month jail term for assault."


Ferguson was burgled in 2001 and 2003. On both occasions the robbers were hospitalised. They clearly hadn't done their homework.

Sounds ideal. It's going to be a scrap to avoid rele­gat­ion from League One, so we need a bit of a braw­ler. I like his sec­ond nick­name even more: "Duncan Disorderly".

It gets better. According to ClassicFM and other sources, little-known Fin­nish comp­oser Osmo Tapio Räi­hälä ded­ic­ated one of his works to the centre-forward. It's called "Barl­innie Nine", pres­um­ably a ref­er­ence to HM Pri­son Barl­inn­ie where Ferg­uson served time and his Ever­ton shirt number. The orch­est­ral piece was prem­iered on the same day in 2005 that Ferg­uson scored the only goal in a game against Man­ches­ter United, Ever­ton's first win over ManU in 10 years.

It's true. Räihälä said:


"I got the idea for it when he was facing jail and had just become something of a cult figure for Everton. It takes into account the contradictions in him: he has an aggressive side but there is a lyrical undertone, as the fact that he keeps pigeons shows."


I don't expect you to listen to all 12 minutes of the prem­iere perf­orm­ance, but for the record here it is, on 20th April 2005 at the Fin­land­ia Hall, Hels­inki, play­ed by the Finn­ish Radio Symp­hony Orch­est­ra, cond­ucted by Sakari Oramo:




The appointment has gone down well with the FGR faith­ful on the Twit­ter­sphere. Ann­ounc­ed the day after Burch­nall dep­art­ed, Dale Vince must have had this in the pipe­line. A canny move? I'm off to the book­ies to find out what odds I can get on FGR escap­ing the drop. I should have gone two days ago.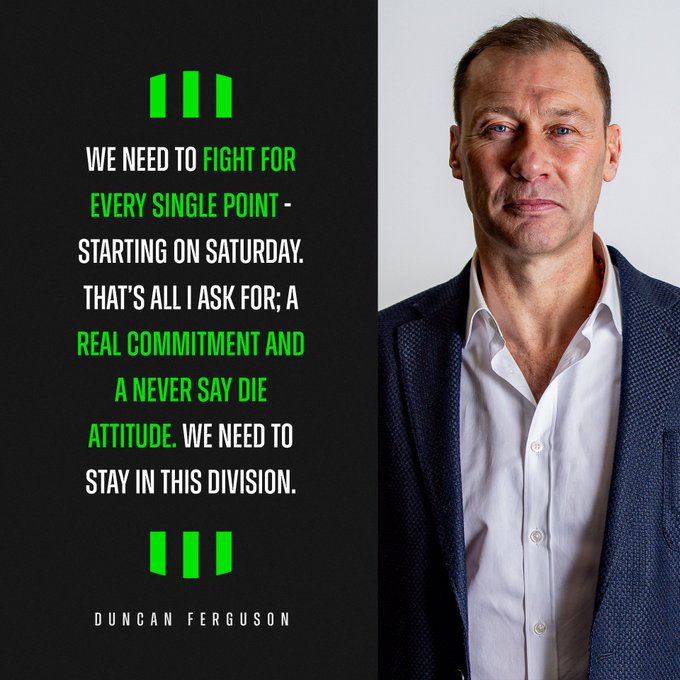 Has anyone told him he's a vegan from now on?

Thursday 26th January


Oh dear. Forest Green Rovers hit the buffers.





Manager pays customary price.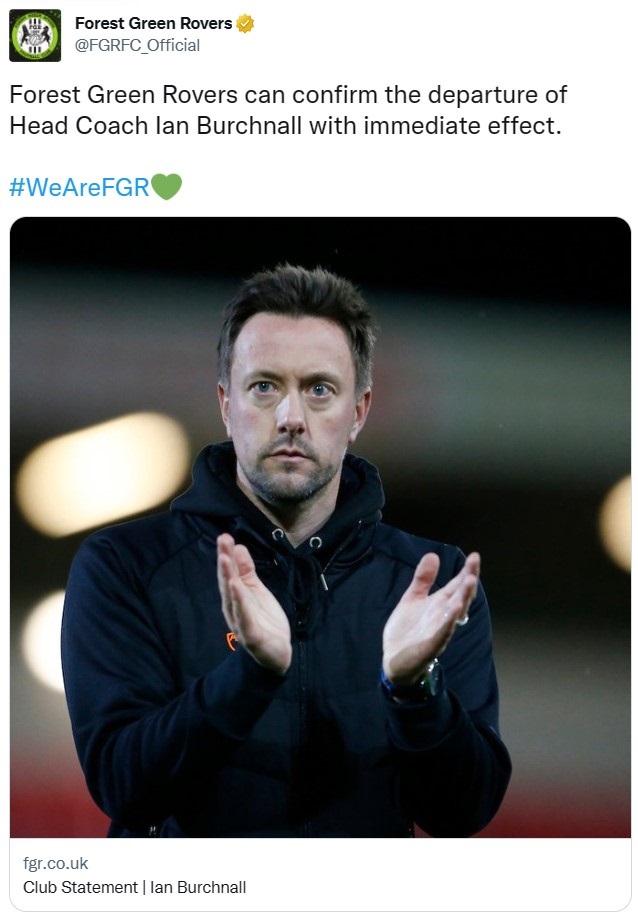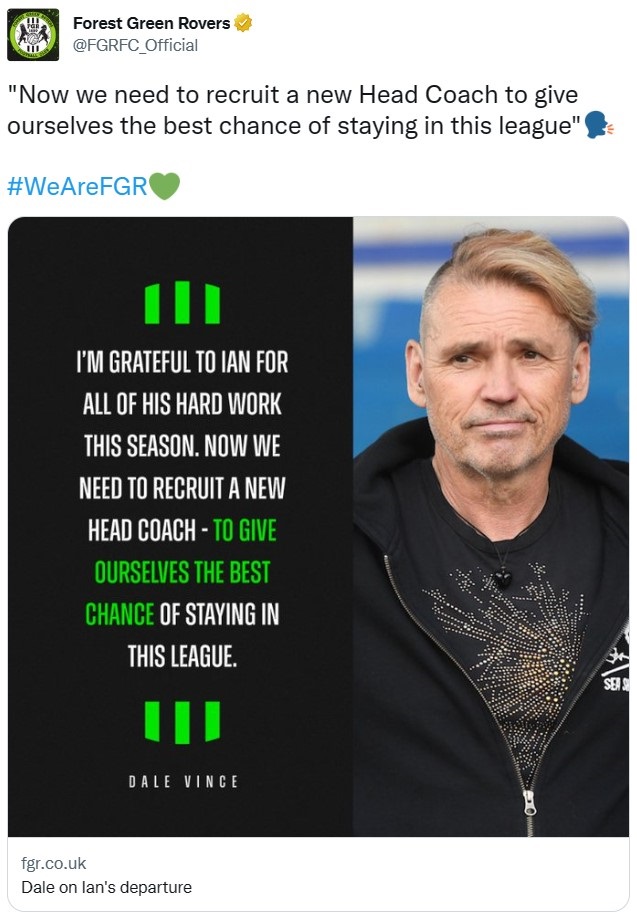 Too much red:





It didn't stop Dale making a trip to Vienna last week (OK, he went by train) to give Arnie some diamonds.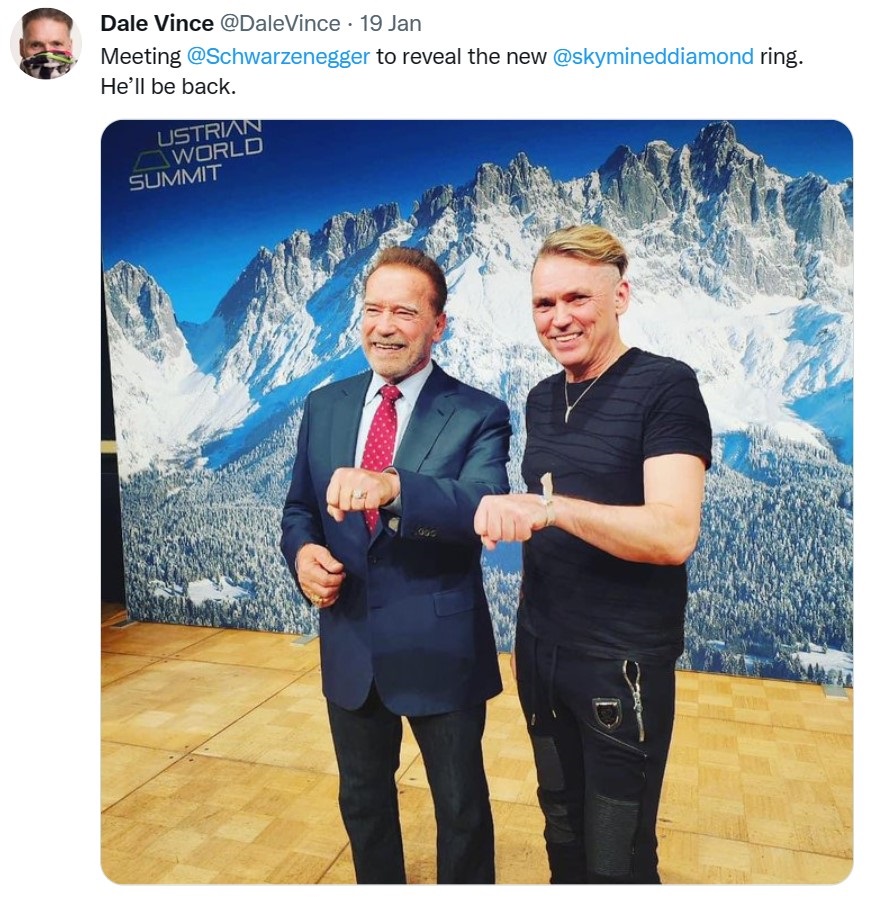 Maybe that's why FGR are bottom of the league. Distracted by bling.

Chris Taylor writes from Udine:


"Meanwhile Udinese have refound their winning ways (Samp­doria 0 Udin­ese 1) and are resp­ect­ably well above half­way in the Serie A table. I and my son-in-law will be at the Stadio Friuli on Monday night to see what they can do against Verona. Watch this space."


Alè Udin!



Happy Birthday to son Ben in Bilbao!

Wednesday 25th January


This poster went up in a Middle Street window two days ago: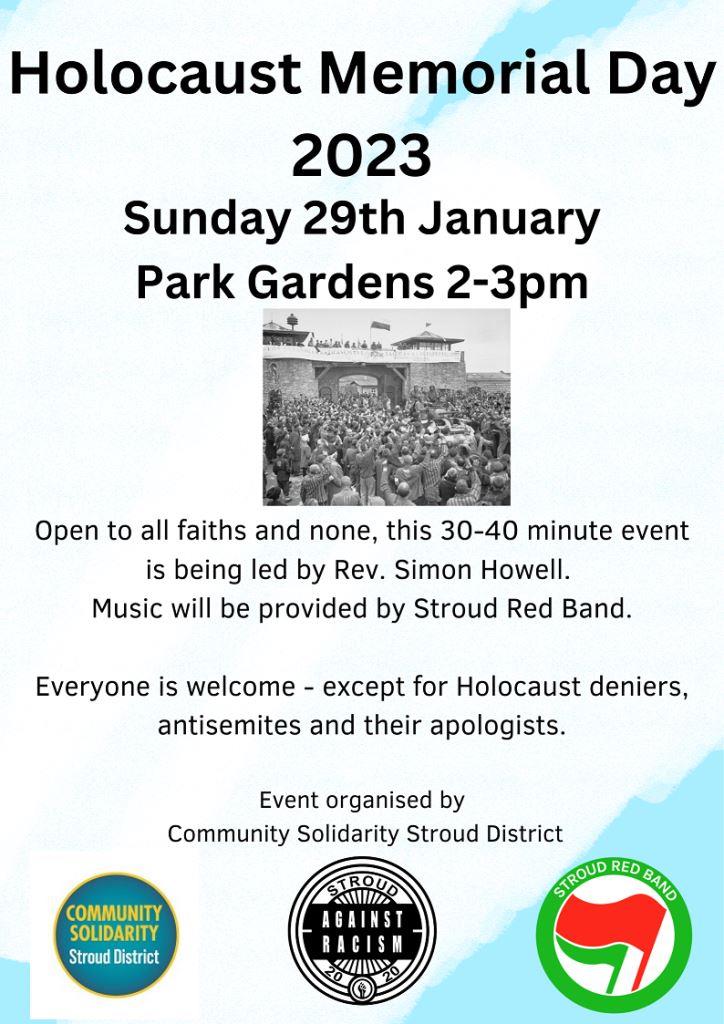 As you can see at the bottom right, the Stroud Red Band will be playing. Their web­site exp­lains:

"We are an extension of the London Big Red Band, which has been in existence since the 1980s. Like them we play music from the heritage of the labour, socialist and international solidarity movements. We play at demonstrations, marches and benefits when we can."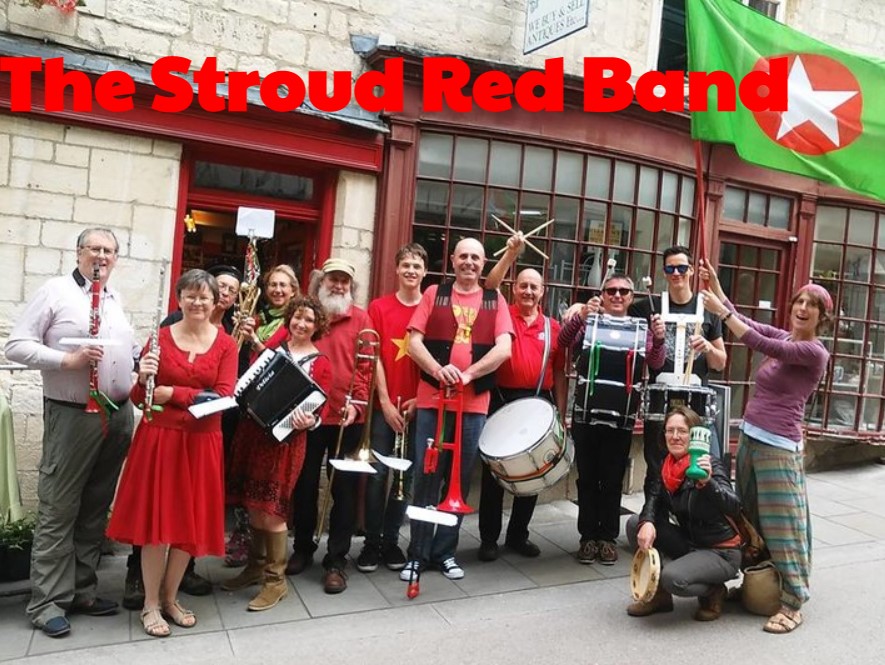 "Tunes in the repertoire: Di Shvue ('The Oath', the song of the Jewish Workers' Bund), Zog Nit Keynmol (WW2 Jewish Partisans' Song), The White Cockade (for which the words of the Red Flag were originally written), I Wish I Knew How it Would Feel to be Free, One Love ..."


Here we come, sadly, to some evidence of conflict in Stroud. I wrote in Dec­emb­er last year about opp­os­it­ion to the pedd­ling of The Light news­paper in the High Street 👉. You will have not­iced in the pos­ter at the top that cert­ain groups are not invi­ted to the mem­or­ial event on Sun­day: "Every­one is wel­come - except for Holo­caust den­iers, anti­sem­ites and their apol­og­ists". I saw on YouTube these plac­ards disp­layed by supp­ort­ers of the Stroud Red Band as they busked in town: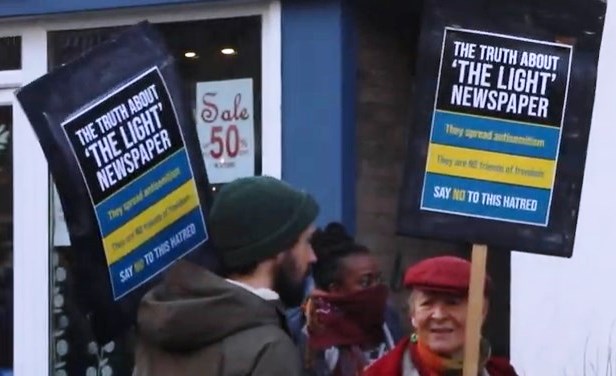 It will be deeply regrettable if the Stroud (Mis)InfoHub go large on this over the week­end (the off­ic­ial mem­or­ial day is 27th Janu­ary, this Friday). They wouldn't show up on Sun­day, would they? Please no.

To read more about this weekend's events you can visit the web­site of the Holo­caust Mem­or­ial Day Trust (HMDT), a char­ity est­abl­ished and funded by the UK Gov­ern­ment, by click­ing below:
The HMDT has a theme for 2023 of "ord­in­ary people". It's a prov­oc­at­ive thought:


"Genocide is facilitated by ordinary people. Ordinary people turn a blind eye, believe propaganda, join murderous regimes. And those who are persecuted, oppressed and murdered in genocide aren't persecuted because of crimes they've committed - they are persecuted simply because they are ordinary people who belong to a particular group (eg, Roma, Jewish community, Tutsi). Ordinary people were involved in all aspects of the Holocaust, Nazi persecution of other groups, and in the genocides that took place in Cambodia, Rwanda, Bosnia and Darfur. Ordinary people were perpetrators, bystanders, rescuers, witnesses - and ordinary people were victims."


Here is the full text of the theme document (6 pages):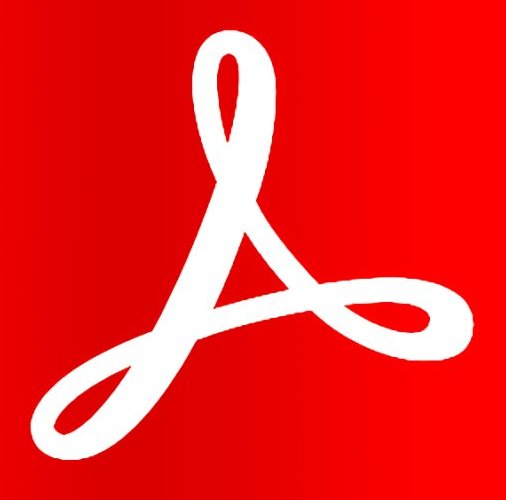 It contains a beautiful comic-strip image from the grap­hic novel "Irm­ina" by Mun­ich-based Barb­ara Yel­in, which I high­light here (click to enlarge):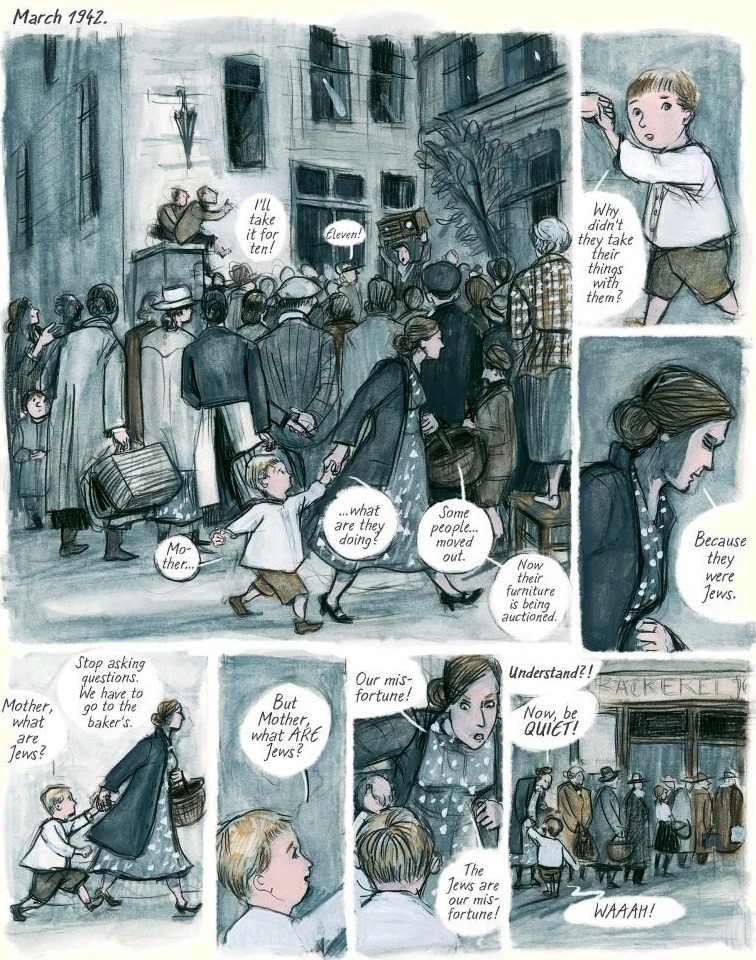 Tuesday 24th January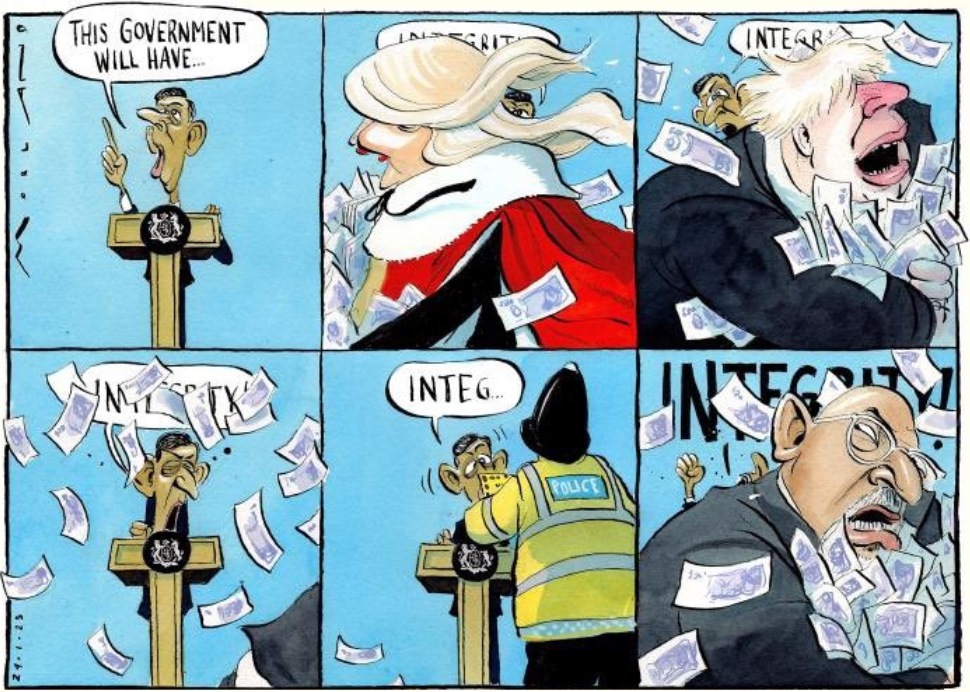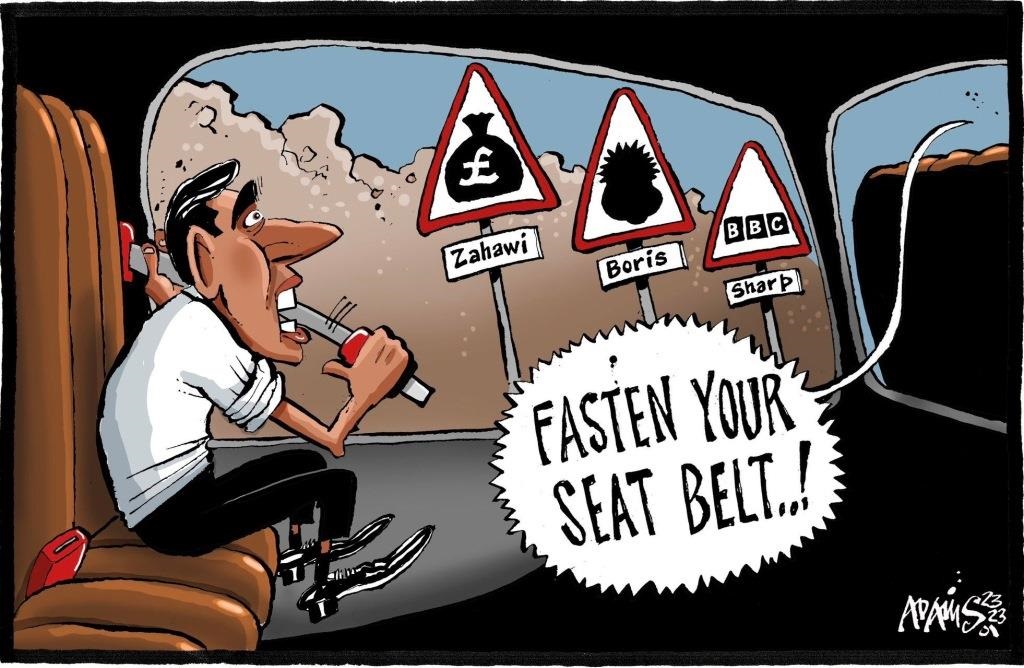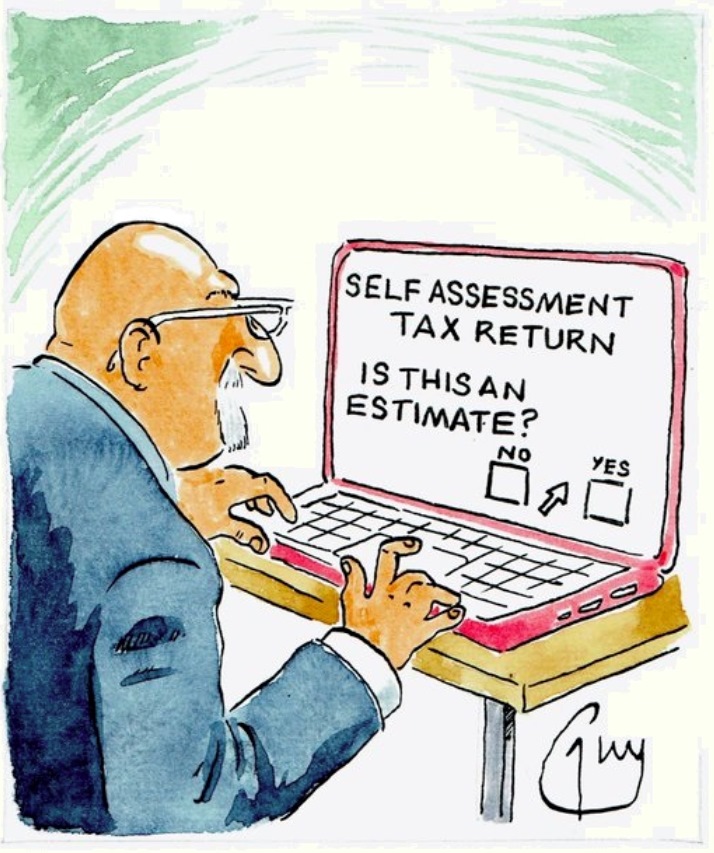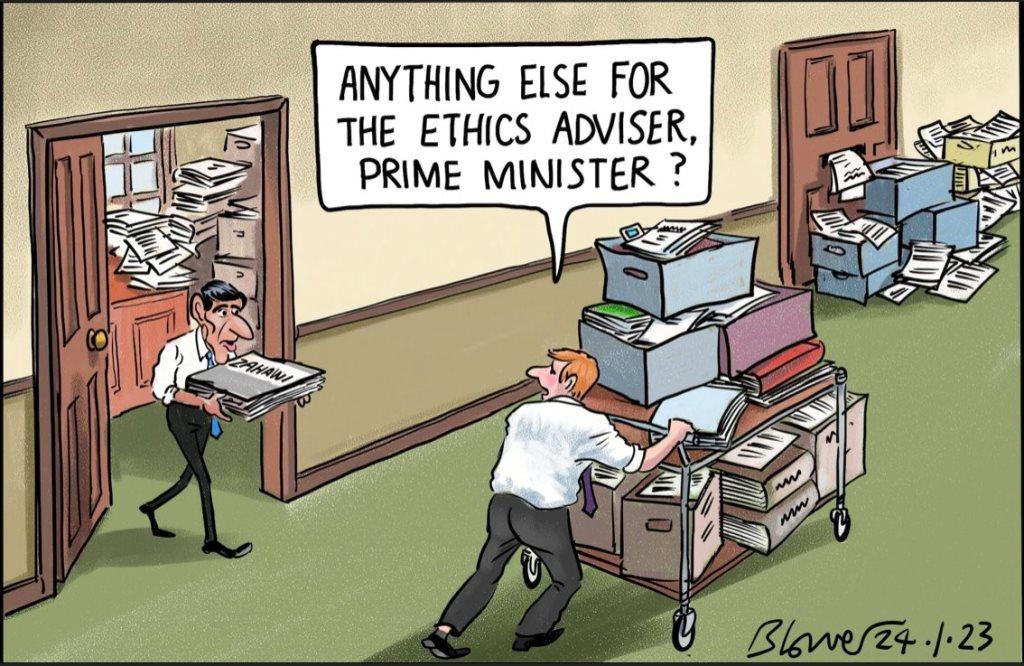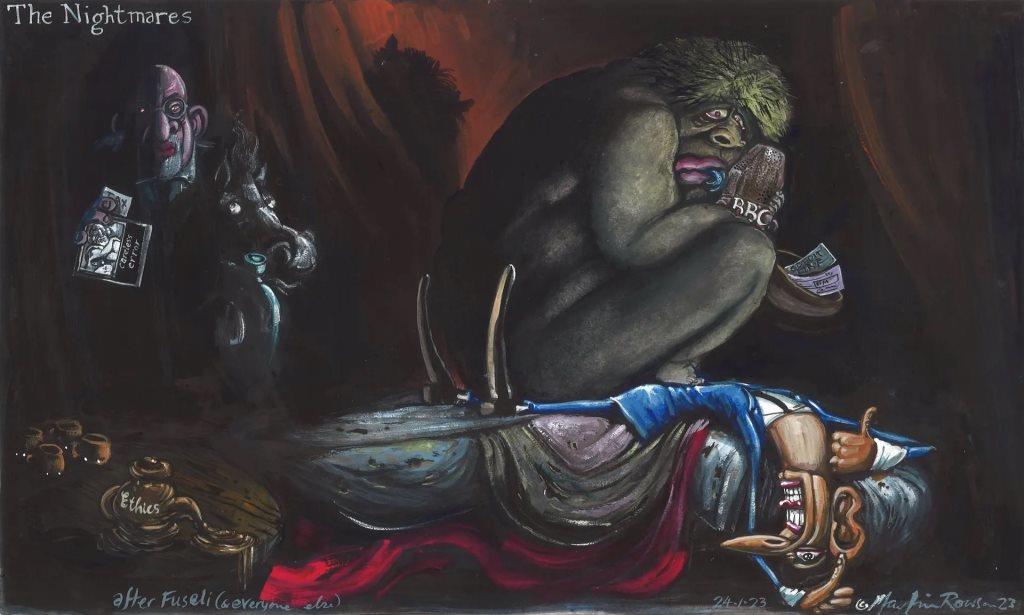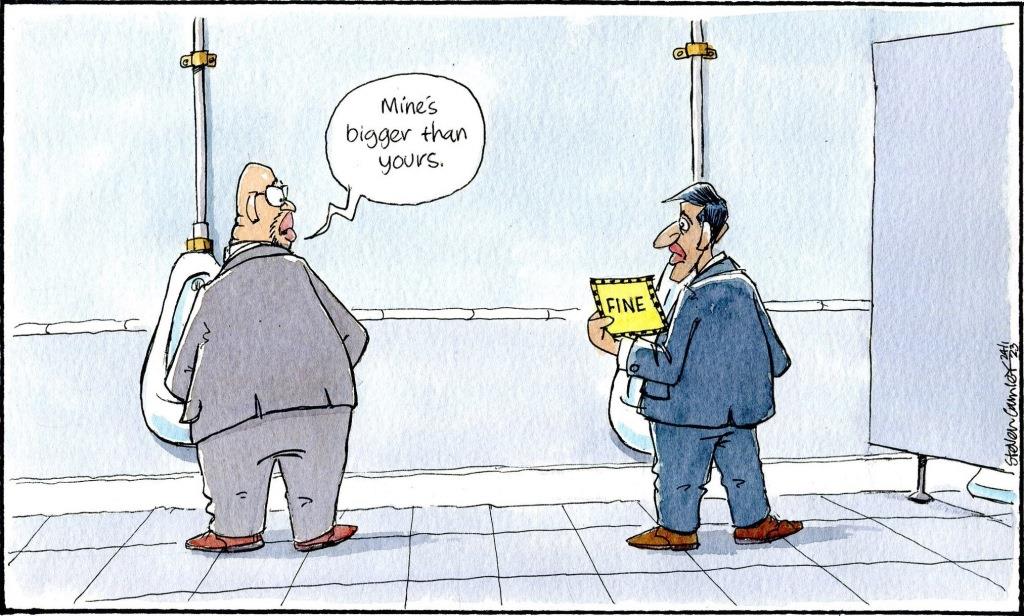 I've been trawling the international output of the pol­it­ic­al cart­oon­ists on the top­ic of Jac­inda Ard­ern's res­ign­at­ion. There has been plenty of crit­ic­ism dir­ected at her in words - jump-before-push, econ­om­ic cris­is, ris­ing viol­ence - but I can't find any from the cart­oon­ists, apart from the two below (the first rep­eat­ed from Friday), both of which are comm­ents on other world lead­ers rather than an att­ack on her. The sket­ches of her are not very flat­tering, but the joke and dis­dain are firmly aimed at the rest. Very unus­ual. Norm­ally - look at the stuff above tar­get­ting Sunak and cronies - any weak­ness, any whiff of hyp­ocr­isy, any inc­omp­et­ence is exp­osed with merc­il­ess glee. The abs­ence of such scr­ut­iny speaks pos­it­ive vol­umes about her.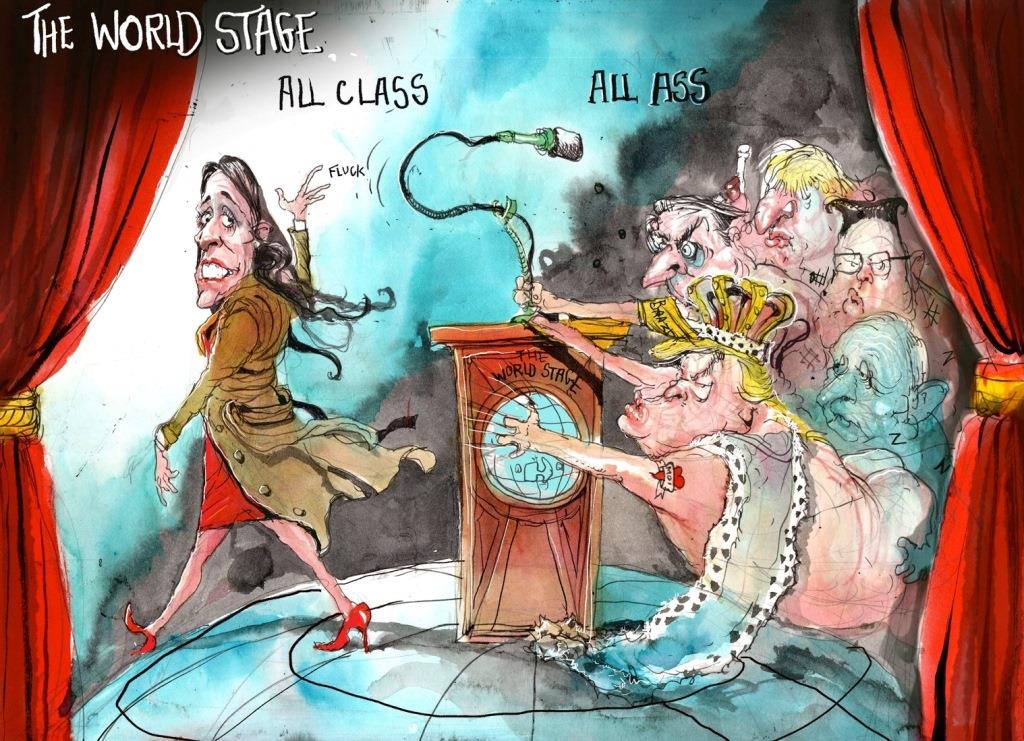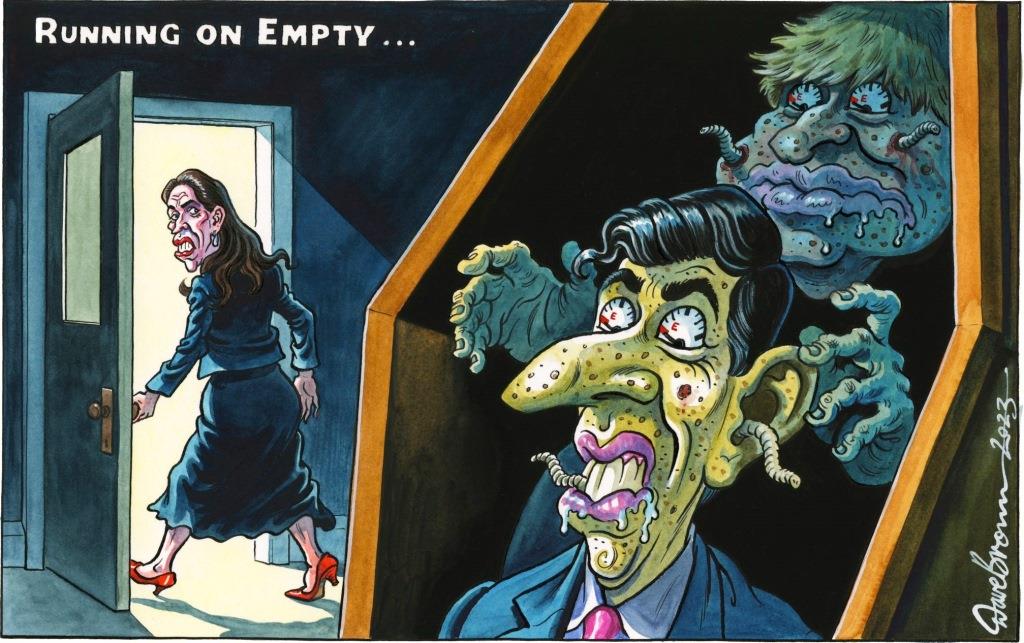 Sadly, we are left with the sleazeballs.

Sunday 22nd January


My dreams get odder every night.

This time I was an airline pilot. On my first flight from some­where in the Mid­dle East I was forced to crash land. Also on the sec­ond. Before the third - there seemed to be no move to ground me pend­ing in­vest­ig­at­ion, I was straight back into the pilot's seat - I felt obliged to give the pass­eng­ers a choice. "This is your cap­tain speak­ing. I can­not rel­iab­ly ass­ure you that you will arr­ive at your dest­in­at­ion in the nor­mal fash­ion. All of you who would pref­er to take an­oth­er flight, please feel free to leave the air­craft now." On this occ­as­ion I landed in a New York sub­urb, the nose of the 'plane nest­ling in an apart­ment be­long­ing to a large Ital­ian fam­ily tuck­ing into pasta and meat­balls. They welcomed me with a gen­er­ous portion. "Vieni, mangia!" No cas­ual­ties at any stage, no drama.

I can't begin to find an explanation.

Saturday 21st January


They don't get any better, do they? New crap every day.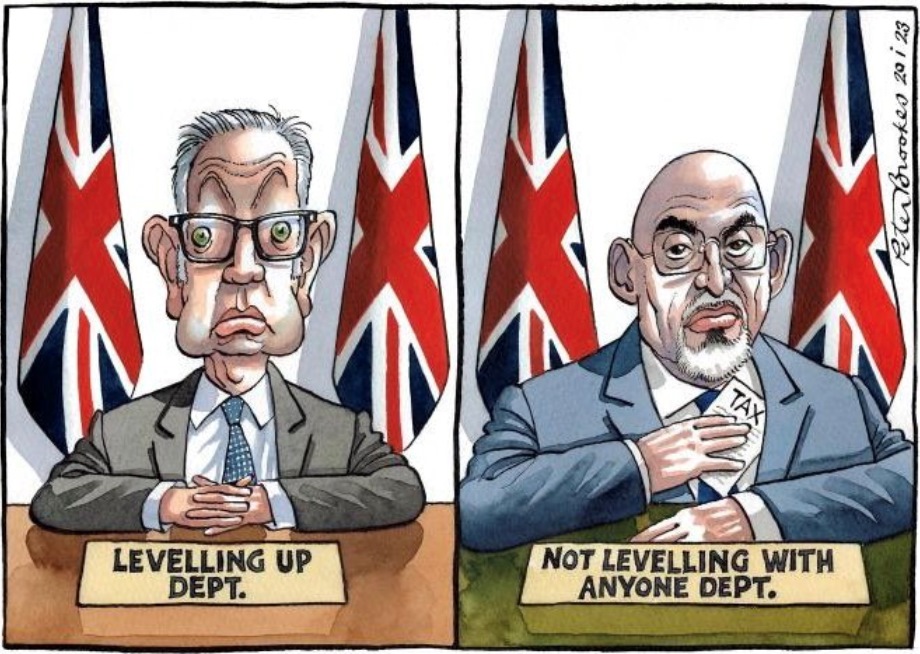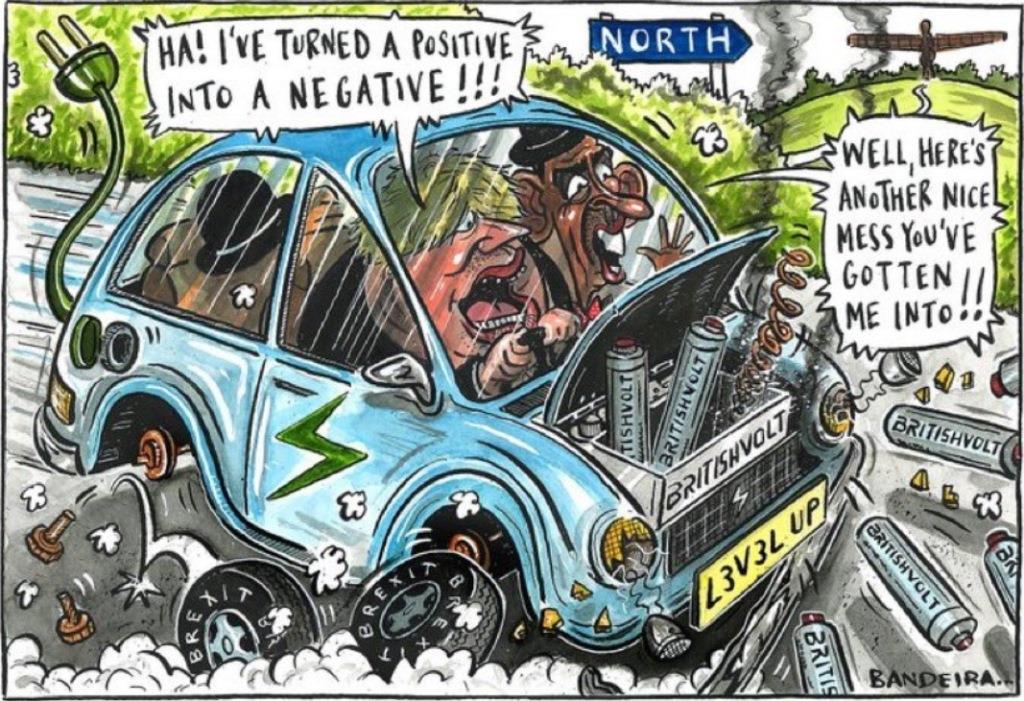 The seatbelt error is just dim, isn't it? Broad­cast a jolly level­ling-up video that shows my mist­ake, why ever not? Zahawi and tax - we expect this kind of Tory slime. The car batt­ery fiasco is, how­ever, the long-term out­come of wil­ful, syst­emic and idea­log­ic­al incom­pe­tence. Thatch­er­ite dest­ruct­ion of our mot­or-man­uf­act­ur­ing cap­ab­il­ity had al­ready left Brit­ish­volt with no nat­ion­al cust­om­ers. Given the barr­iers to trade and log­ist­ics raised by Brexit, which Eur­op­ean car maker would choose to buy from go-it-alone Blighty?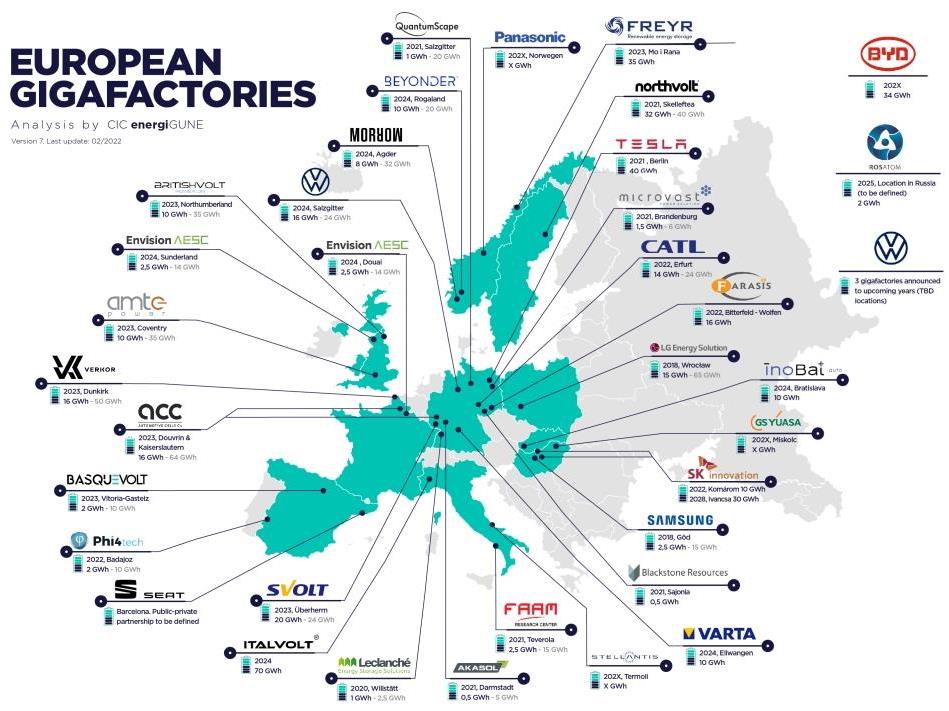 Friday 20th January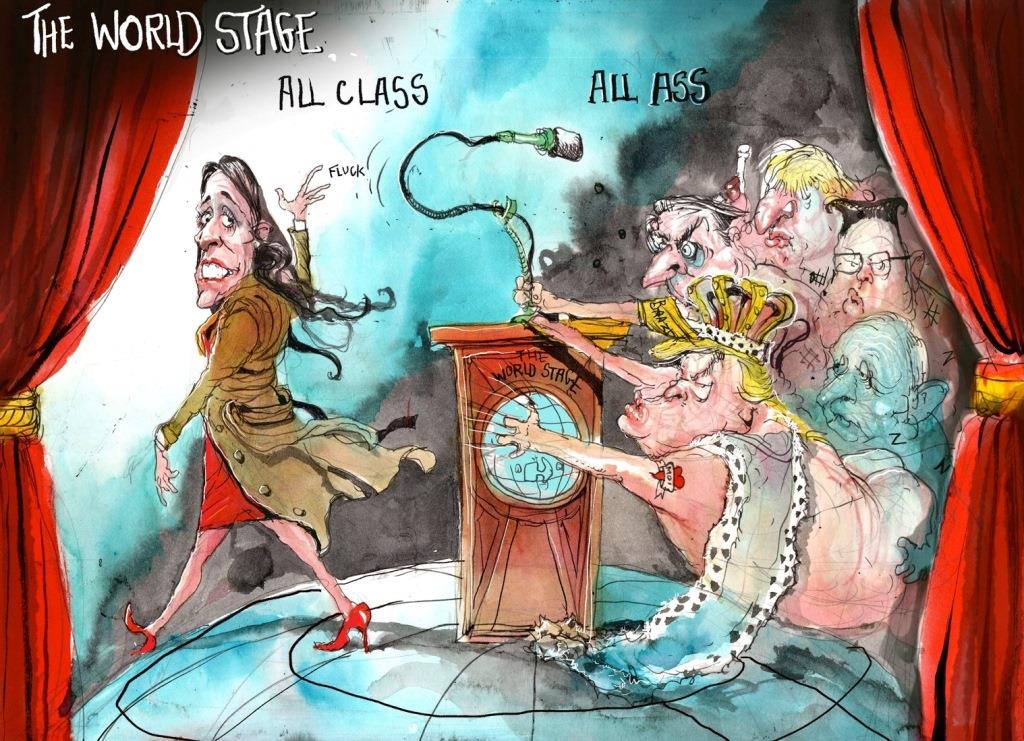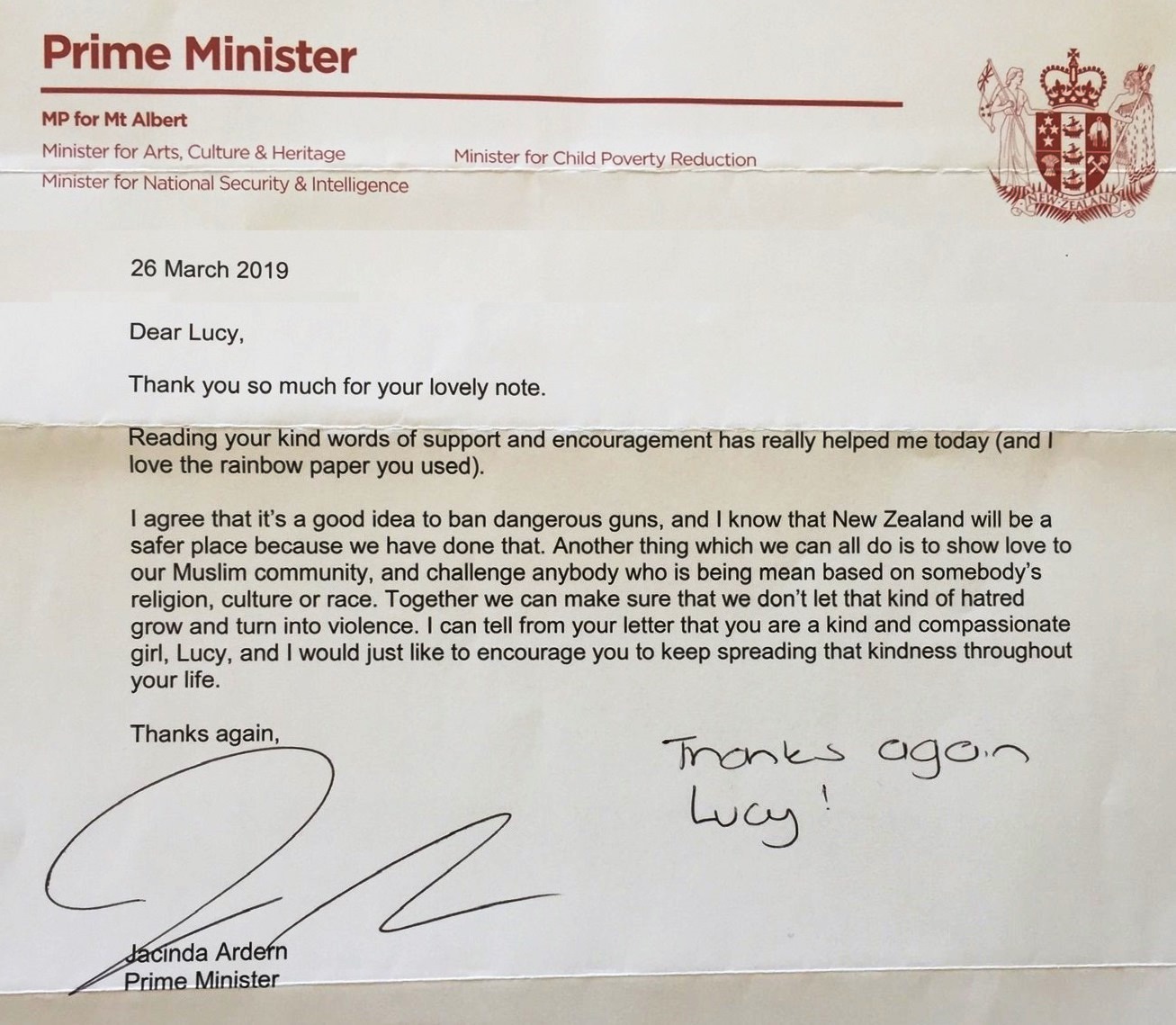 Tuesday 17th January


Absence from the blog­osphere for a few days. I've had a lurgy. Not Covid, nor 'flu, just the common cold. Still reas­on­ably deb­il­it­at­ing. Un­help­fully, I've not been able to keep awake in the day, nor manage to sleep at night - conn­ected, of course. Friends and neigh­bours have said that their dose went on for weeks. Mine's still here, but I hope it's fading now.

Grandson Marlie put up with me for the weekend. I barely went out. Fort­un­ate­ly his cur­rent pass­ion is suit­able for in­door act­iv­ity: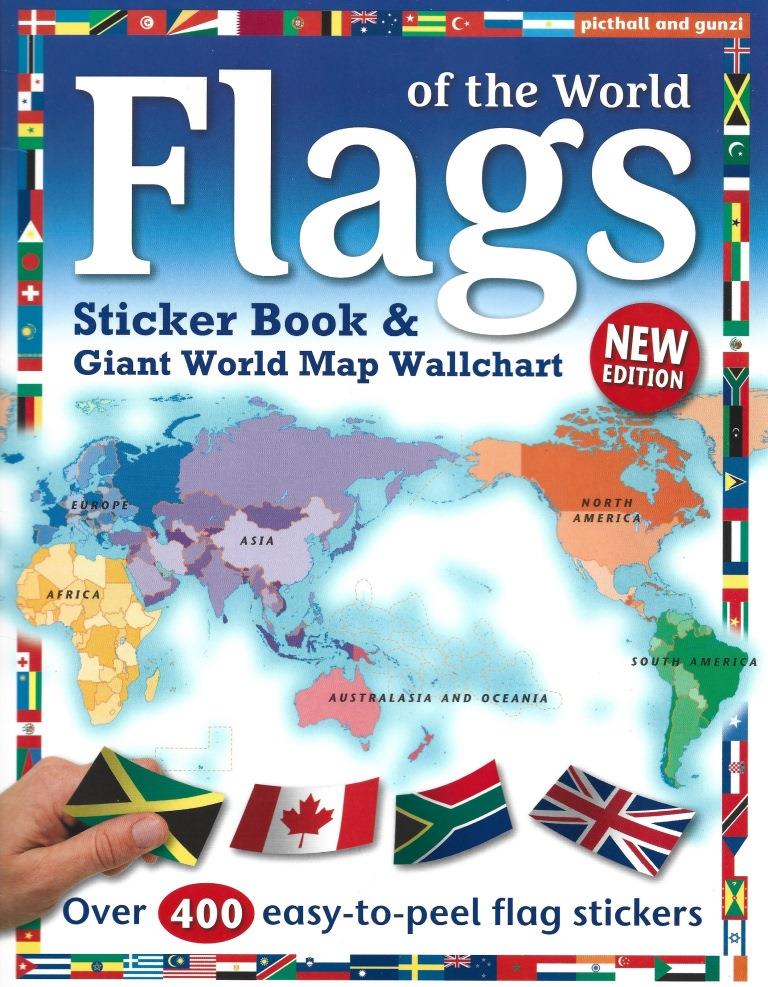 He came up with all kinds of "extension" activities: guess-the-flag, draw-the-flag, how-many-flags-do-you-know-with-stripes. There's a whole lot of story and detail behind each flag, like date adopted or who invented it. What's behind the selection of colours and shapes?

Half of Marlie's ancestry is Jamaican: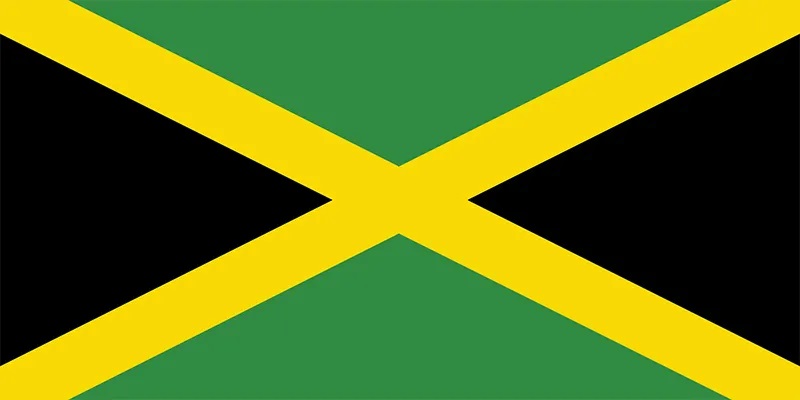 The flag was adopted on 6 August 1962, Jamaican Independence Day. 60 years to celebrate this summer. There'll be a party, won't there? The 1962 int­erpr­et­at­ion of the col­ours - "hard­ships there are but the land is green and the sun shin­eth" - was up­dat­ed in 1996 after a rev­iew init­iated by then prime min­ist­er P. J. Pat­ter­son to (cour­tesy of Wiki­ped­ia): "Black rep­res­ent­ing the strength and creat­iv­ity of the people which has all­owed them to ov­er­come diff­ic­ul­ties, gold for the wealth of the coun­try and the gol­den sun­shine, and green for the lush veg­et­at­ion of the island, as well as hope."

I thought I'd got Marlie with one question, but he knew the answer! It is curr­ent­ly the only nat­ion­al flag that does not cont­ain a shade of the colours red, white, or blue. Hmmm, shade of white?

Here's a quiz question for you, the answer to which is contained in previous pages of this blog. What are the only two national flags that display the country's map?

Friday 13th January


At the Goodwill evening before Christmas Stroud Dist­rict Tog­eth­er with Ref­ug­ees (SDTwR) ran a stall in Lans­down Hall. Vis­it­ors were inv­ited to write a mess­age of sup­port to ref­ug­ees and hang it on a tree. Nine­ty-one people did so. Here are two pict­ures, the first in the hall, the second after the tree was moved to the Christ­mas tree fest­ival in the par­ish church of St. Lawr­ence (click to enlarge):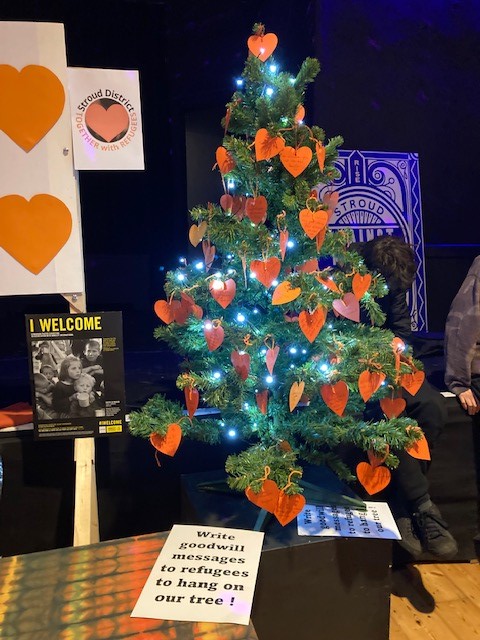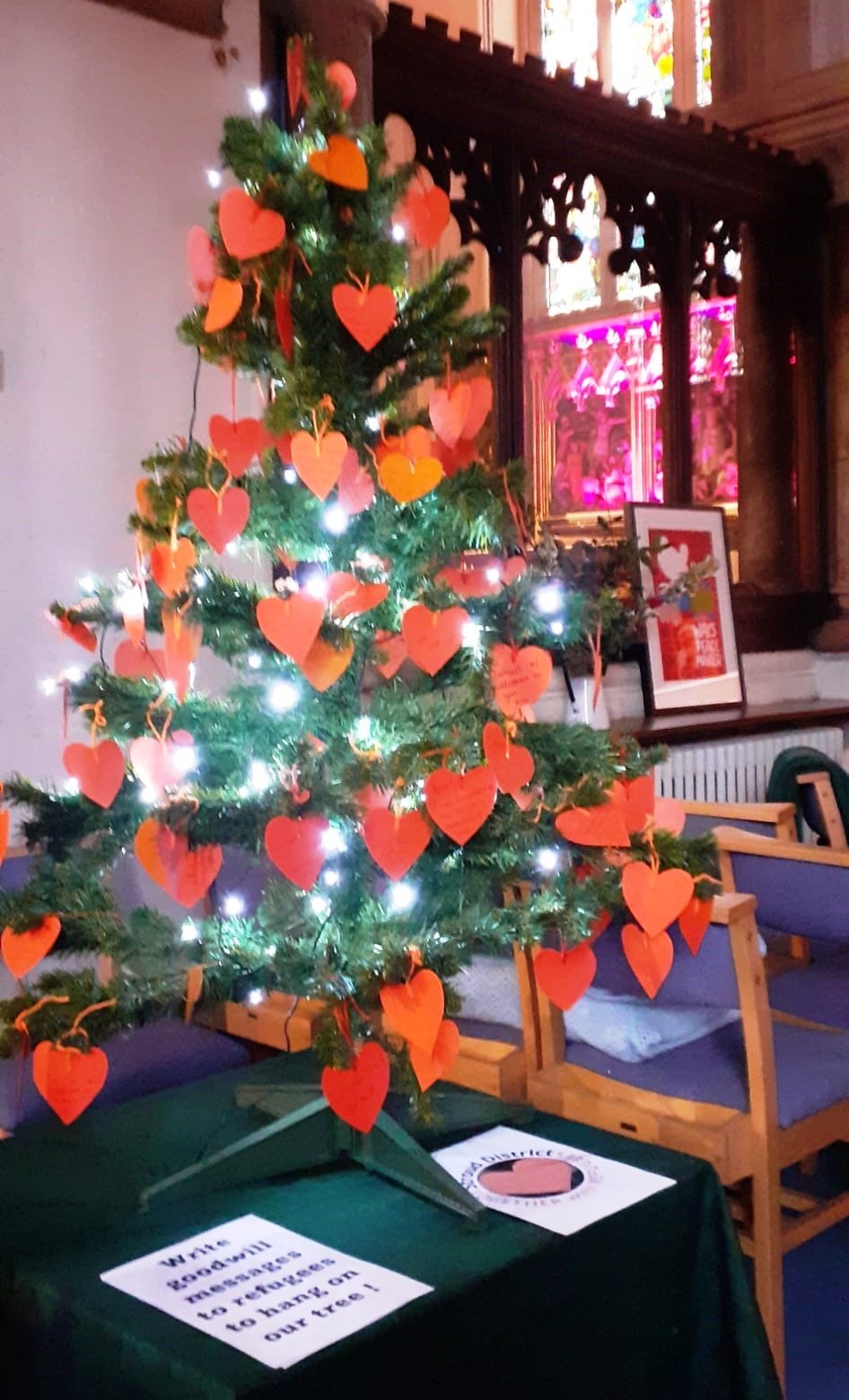 Jude Emmet of SDTwR has recently drawn this to the att­ent­ion of Stroud Cons­erv­at­ive MP Siob­han Bail­lie:

Dear Siobhan,





Firstly, may I wish you and your family a happy new year.





At the Goodwill Evening held in Stroud on 2nd December, our group Stroud District Together with Refugees (SDTWR) displayed a Christmas Tree and invited passers by and shoppers to write a message of welcome to refugees and asylum seekers who have overcome appalling hardship and difficulties to reach what ought to be the safety of this country. We set up our stall and tree in the Lansdown Hall and waited to see what the reaction would be from Stroud residents. We were there for about two hours.





During that time, just about everyone we approached wanted to write a message, and we were heartened to see that every single message was a positive message of welcome. By the end of our time, 91 messages were hung on the tree and we would like to share them with you (below).





I hope you will celebrate with us the kindness and outpouring of love that the messages show. We are proud that Stroud is so solidly supportive of the refugees and asylum seekers who arrive on our shores. We therefore urge you to commit to working towards safe routes to reduce the need for anyone to make these perilous journeys.





Yours sincerely,





Jude Emmet

(Stroud District Together with Refugees)






These are the messages that were hung on the tree:





1. Welcome to England.   2. Welcome to Stroud. Hope you feel safe and happy xx.   3. You are so welcome here; I hope you settle in well x.   4. Welcome to everyone who needs a home!   5. Assume good will / Judge others by the content of their character.   6. You are so welcome here in Stroud.   7. Dear refugees, wherever you come from you are welcome here.   8. I hope you find warmth and kindness.   9. You are welcome here.   10. Refugees always welcome here!   11. Welcome to Stroud💖.   12. Welcome to everyone seeking sanctuary in Glos!   13. Wishing you love and peace.   14. My heart goes out to you all, much love xxx   15.   Warm welcome, may you always feel at home. We need you xx.   16. Welcome all. The people of this country are not the government.   17. You have been through so much - we are here to welcome you and support you.   18. We are all migrants💖!   19. We welcome refugees.   20. Welcome! Wishing you a warm and wel­com­ing time💖.   21. We'll enjoy a colourful Stroud with contributions from lots of different backgrounds.   22. Hope you feel happy soon.   23. Rest in peace in Stroud.   24. Thinking of you all💖.   25. You are all WELCOME here x.   26. I love and I will look after you.   27. You are so loved x.   28. Thinking of you all with love and welcome arms.   29. Welcome and good luck!   30. Welcome in Gloucestershire!   31. Refugees, we don't care where you're from everyone is welcome here!   32. Love💖.   33. The warmest of welcomes to you xxx.   34. Make yourselves a home here!   35. A warm Stroud welcome to you all x.   36. Welcome home💖love💖.   37. Hello, you are safe here.   38. Welcome! We hope you enjoy your Christmas in Stroud.   39. You are welcome everywhere, be brave.   40. Thinking of you for a better 2023, welcome.   41. We welcome you with love and warmth xxx.   42. Love knows no borders / everyone always welcome x.   43. Our very best wishes to all refugees.   44. You're welcome to stay.   45. Welcome to Stroud x.   46. Welcome.   47. Hope Hope Hope and Love.   48. Warm wishes and welcome.   49. Good you are here. Welcome. May the new year bring better times.   50. Come on in💖!   51. We welcome you all into our hearts xx.   52. The warmest of warm welcomes to one and all with love x.   53. Refugees one and all we welcome you! We welcome your experience, skills, culture, language. You enrich us all!   54. Welcome to Stroud xx.   55. Love and peace this Christmas in Stroud🌠.   56. May Stroud be a place of safety, welcome and support.   57. Wishing all new lives filled with peace and happiness!   58. You are very welcome here - as a child of refugees I hope you feel safe and at home.   59. Welcome.   60. Welcome to this part of the world.   61. Welcome/Hello! A warm welcome to you. I truly wish you a bright day and joyous future. You are always welcome.   62. Welcome to the UK! Hope you find all the things you need here! Welcome.   63. Welcome to the UK, hope you like it.   64. Welcome and safe haven here.   65. We are all migrants. We welcome you with love x💖.   66. May all the luck and kindness come to you.   67. Hope you find safety and peace here.   68. Wishing you good luck and success.   69. Welcome to Gloucestershire. I hope you're made to feel welcome.   70. We love you xxx/💖💖💖.   71. Hope you find peace here. Lots of love xx.   72. We welcome refugees here!   73. May the rainbow appear for your thoughts x.   74. We wish you well you are welcome here!   75. Welcome to Stroud!💖Hope you will find peace and happiness xx.   76. All are welcome because we are all one - karibuni!   77. My arms are open to welcome you xx.   78. You are safe, you are welcome, you are loved.   79. Welcome to Stroud.   80. Goodwill to all refugees.   81. So many people welcome you here💖.   82. You are welcome to Stroud. I hope you stay safe and happy this Christmas.   83. Merry Christmas! Sending lots of love and care xxx.   84. Welcome to UK - may you find a good life here!   85. Season's greetings and welcome to all.   86. You enrich our country / peace and love x.   87.🌞There is always beauty ar­ound us🌱.   88. Welcome refugees, we love you all.   89. Refugees, good luck. I hope you find peace and happiness.   90. Selamat Datang [Mal­ay/­Ind­on­es­ian: "Wel­come"].   91. You are so loved.


Stroudies, be proud. Refugees, welcome.

Thursday 12th January


RIP Jeff Beck (24 June 1944 - 10 January 2023, aged 78). Rem­emb­er the Yard­birds? Guit­ar­ist's guit­ar­ist: made an art of dis­tort­ion, picked with his thumb, mas­ter of the wham­my bar (aka groov­ing stick), tone to die for (and now he has). Here he is with anot­her old diva perf­orm­ing one of my fav­our­ite songs, Cur­tis May­field's 1965 "People Get Ready":






People get ready, there's a train a-coming
You don't need no baggage, you just get on board
All you need is faith to hear the diesels humming
You don't need no ticket, you just thank the Lord

People get ready for the train to Jordan
Picking up passengers from coast to coast
Faith is the key, open the doors and board them
There's room for all among those loved the most

Now there ain't no room for the hopeless sinner
Who would hurt all mankind just to save his own
Have pity on those whose chances are thinner
'Cause there's no hiding place from the Kingdom's throne

So people get ready for the train a-coming
You don't need no baggage, you just get on board
All you need is faith to hear the diesels humming
You don't need no ticket, you just thank the Lord



It's always the "diesels" that get me.

Wednesday 11th January


Eleven days into the New Year and I'm going to abandon my self-imposed moratorium on cartoons. I admit defeat. A few have leaked into the blog in the last days, but here's a whole lot more. The cartoonists say it for me, save me wrestling with prose - and most of all make me laugh. That's a gift I can't spurn, a smile rather than despair or anger.

I wonder at how the English press busies itself with the really important issues. Harry, do we need to know? (With apol­og­ies to my Irish corr­esp­ond­ent, who comm­ented: "Good to see that the blog is a Harry-free zone.")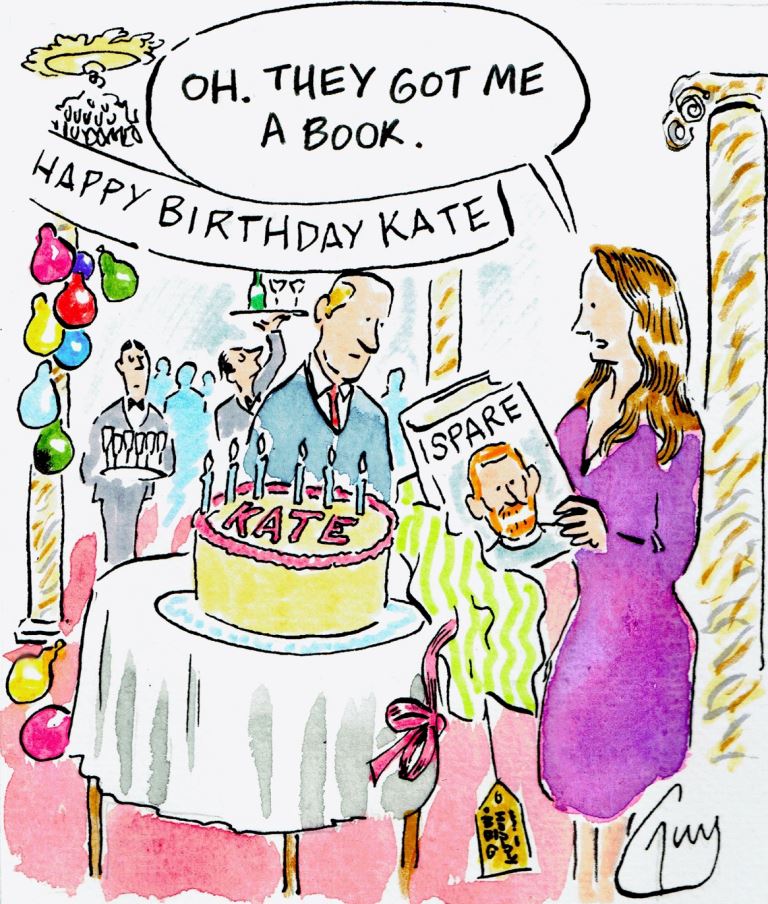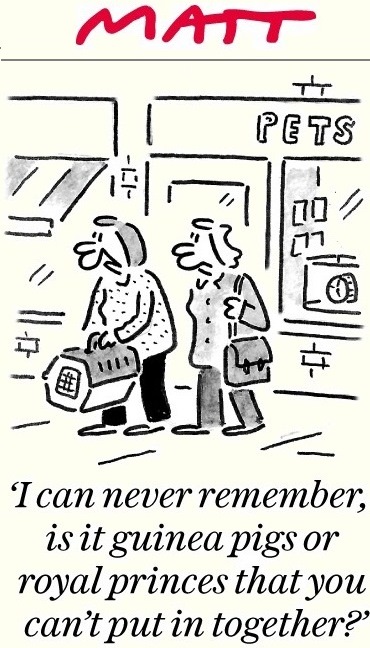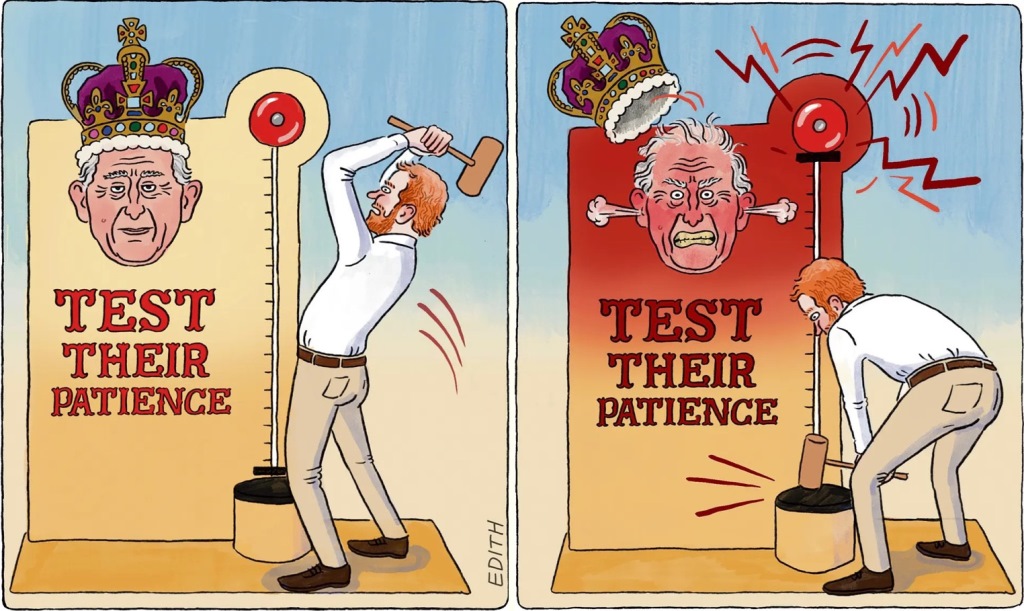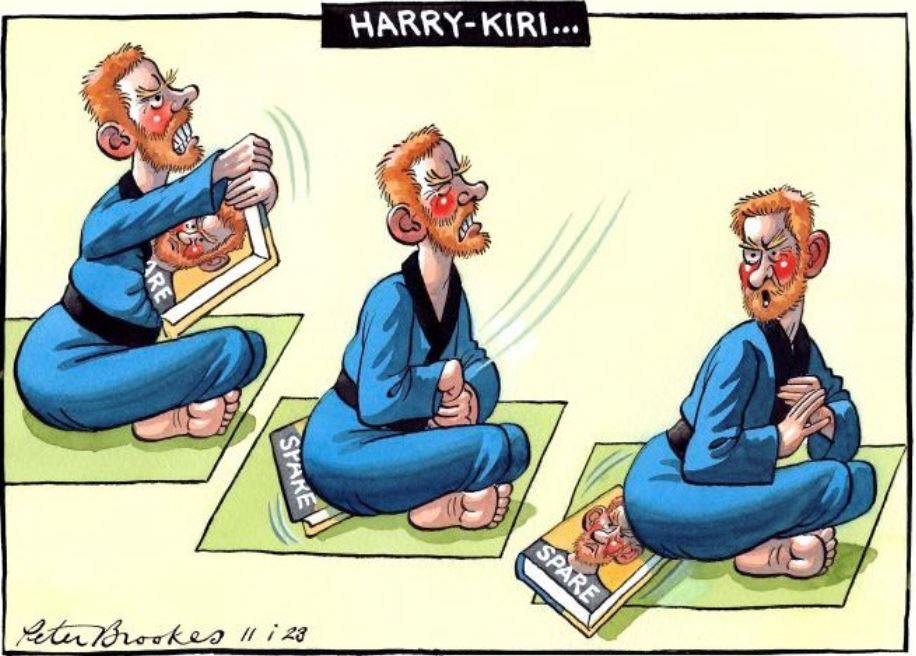 Then this charade bled across into ... the Virgin Orbit fiasco ... and threats to Sunak's authority: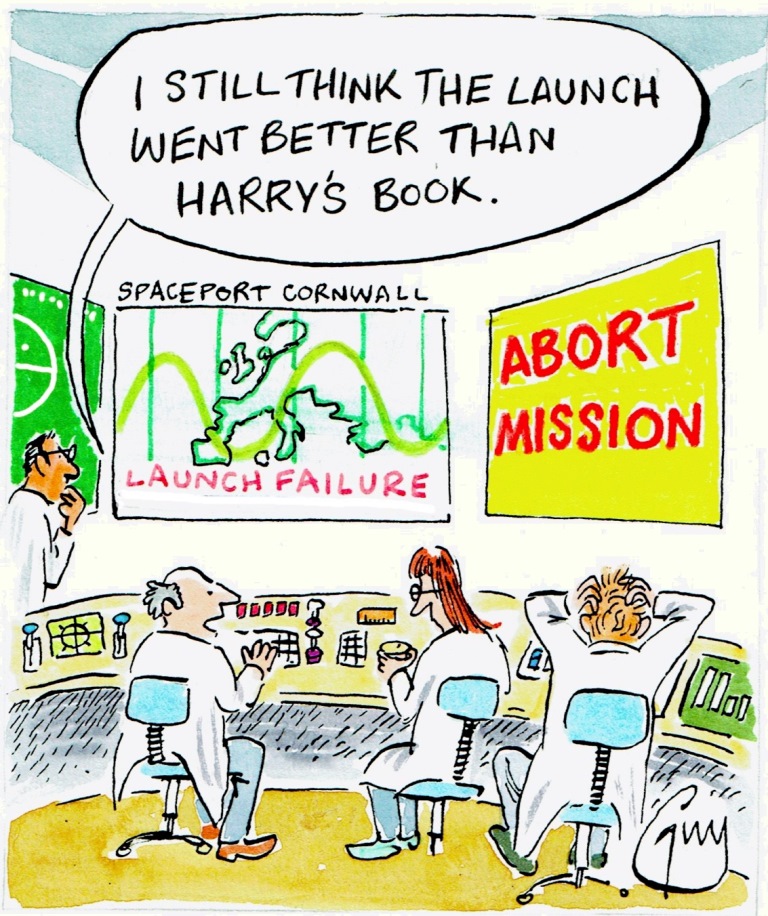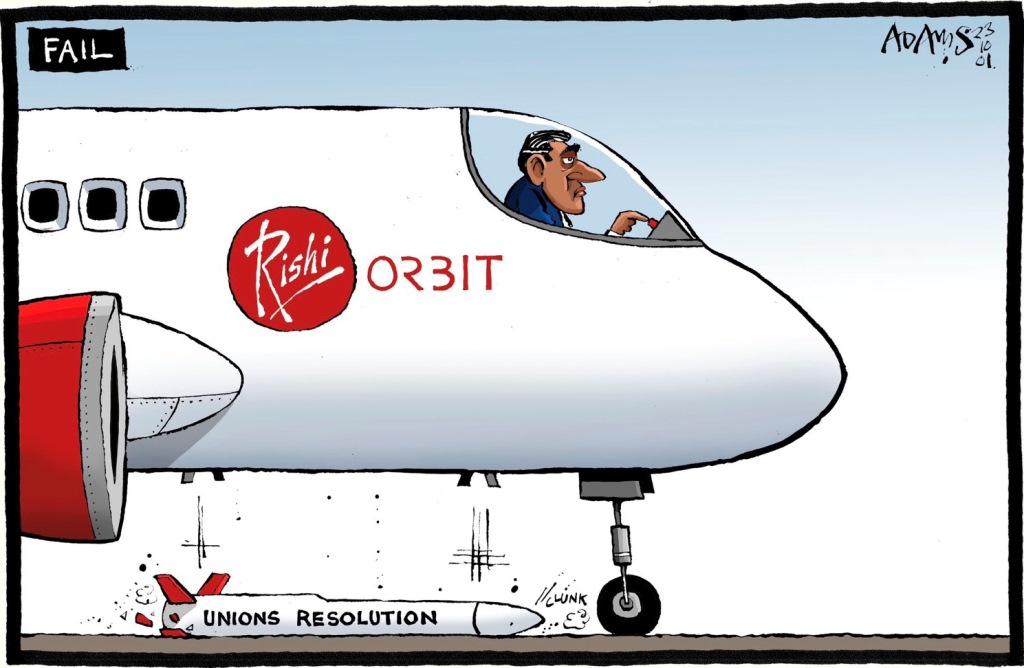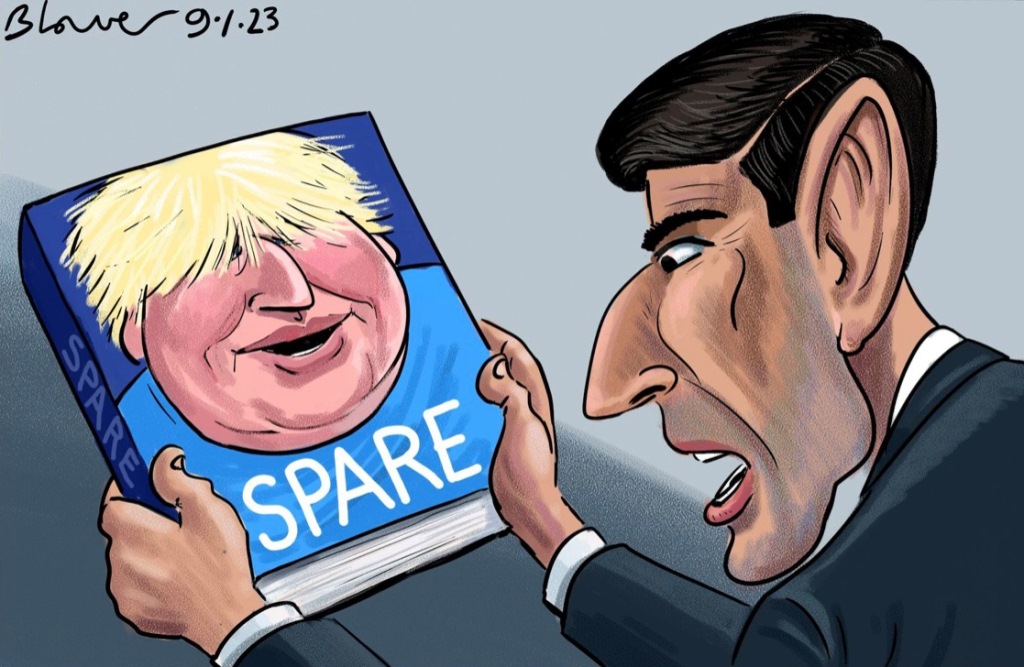 Meanwhile, elsewhere in the world the usual nutters are at large: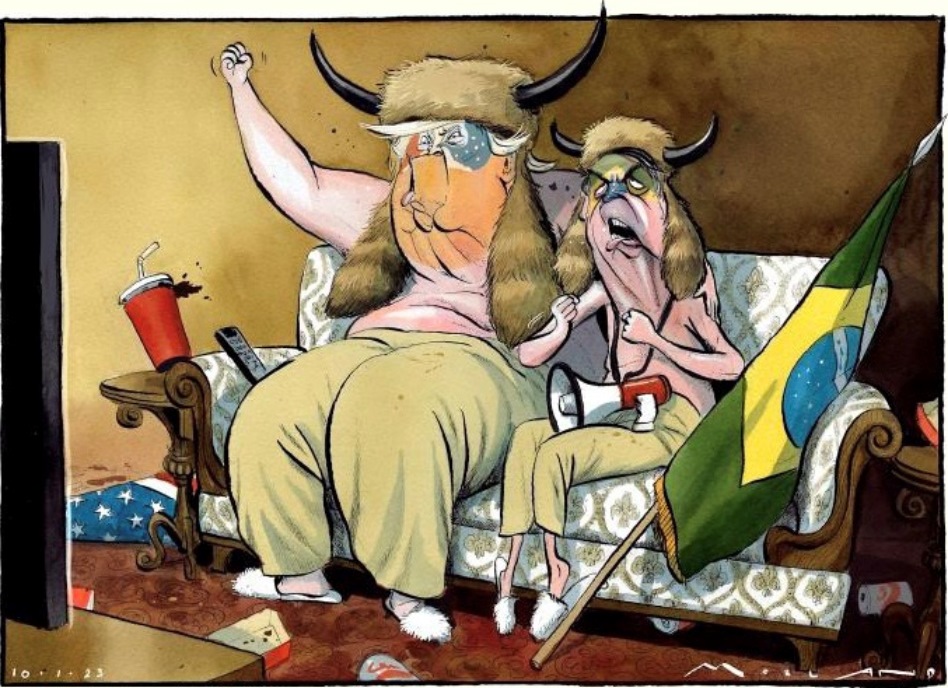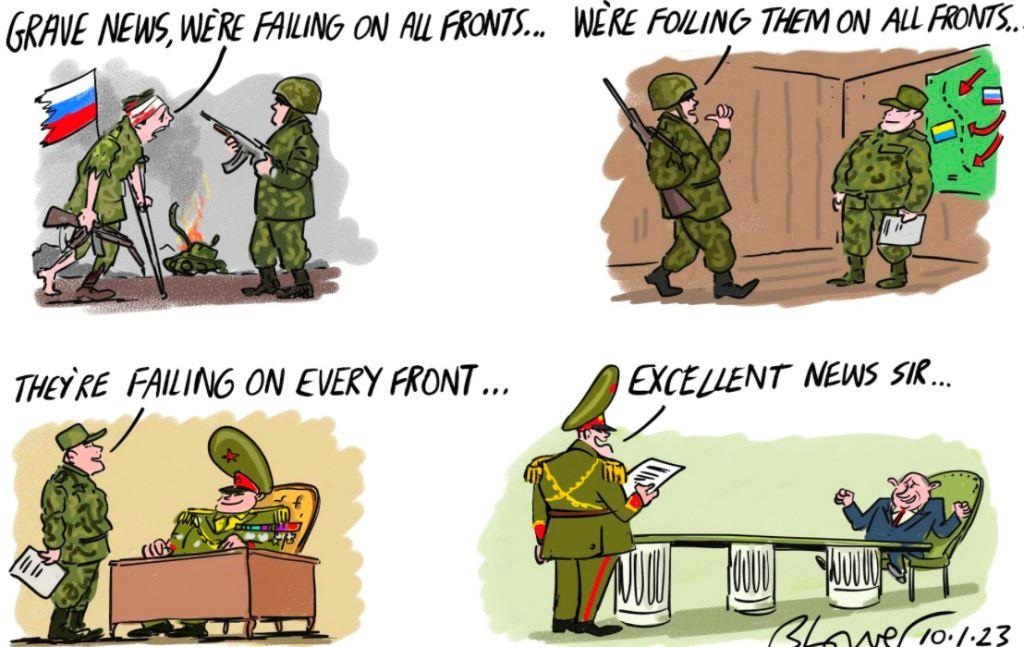 Tuesday 10th January


I haven't written about Covid for a long time, exc­ept in a hist­or­ic­al sense. But it's still around. We're "liv­ing with" the virus at a diff­erent level. Anec­dot­al Middle Street int­ell­ig­ence tells me that it's rife in Glouc­est­er Roy­al and even in Stroud Hosp­ital round the corner. After a lunch with 20-odd people from our walk­ing group last Sat­ur­day, a friend tested pos­it­ive, so others have done a lat­er­al flow. I've got a mild cough and cold, but have had a neg­at­ive result two morn­ings in a row. It's a while since I repor­ted one of these:





Looking back through this blog, I counted occ­urr­ences of the words "cor­on­av­ir­us" and "Cov­id". In reverse order:




2023 - 3 (we've only just started);

2022 - 80; 

2021 - 380; 

2020 - 315 (I began the blog on 22nd March).


Consider this ONS report of causes of death in England published at the end of November last year: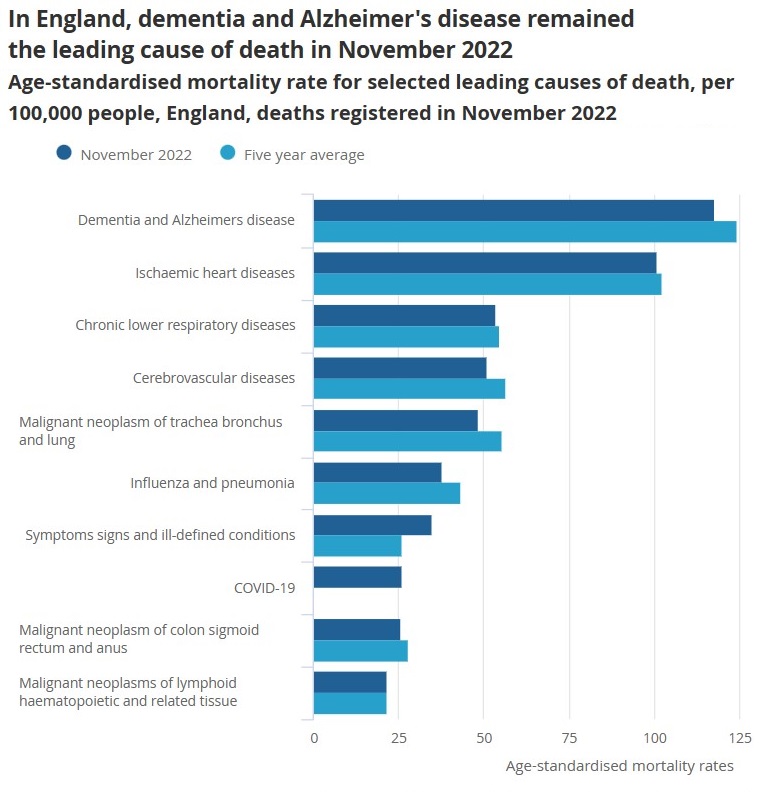 Covid is in eighth place. Other conditions demand greater concern.

Contrast the above with three charts - not a like-for-like comp­ar­is­on, but ind­ic­at­ive of the change - I posted two years ago in the first two weeks of Jan­uary 2021: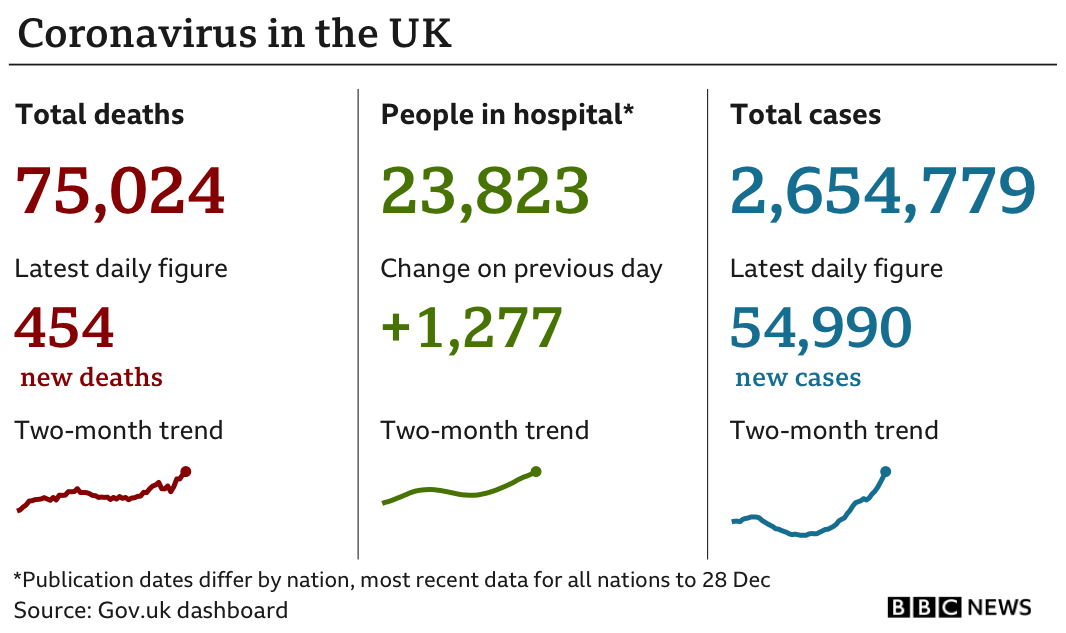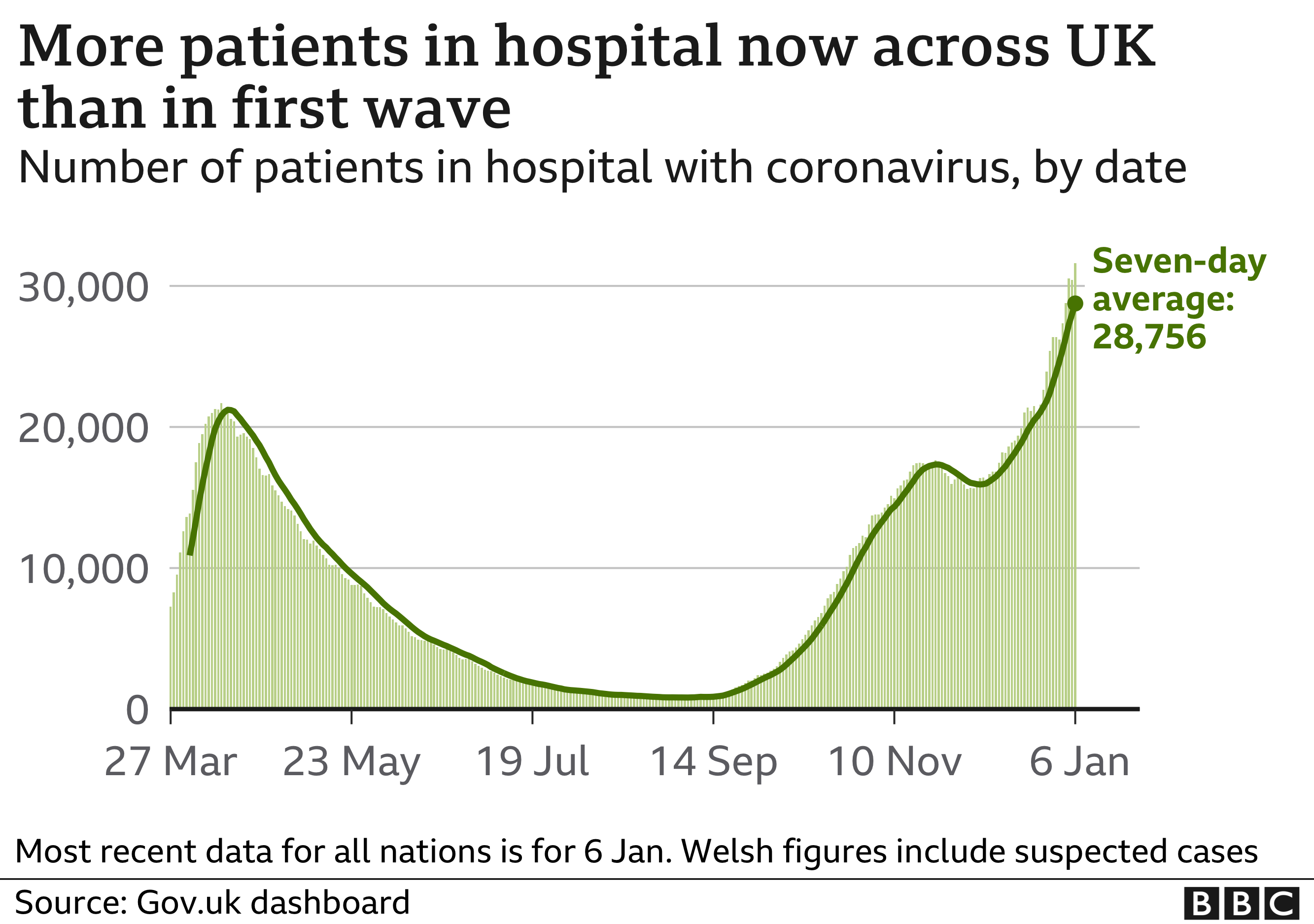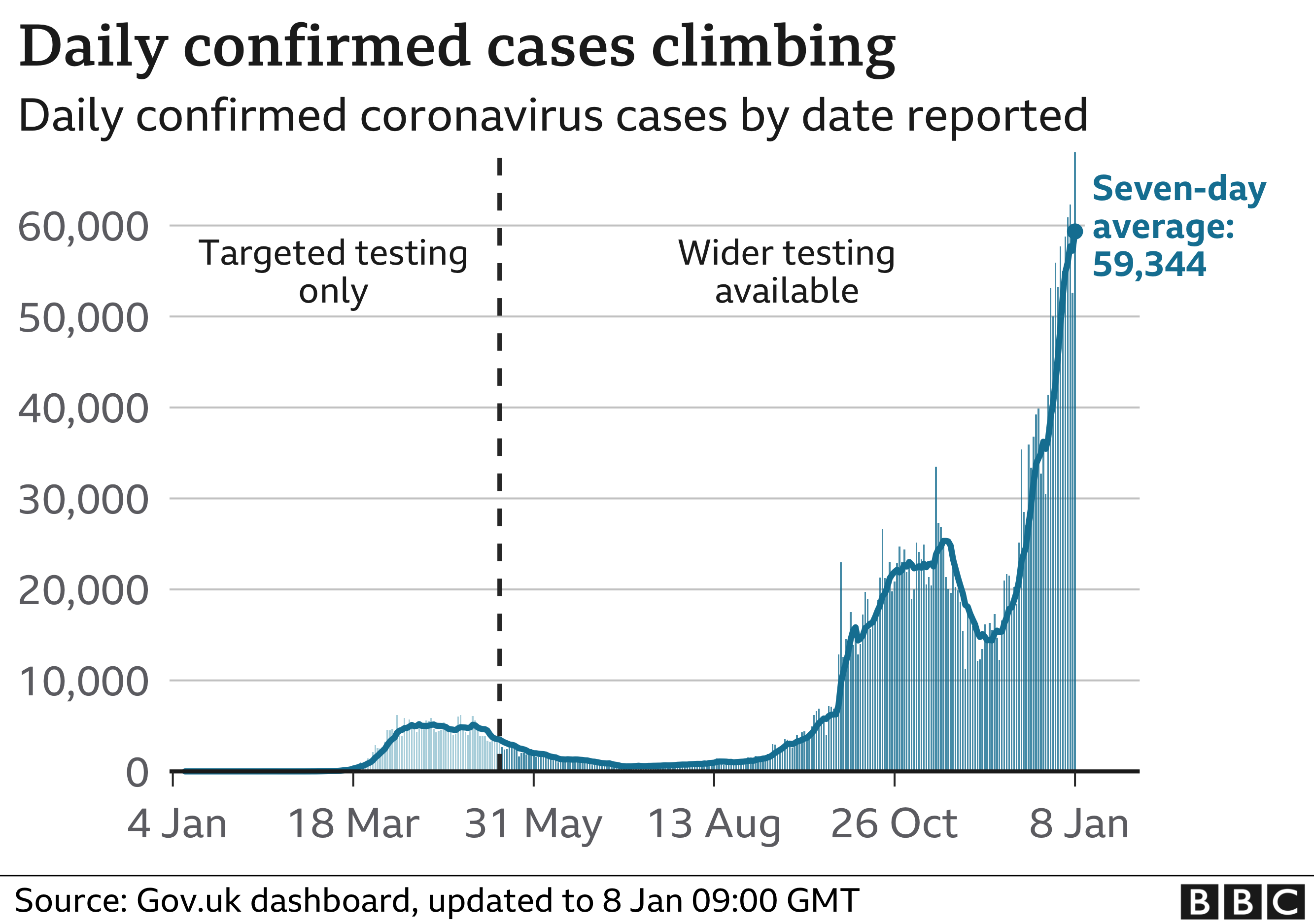 At the time we were in deep shock. Very frightened. I didn't know how we'd get out of it all. Except the vacc­ines were just about to roll out. NHS staff were work­ing round the clock at con­sid­er­able pers­on­al risk. Bar­on­ess Mone had made £mill­ions out of PPE cont­racts. Check out the red num­bers below: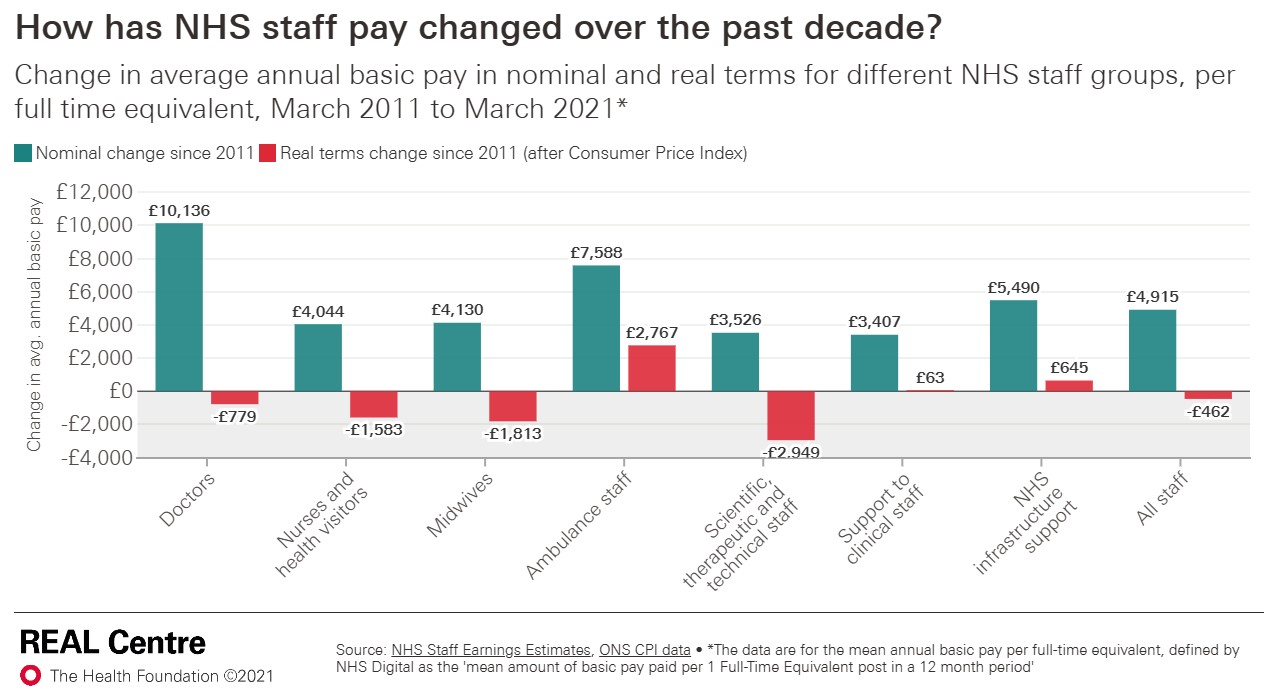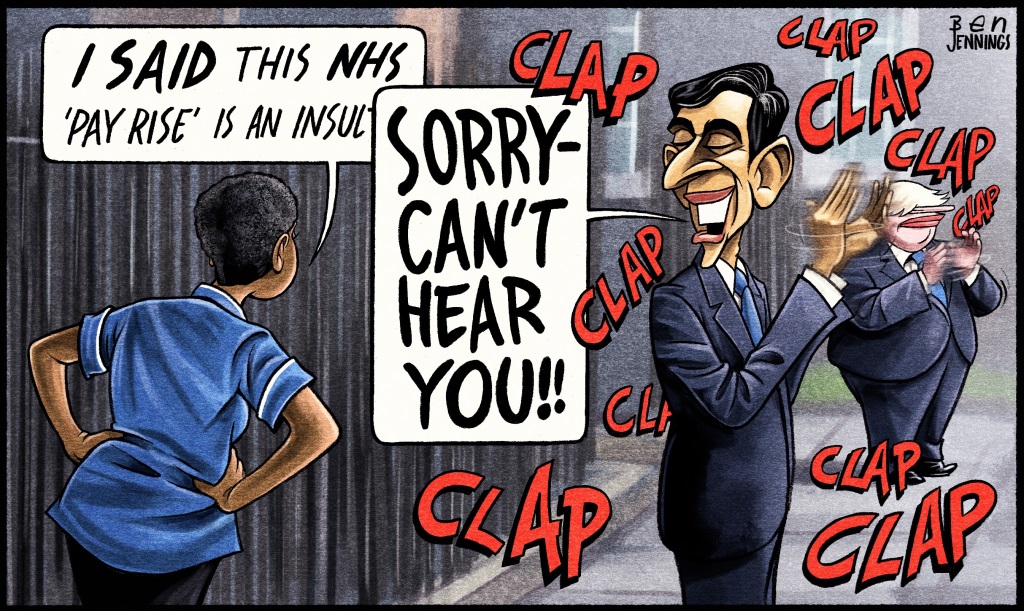 Monday 9th January


Some minor reflections on social media, specifically rel­at­ed to the deb­ate about the Twit­ter-mon­ol­ith-owned-by-evil-Musk versus Mast­od­on-or-any-oth­er-eg­al­it­ar­ian-de­cent­ral­ised-un­corp­or­ate-plat­form.

I'm enjoying Mastodon. I like being part of the right-on san­dal-wear­ing free-open-source-soft­ware comm­unity. How­ever, as I've expl­ained before, I've kept my Twitter account open for one pas­sive reas­on alone - so that I can hear from or about people I don't like, horse's-mouth from the other side. I only act­ive­ly "toot" on Mast­odon.

For example, I learnt yesterday that you can buy this cal­end­ar, for £13.95 via Amazon. Don't worry, I def­in­ite­ly won't be mak­ing a pur­ch­ase. Far too much for a relatively small joke, and Amazon? ... no thanks.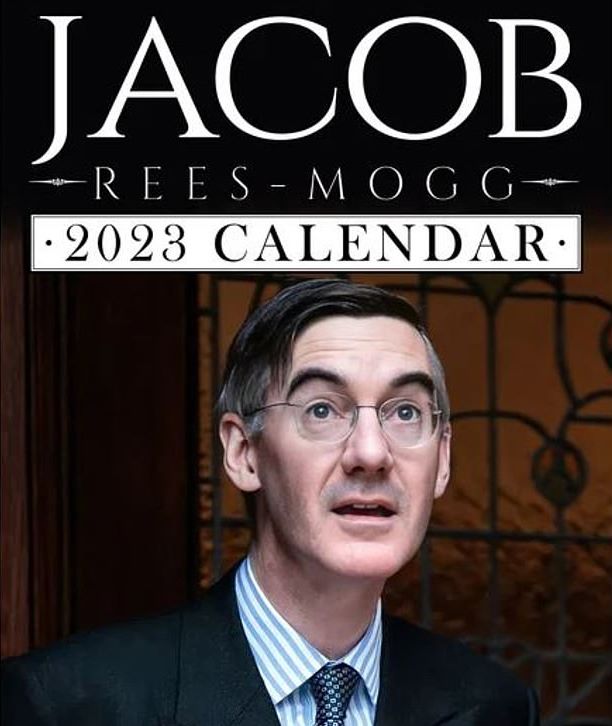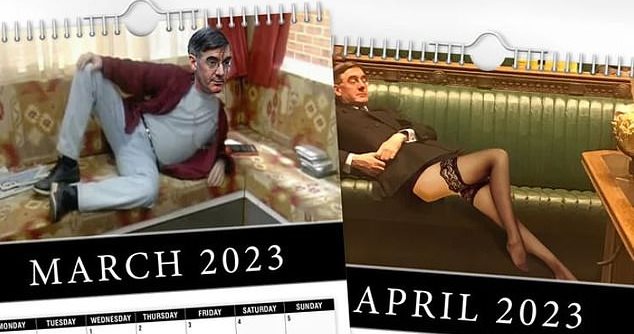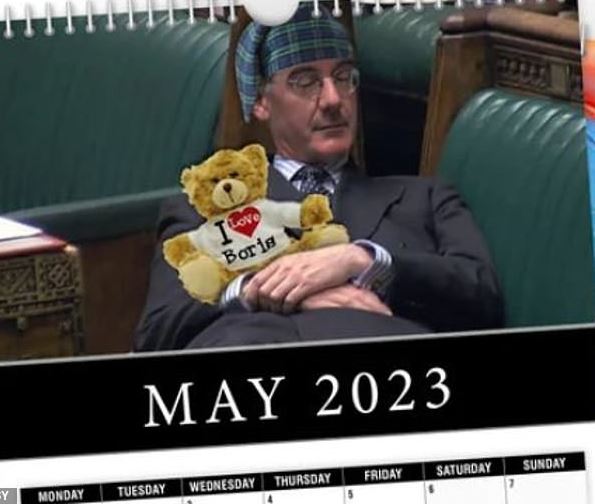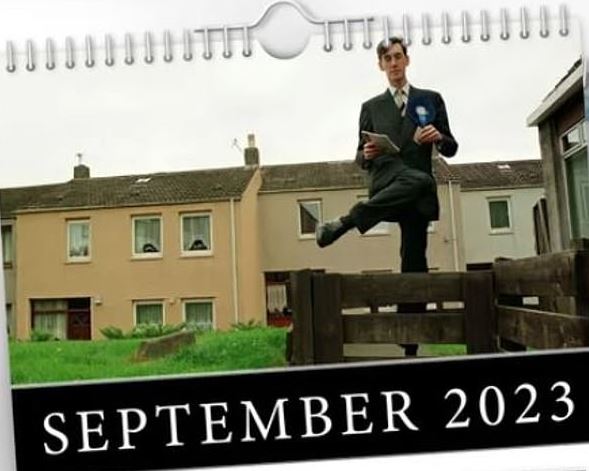 It was JR-M himself who alerted me to its pub­lic­at­ion through his Twit­ter acc­ount:





Beyond this, I benefit from direct unfiltered access to his views. Here's a selection tweeted in the last two months:
The ripe fruit of Brexit is ready to be harvested.
Boris Johnson was a great Prime Minister who ought to have stayed longer.
Removing EU law and igniting the deregulatory bonfire is the route to economic growth.
Dealing with the ECHR's overreach must be part of the solution.
Merely an anti-motorist, cash raising ploy:

Hmmm. You're right, maybe I really don't need Twitter at all.

Sunday 8th January


I'm allowing myself one cartoon today: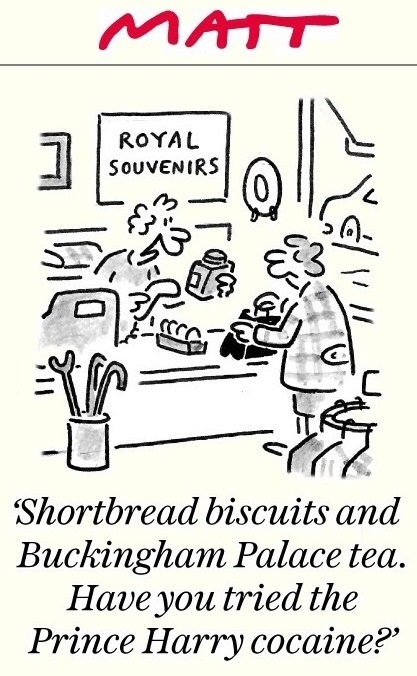 There's a reason for this choice which you can't possibly guess.

Before going to university in 1970 I spent six months at a "prep" Ivy-League-feeder school - Phillips Exeter Academy, Exeter, New Hampshire, USA - as an exchange student. Not an altogether comfortable experience, as I bridled at its smug sense of privilege, and shouldn't really have still been at school (you can read my account here: 👉). However, I made some great friends. One was a lovely young man, kind, caring, laughing, easy to be with. He had a dramatic mane of thick long black hair, a heavy black stubble on his chin. His name was Harry Cocaine.

Why "Cocaine"? His antecedents had migrated from Greece in the early 20th century. The story goes that the immigration official on Ellis Island looked at the family name Kokkinis, thought it wouldn't do and renamed them Cocaine. He must have had a good laugh with his wife when he went home.

Harry has since reclaimed the original name. In 2003 he - I don't know where he was in the intervening years, apart from studying at Amherst - joined the family firm founded in 1924, Table Talk Pies ("America's Favourite Pie"), in Worc­est­er, Mass­achu­setts. Yes, we shared the same home town name. He became chief exec­ut­ive in 2015 when his father Christo died. The company website suggests that he is still in charge.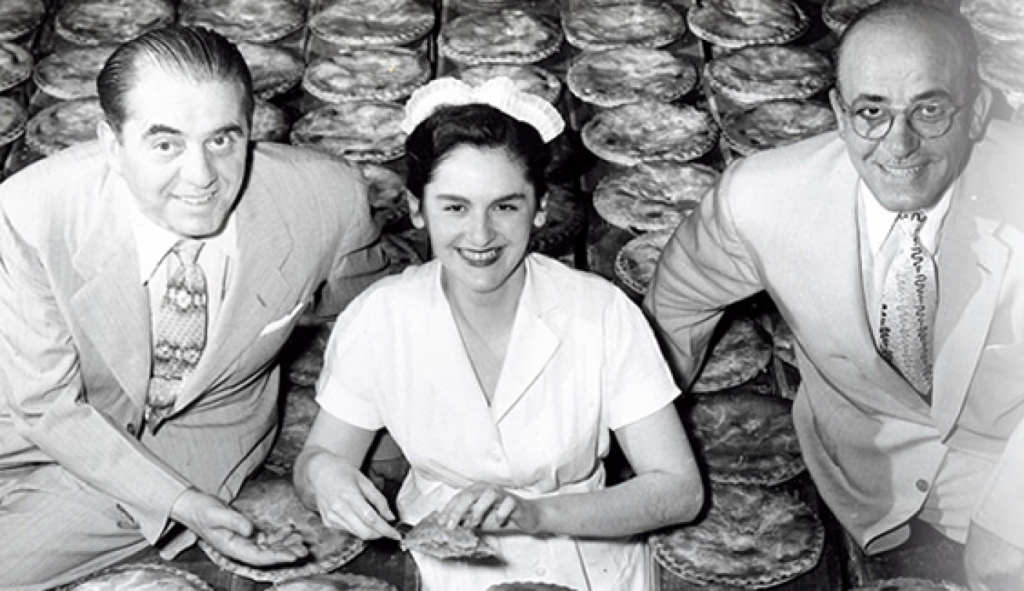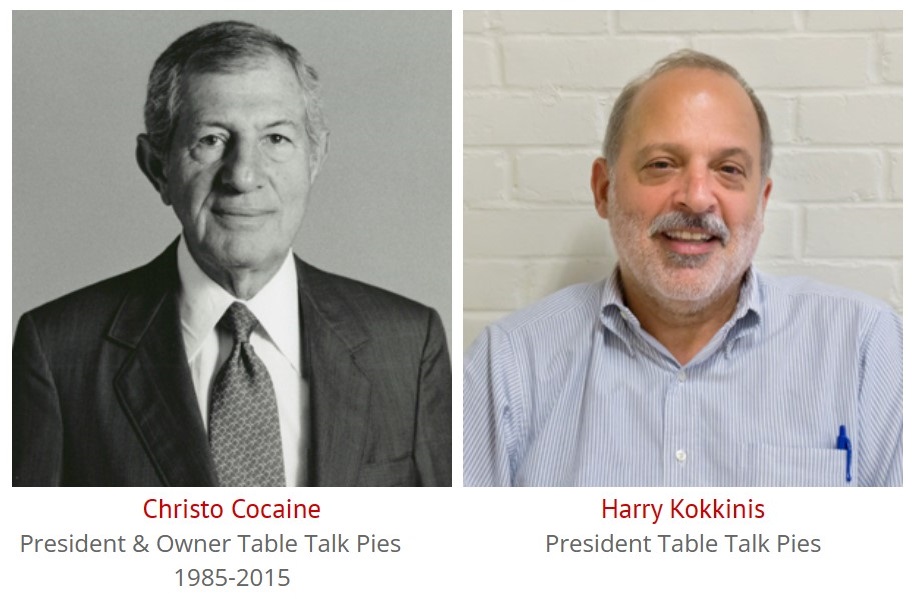 Here's a Boston TV station report on a new factory they opened up:




I envy him - or I would have done in the 1970s when I was lorry-mad - the fleet of semi-trucks:




So here's the plan. Harry and I said an emotional farewell 52 years ago and haven't been in touch since. I have no idea why I failed to maintain such a friendship. Tomorrow I'm going to send him an email at Table Talk and follow that up with a 'phone call a couple of days later. There's a risk. If I manage to connect, will he still remember me? What the hell, I'm going to try anyway. Nothing ventured ...

Saturday 7th January


No great desire to comment on anything today. Harry? Oh, pur-lease. Nope, it's time for the first Mapfest of 2023. In descending order, from serious to silly, informative to downright foolish. Click/tap to enlarge any.



Alasdair Rae - Map of global population density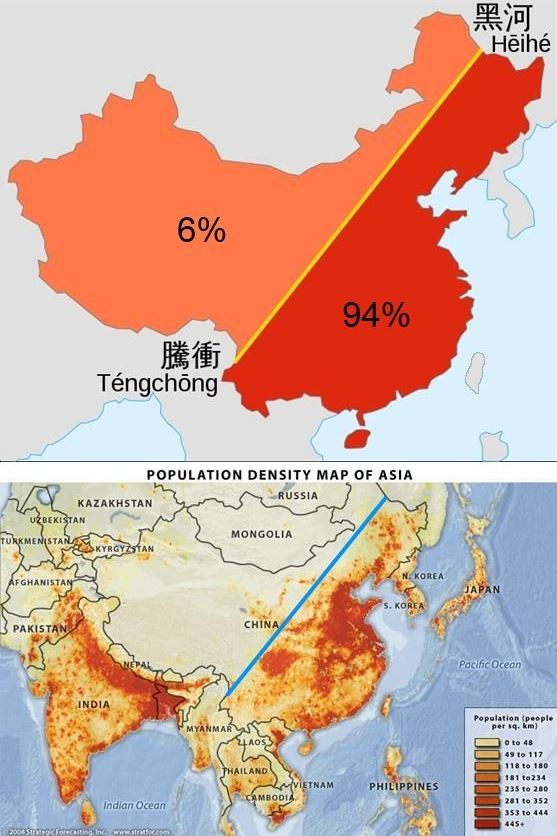 Strategic Forecasting Inc - Population density map of China and Asia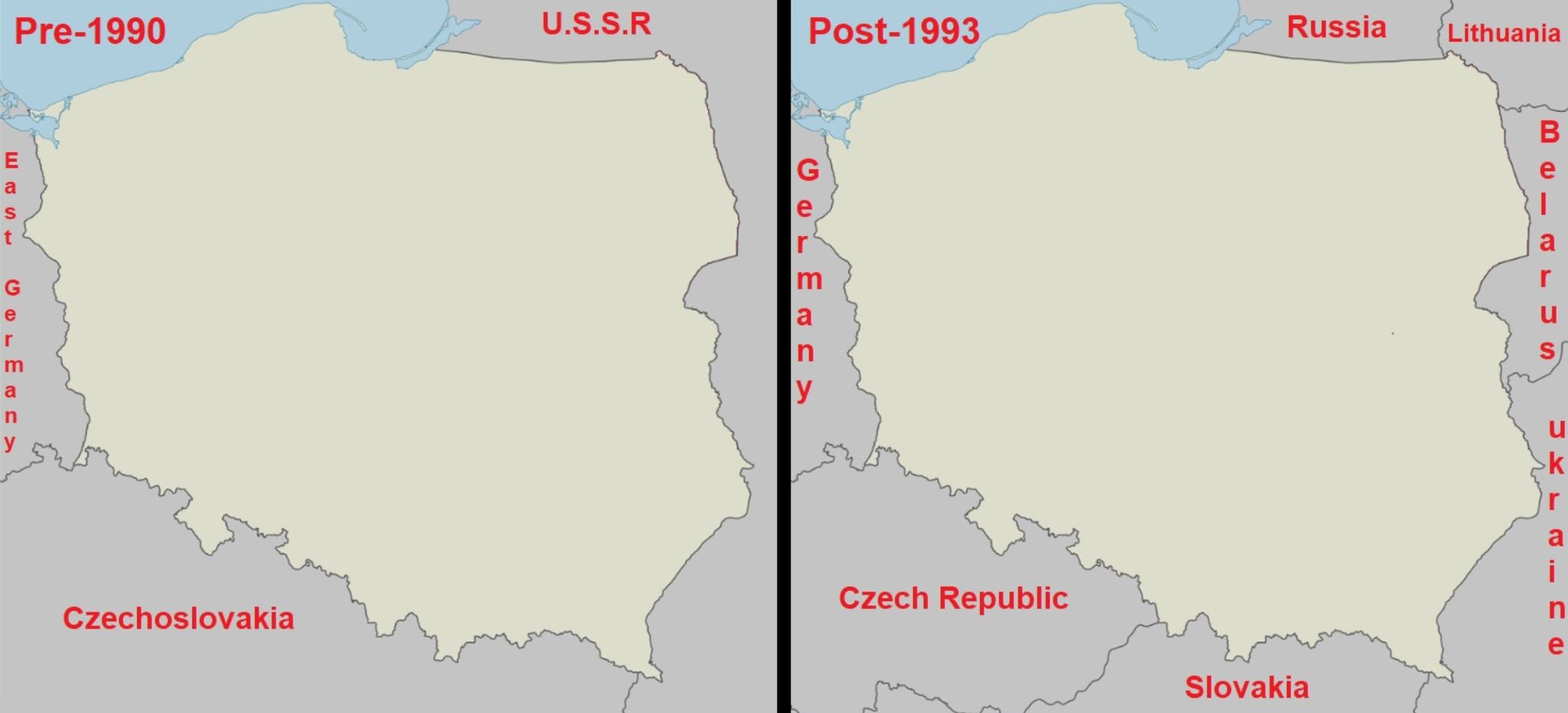 Amazing Maps - Countries surrounding Poland pre-1990 and post-1993 - all change!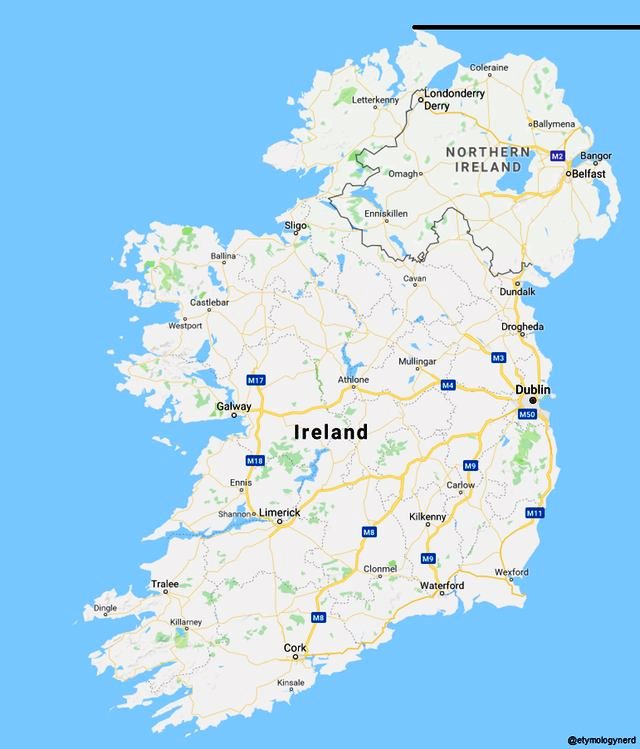 Amazing Maps - Parts of the Republic of Ireland are further north than Northern Ireland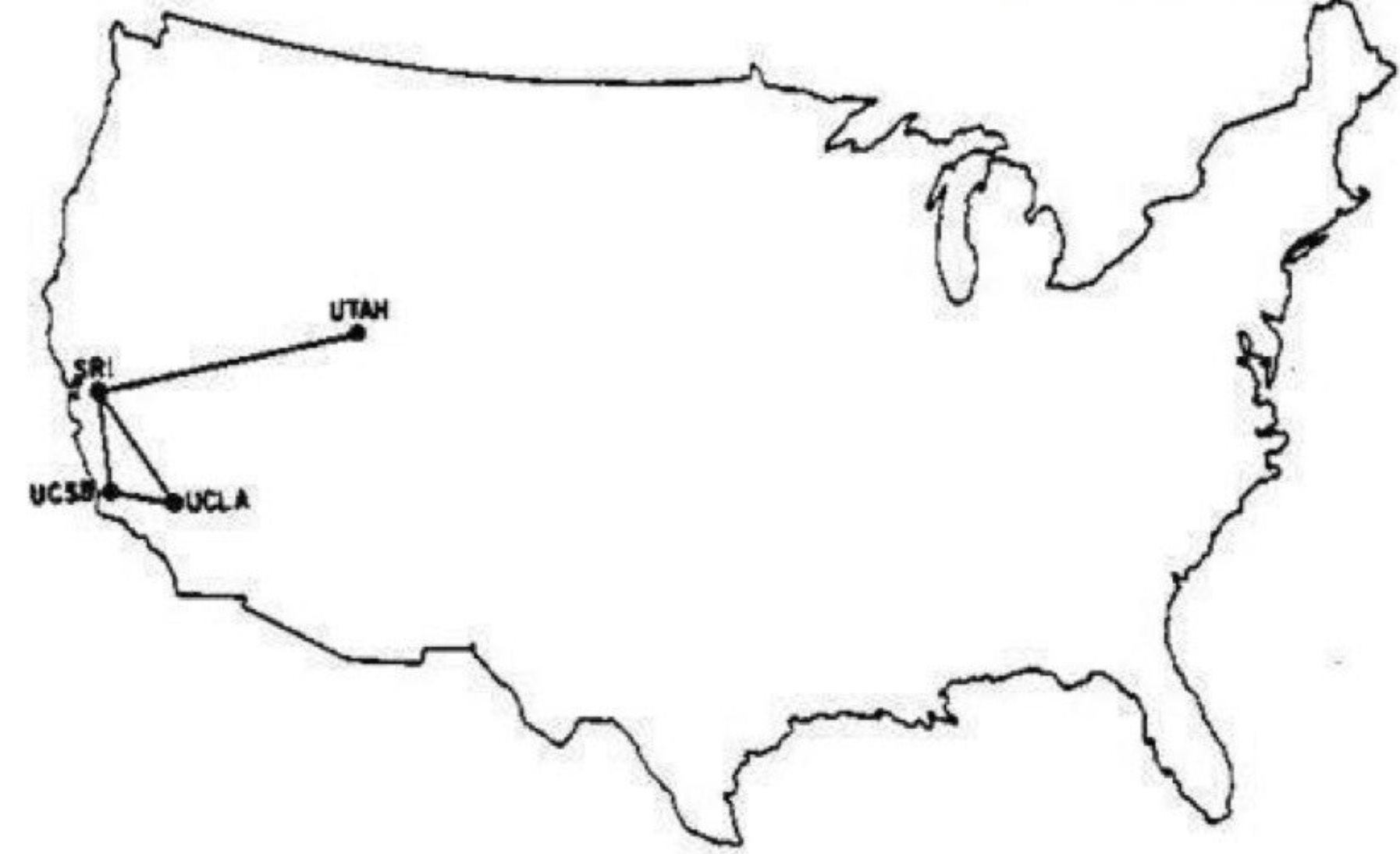 Amazing Maps - Map of the Internet in 1969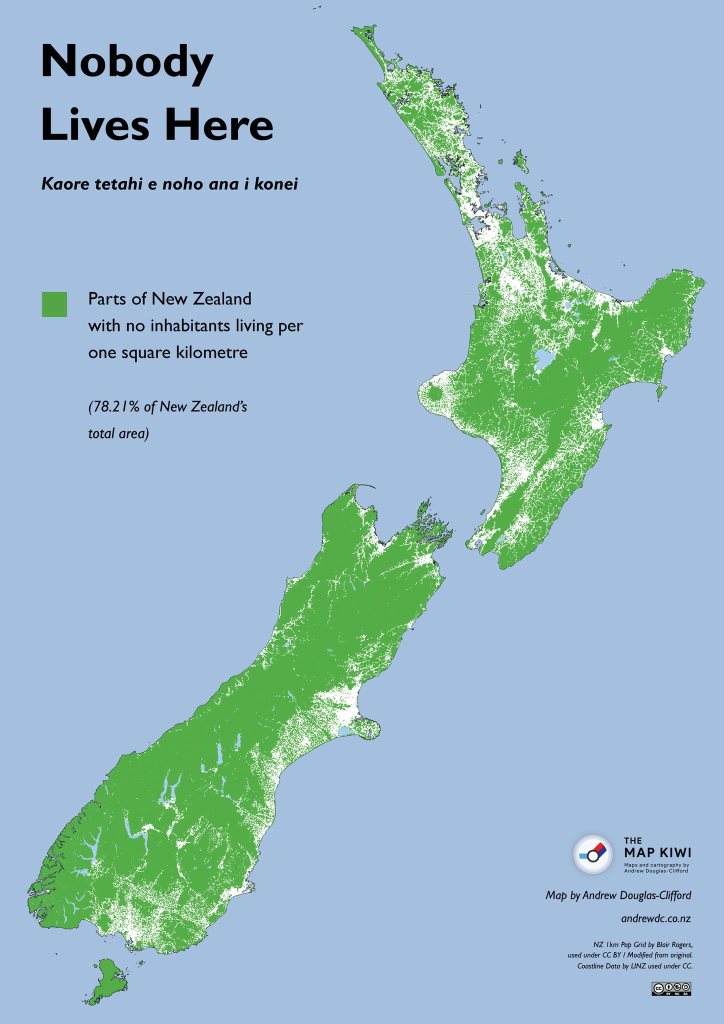 Amazing Maps - Map Kiwi - Nobody lives here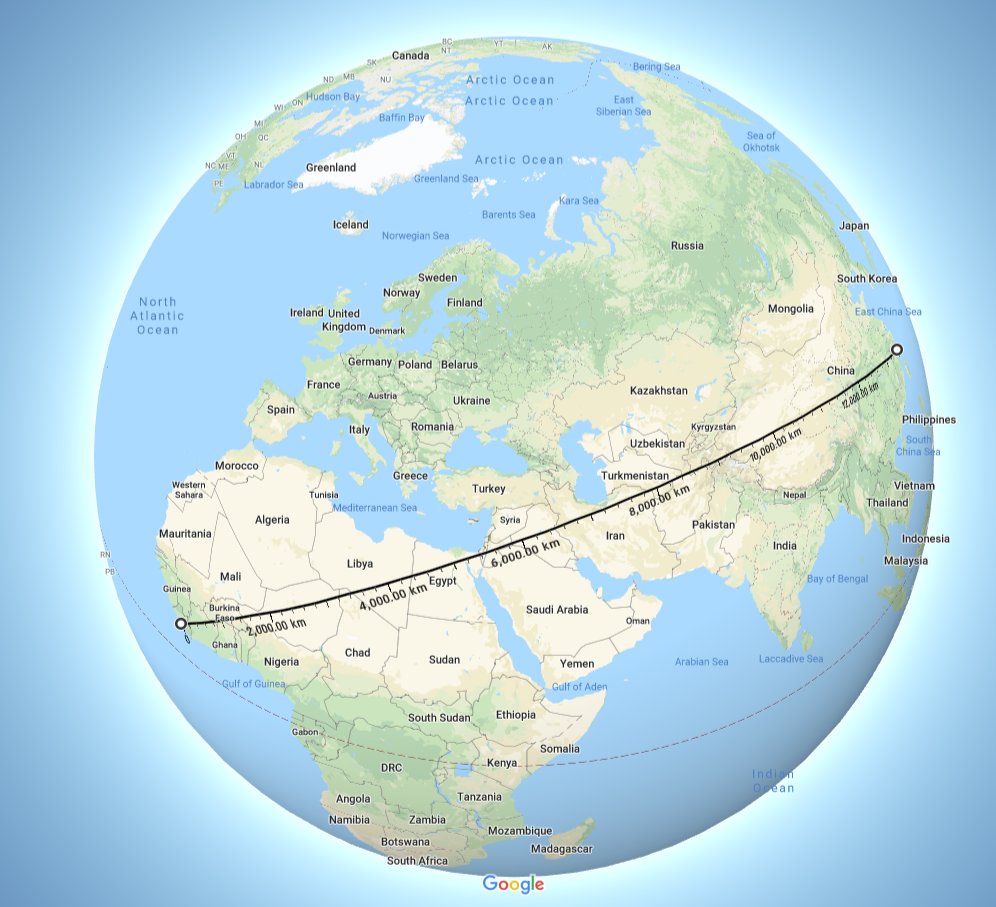 Amazing Maps - Straight 13,500km line from Liberia to China without crossing an ocean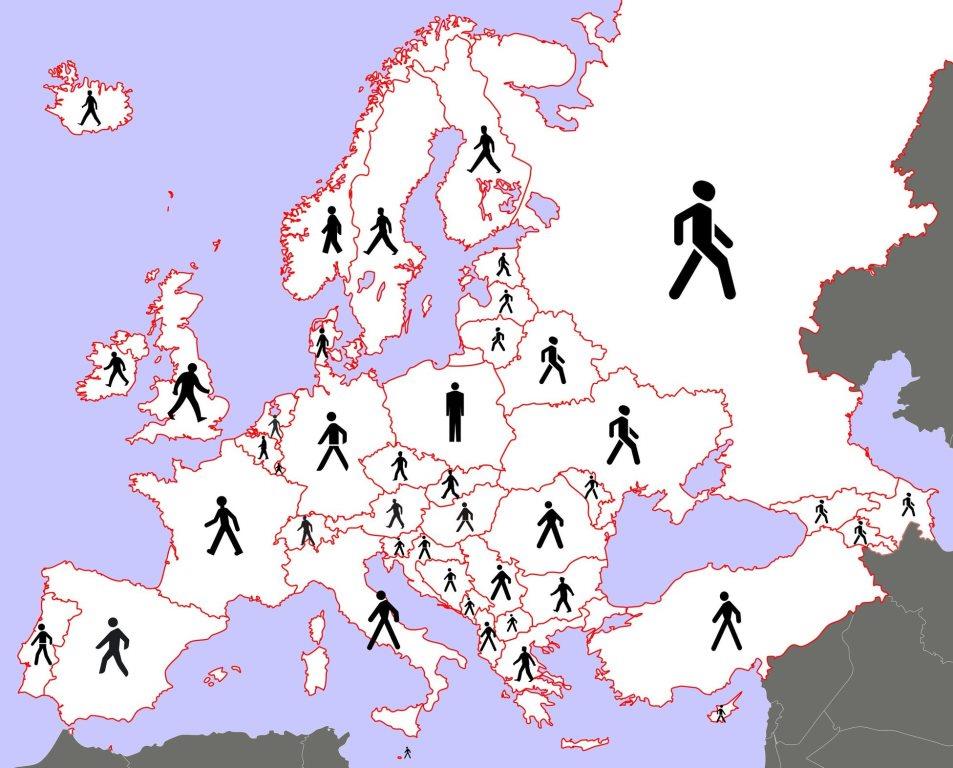 Terrible Maps - What pedestrians look like across Europe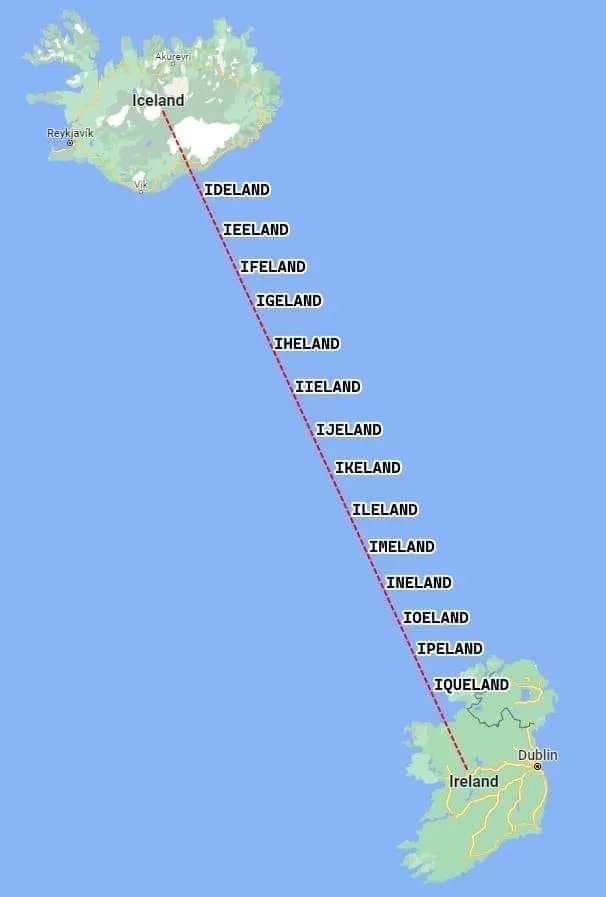 Terrible Maps - Iceland to Ireland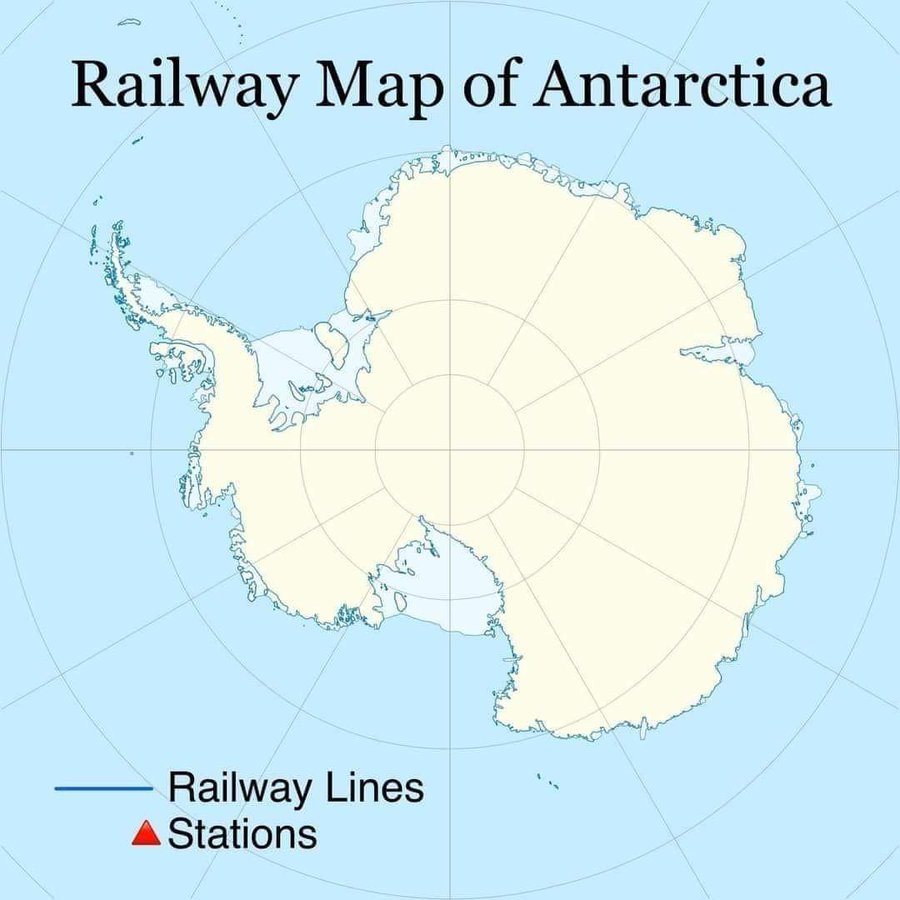 Terrible Maps - Railway map of Antarctica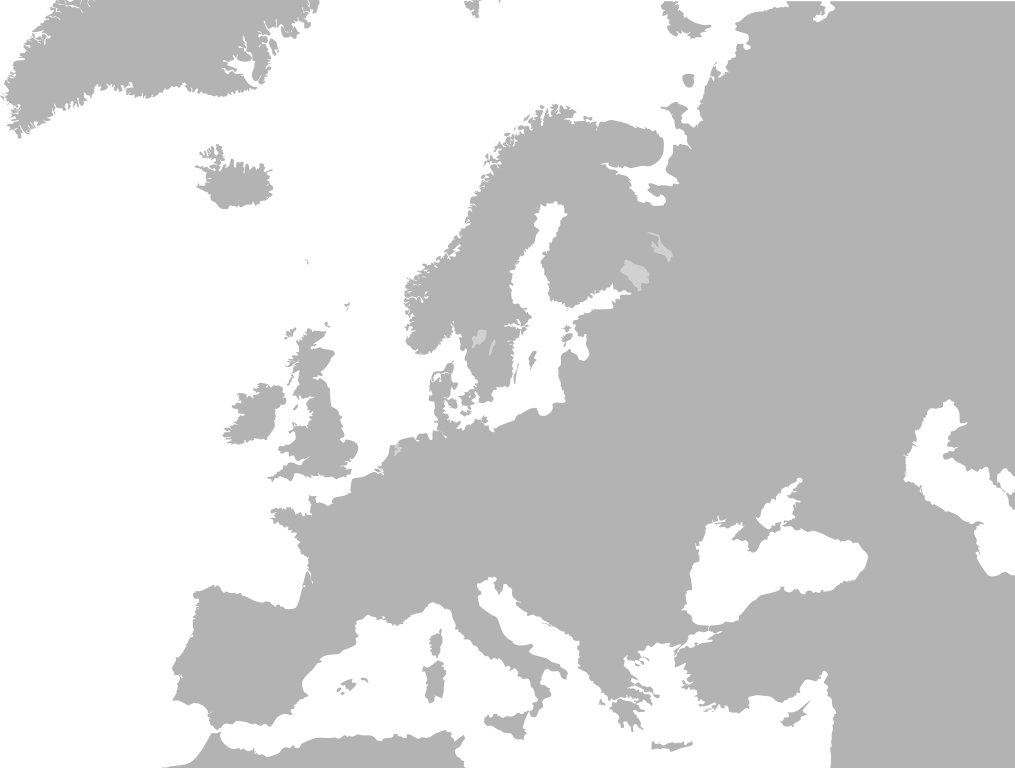 Terrible Maps - Roman air bases in 2nd Century AD

Friday 6th January


Whoopee! The Iron Maiden postage stamps have been ann­ounc­ed, av­ail­able from 12th Jan­uary. You can pre-order now - hurry! rush! - at the Royal Mail shop:

. Click/tap to enlarge all images below.





Hmmm ... still with the head of Queen Liz II. Planned for some time, then? A whiff of hoax? Apparently not. Iron Maiden manager Rod Smallwood said: "It's incredible to think that Her Majesty, may she rest in peace, saw these and lent her iconic silhouette to them."

This is my kind of news, perfect for a lighter 2023. Not only snaps of band gigs over the years, but also a sel­ect­ion hon­our­ing "mas­cot" Eddie:





The Maiden website explains the four above:
'Iron Maiden' Eddie: The stare that started it all. Born in 1980 - on the cover of the band's debut album.
'The Trooper' Eddie: The unforgettable artwork for one of Iron Maid­en's great­est hit sing­les and, more rec­ently, the logo for their award-winning beer.
'Aces High' Eddie: Reimagined as a fighter pilot for a song hon­our­ing the RAF serv­ice­men who def­ended Brit­ain during the Sec­ond World War.
'Senjutsu' Eddie: Samurais, feudal Japan and flashing blades insp­ired this kat­ana-wield­ing war­rior, from the band's most recent album.
Just what you'd want to stick on the Christmas thank-you let­ter to Aunt Dor­othy, right?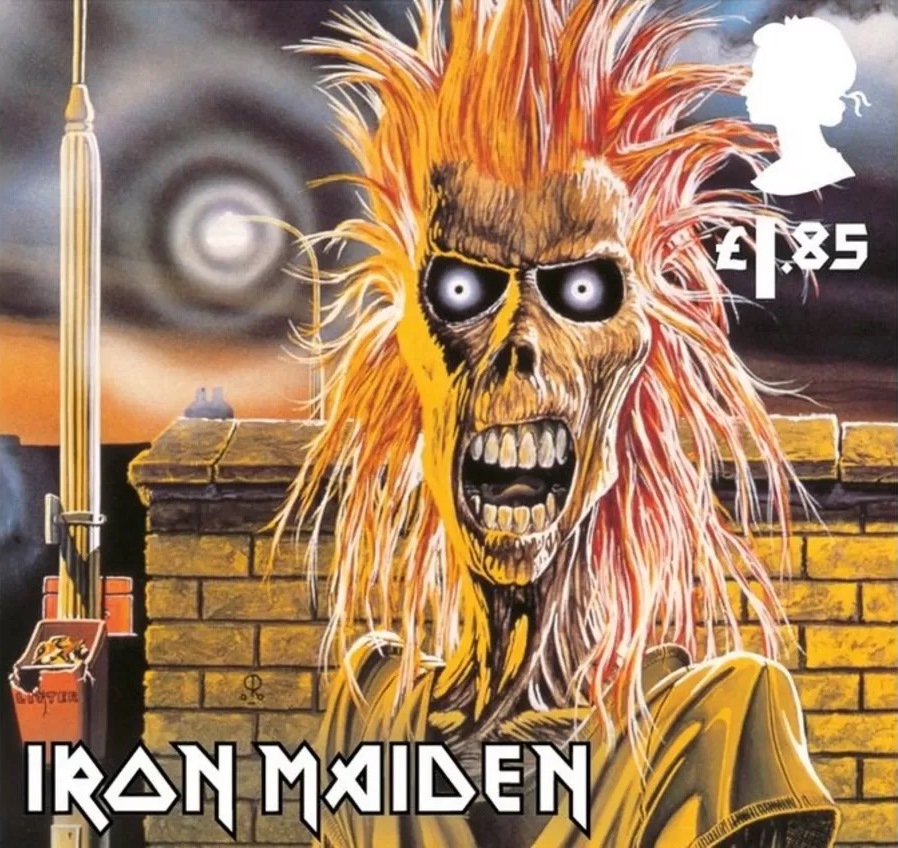 I have never wittingly heard an Iron Maiden song, nor watched a video, let alone been to a gig. BUT ... I have been flown to Cors­ica by lead singer Bruce Dick­in­son, who used to moon­light as a pilot for char­ter air­line Astr­aeus in his music down­time. I dis­cov­ered yest­er­day that we att­ended the same school; he was six years my jun­ior ... and sens­ibly got expel­led.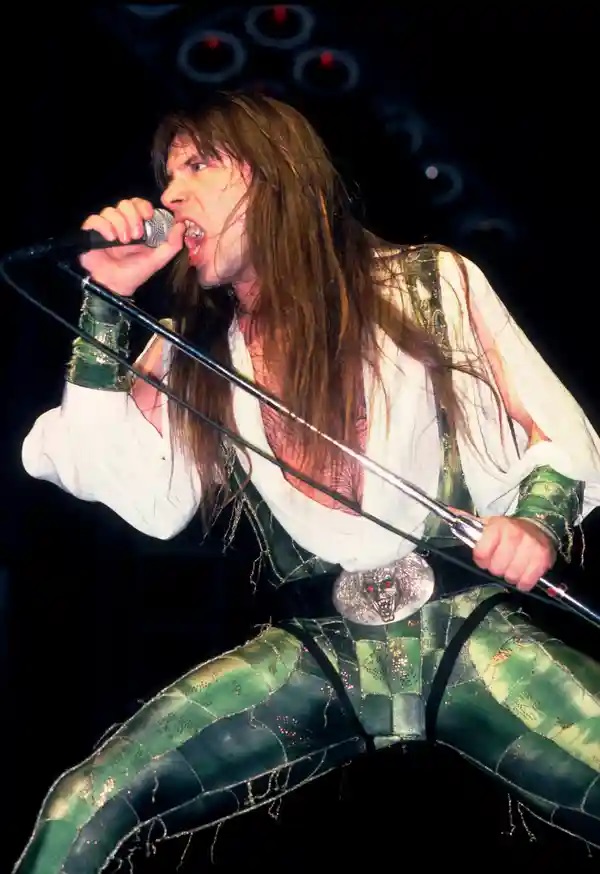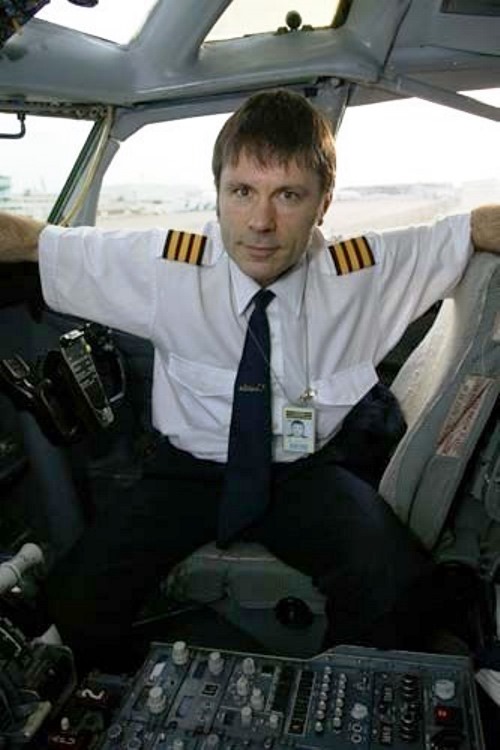 Maiden commissioned an Astraeus 757 as transport for their "Some­where Back in Time" tour in 2008 and nick­named it Ed Force One ... driven of course by Capt­ain Dick­inson: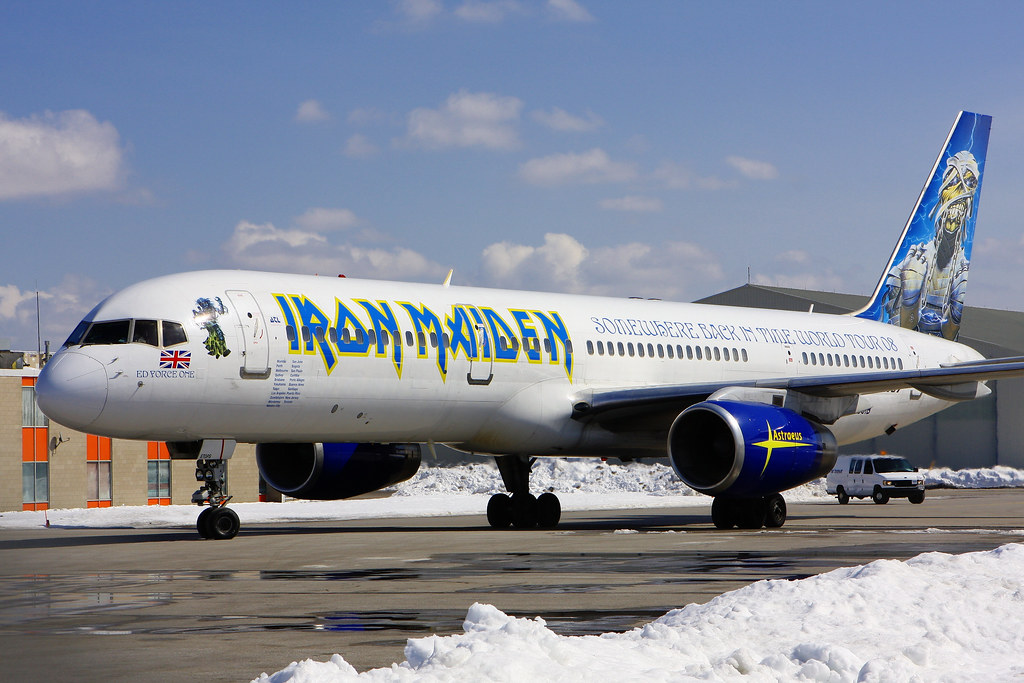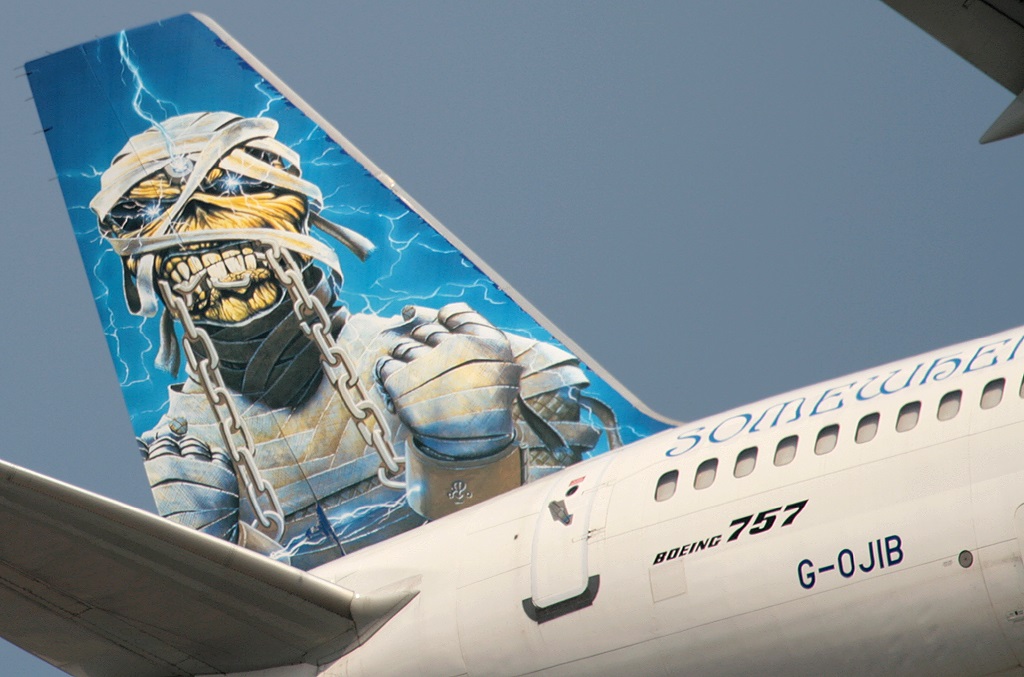 Thursday 5th January


Some days you need a little something to get going. Oliver Reed called his first drink a "heart-starter". I've listened to this the last two mornings:




"Don't ask me what I think of you,
I might not give the answer that you want me to"

RIP (25th July 2020) Peter Allen Greenbaum. Off his head, bless 'im. Danny Kirwan - typical of Green, the greatest English blues guitarist, that he let other people play the lead solos on songs that he had written - is also sadly no more. But I still have a copy of the "dustbin" album: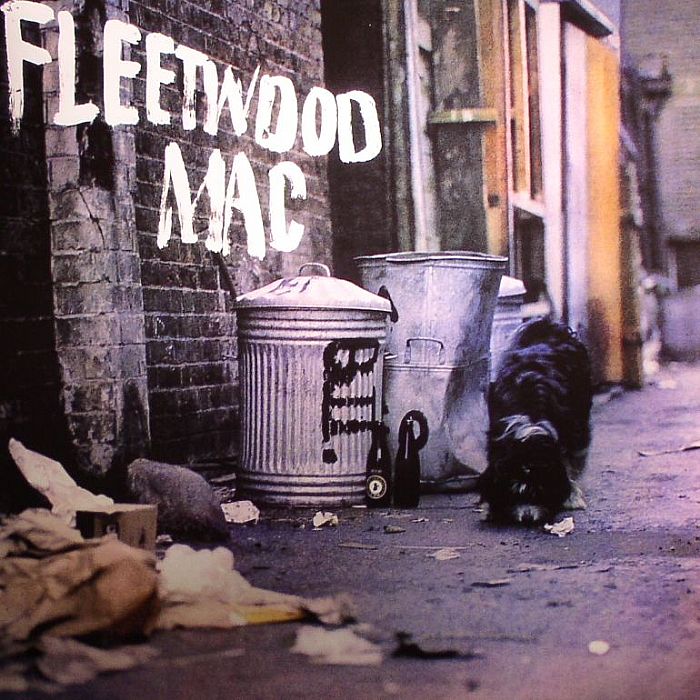 Jeremy Cedric Spencer - maracas in the video above - is still playing: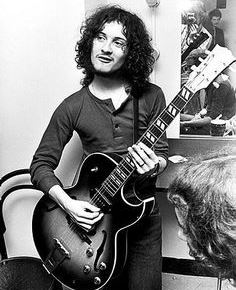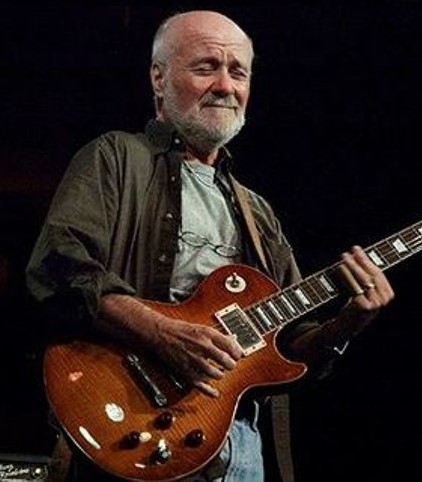 Wednesday 4th January


Please indulge me today as I go personal and reflect on the family visit at Christmas ... and beyond ...

What pleases me as much as anything is how the children thoroughly reject in thought and action the mean-spirited concept of Brexit ... and embrace Europe, indeed the world. The boys also seem to have adopted my liking for offal (warning for those who are not fans of seriously anatomical food, see below).

Nikko was back from Vienna with his daughter, who is half Serb­ian Vien­nese. He ret­urned to Aust­ria in time to cel­ebr­ate New Year in the wilds of Slov­akia with his girl­friend, who is Iranian. The food included meze and Basque haggis, a present from Ben.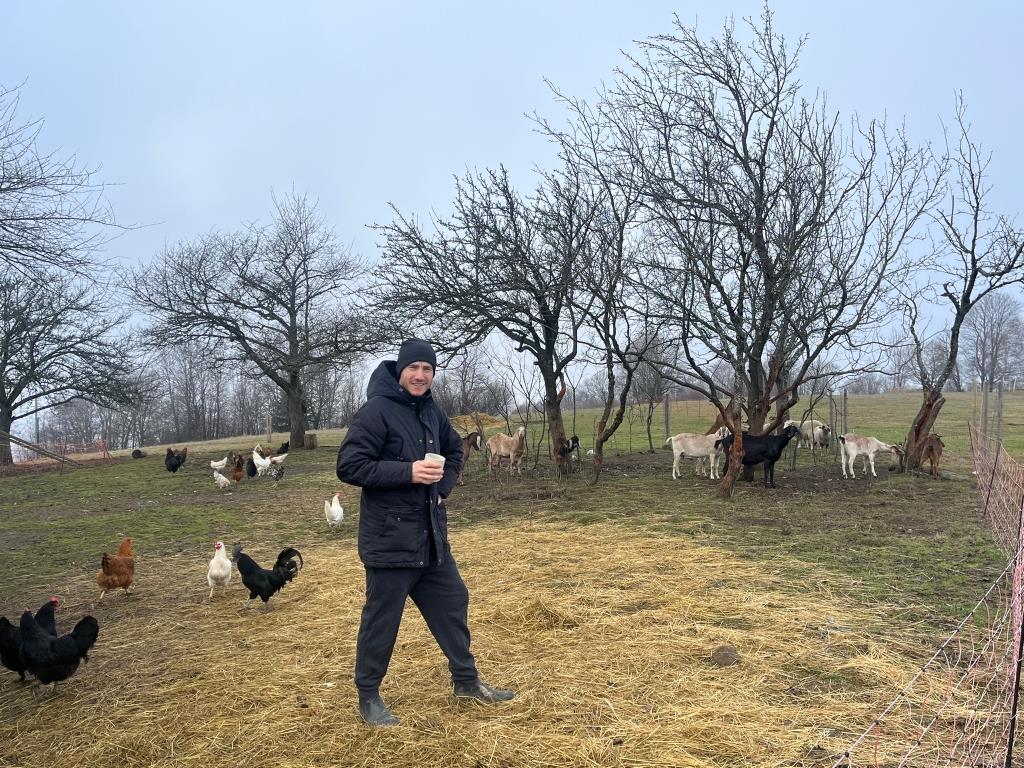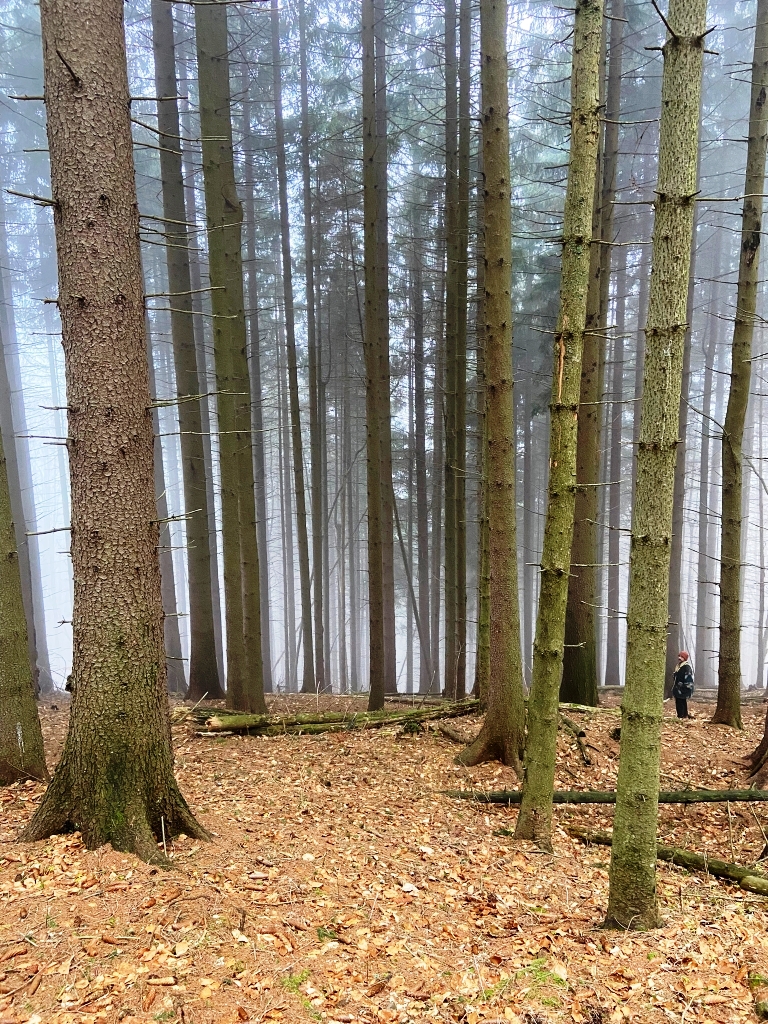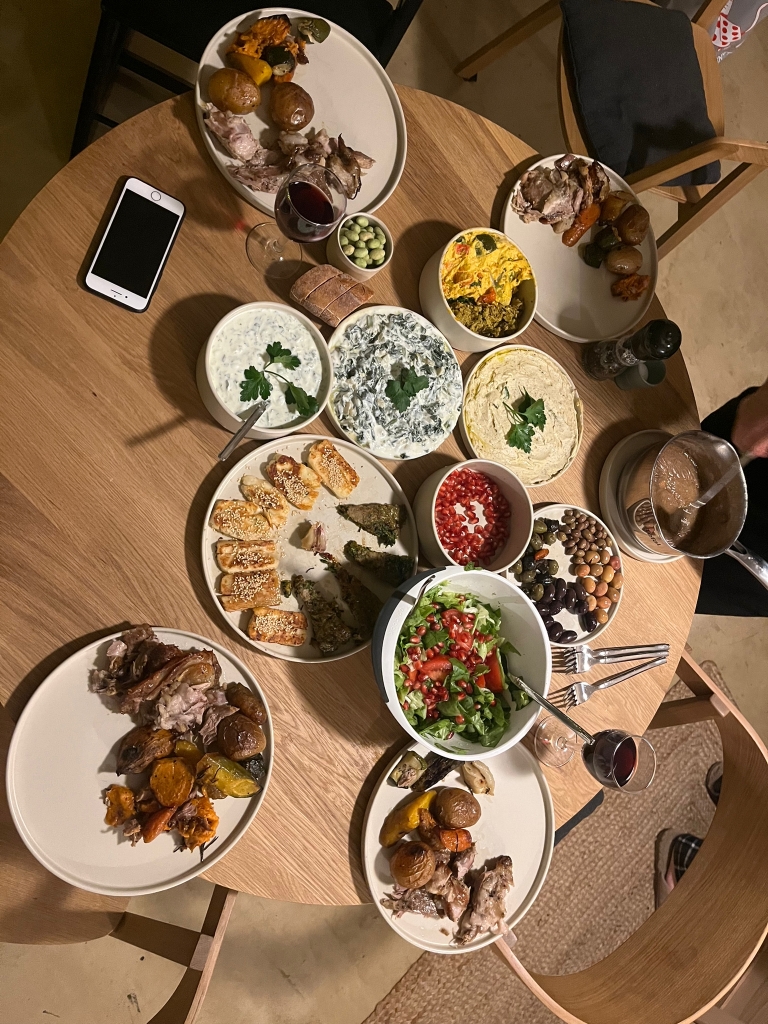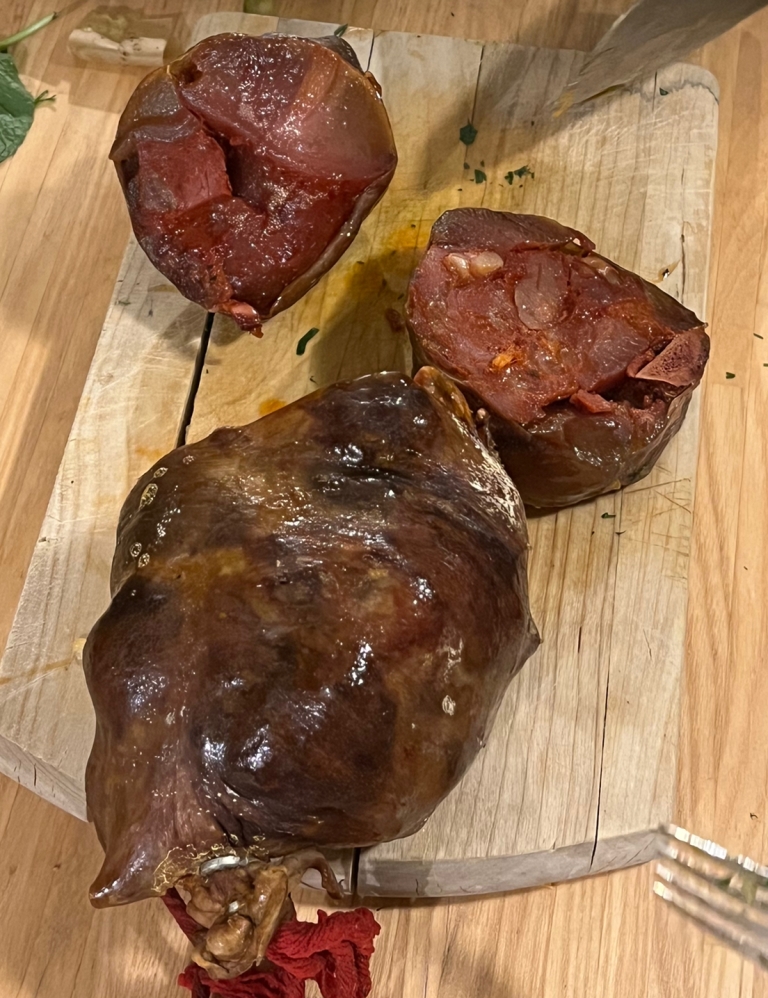 Ben and partner Soph are heading back to Bilbao today. They man­aged a trip while over here to rem­ote Powys, stay­ing near Mach­ynll­eth in the house bel­ong­ing to our friends Liz and Martin White­side. To date there is no "hard border" at Chepstow.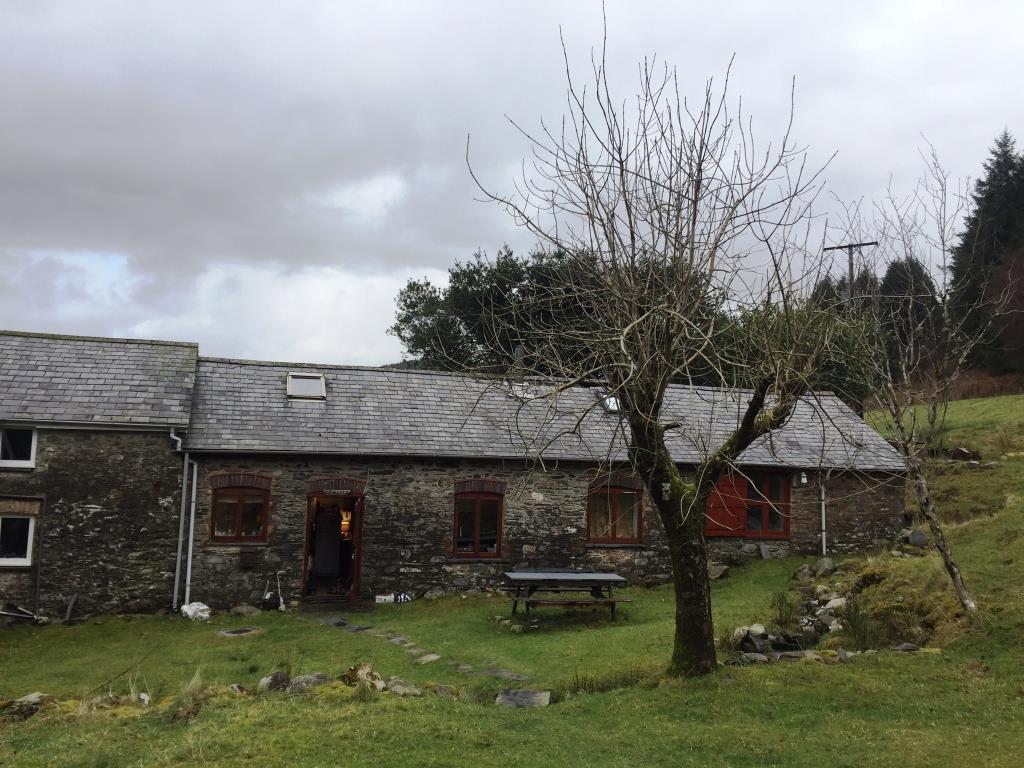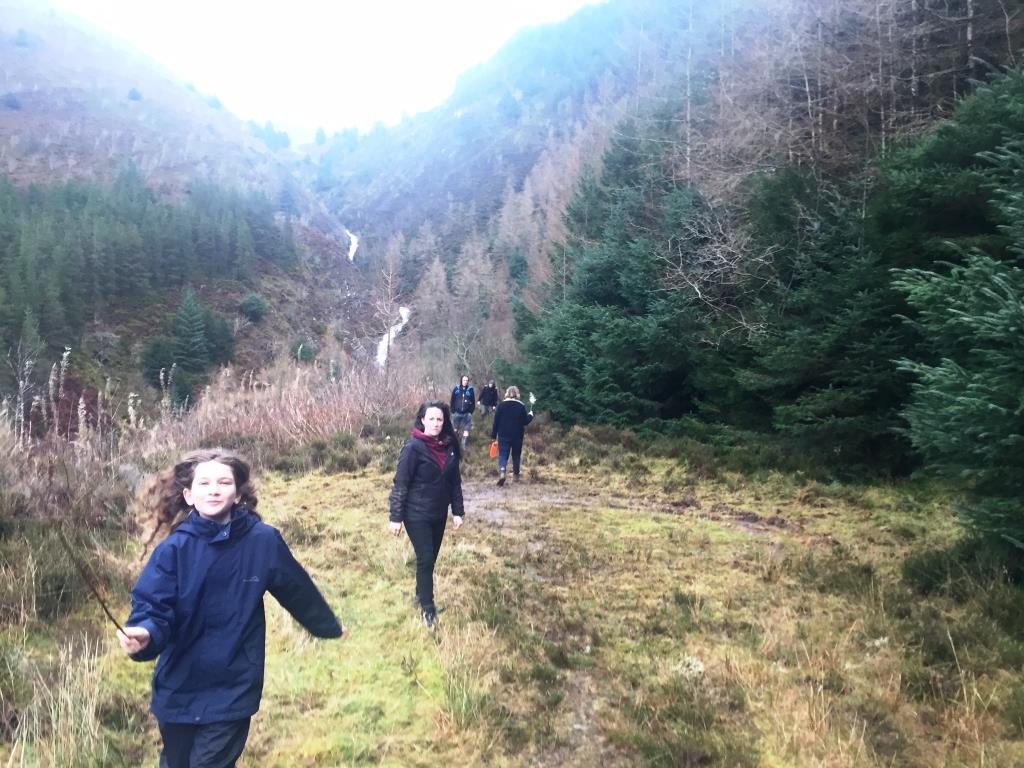 Meanwhile, I'm still here in Stroud. But about to put my Christmas gift from Ben in the slow cooker ... morcilla and alubias de Tolosa: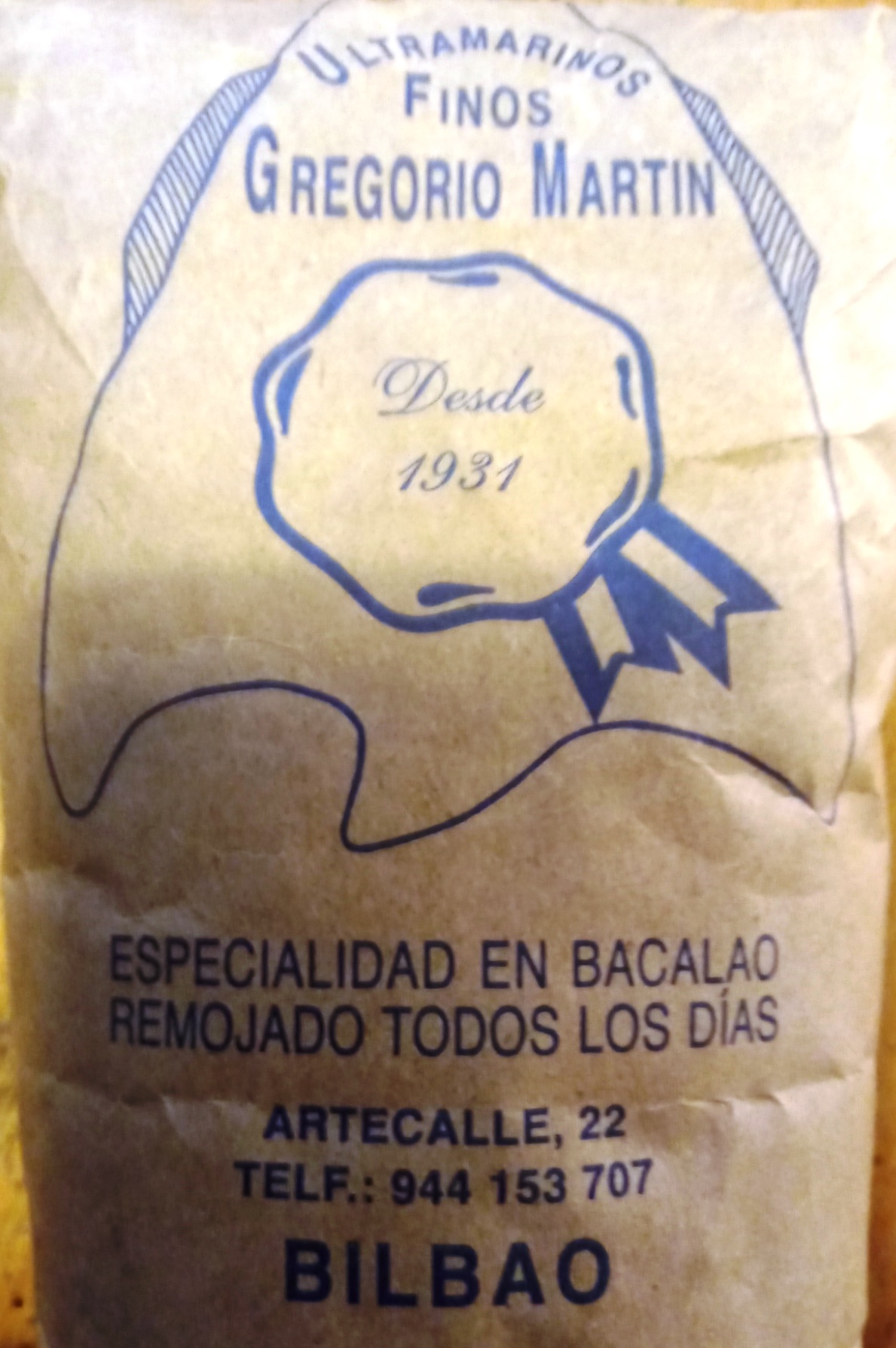 To hell with the 2016 referendum 🖕

Tuesday 3rd January


Just one map today. In 2022 the planet's (human) pop­ul­at­ion pas­sed 8 bil­lion. Where are we all? Click/tap to en­large this chart (cour­tesy of Vis­ual Cap­it­al­ist) - then zoom-and-scroll or what­ever you usu­ally do: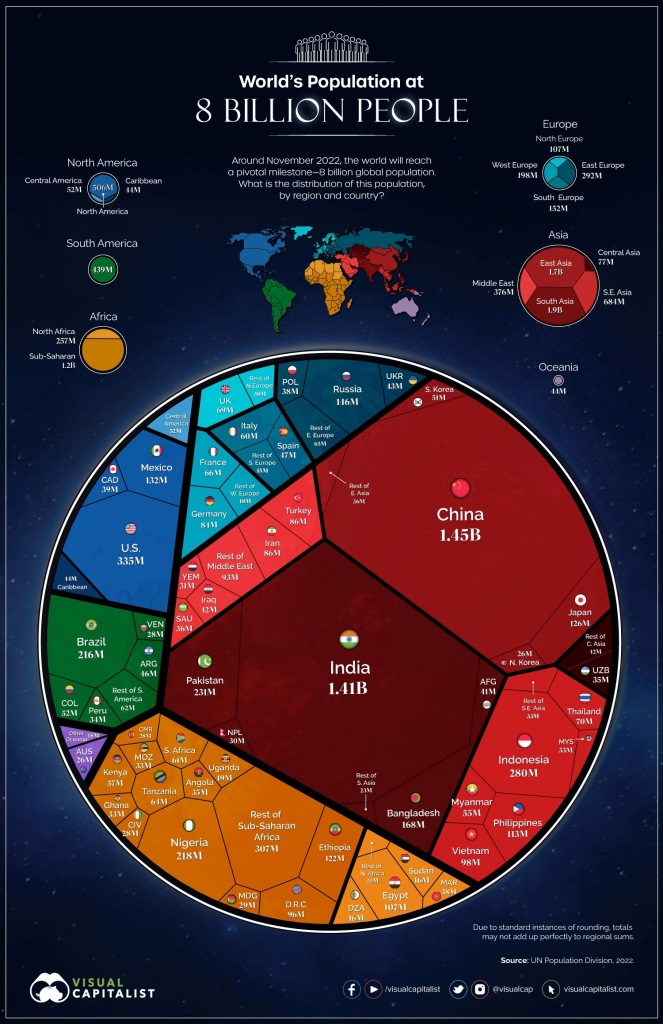 Monday 2nd January


This new year I've decided not to do a summary of the previous twelve months. We all know too much about it al­ready. Inst­ead - the only look­ing back I'll do - I'm post­ing a char­ming and ing­eni­ous Sgt. Pep­per "in mem­or­iam" trib­ute by grap­hic art­ist Chris Barker to many (187) of those we lost in 2022. A pic­ture, numb­ered key and list of names. You will have to "click to enl­arge" to see the det­ail, pref­er­ab­ly on the larg­est screen you own.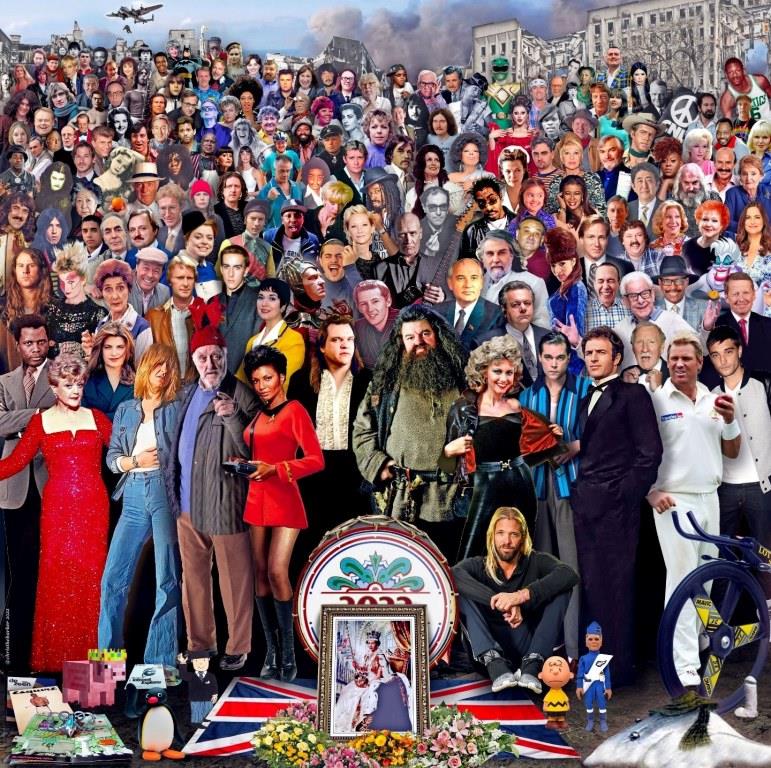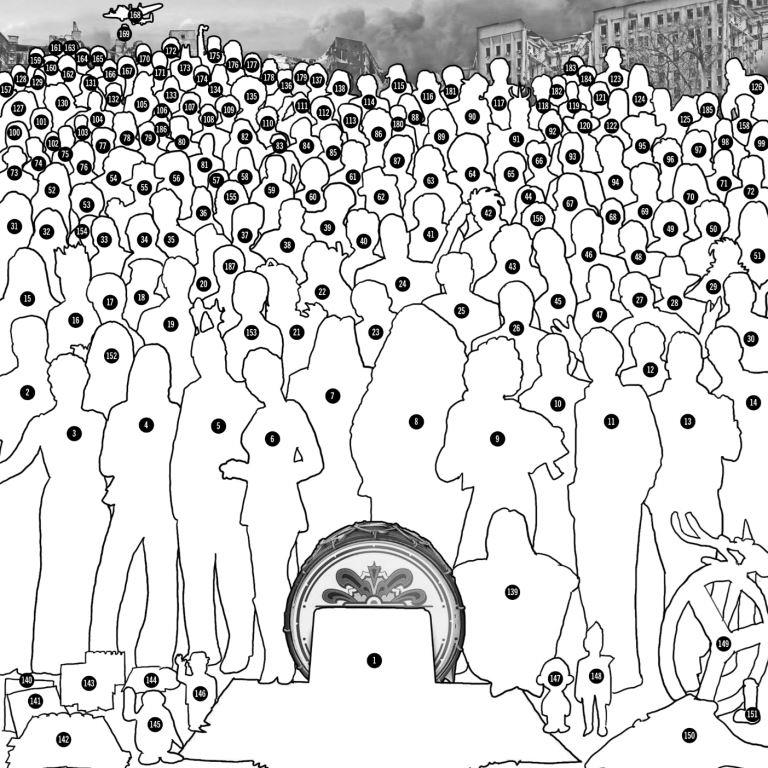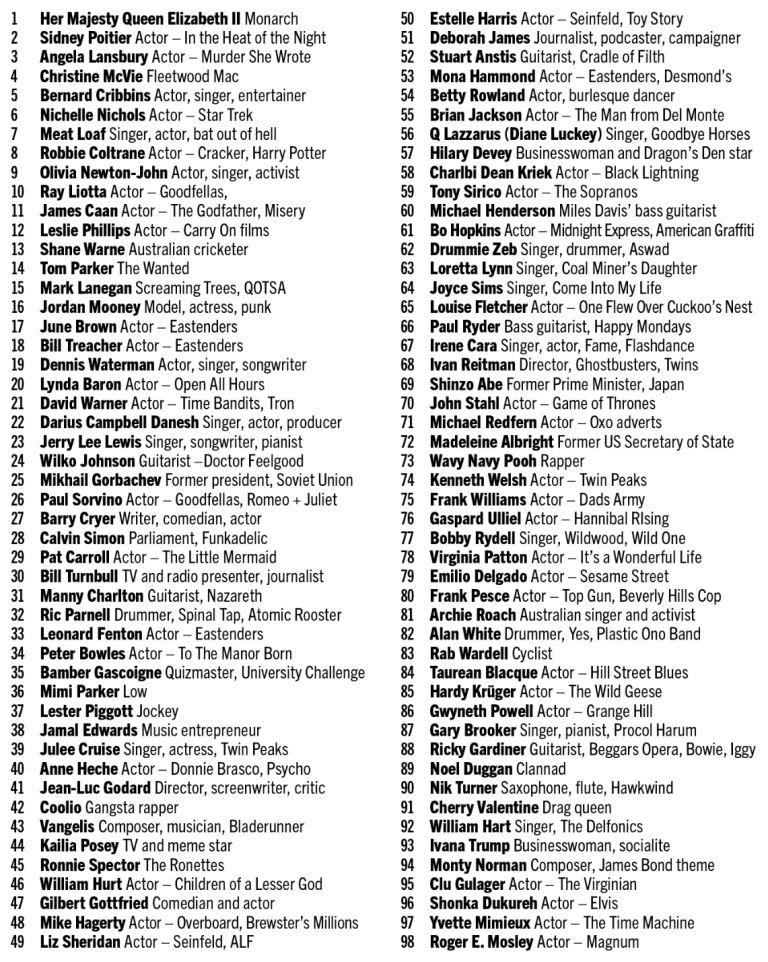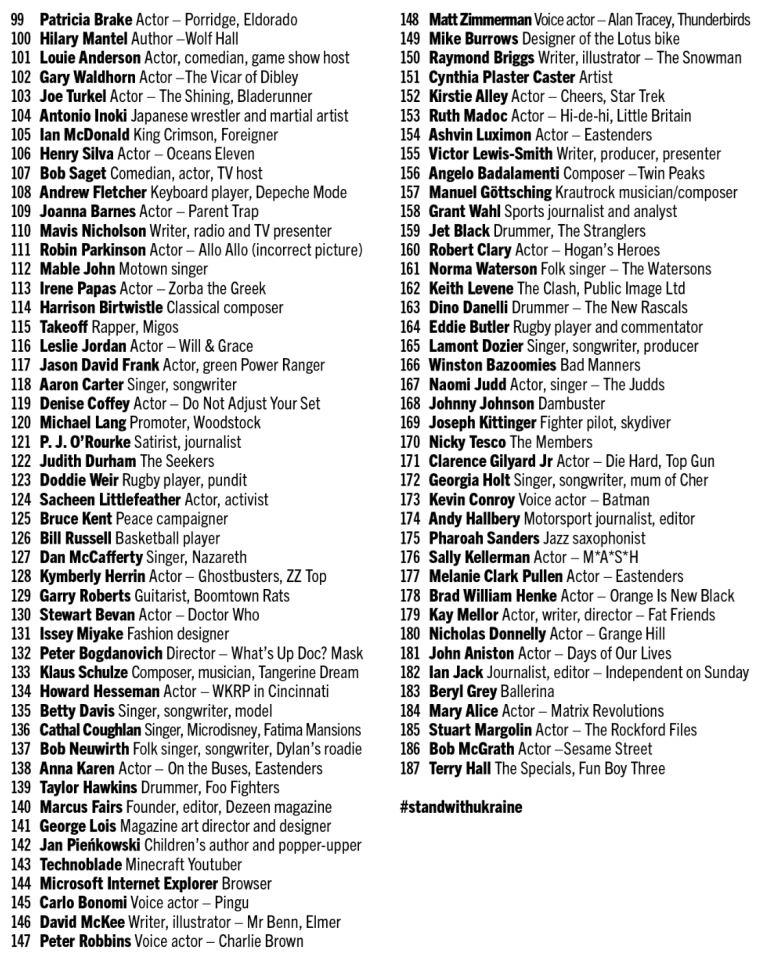 Sunday 1st January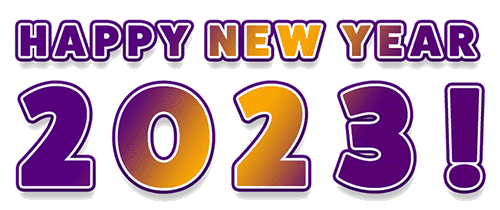 I hope you all had a good Twixmas.

Resolutions, eh? I've decided that I have only one, which I will apply to all of those others I have carried forward from previous years with cons­um­mate pro­crast­in­at­ion. "Do it dif­fer­ent­ly". This means that when I falter, for example when tempted to break the promise I've made to go to the gym, I'll seek a way to get round my obj­ect­ions or sub­stit­ute an equa­lly ben­ef­ic­ial alt­ern­at­ive.

The Christmas break has been marked in this house by a not­able abs­ence of news cons­ump­tion, with cons­equ­ent lift­ing of the spirits. Kids, cooking, eating, visits to the local, breezy out­ings on the common. Precious little "dooms­croll­ing". Al­though I've spoken in these pages about the effect of dig­est­ing grim media output in recent years, I'm late in coming to this term, which Mark Bara­bak of The Times def­ined as "an exc­ess­ive amount of screen time dev­oted to the abs­orp­tion of dyst­op­ian news." Odd, because it grew out of lockdown-induced Covid pand­emic dist­ress, which is where this blog started. It was one of the "words of the year" chosen by the Oxford Dict­ion­ary in 2020. Mer­riam-Web­ster had this at the time:


"Doomscrolling and doomsurfing are new terms refer­ring to the tend­ency to cont­inue to surf or scroll through bad news, even though that news is sad­den­ing, dis­heart­en­ing, or dep­ress­ing. During times of crisis and un­cert­ain­ty, some of us pay more att­ent­ion to the news, looking for ans­wers. And this might not surp­rise you, but we have to say it: a lot of the news is bad. And yet we keep scrol­ling, keep read­ing art­icle after art­icle, unable to turn away from inf­orm­at­ion that dep­resses us."


Guilty as charged. So ... do it differently.

I can't ignore world events, nor should I. That would be "news avoid­ance", anot­her phen­om­en­on I've missed that has grown in the nearly three years of this blog. It's a nat­ur­al reac­tion for many - I've been temp­ted - but not neces­sar­ily a good thing, as evid­enced in the title of a Sept­emb­er 2022 paper I spot­ted - "How News Feels: Anti­cip­ated Anx­iety as a Factor in News Avoid­ance and a Bar­rier to Pol­it­ic­al En­gage­ment", by Benj­am­in Toffa, Univ­ers­ity of Min­nes­ota, and Ras­mus Kleis Niel­sen, Univ­ers­ity of Ox­ford (19 pages):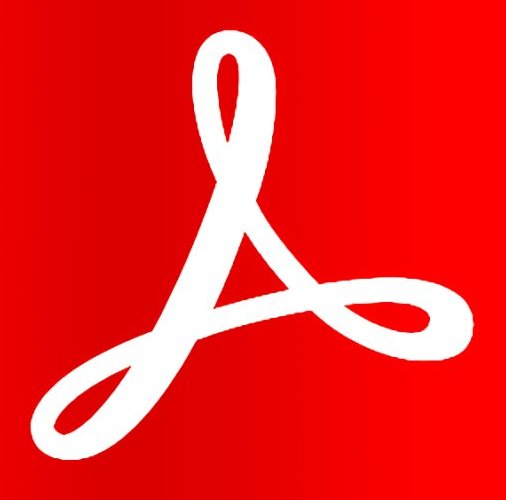 . No need to read this rather tur­gid bit of res­earch, I've only pos­ted it for comp­lete­ness - it was the idea and title that caught my att­ent­ion.

I don't want to be politically disengaged but I need balance this year. Con­cent­rate on use­ful act­ion rather than mood­ily over-obs­erv­ing, like giving sup­port to Stroud's refu­gee camp­aign group, any­thing that will remove the Tor­ies from off­ice, mit­ig­at­ion of Brexit damage.

I may throttle back my love affair with political cartoons. Here's just one for the New Year, courtesy of Kevin "Kal" Kall­augher, cart­oon­ist for The Econ­om­ist and the Balt­im­ore Sun. I intend to give less mental house room to these people (click to enlarge):