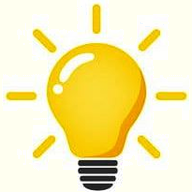 Whatever I Fancy Blog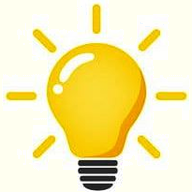 incorporating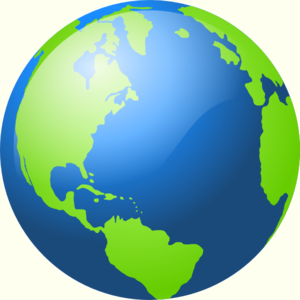 Climate Blog UK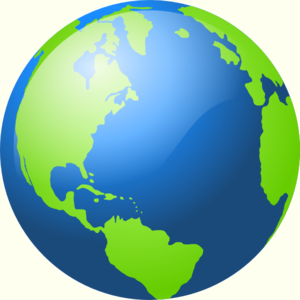 and 'living with'

Coronavirus Blog UK

Comment | Opinion | Questions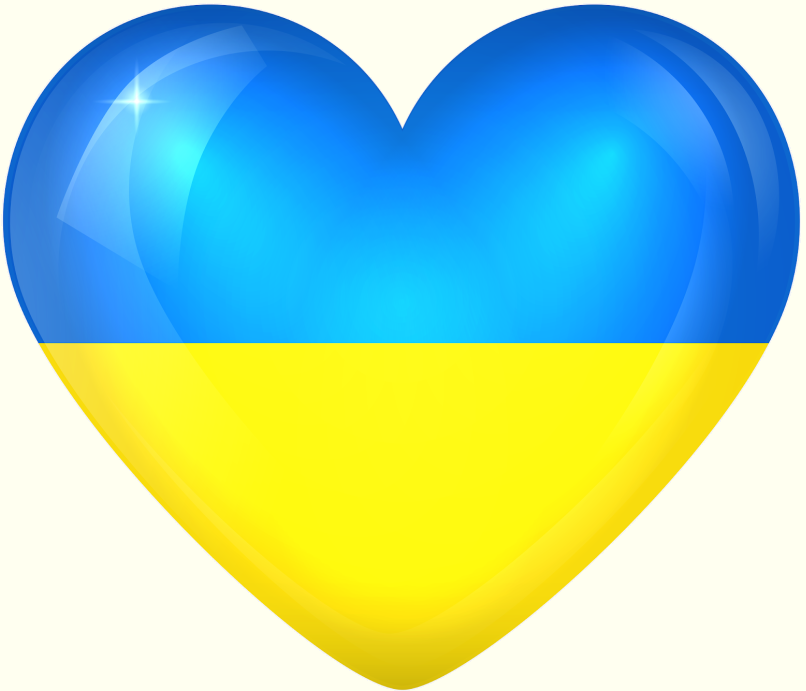 [Entries are in reverse date order, latest at the top. Comments and cont­ri­but­ions are welcome to the email address at the bottom.]



Friday 24th March


As we endured - I've heard from many that they couldn't muster the strength - John­son's twists and turns, or were still in shock from Baro­ness Cas­ey's rep­ort, the vote took place: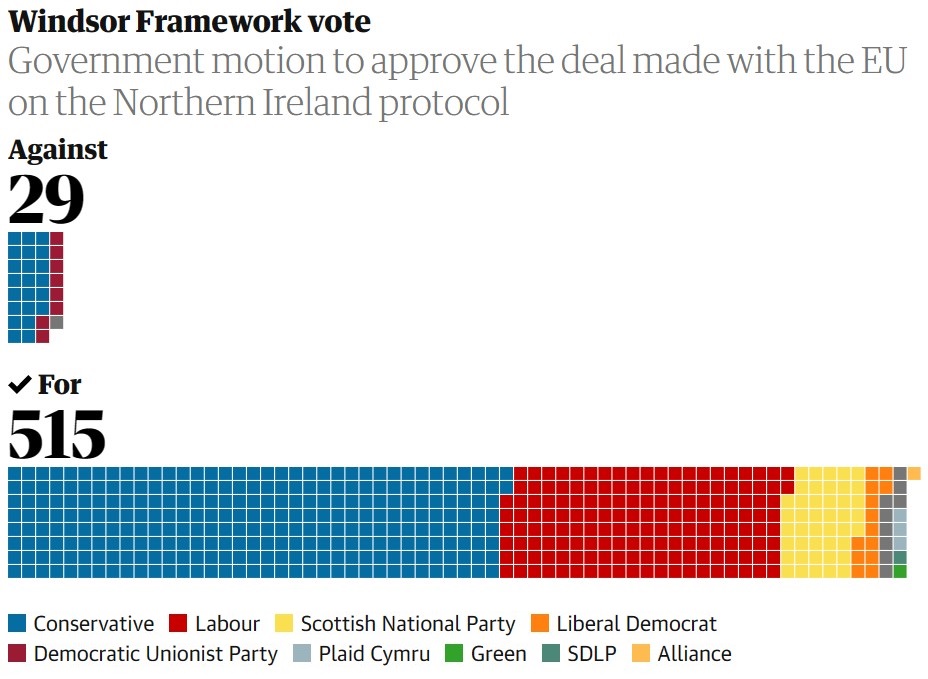 One of the qualifications for voting against the deal was be­ing ex-some­thing. Two ex-PMs, ex-leader of the Cons­erv­at­ive Party, ex-Home Secr­et­ary, ex-Bus­in­ess and Brex­it Opp­ort­un­it­ies Min­ist­er. Why won't they go away? Haven't they got the mess­age? These dis­cred­it­ed oafs hang like a mal­ev­ol­ent cloud over the nat­ion's pub­lic life.




Six DUP MPs voted against. The Guardian chart above shows eight, but two were tell­ers for the div­is­ion and there­fore not coun­ted in the tot­als. The seven Sinn Féin MPs did not vote. One SDLP mem­ber voted for, one didn't vote. The All­iance Party mem­ber supp­orted the motion.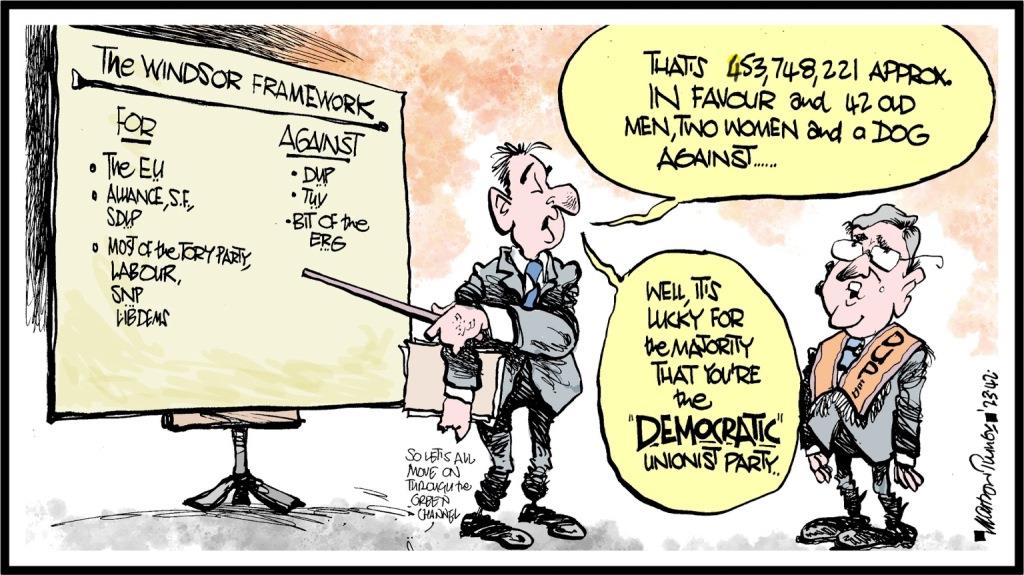 The official parliamentary "Division List" varies slight­ly from the head­line numb­ers. Acc­ord­ing to the parl­iament web­site, this dis­crep­ancy hap­pens quite frequ­ent­ly for reasons that are not ent­ire­ly clear. The list for this vote, the "Draft Wind­sor Frame­work (Dem­ocr­atic Scrut­iny) Reg­ul­at­ions 2023 Div­is­ion 197", has a top-level res­ult that matches the Guardian graphic, namely the "Ayes" at 515, the "Noes" at 29. How­ever, the det­ail at the bot­tom of "memb­ers rec­ord­ed" shows 512 for the mot­ion, 3 less than the pub­lished out­come. Oh well. The total still adds up to 650. We aren't going to worry too much, are we? Here's the list for your per­usal, how every­body voted or didn't vote, in alph­ab­et­ic­al order by sur­name: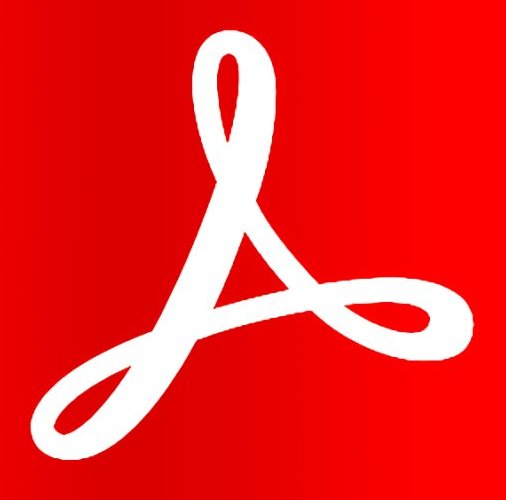 Thursday 23rd March


A bad few days for probity in public service. If there are key asp­ects of our soc­iety that you'd want to be squeaky-clean and fully funct­ion­al, two at or near the top of the list would sure­ly be the inte­gri­ty of our el­ect­ed rep­res­ent­at­ives and the even-hand­ed main­ten­ance of law and order. The people ent­rust­ed with the gov­ern­ment of the coun­try and those empl­oyed to prot­ect us.

I grew up with this image of the police: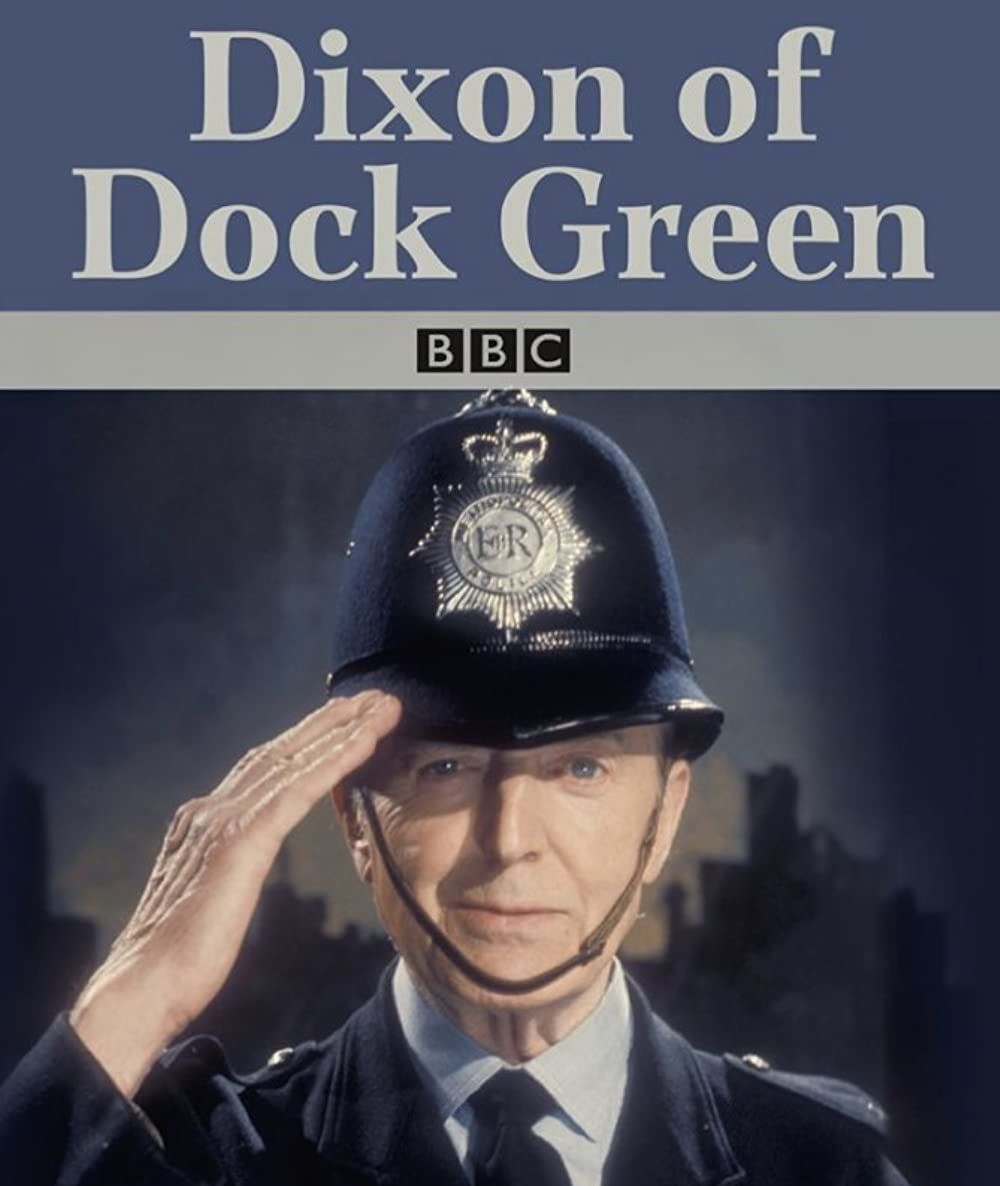 At your service, that's what the salute says, doesn't it? The face is app­roach­able, kind, trust­worthy. The uni­form and hel­met - comp­lete with the badge and crown of the mon­arch - imply struc­ture and stab­il­ity.

The Met has fallen a very, very long way.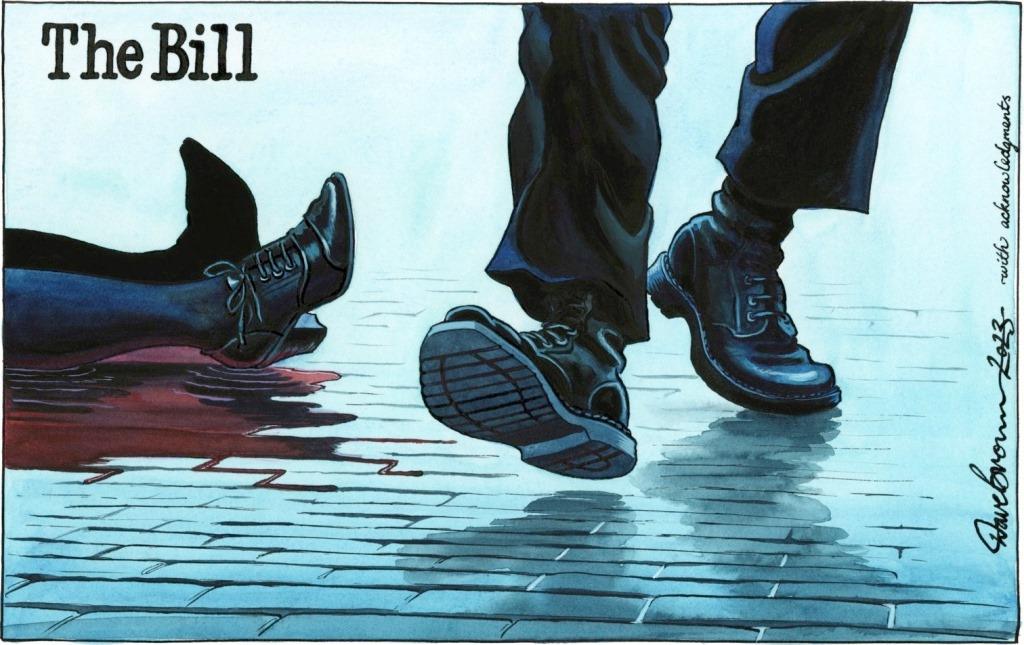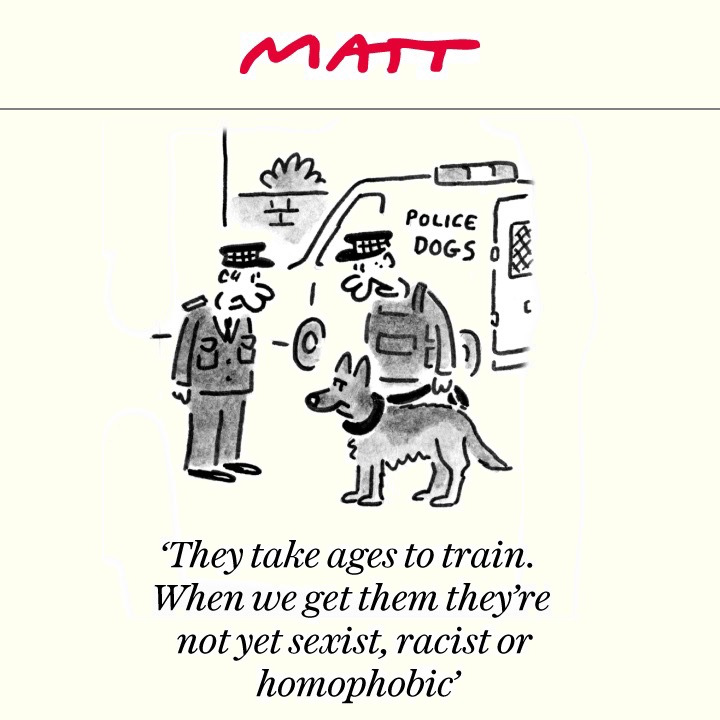 OK, Dixon is seen through a rose-tinted rear-view mir­ror - no bad app­les, no Mas­on­ic hand­shakes, no prej­ud­ice in the good ol' days, right? - but Bar­on­ess Cas­ey's rep­ort is as damn­ing as any rev­iew I've ever seen. If you can face 363 pages, here is the off­ic­ial vers­ion: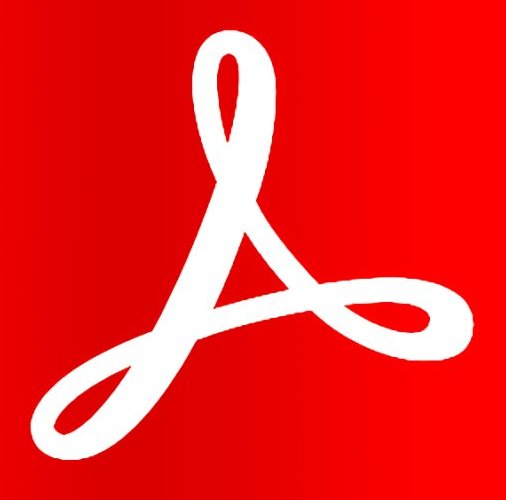 Fortunately, most of the 10 "Chapters" of the doc­um­ent have a syn­op­sis. Up front, on pages 9-18, there are the over­all "Summa­ry and Concl­us­ions". The eight head­ings give a flav­our:
There are systemic and fundamental problems in how the Met is run.
The Met has not managed the integrity of its own police service.
The Met's new leadership represent a welcome change of tone and app­roach. How­ever, deep seated cult­ures need to be tack­led in order for change to be sust­ained.
Londoners have been put last.
London's women and children have been left even further behind.
The Met lacks accountability and transparency.
Discrimination is tolerated, not dealt with and has become baked into the system.
The Met is in danger of losing its way - consent is broken.
Not an end-of-term report you'd want to take home to your parents.

And back to that elected representative: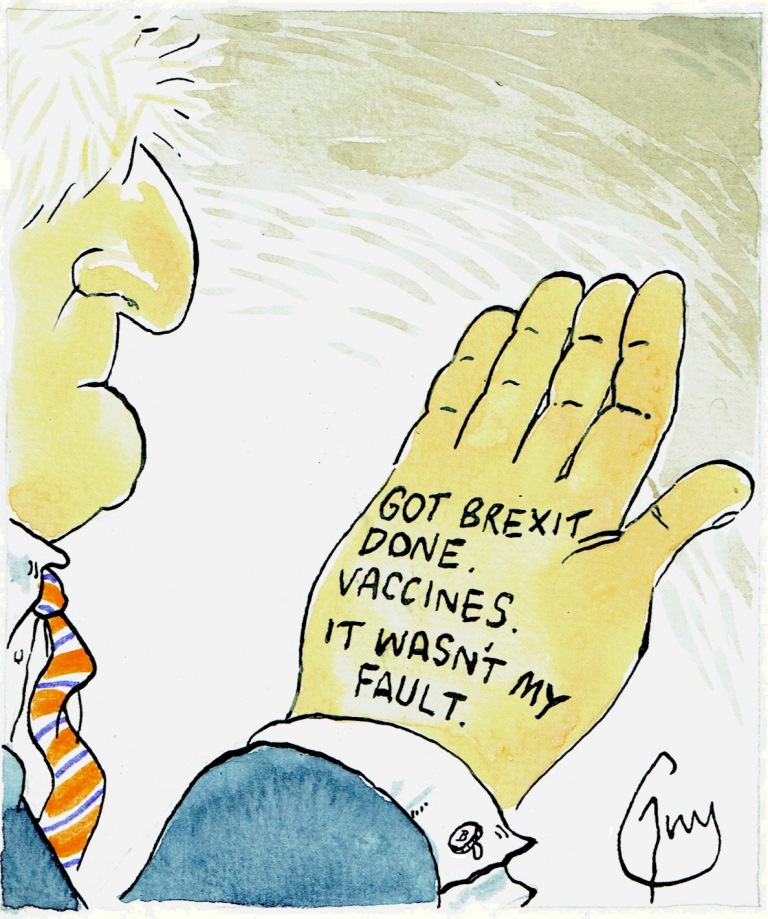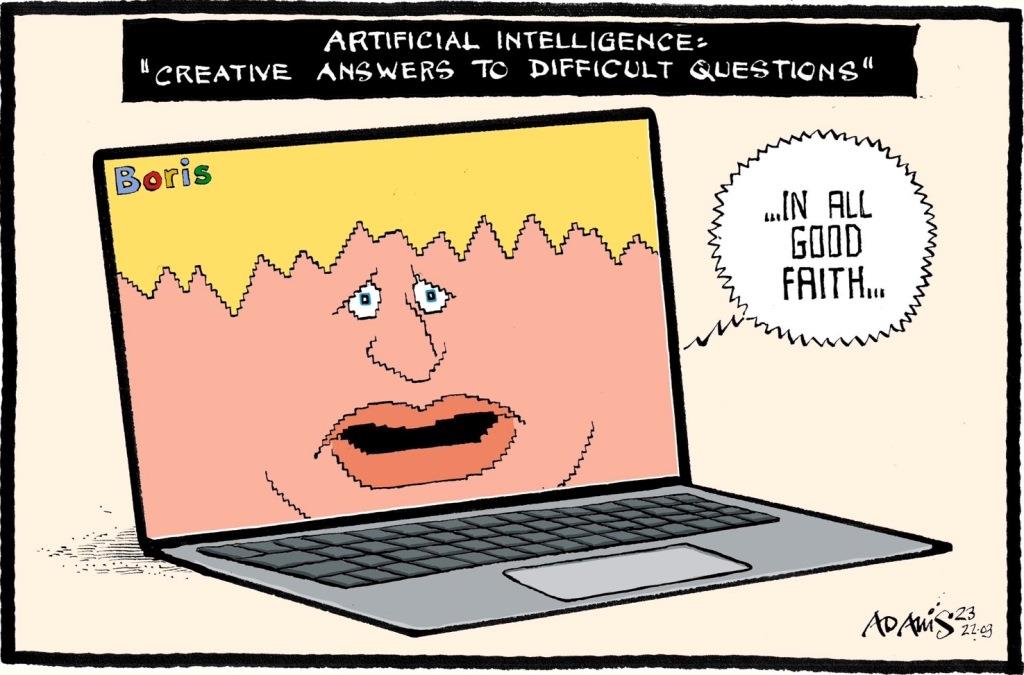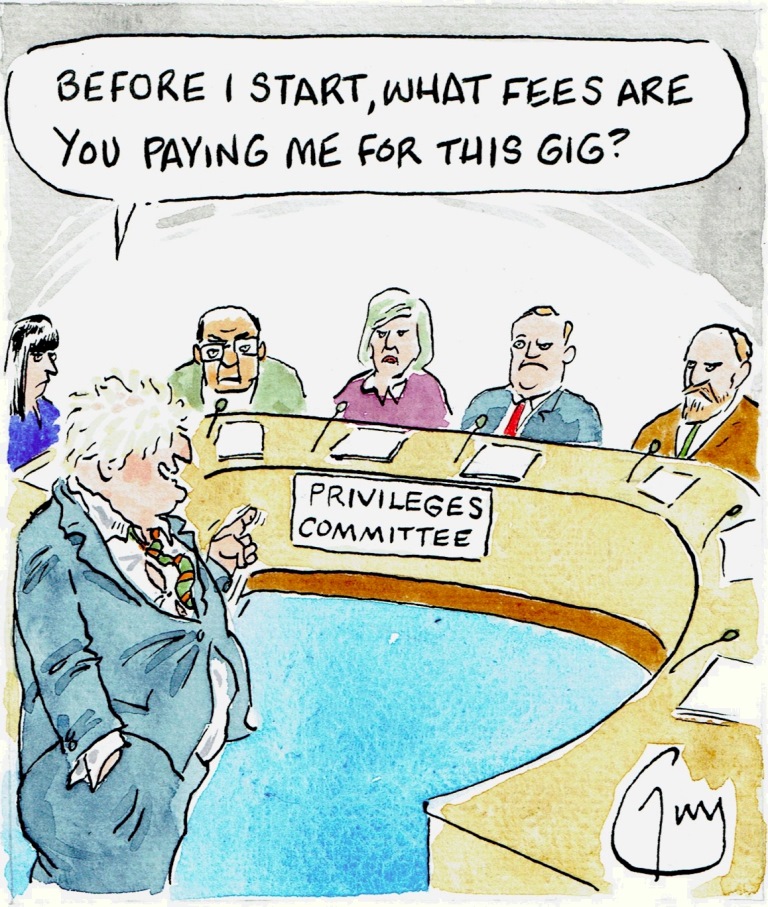 Will he really?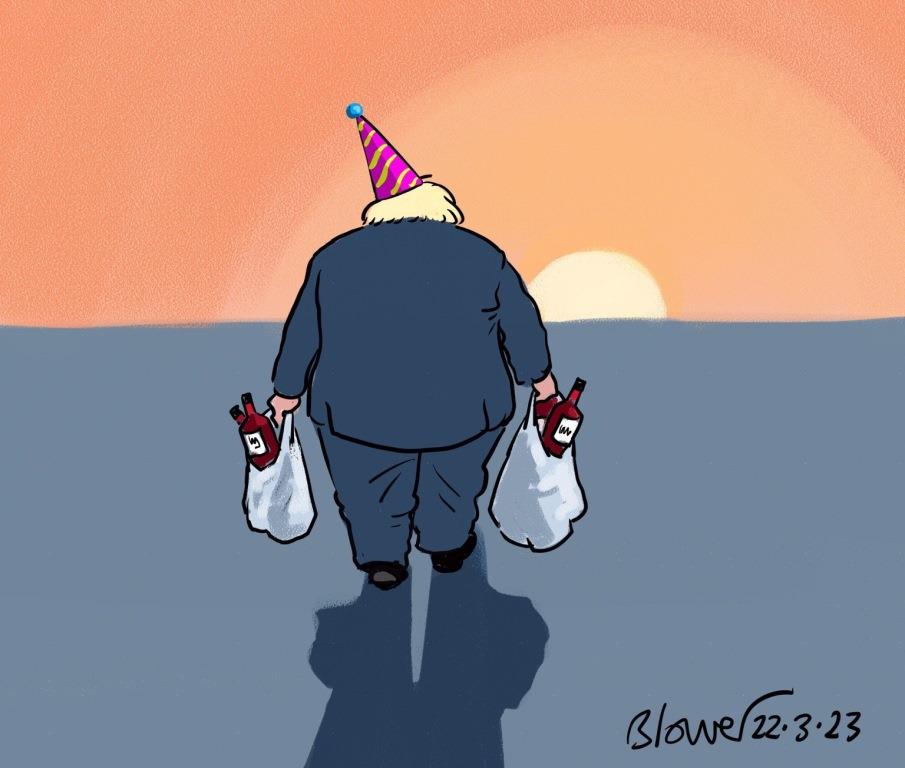 Wednesday 22nd March


A rather inward-looking day, but I'd like to cel­eb­rate it. The third ann­iv­ers­ary of this blog, star­ted on 22nd March 2020.

Some stats:
312,000 words (not all my own as I quote widely)
3,795 file items, including: PDFs of original documents, headline and Twitter screenshots, photos, cartoons, videos, audio files
750 distinct visitors (not huge, but enough to keep me on my toes)
Top 25 countries by number of visits in descending order: United Kingdom (85.21%), United States (7.95%), Luxembourg, China, Germany, Australia, Spain, Ireland, Guernsey, France, Netherlands, Italy, Mexico, Canada, Poland, Turkey, Egypt, Switzerland, Portugal, United Arab Emirates, Nigeria, Czech Republic, South Africa, Belgium, Togo
3 Prime Ministers, 4 Chancellors, 3 Foreign Secretaries, 3 Home Secretaries (Braverman twice)
I'll pick some moments to commemorate the three years. Difficult when there have been so many. I'll go for people or events that have loomed large.

Five videos (out of 269 I've posted). There's quite a lot to watch. Pick and choose. Dip in, come back later.



Johnson interviewed by AC-12
Comedian Sarah Cooper tackles Trump and disinfectant
Honest Government advert explains net zero by 2050 (comes with bad language warning)
Sorrowful Moscow 'Queen of the Kiosk' Valentina
Patrick Stewart finds out about the ECHR


Ten cartoons (out of 363 - cripes!).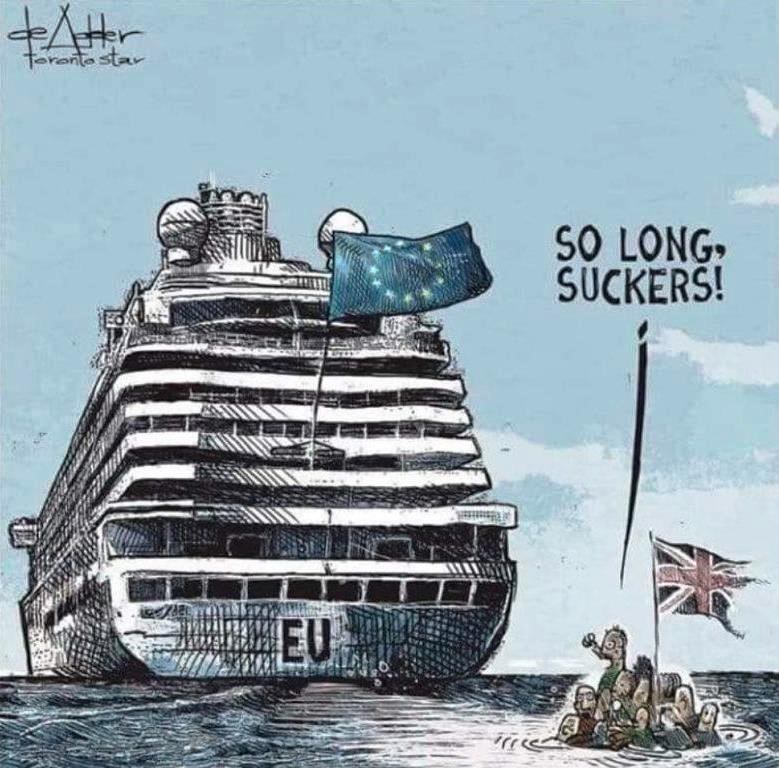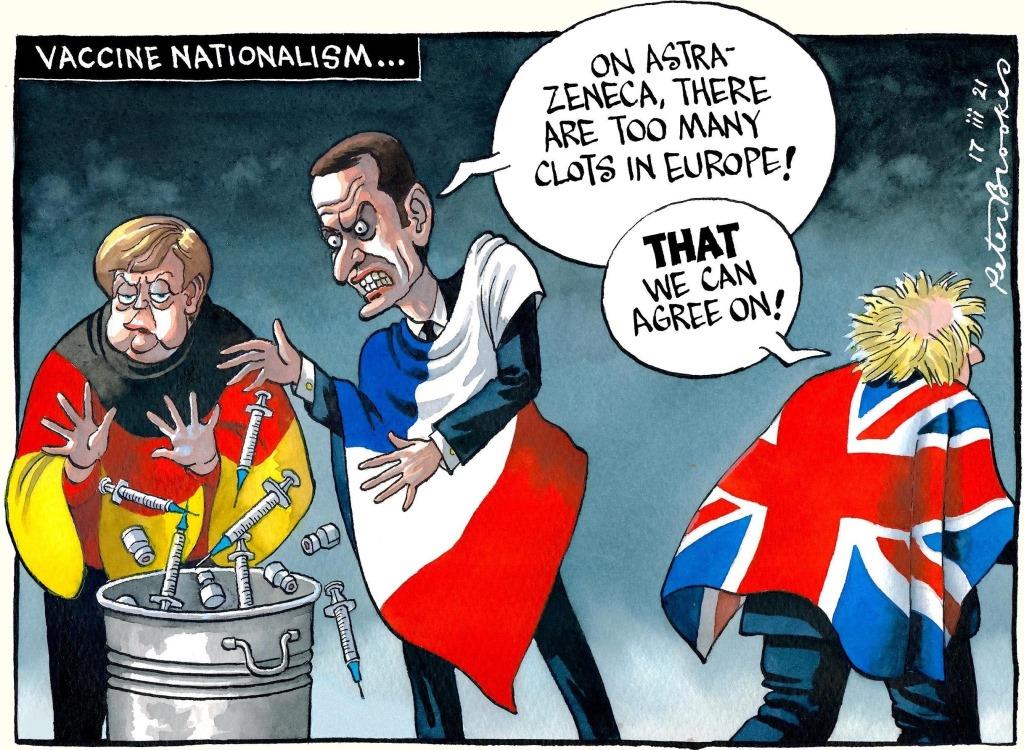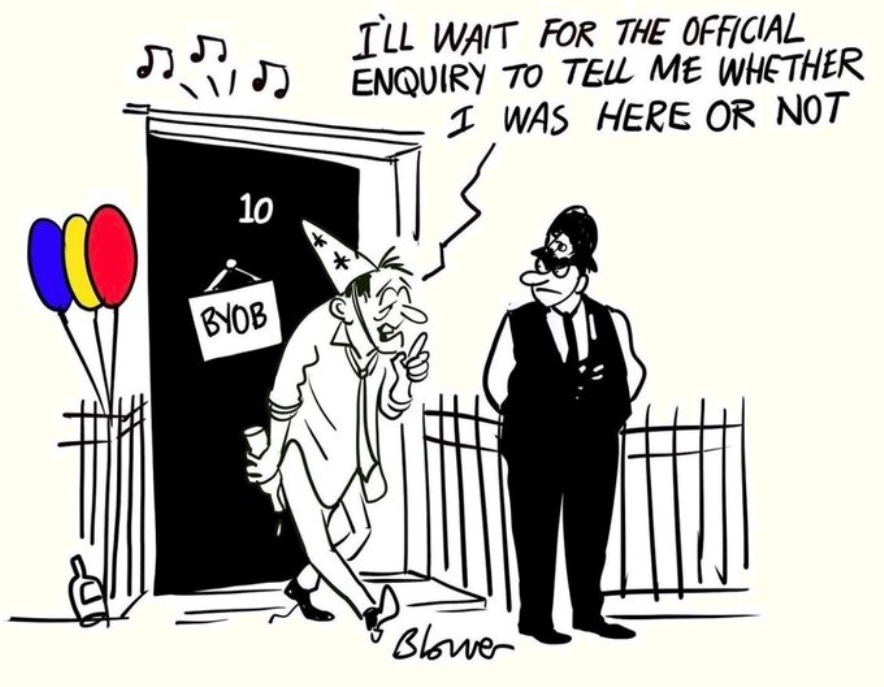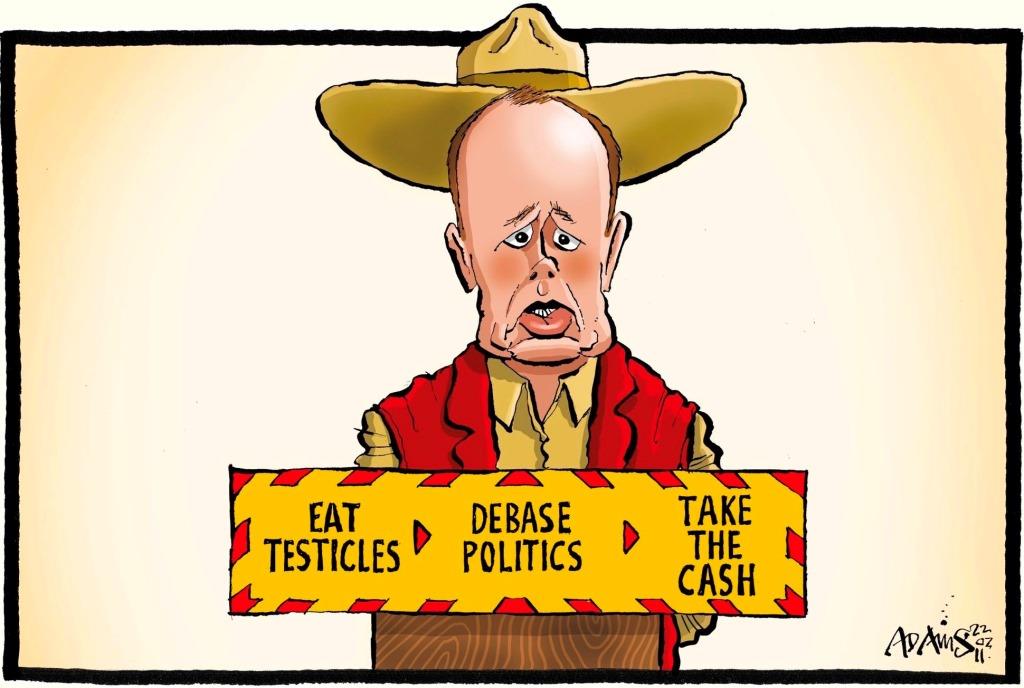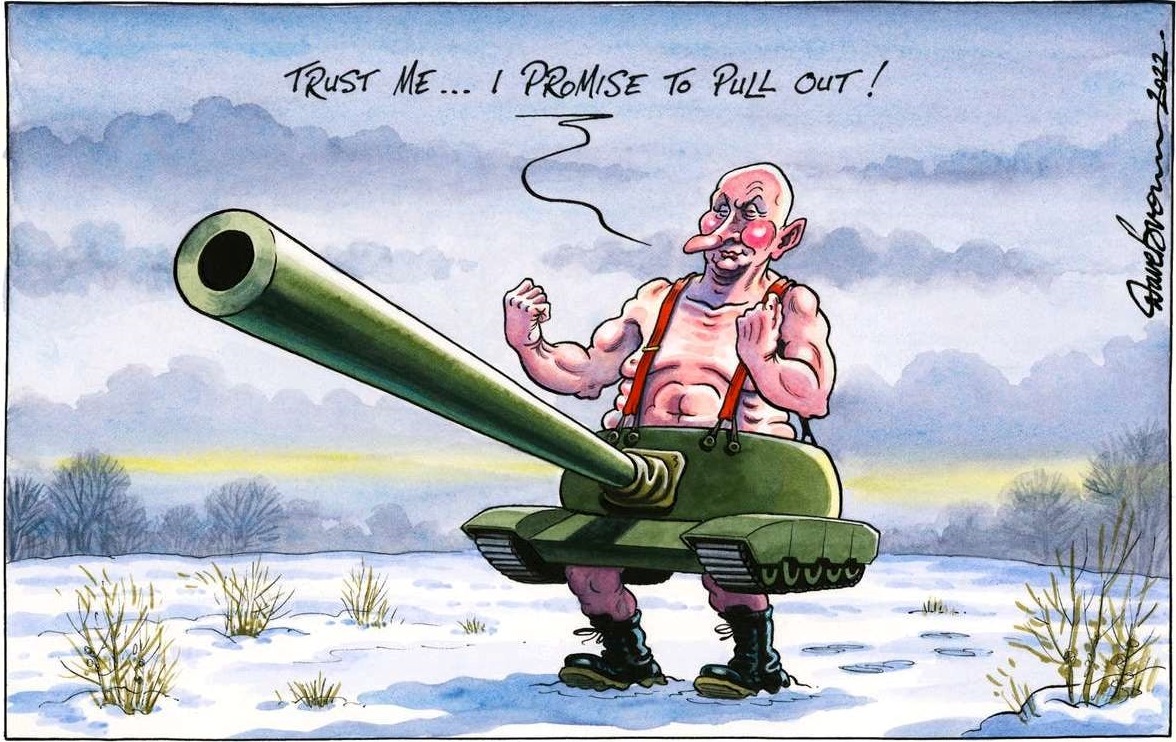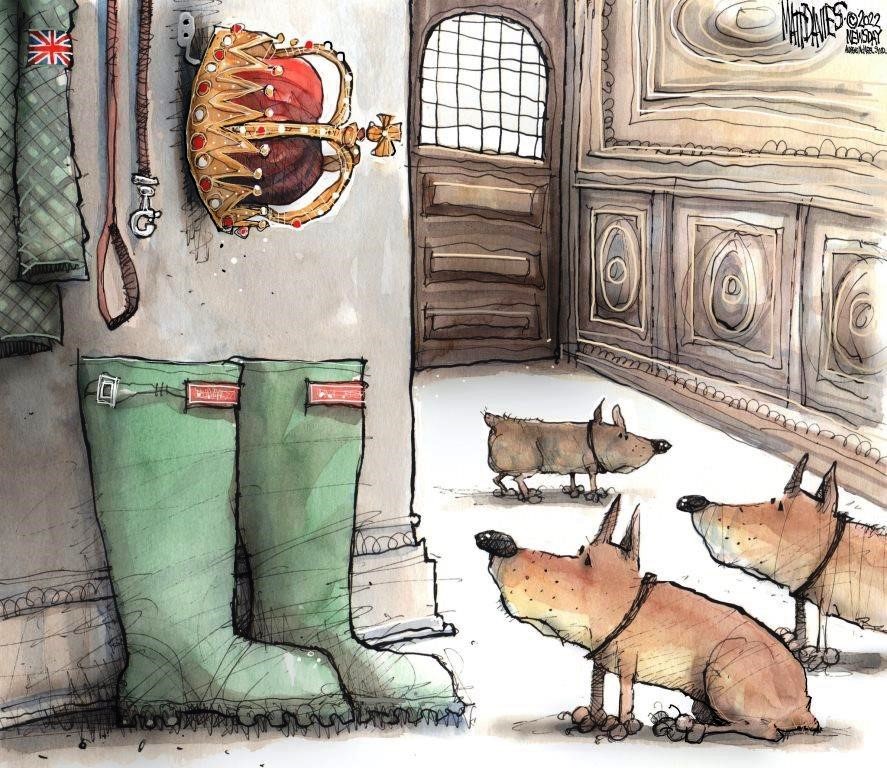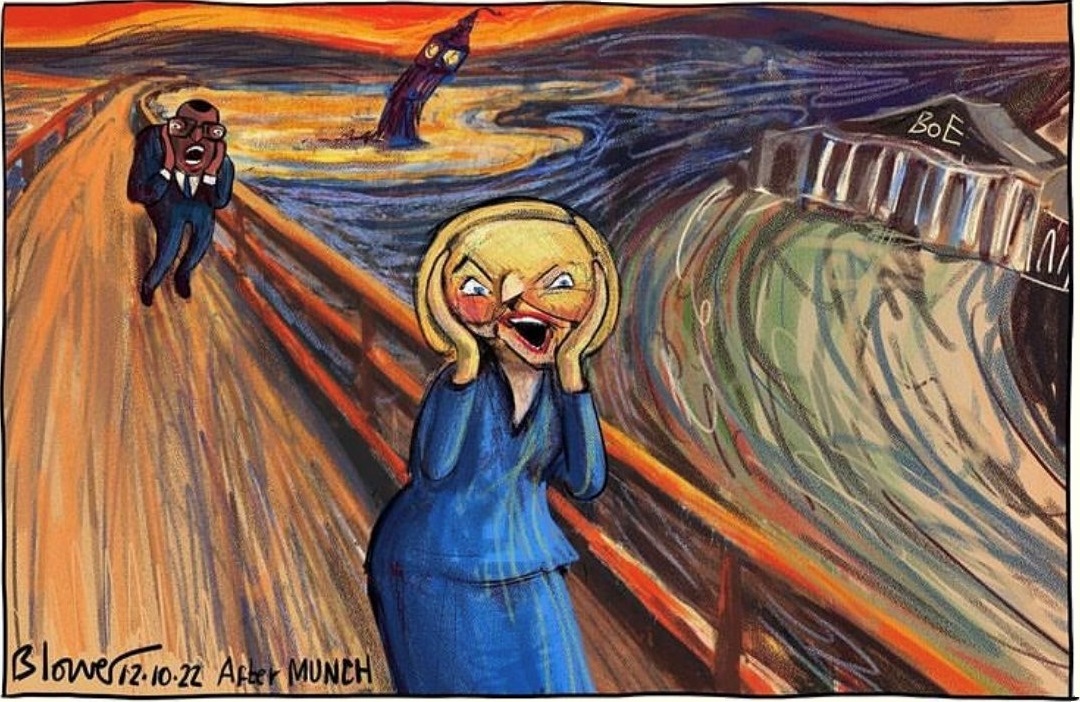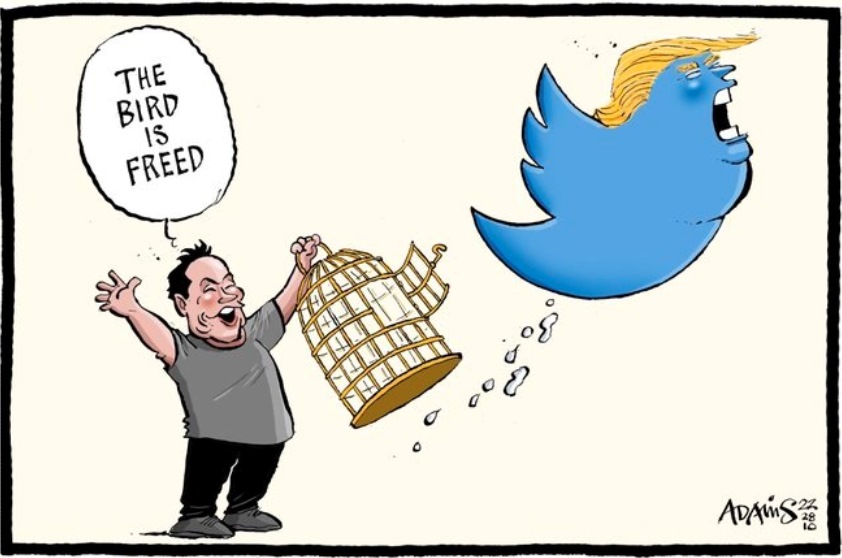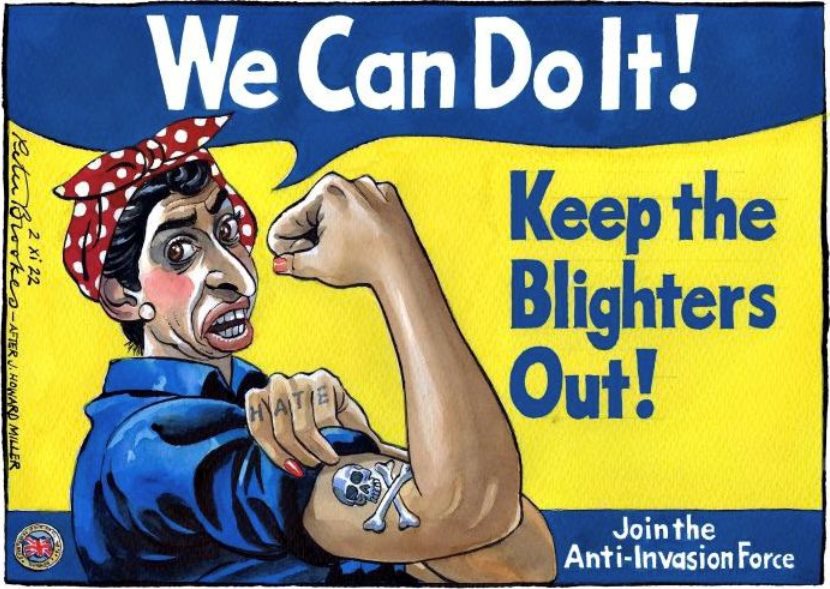 One song.


When it's not always raining, there'll be days like this

When there's no one complaining, there'll be days like this

When everything falls into place like the flick of a switch

Well my mama told me there'll be days like this





When you don't need to worry, there'll be days like this

When no one's in a hurry, there'll be days like this

When all the parts of the puzzle start to look like they fit

Then I must remember there'll be days like this


Thanks to all those who have contributed and commented. You know who you are.

Tuesday 21st March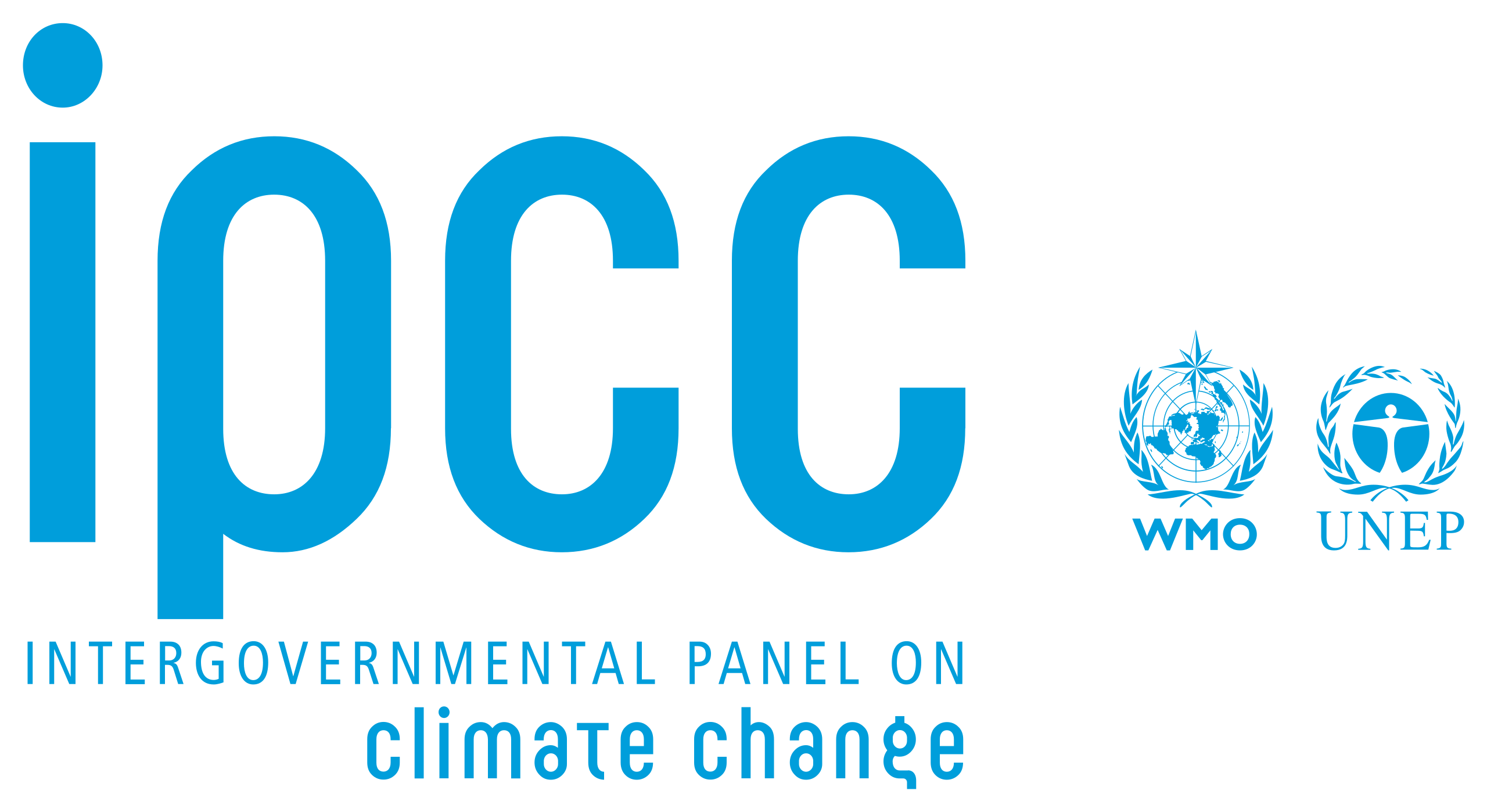 The IPCC yesterday announced the final part of its Sixth Ass­ess­ment Rep­ort, the "Synth­es­is Rep­ort", at the concl­us­ion of the Panel's 58th Sess­ion held in Int­er­lak­en, Switz­er­land. Poss­ibly the last such doc­um­ent before it's all too late, as there won't be anot­her until 2030. The IPCC web­site says the full vers­ion is still un­av­ail­able, "com­ing soon", but I was able to down­load the press rel­ease (4 pages: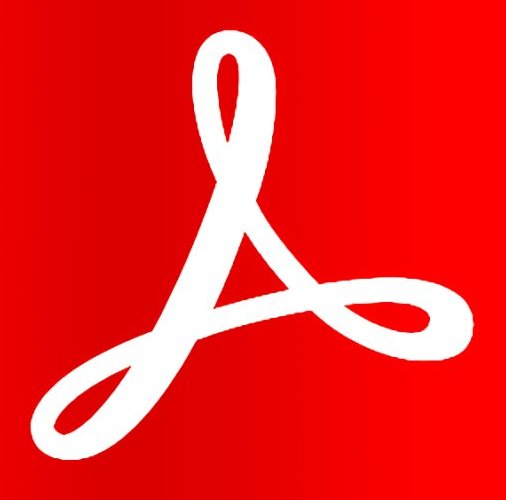 ) and the "Sum­mary for Pol­icy­mak­ers" (36 pages: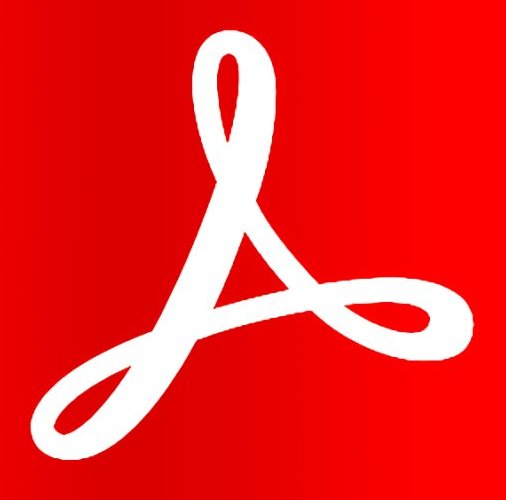 ).

At 36 pages of dense technical detail the Summary itself is a chall­eng­ing read, so I've extr­act­ed a sel­ect­ion of diag­rams to prov­ide an over­view. Even they requ­ire an eff­ort of close scrut­iny. You'll have to click/tap/zoom/rot­ate to insp­ect each chart, as the detail is diff­ic­ult to see at the top-level disp­lay res­ol­ut­ion I've had to use below. Some­times the shape of the graph shad­ing helps, and there's a use­ful rule-of-thumb colour grad­at­ion: blue is good, red is bad.

In struggling to digest (I tremble at the thought of the full report), I've realised that it all boils down to three points: 1) the situation has got pretty bad; 2) what we have to do to fix it; and 3) we'd better be quick. Please feel free to skip the rest of today's blog.

Let's start with where-are-we-now and where-are-we-heading: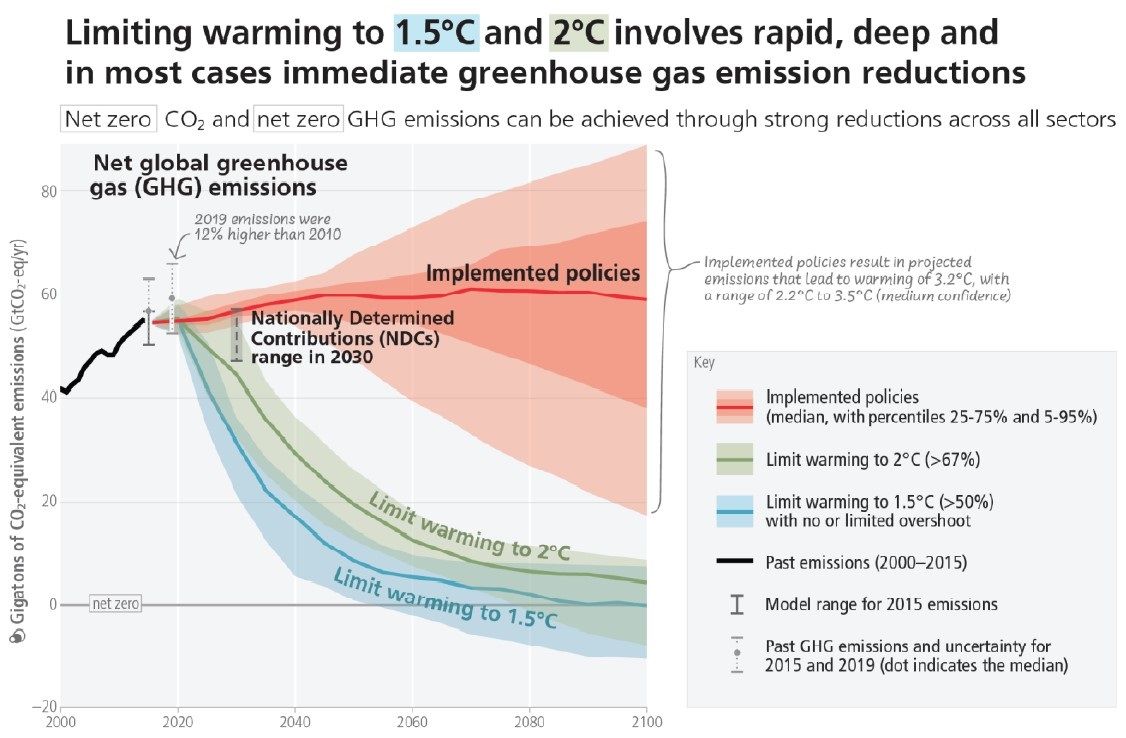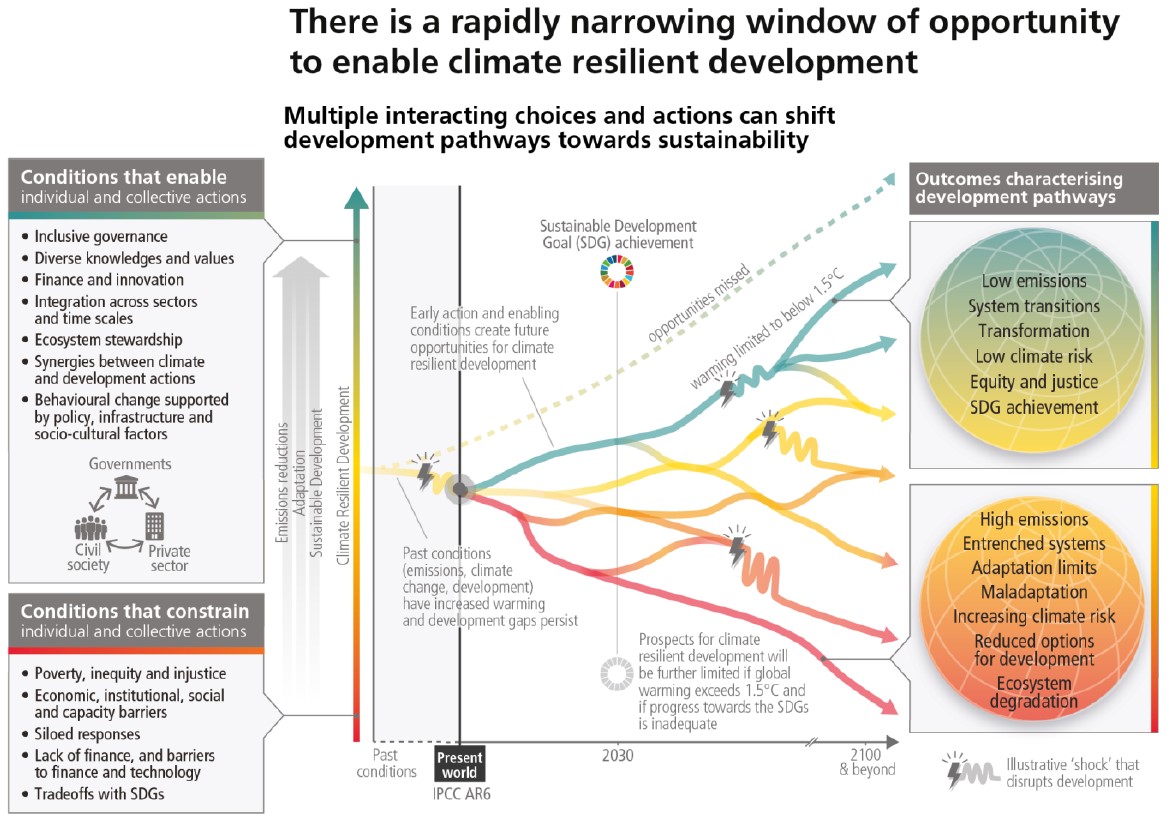 This is the one that really gets to me. My 70-year-old life­time - and with it the blame for where we are - is shown in the group of people at the bot­tom. My child­ren broadly fit into the next line up. And my grand­child­ren into the third.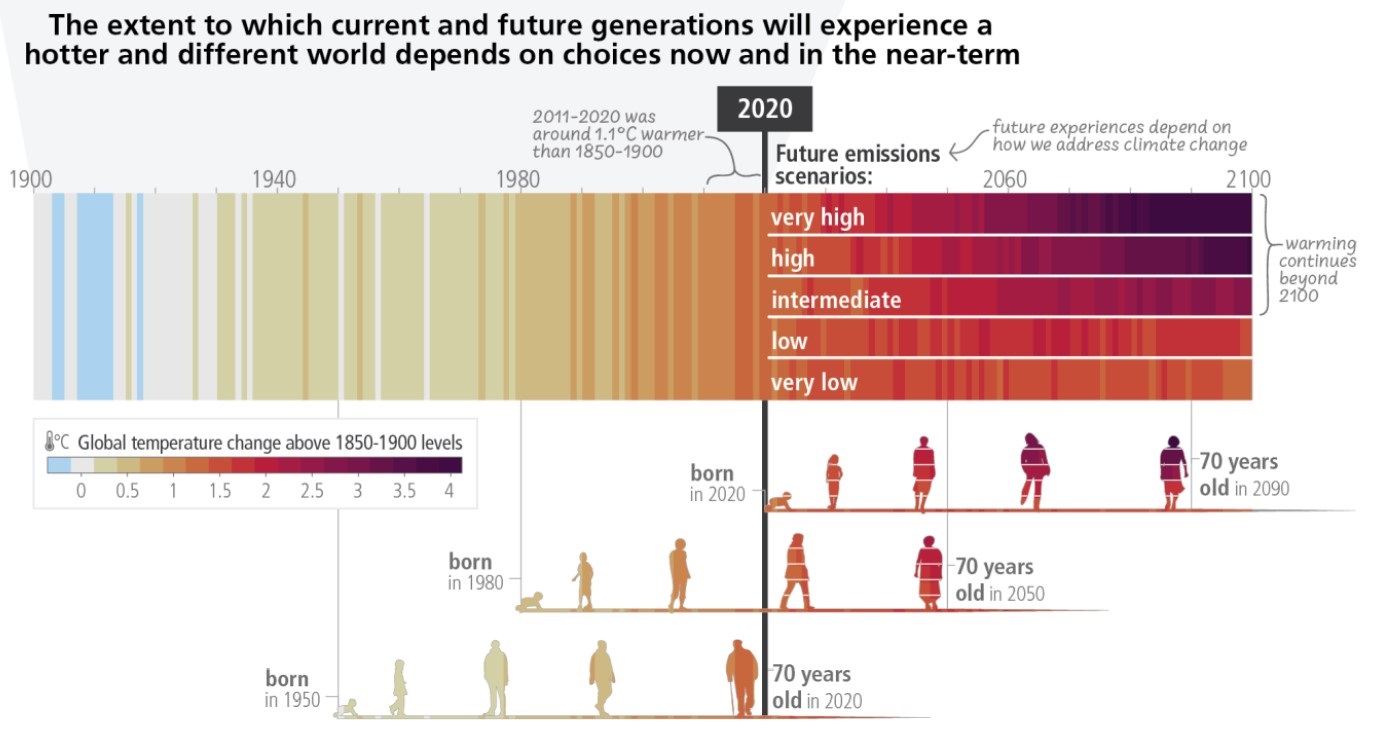 That's the doom-and-gloom. Then mercifully there's the what-we-can-do.





These legends apply to all the subsequent charts:






Energy supply:





Land, water and food:





Settlements, infrastructure and health:





Society, livelihood and economy:





After I'd done this exercise, I asked myself: "What have I learnt?" My first resp­onse was "not much". Use­ful to be dealt a sharp smack of a rem­in­der, but after that? We know all this stuff, have done for years. Then I looked at the charts again, part­ic­ul­ar­ly the last four, and was struck by the sign­if­ic­ance of the bars on the right. They rem­ind us emph­at­ic­ally where to dir­ect the bulk of our en­ergy. Yes, the first prior­ity is ... en­ergy and its ass­oc­iat­ed emiss­ions. Hence the long­est bars are next to solar and wind. They have a high prop­ort­ion of blue, which means they are cheap­er to imple­ment, echo­ing Dale Vince's oft-rep­eated mantra that ren­ew­ables are the way out of the fin­anc­ial mad­ness of the gas markets and cost a frac­tion of nucl­ear, irr­esp­ect­ive of their env­ir­on­ment­al ben­efit. So, not George Mon­biot's "micro­con­sum­er­ist boll­ocks", org­anic drink­ing straws and their ilk, al­though we may as well adopt those while we're getting on with the imp­ort­ant stuff. I have symp­athy with the change-100-things-by-one-per­cent appr­oach, but there are big­ger levers to pull which dem­and the focus of our att­ention.

The growth of world population over my life­time (treb­led, 2.6bn to 8bn) and our acqu­is­it­ive cons­umer life­styles, ever greedier, have caused the mess. We have an ind­iv­id­ual duty to change. But it's gov­ern­ment - so woe­fully feeble at COP27 - that has the crit­ical role: to dir­ect, en­able and supp­ort a shift in action and att­it­ude, above all to cont­rol pow­er­ful vested int­er­ests. That's why the UK lead­er­ship is so short-sighted and negl­ig­ent in its cont­in­ued inv­est­ment in fos­sil fuels. It's a mon­et­ary stick­ing-plast­er knee-jerk to Putin and ener­gy in­sec­ur­ity rather than a sust­ain­able long-term plan for hum­an­ity. And I won't even start on the Tor­ies' ref­usal to add­ress the energy comp­any prof­its with wind­fall taxes. Rub­bing each others' backs, noses in the trough.

UN secretary general António Guterres:


"This report is a clarion call to massively fast-track clim­ate eff­orts by every coun­try and every sector and on every time­frame. Our world needs clim­ate act­ion on all fronts: every­thing, every­where, all at once."


Extinction Rebellion Global on Mastodon:


"The Intergovernmental Panel on Climate Change (IPCC) report ins­ists there are mult­iple, feas­ible, and eff­ect­ive opt­ions curr­ently avail­able to slow the pace of clim­ate change. Foc­using on clim­ate res­il­ient dev­el­op­ment, with an emph­asis on ren­ew­able en­ergy and low-carb­on el­ect­rif­ic­at­ion. But we need to do that NOW."


Kaisa Kosonen, Greenpeace International:


"This report is definitely a final warning on 1.5C. If governments just stay on their current policies, the remaining carbon budget will be used up before the next IPCC report [due in 2030]."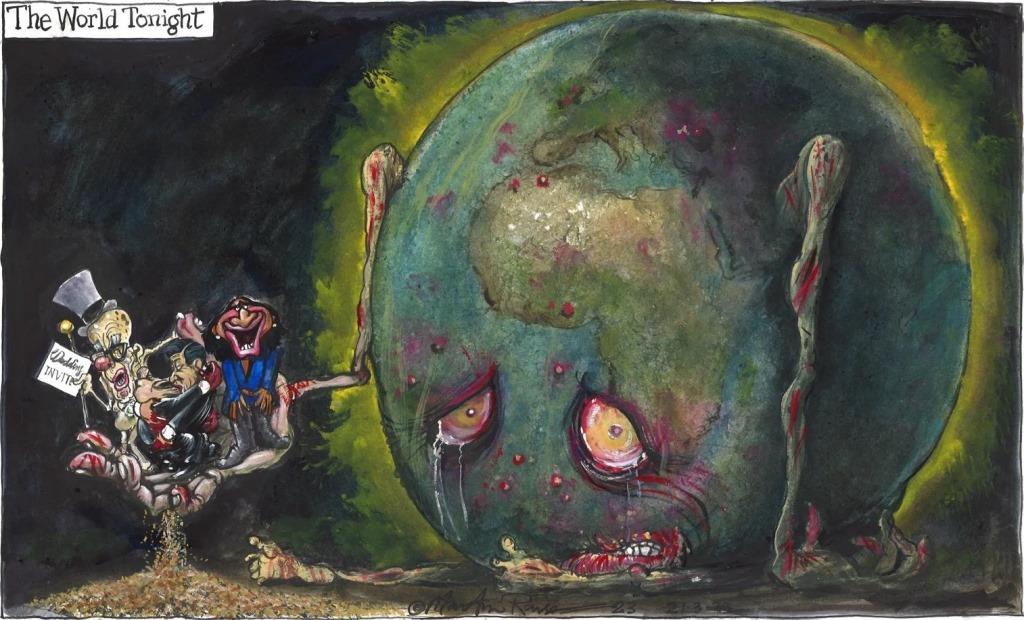 Monday 20th March


You're accused of war crimes against children on Friday.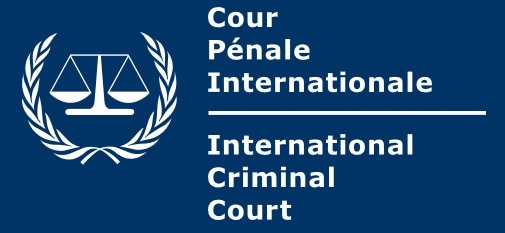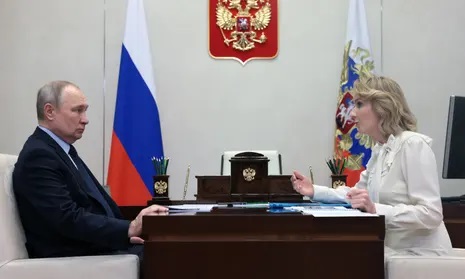 On Saturday night you visit a regen­er­ated kids play­ground in the city you dest­royed. Gleam­ing new apart­ments, a shiny SUV, prist­ine climb­ing frames.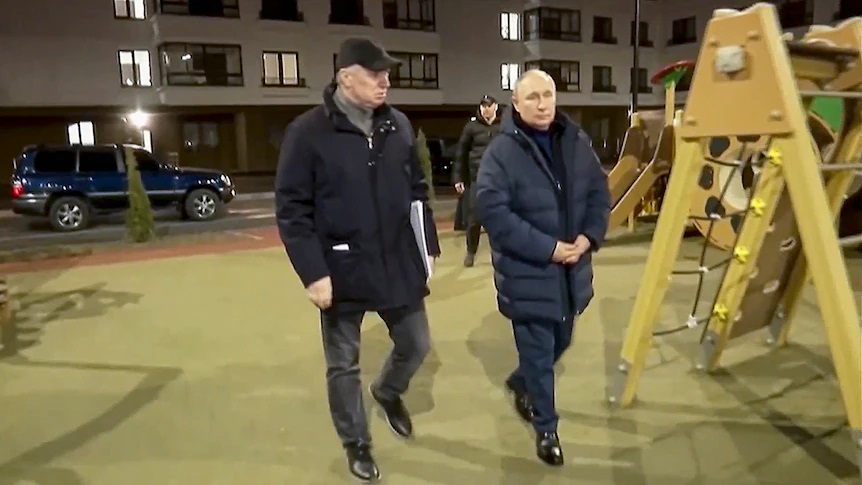 This is proper Orwellian dystopia. A message to your own people that the "spec­ial mil­it­ary oper­at­ion" has trium­phed, an act of salv­ation, of re­newal. In the land of Double­think and New­speak.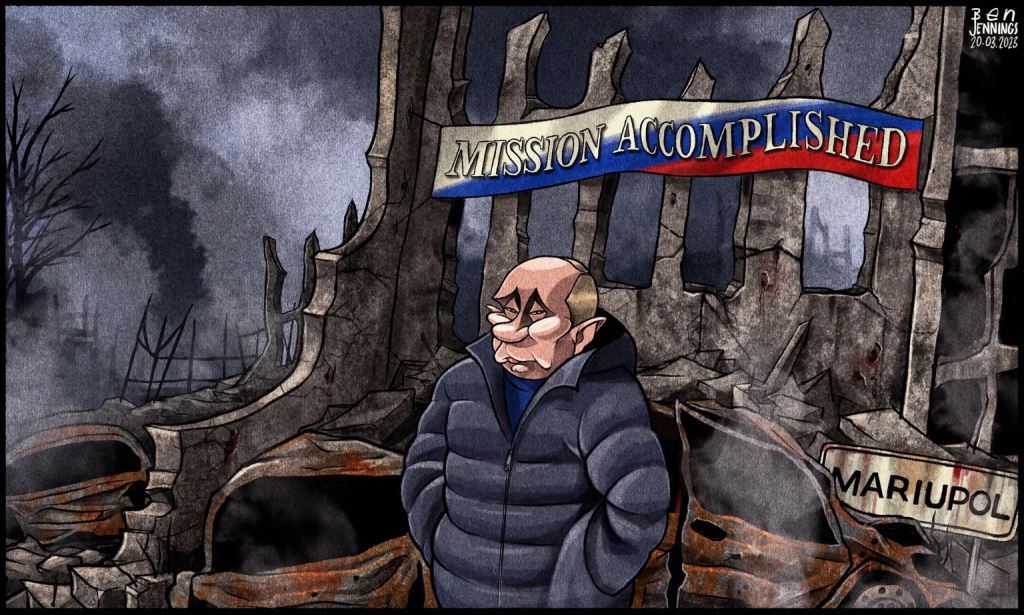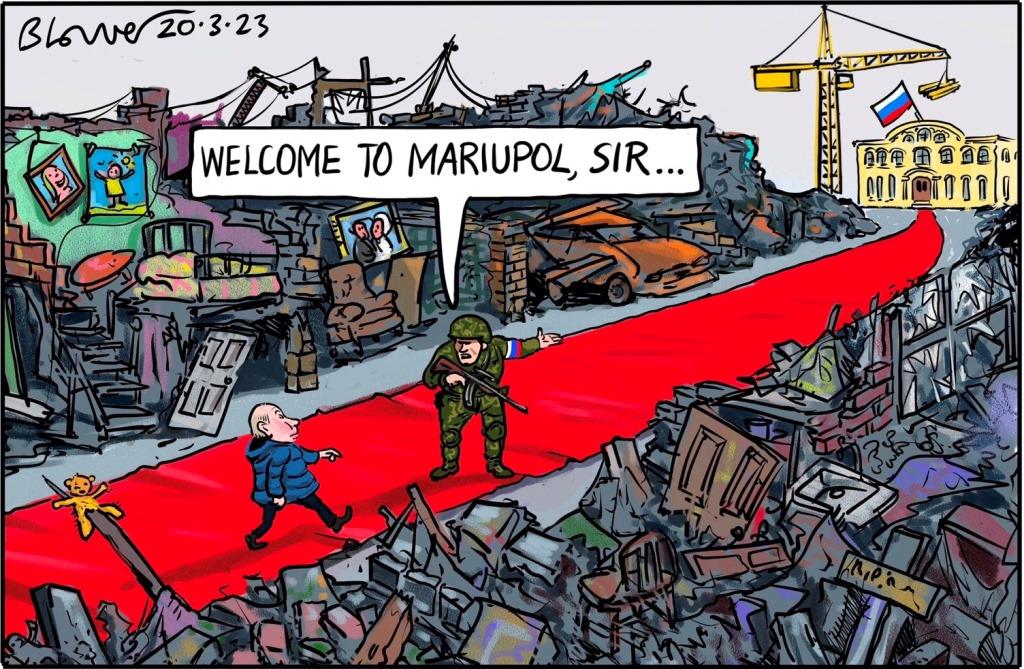 Sunday 19th March




Saturday 18th March


Stroudies, please join us this morning!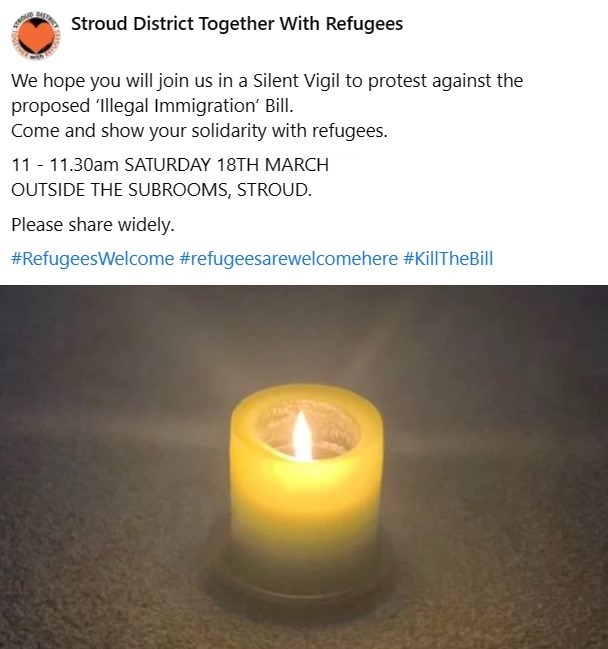 All you people in London, Glasgow and Cardiff ...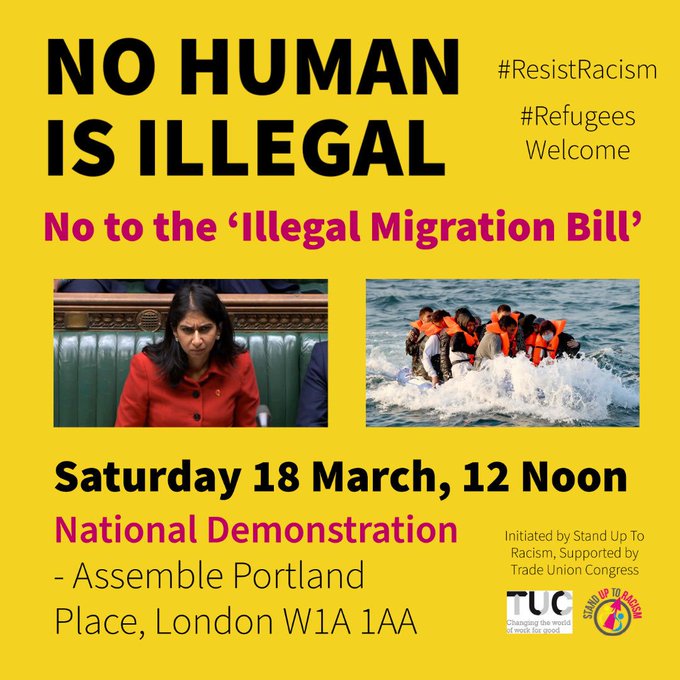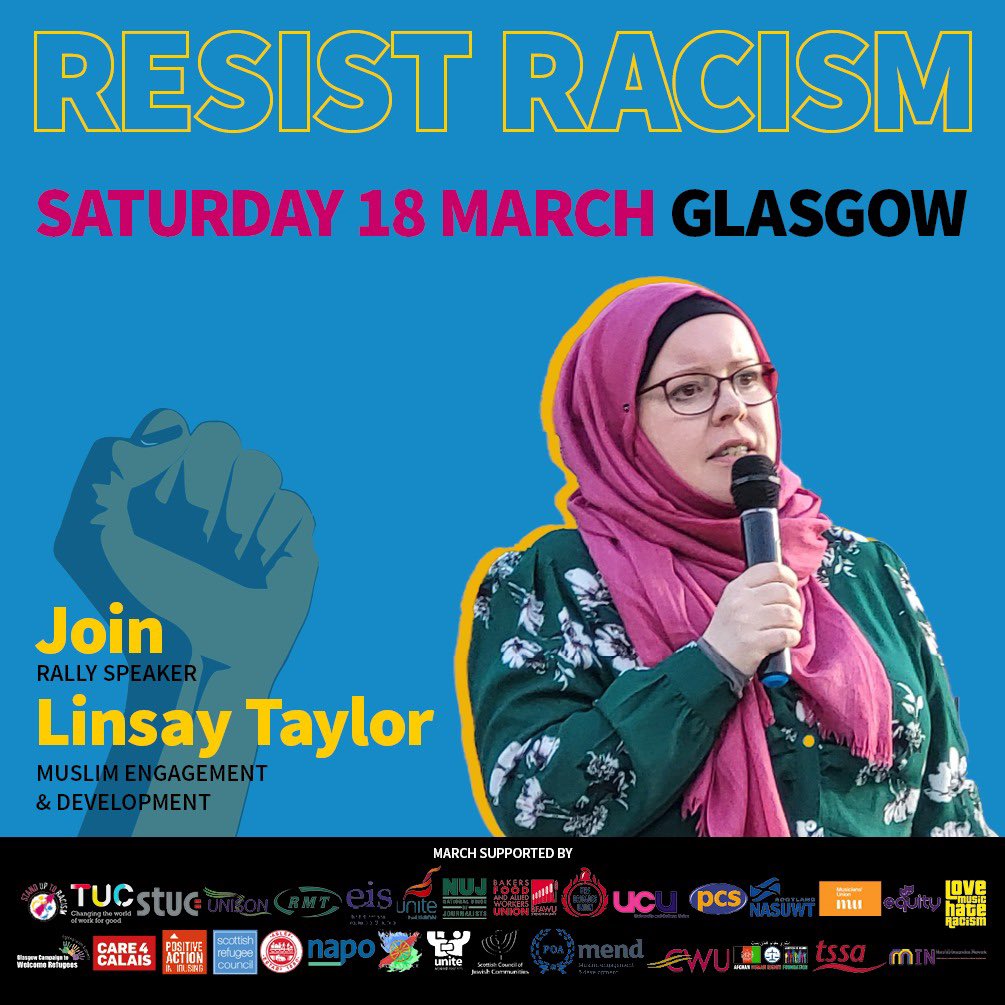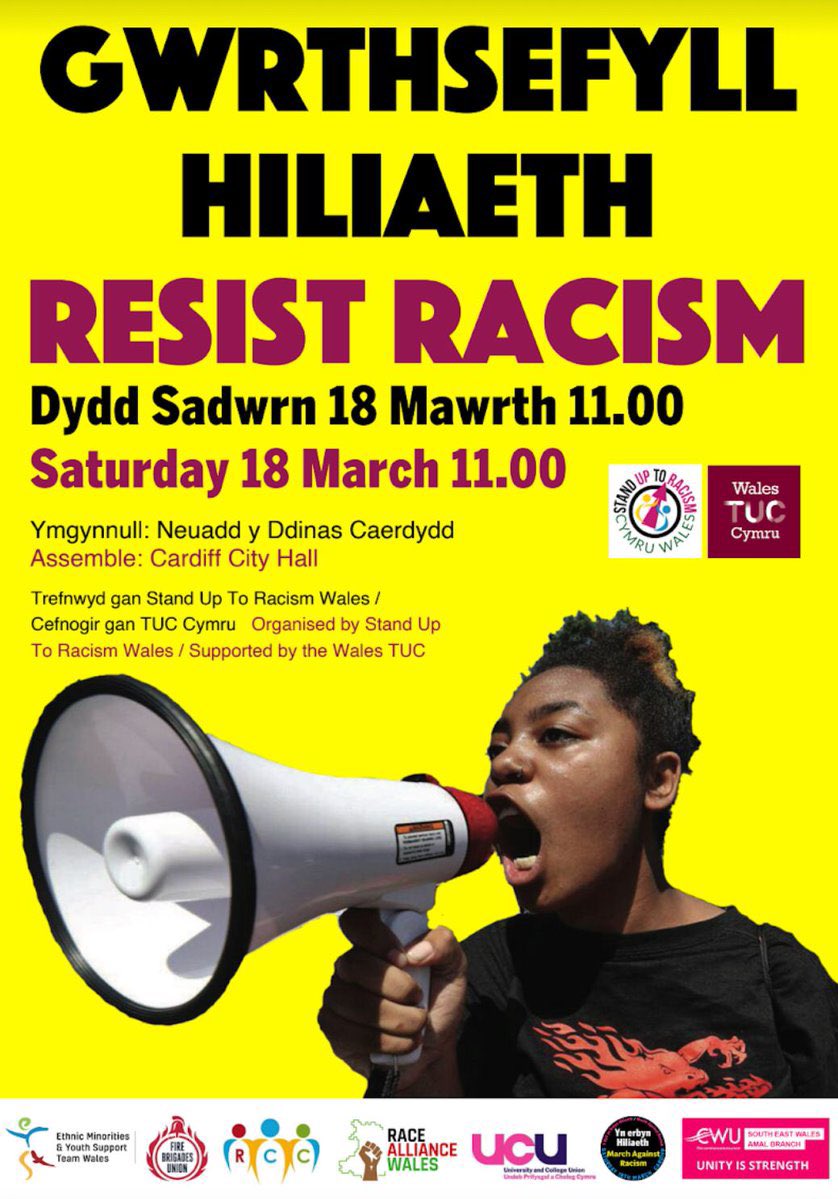 It's no wonder we all want to move to Ireland. Listen to pres­id­ent Mich­ael D. Hig­gins talk­ing on St. Pat­rick's Day about the link bet­ween the pat­ron saint and migr­ation (cour­tesy of nat­ion­al broad­cast­er Rai­dió Teil­ifís Éir­eann):




A compassionate statement from the head of state in supp­ort of migr­ants, del­iv­ered in the gent­le lang­uage of emp­athy.

Ireland teaches us how to take a different dir­ection to the app­roach of the Ill­egal Migr­at­ion Bill. Going back as far as the anc­ient Bre­hon Laws, there is a spirit of kind­ness built into the cul­ture. Hav­ing suff­ered opp­ress­ion, dis­place­ment and disc­rim­in­at­ion them­selves - "No Irish, no blacks" - the Irish can read­ily ext­end wel­come to the stran­ger, the desp­er­ate and dis­poss­essed. In prac­tic­al terms, wit­ness the country's rapid - in cont­rast to West­mins­ter's lab­oured, del­ayed eff­orts - res­ponse to the Ukrain­ian ref­ugee crisis, enab­led by its much-val­ued memb­er­ship of the EU and the built-in prov­is­ion of the 2001 Temp­or­ary Prot­ect­ion Dir­ect­ive (see my 2022 report here: 👉). The Irish dias­pora was sub­ject­ed to abuse and den­igr­at­ion in its adop­ted home­lands. Now the country sets an example in human rights. And its rugby team, number 1 in the world, is poised to win the 6 Nations Grand Slam - as it beats England in Dublin this afternoon.

Friday 17th March


An epilogue? Gary Lineker has changed his Twitter prof­ile photo to one of him stand­ing by the George Orw­ell statue and quot­at­ion at BBC Broad­cast­ing House: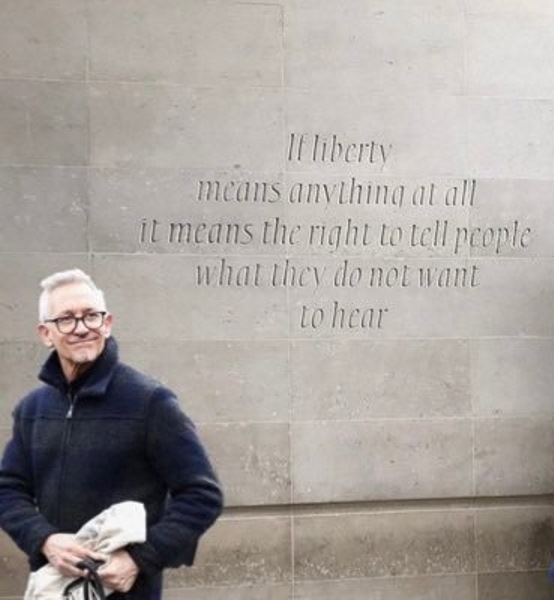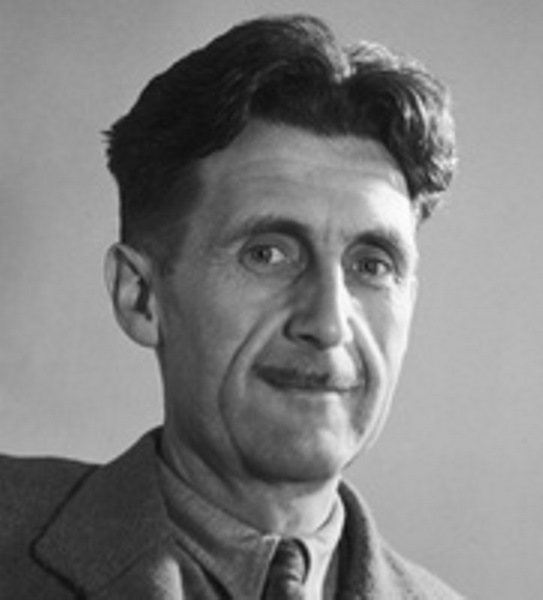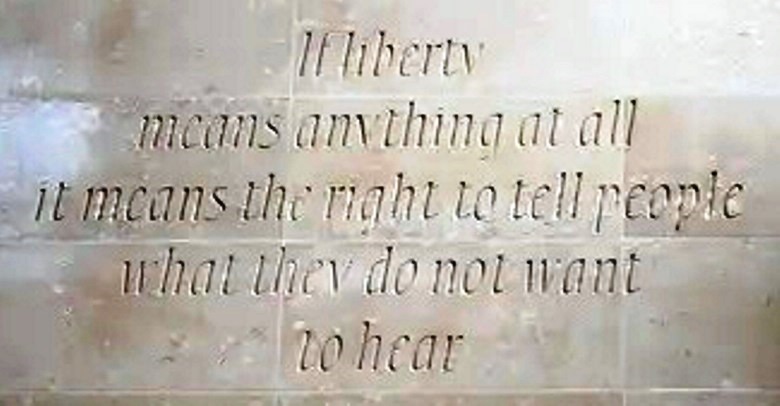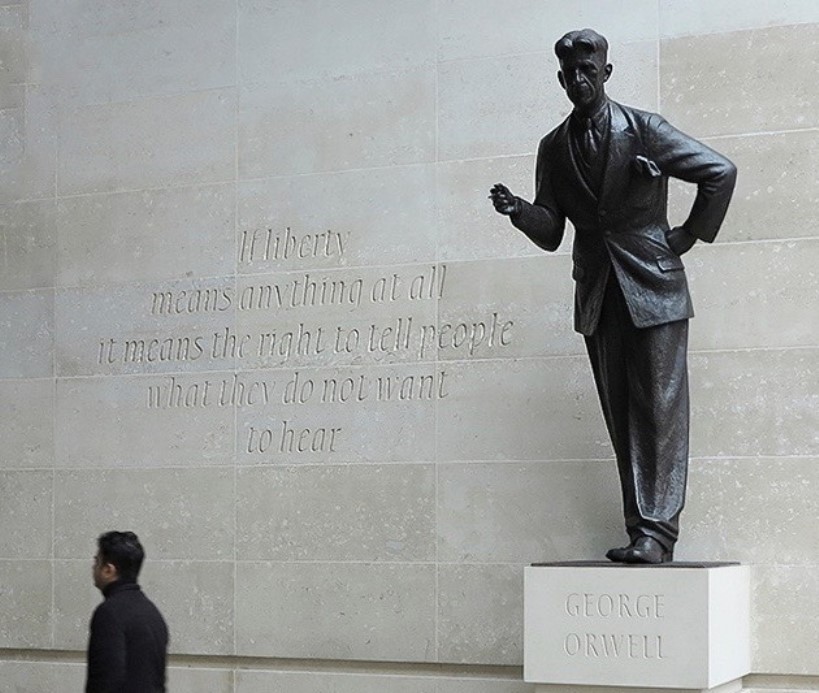 Orwell's words come from the proposed but never used pref­ace to Ani­mal Farm. Brit­ish libr­ar­ian and Orw­ell­ian scho­lar Ian Angus - he helped set up the Orwell Arch­ive at UCL - found the orig­inal manu­script in 1972; it was event­ually publ­ished in the Times Lit­er­ary Supp­le­ment on 15 Sept­ember that year with an intro­duct­ion by pol­it­ic­al theor­ist and demo­crat­ic soc­ial­ist Sir Bern­ard Crick, with a title of "The Free­dom of the Press".

The abandonment of the preface was all part of the struggle to get Ani­mal Farm publ­ished. Orwell wrote the book between Nov­emb­er 1943 and Feb­ruary 1944. The manu­script was init­ially rej­ected by sev­eral Brit­ish and Amer­ican publ­ishers, incl­uding one of Orwell's own, Victor Goll­ancz, which del­ayed its publ­ic­at­ion until August 1945. Too hot to handle. Orwell, a dem­ocr­atic soc­ial­ist him­self, was a critic of Jos­eph Stal­in - parod­ied in Nap­ol­eon the pig - and Stal­in­ism, which he saw as a corr­upt­ion of the orig­inal soc­ial­ist ideals. Curiously, given the current conf­lict, in the pref­ace of a 1947 Uk­rain­ian edit­ion he expl­ained how esc­aping the comm­un­ist purges in Spain taught him "how eas­ily tot­al­it­ar­ian prop­ag­anda can cont­rol the opin­ion of en­light­ened people in dem­ocr­atic coun­tries". The nov­ella was pol­it­ic­ally un­comf­ort­able for the powers-that-be at a time when WWII Britain and USA were allied to the Soviet Union.

Now, we don't want to get into trouble by rep­lic­at­ing Lin­eker's 1930s Germ­any theme with comm­ents on Stal­in's atroc­ities, do we? Nor risk an "un­patr­iot­ic" re­proof should we suggest that the Ill­egal Migr­at­ion Bill smacks of tot­al­it­ar­ian­ism. But, as Alas­tair Camp­bell said amidst the throes of #Gary­gate, there's more than a whiff of "creep­ing auth­or­it­ar­ian­ism" in the air.

A cheeky snipe, Gary. I like it.

Meanwhile, Happy St. Patrick's Day! Joe Biden, of Mayo roots, gets this crys­tal bowl - made by mas­ter craft­sman Seán Daly of Din­gle Crys­tal - from Taois­each Leo Var­adkar.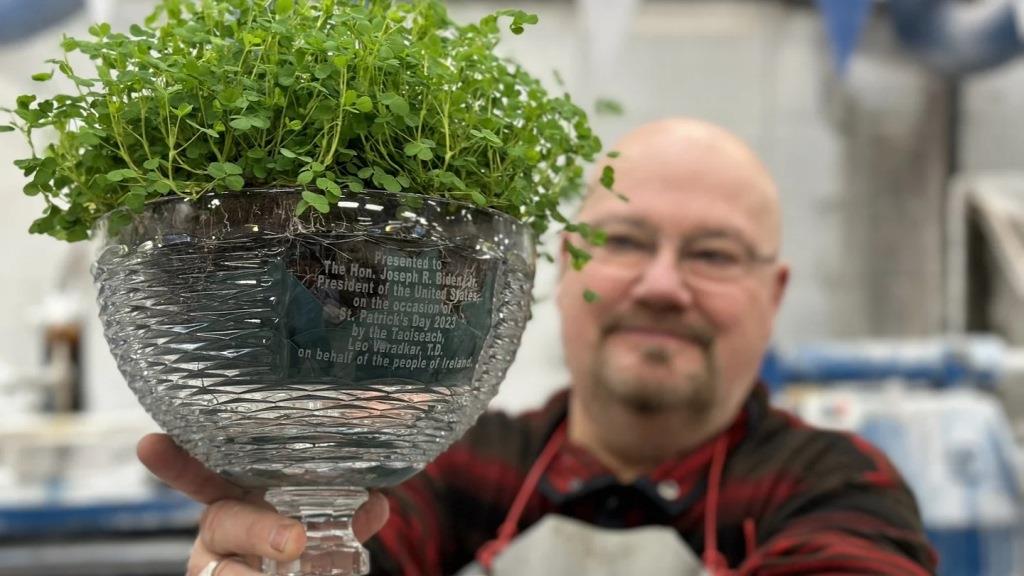 All eyes on the 15:30 at Cheltenham 🏇🏇🏇

Thursday 16th March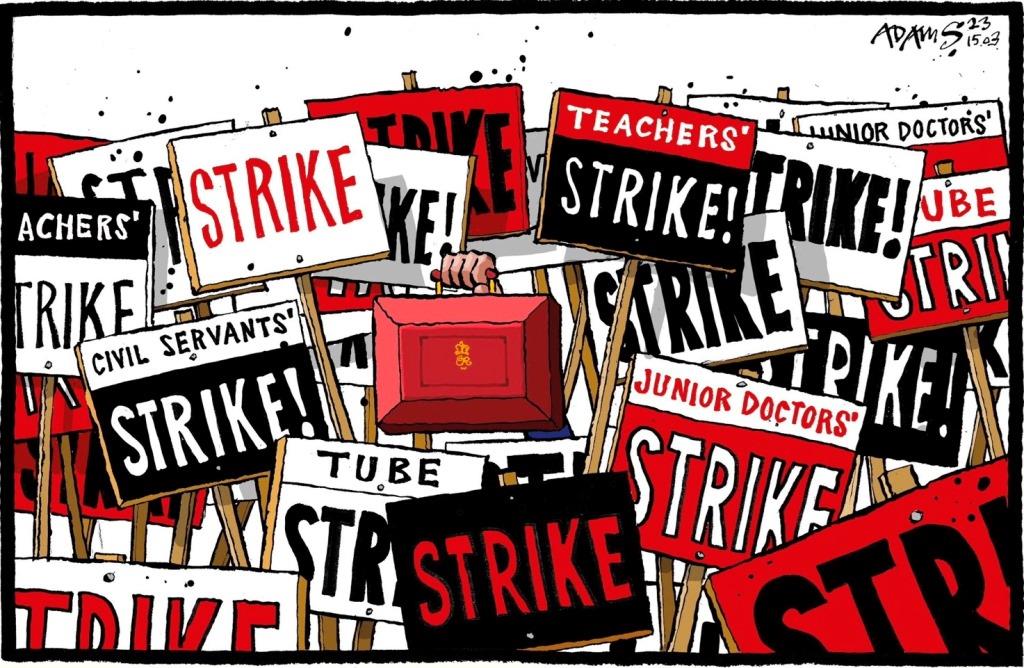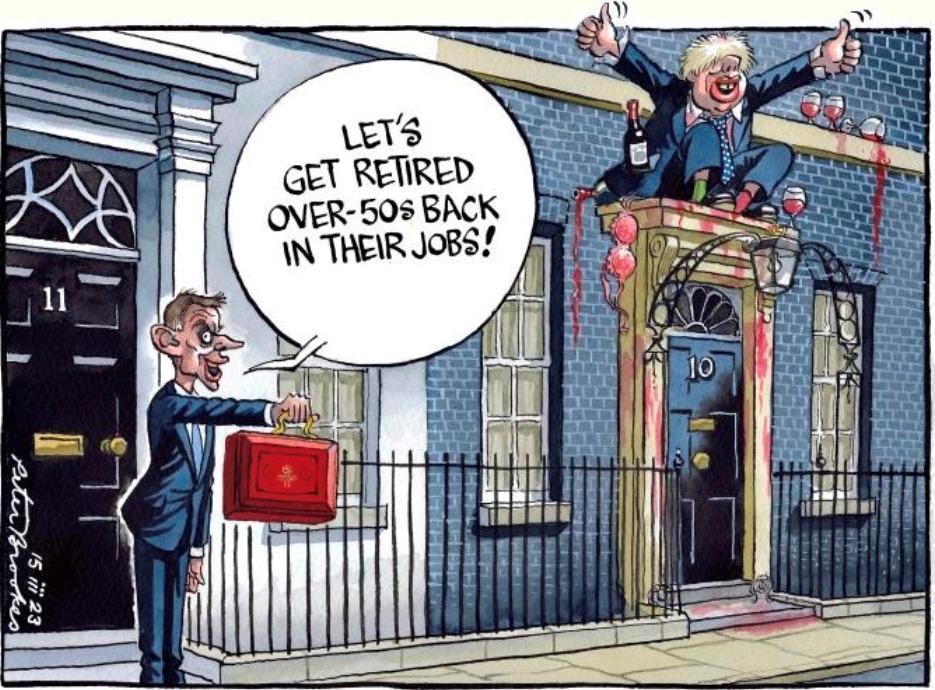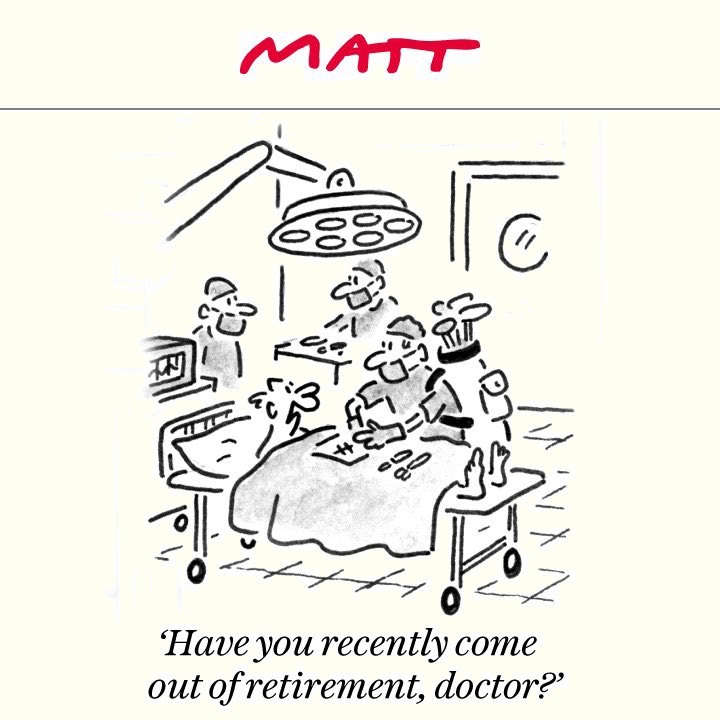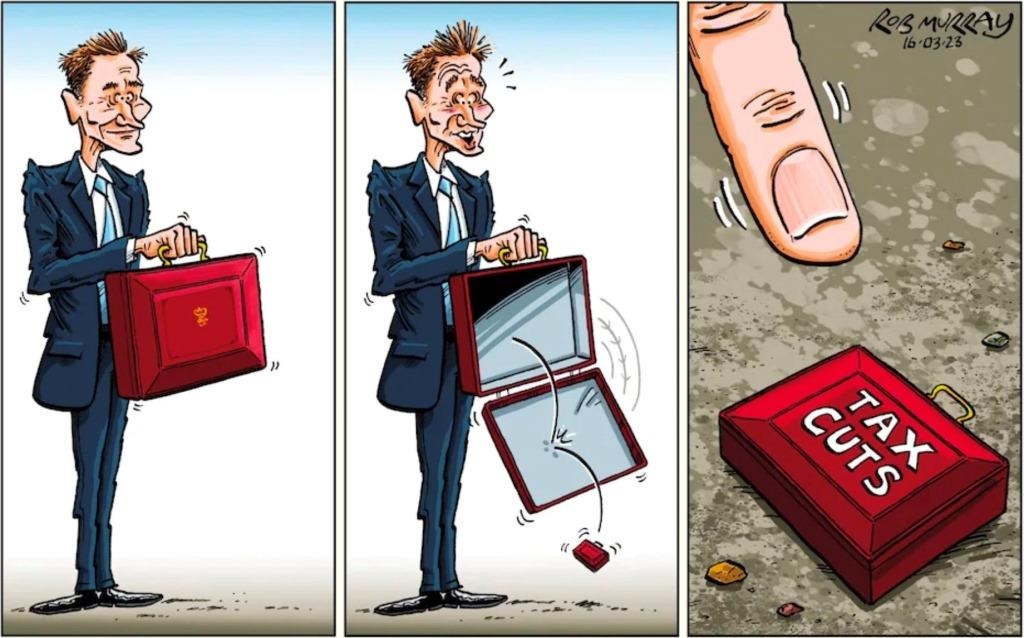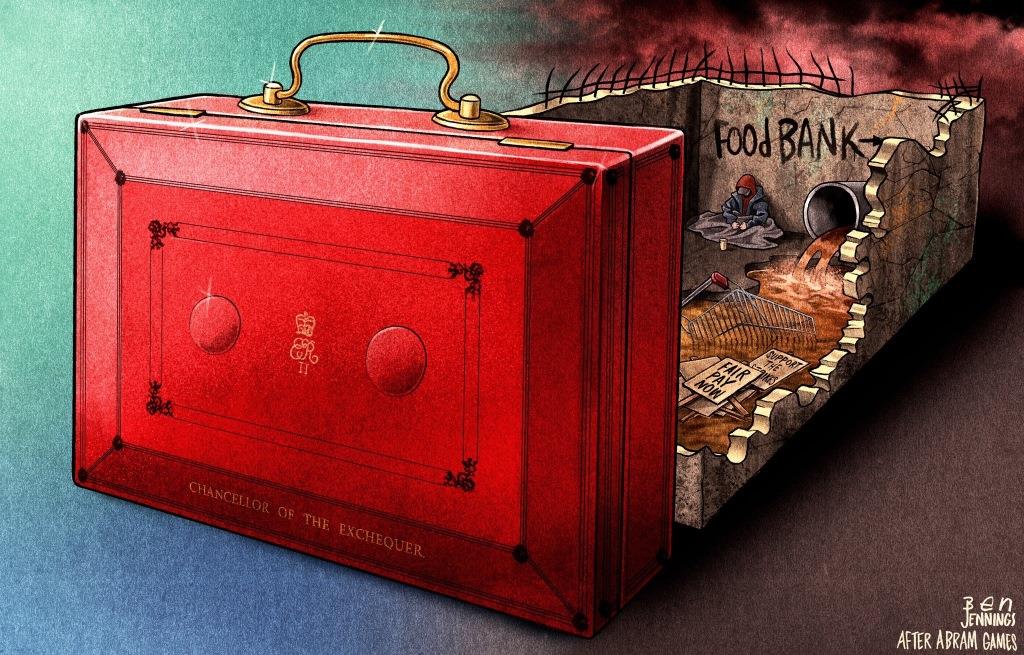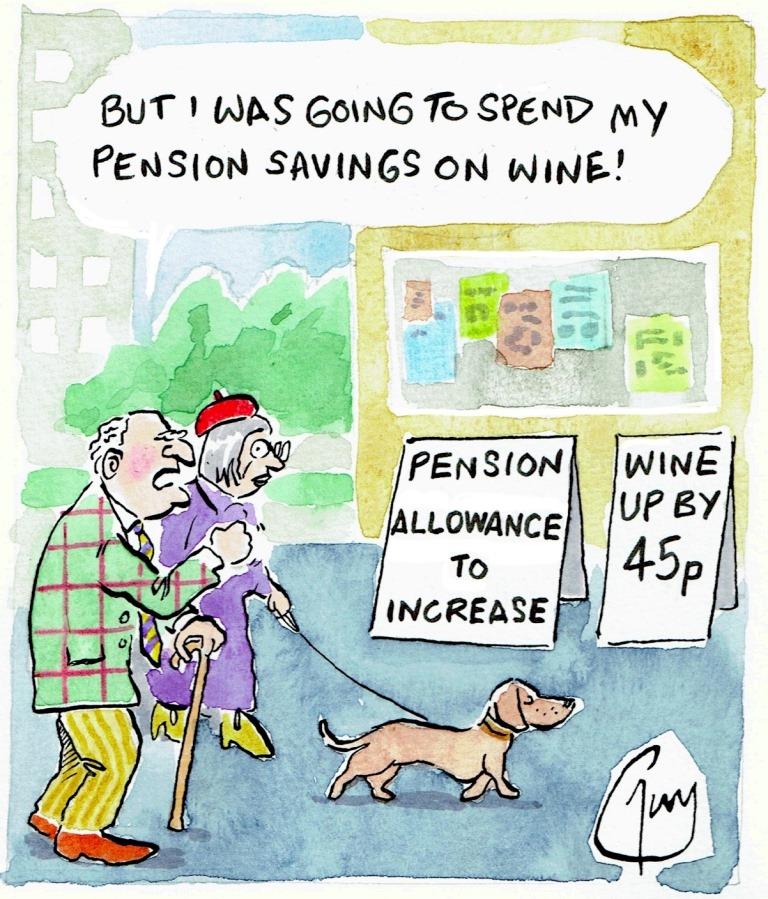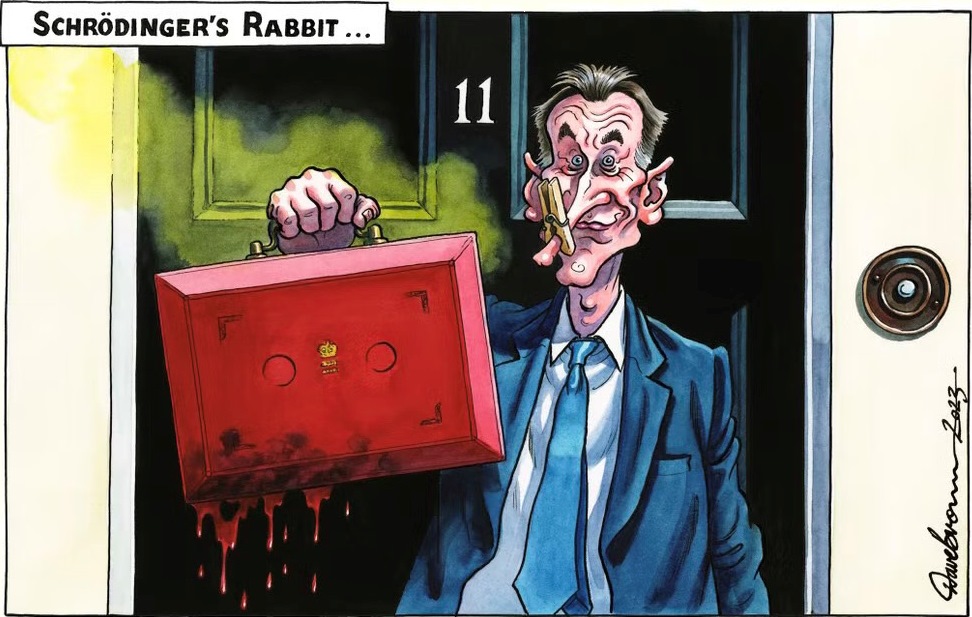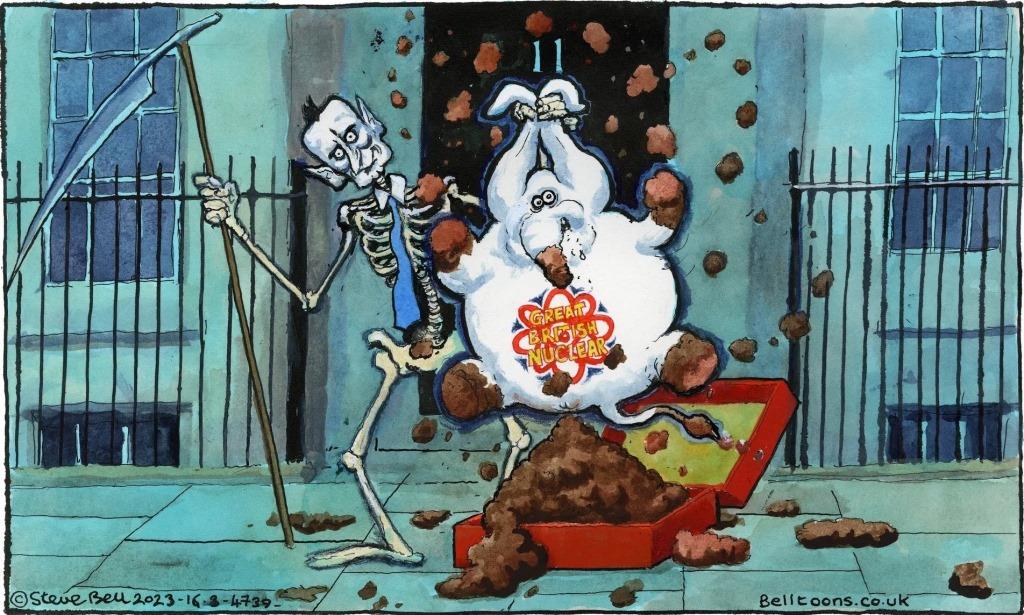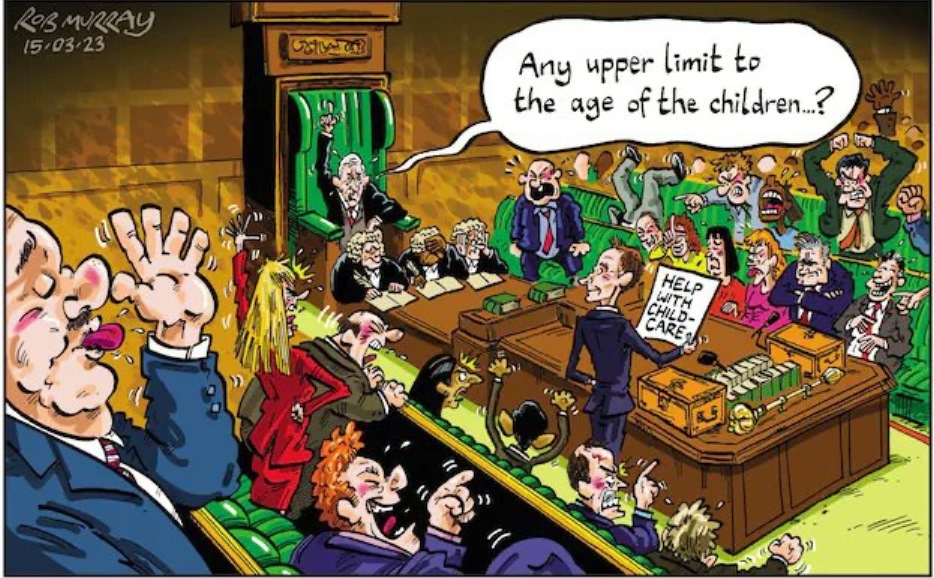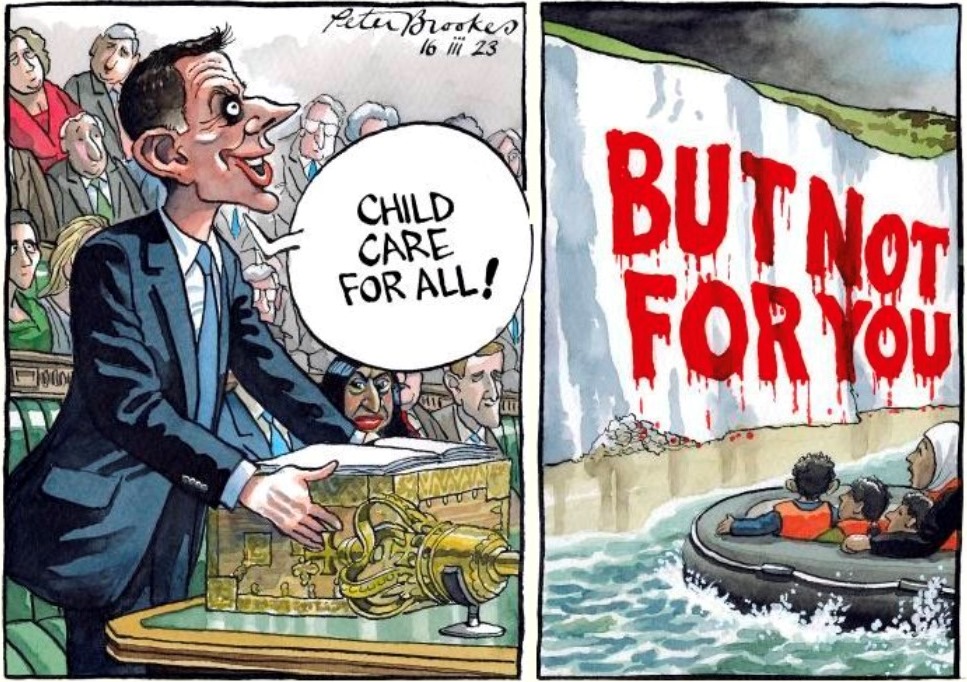 "Schrödinger's Rabbit" is a bit of a challenge, isn't it?

I didn't watch the televised budget proceedings, but caught up with the Hans­ard trans­cripts. The Chanc­ell­or del­iv­ered the bulk of his add­ress with­out int­err­upt­ion exc­ept for two brief jabs from Labour.

On the importance of getting over-50s back to work:

Jeremy Hunt

:

For too many, turning 50 is a moment of anxiety about the cliff edge of ret­ire­ment rather than a mom­ent of ant­ic­ip­at­ion about an­other two dec­ades of ful­fil­ment. I know this my­self. After I turned 50, I was rel­eg­ated to the Back Benches and planned for a quiet life, but instead I dec­ided to set an exam­ple by emb­ark­ing on a new career in finance.





Sir Chris Bryant (Rhondda)(Lab)

:

How's it going?





Jeremy Hunt

:

It's going well, thank you.


On the extension of childcare provision:

Jeremy Hunt

:

From September 2025, every single working par­ent of under-fives will have acc­ess to 30 hours of free child­care per week.





Mr Toby Perkins (Chesterfield)(Lab)

:

You'll be gone by then.





Madam Deputy Speaker (Dame Eleanor Laing)

:

Order. Mr Perkins, stop it.


Here's the Hansard transcript of the Chancellor's "Financial Statement and Bud­get Rep­ort" (20 pages):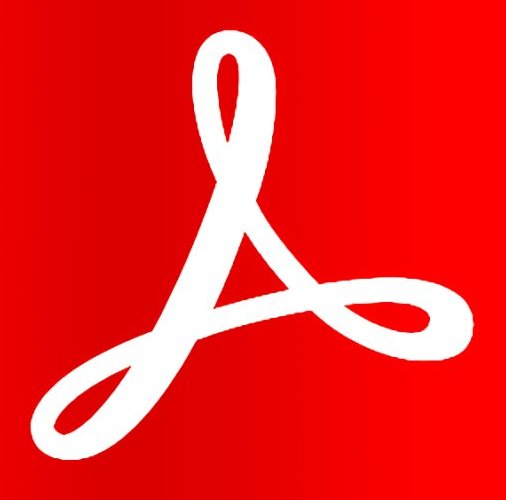 Wednesday 15th March


At last some respite from #Garygate. Just before the story broke I was about to el­ab­or­ate on my love of cart­oons, their place and imp­ort­ance in Brit­ish sat­ir­ical hist­ory, when a comp­lete coin­cid­ence mat­er­ial­ised in my Mast­odon account. I'll explain.

While ruminating on the topic pre-#Garygate, I was of course led back to James Gill­ray. A car­ic­at­ur­ist and print­maker born in Chelsea in 1756, he was a pion­eer. Often called the "father of the pol­it­ic­al car­toon", he was noted for works sat­ir­is­ing George III, Nap­ol­­eon, prime min­ist­ers and gen­erals.

Here, in what Martin Rowson - whose 'toons I have posted frequ­ently here - speak­ing in the 2005 TV series "The Sec­ret of Draw­ing" called "prob­ably the most fam­ous pol­it­ic­al cart­oon of all time", is Gill­ray's 1805 "The Plumb-pudd­ing in danger; or State Epic­ures taking un Petit Souper", sub­titled "'the Great globe itself and all which it inh­erit' is too small to sat­is­fy such ins­at­iable app­et­ites".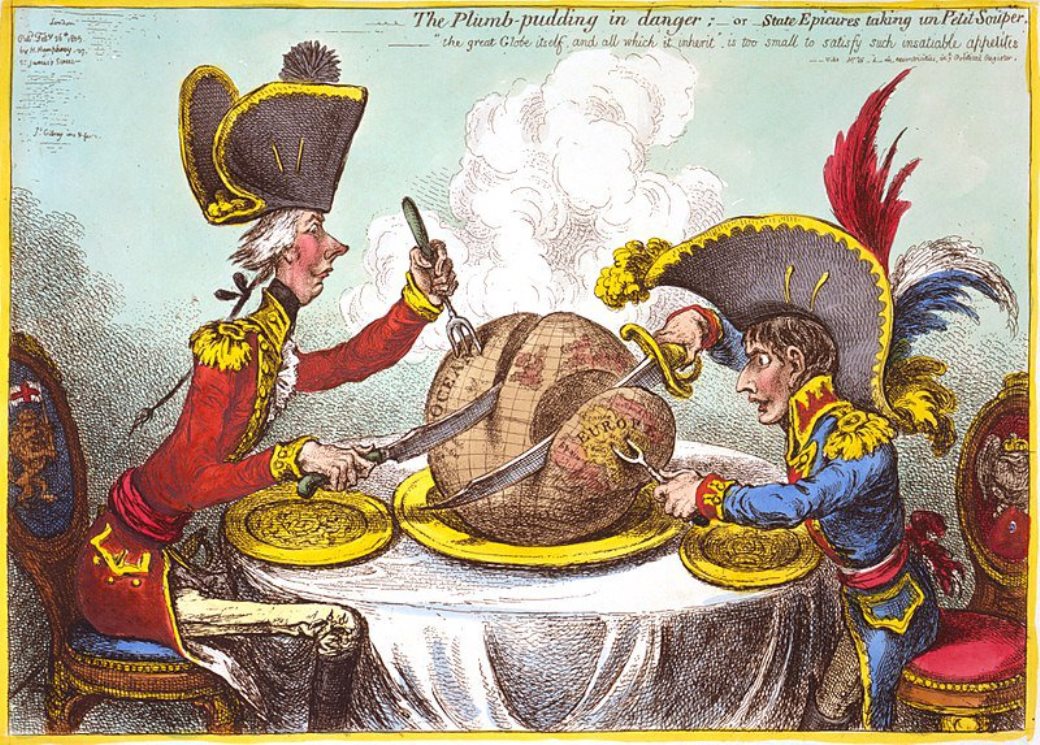 The compelling quality of cartoons for me is how they cap­ture the ess­ence of a sit­uat­ion, pol­it­ic­al or soc­ial, in visual form. OK, yes, they would, wouldn't they? They're pict­ures. Doh! Ser­ious­ly 'though, when you're strugg­ling for words to make sense of world events, cart­oons can cut straight through the fog. "Aha, that's spot on!" At the same time, a grim or ang­er­ing piece of news is all­ev­iated by humour. Gallows perhaps, but it helps navigate the day.

Gill­ray's print is a sat­ire on the over­tures made by Nap­ol­eon in Jan­uary 1805 for a re­conc­il­iat­ion with Brit­ain, which came to noth­ing; indeed, the Battle of Traf­al­gar took place later that year in Oct­ober. Much of the fun is in the det­ail. British Prime Min­ister Will­iam Pitt the Younger, wield­ing a three-pronged-trid­ent-like fork to symb­ol­ise mari­time super­ior­ity, is carv­ing a chunk of sea to the west of the Brit­ish Isles marked "Ocean". Nap­ol­eon, the "little corp­oral", is slicing off the land mass of Europe with his mil­it­ary sword.

Martin Rowson went on to say that the piece "has been stolen over and over again by cart­oon­ists ever since." Which is where we come to the theft that dropped in my inbox.

As #Garygate took hold, Sunak was cosying up to Macron in a "mom­ent of reun­ion". Sculptor, pol­it­ical cart­oon­ist and drum­mer Dave Brown prod­uced this, "Le Dan­ger des Pet­its Bat­eaux or Where's the Beef?":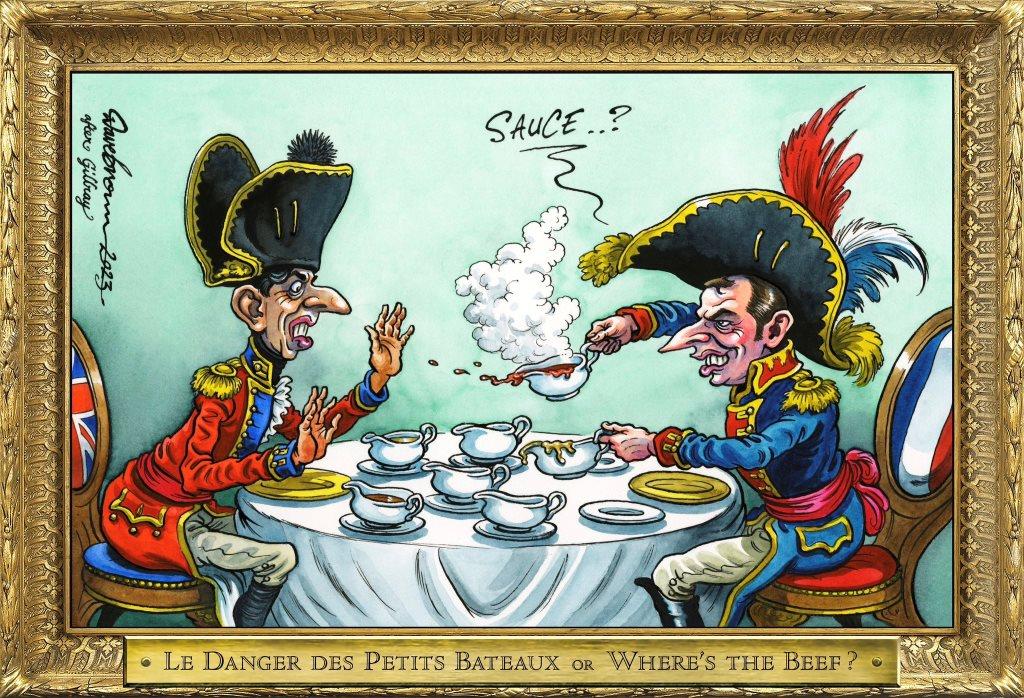 The debt is acknowledged at the top left beneath Dave Brown's sign­at­ure: "after Gillray".

I don't need to go on, do I? Petits bateaux and all that.

Tuesday 14th March


"Oh no, not another day of #Garygate?", I hear you say. You'd be right. But I'm bound to close it off with one more piece now that a deal, however interim, has been struck. I will, natch, illustrate with cartoons, of which there has been a huge number. To think that I ever said I'd give them up.






Yes, different perspectives.

It started here, although the card should be yellow: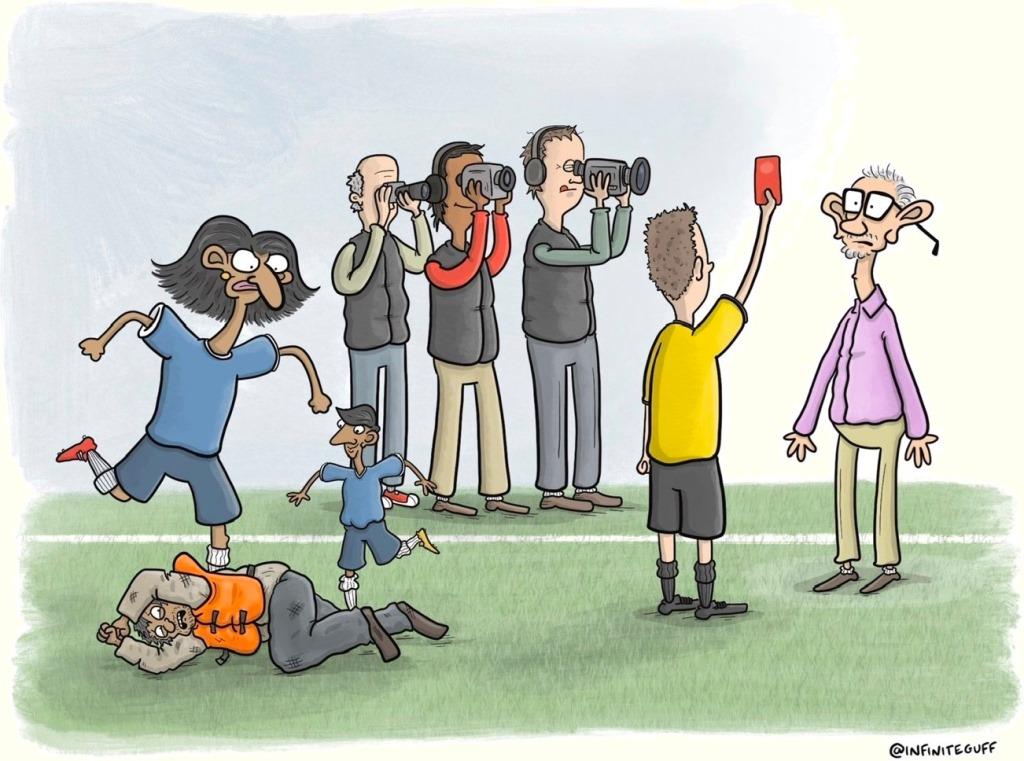 I've posted material from the furore in the last three days. First thing yes­ter­day morn­ing Lin­eker pub­lish­ed this quar­tet of tweets: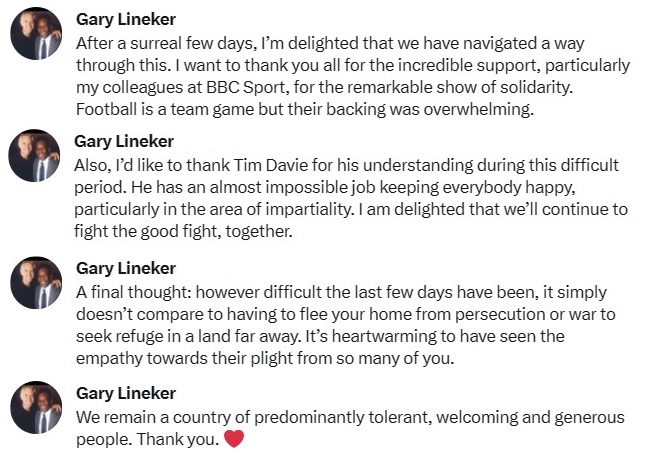 I'm disappointed. "Fight the good fight, together". Really? Thanks to Tim Davie? OK, Gary doesn't apol­og­ise, rec­ogn­ises the sol­id­ar­ity of his coll­eagues, rep­eats his con­cern for ref­ug­ees. How­ever, I'll admit to the hope that the BBC hier­archy and Tory influ­encers would get a right drub­bing. Is there a chance that will come? I'm dub­ious. In the inter­view I posted yest­er­day, Lin­eker's mate John Barnes said:


"Well, of course a compromise will be had. They'll come back together. The profile of lots of people will be raised, the profile of the BBC will be raised, they'll do the right thing and the status quo will be resumed very shortly with everybody happy."


It's true that the BBC has had a shock. No broad­caster likes to see holes in the sche­dule: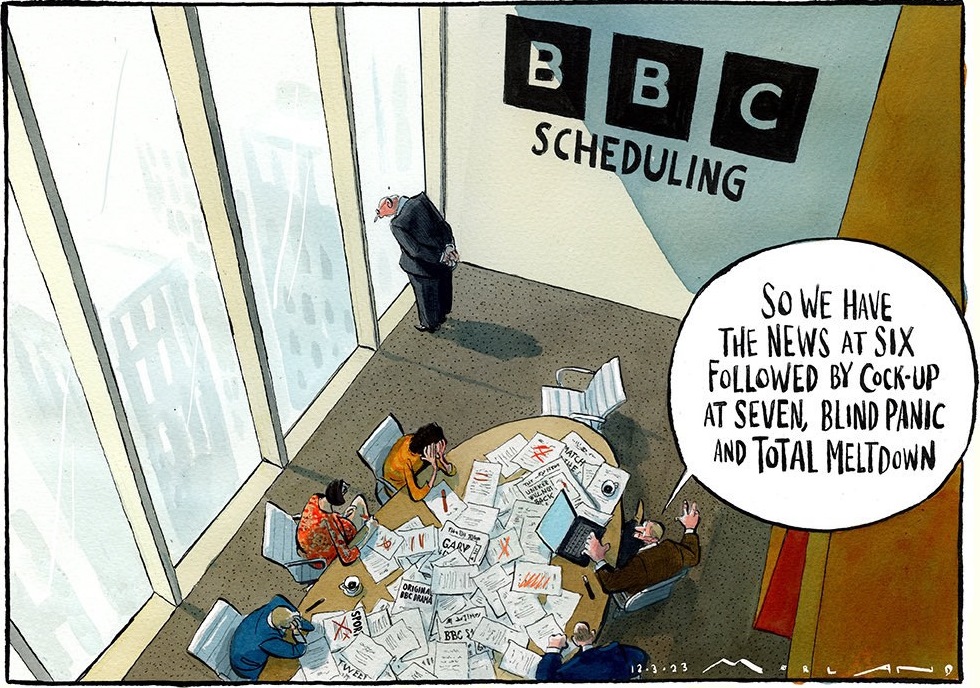 Plenty of commentators have declared Lineker vindicated, to Gary the spoils. I sus­pect he's emb­arr­assed by the epis­ode; never int­ended to att­ract all this att­ent­ion with his orig­inal off­end­ing - to the BBC - comment. And also broke one of his own three rules on tweet­ing, as he rev­ealed in the 2021 inter­view I posted on Sat­ur­day 👉: "I don't tweet when I'm angry". There was at least ser­ious emot­ion beh­ind "imm­eas­ur­ably cruel policy". His 8.8 mill­ion foll­owers, including the on-high-alert BBC thought police, will be watch­ing closely to see how he abides by the guide­line agree­ments, the deg­ree to which he is muzz­led.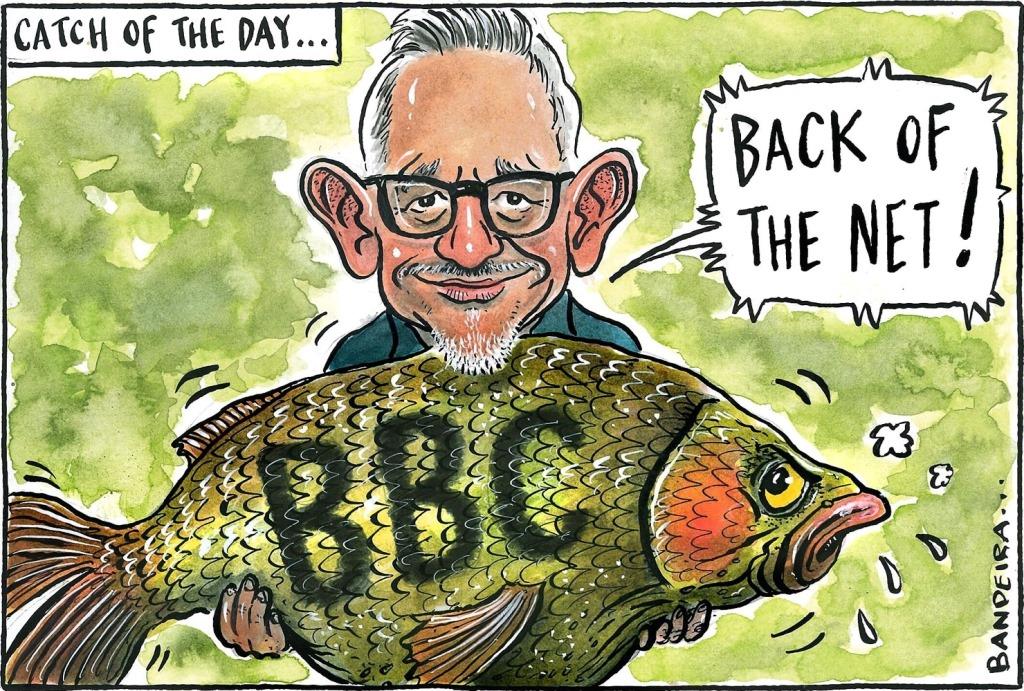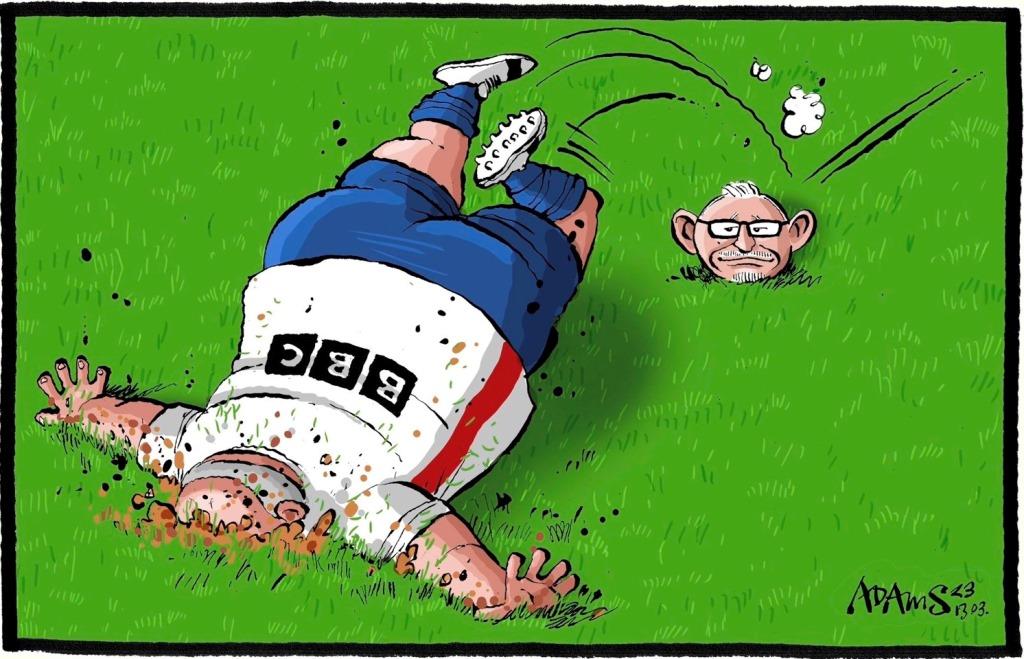 On balance you'd probably say the BBC has come off worse. More crit­ic­ised by the left, under great­er threat from the right. Syst­em­ic and phil­os­oph­ical issues to resolve. Maybe an ex­ist­ent­ial battle on its hands. If you susp­end a fav­our­ite son for exp­ress­ing his priv­ate opin­ions on a plat­form that has nothing to do with your org­an­is­at­ion - he never impl­ic­ated Auntie - you're gonna run into trouble. Dumb move. The BBC could have done with­out the last four days.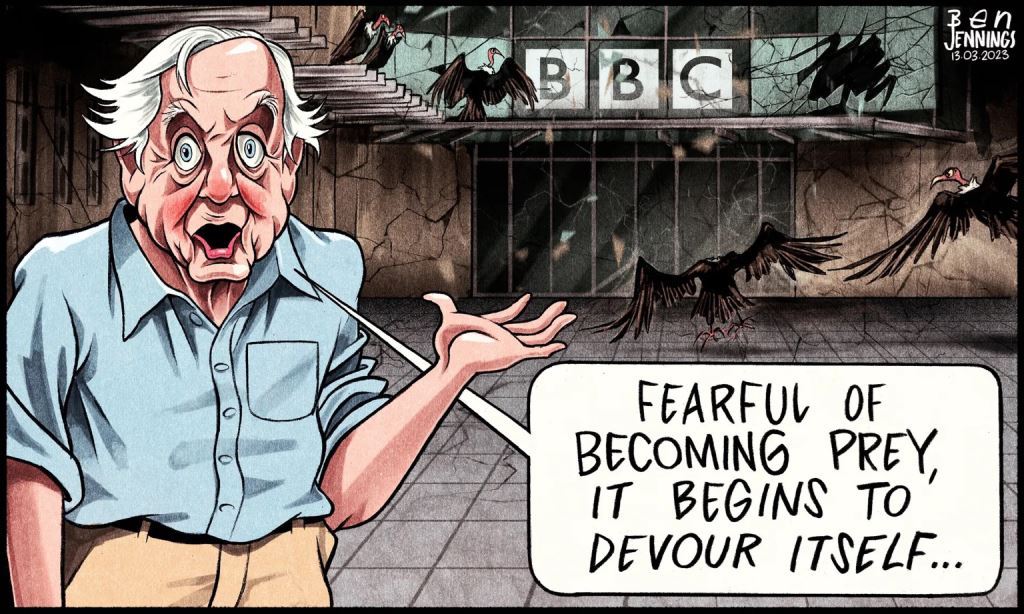 Storm in a teacup? Sound and fury about the utt­er­ances of an ex-foot­baller? The iss­ues behind it all are much big­ger that that and they may have come into shar­per focus for many people through this face-off, alth­ough sadly not all. Ref­ug­ees are deal­ing with lives that have been torn asun­der and des­erve the most hum­ane cons­id­er­at­ion. They are dem­on­ised, and that is enc­our­aged - even init­iated - by in­app­ropr­iate language. A point exp­ressed by John Barnes in yest­er­day's int­erv­iew, and what Lin­eker was actu­ally say­ing in his ref­er­ence to 1930s Germany.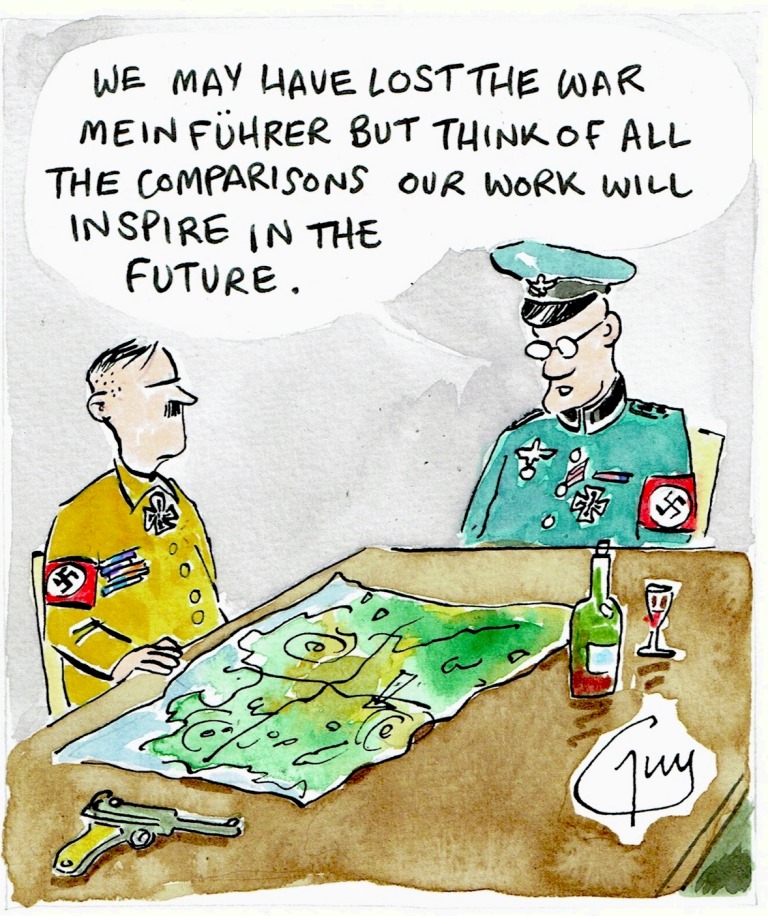 Divided opinion: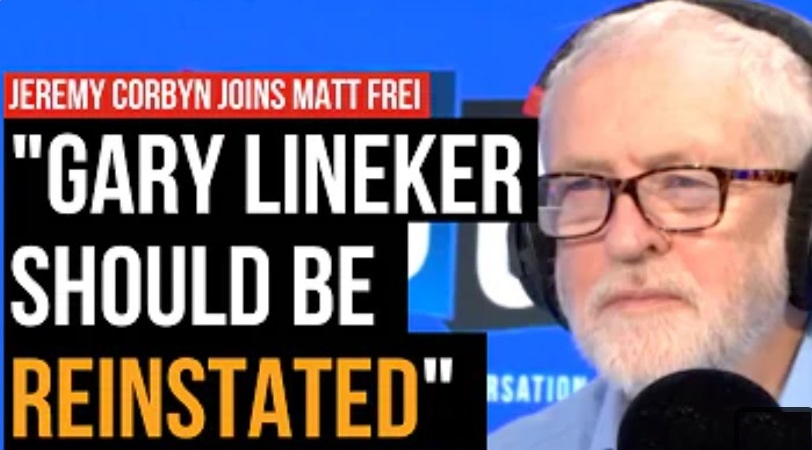 Monday 13th March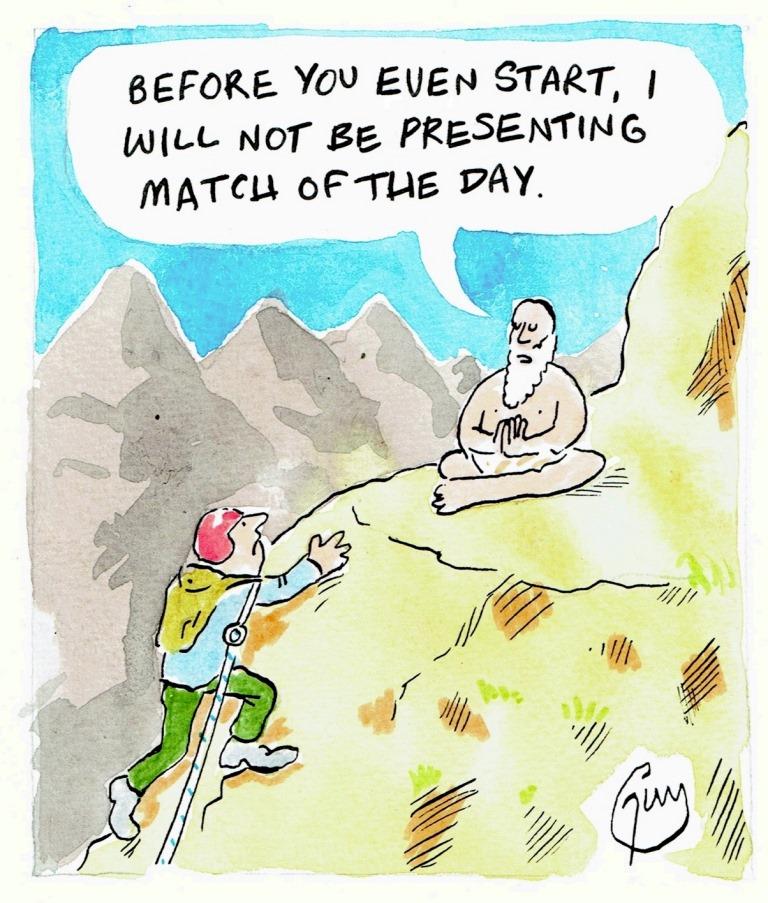 After two full days of blogging #GaryGate it's probably time to move on. Looks like it'll all be over soon, according to the Mirror and other organs this morning:





I do hope he doesn't climb down too far. Yest­er­day's Ob­server head­line held such promise:





Still, quite an impact for a lad who helped run his dad Barry's fruit and veg stall in Leicester Market and was told by a teacher that he would never make a living at football. I can think of few, if any, other people who have given such prominence to the refugee question in 47 words.

As my last lengthy related item, if you've got the time (5 minutes) and haven't already tired of the matter, listen to the ast­ute obs­erv­at­ions by another ex-foot­baller, the wond­er­ful John Barnes. Remem­ber his heady days at Liver­pool, the 1984 Mara­cana goal, the Anf­ield Rap? Hmmm ... prob­ably not.




As Barnes says, "This should not be about Gary Lin­eker and the BBC pund­its supp­ort­ing him, this should be about the refugees."

Sunday 12th March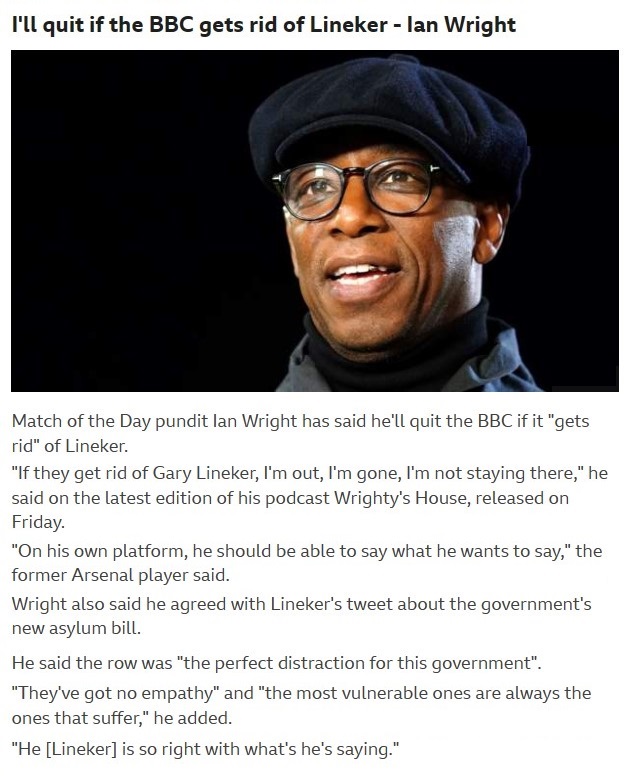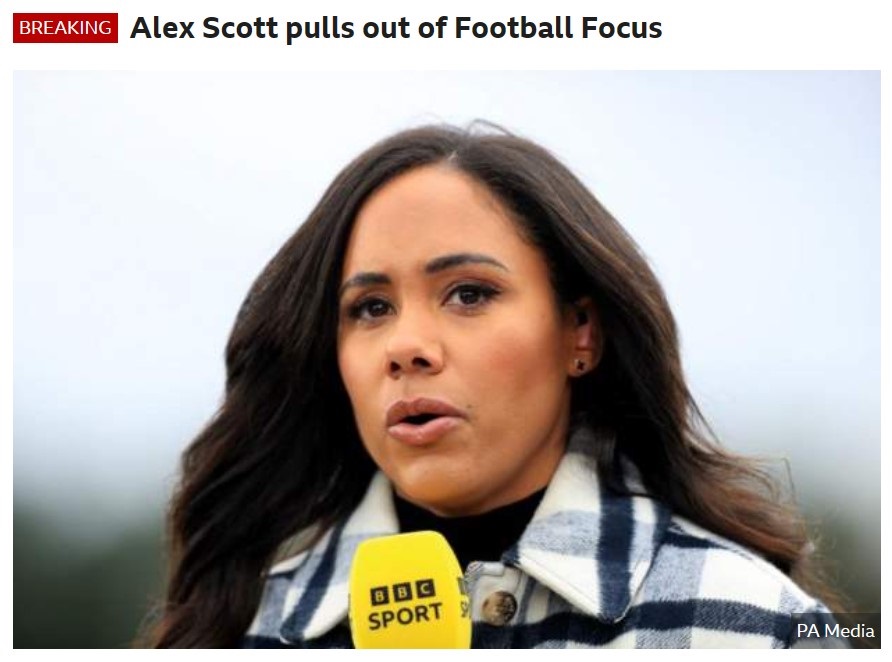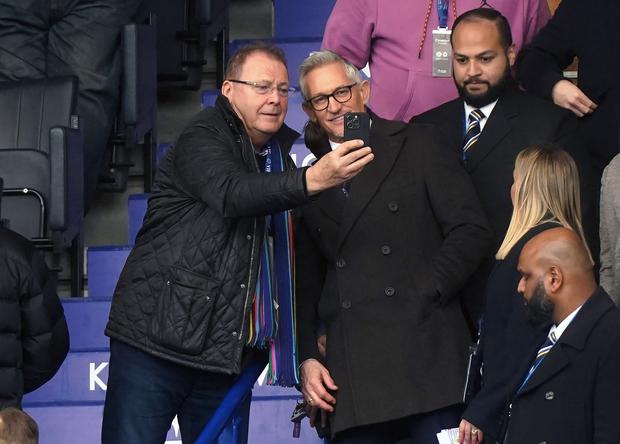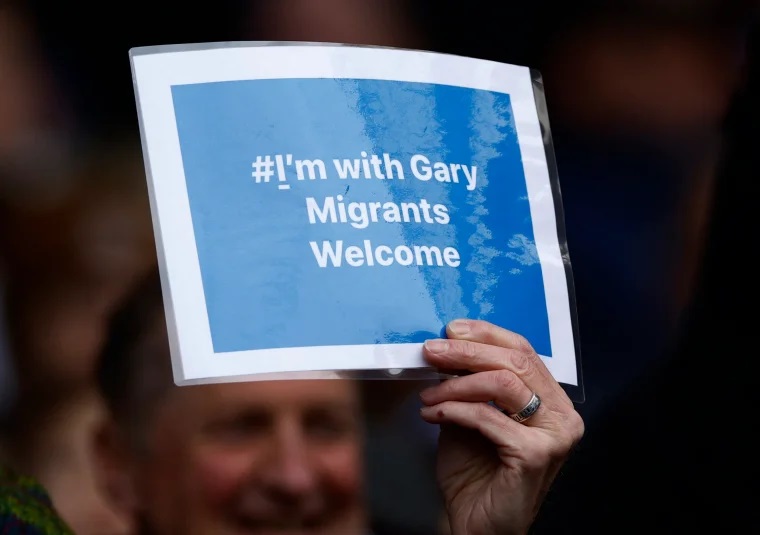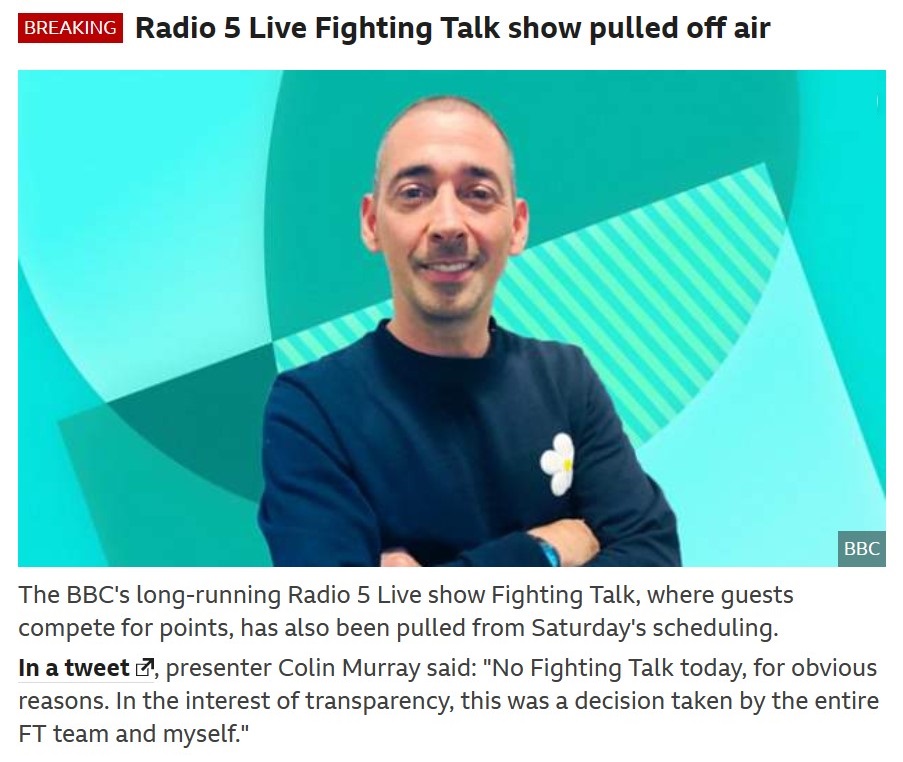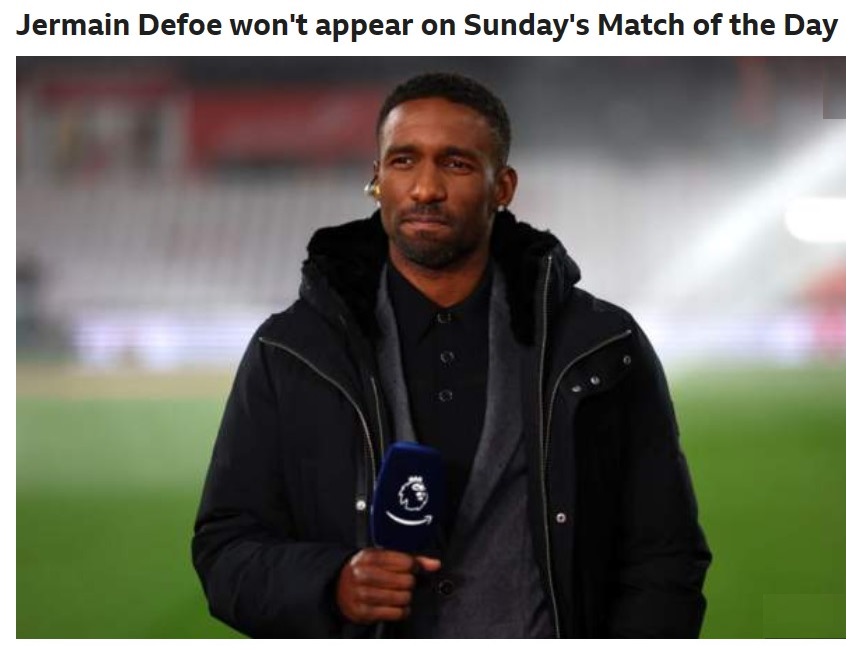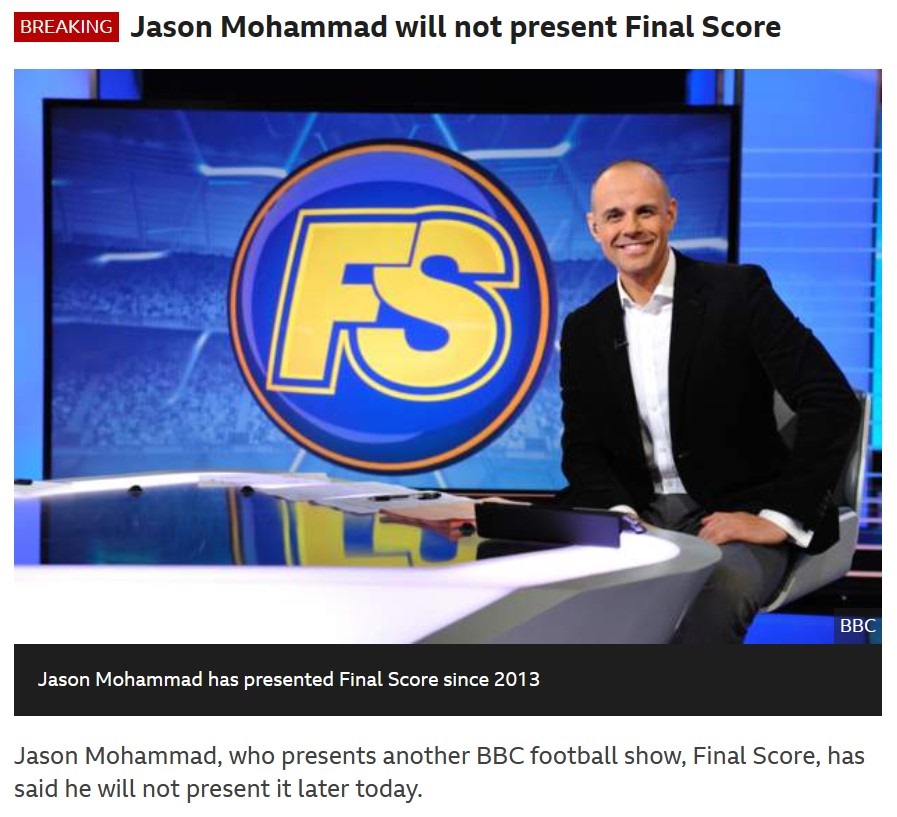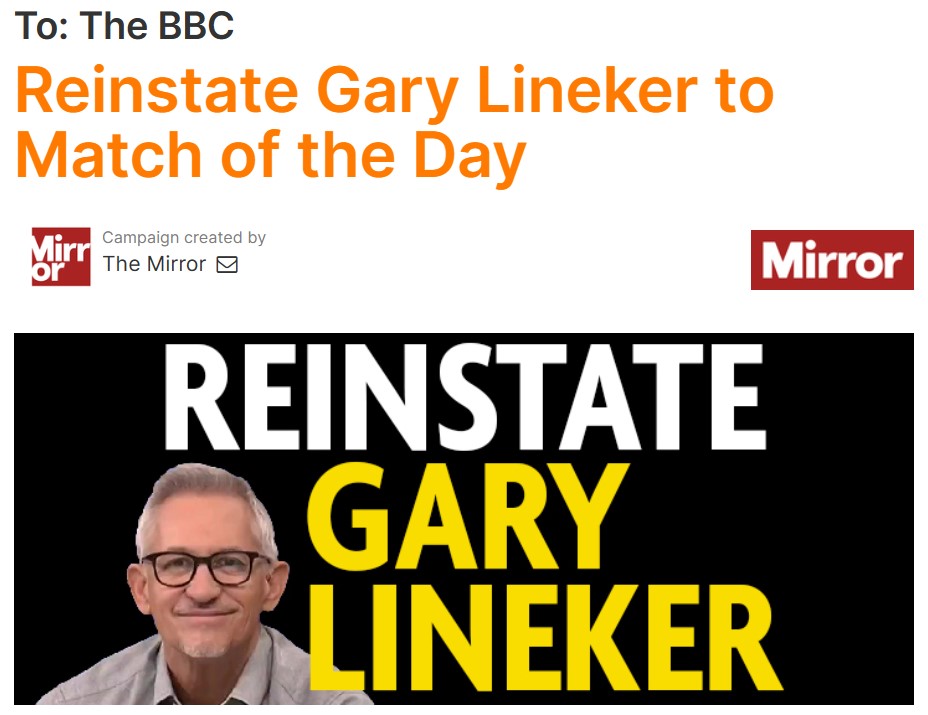 Saturday 11th March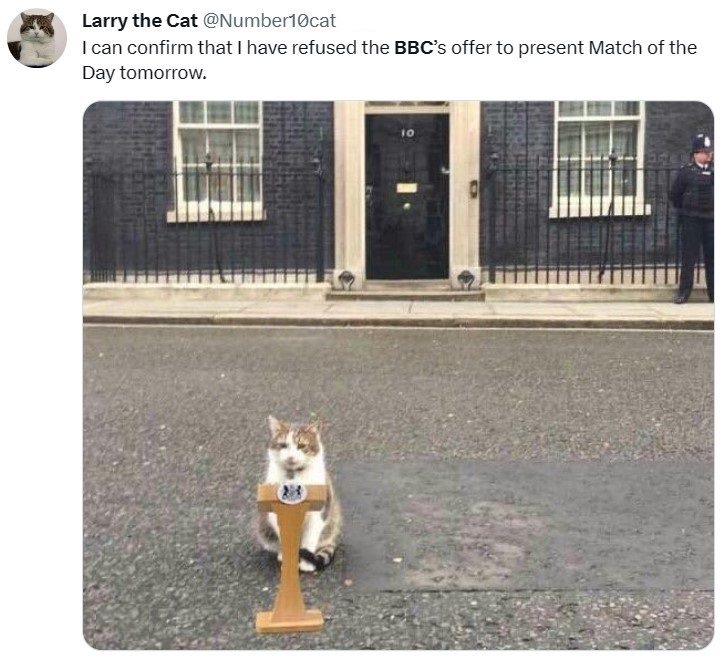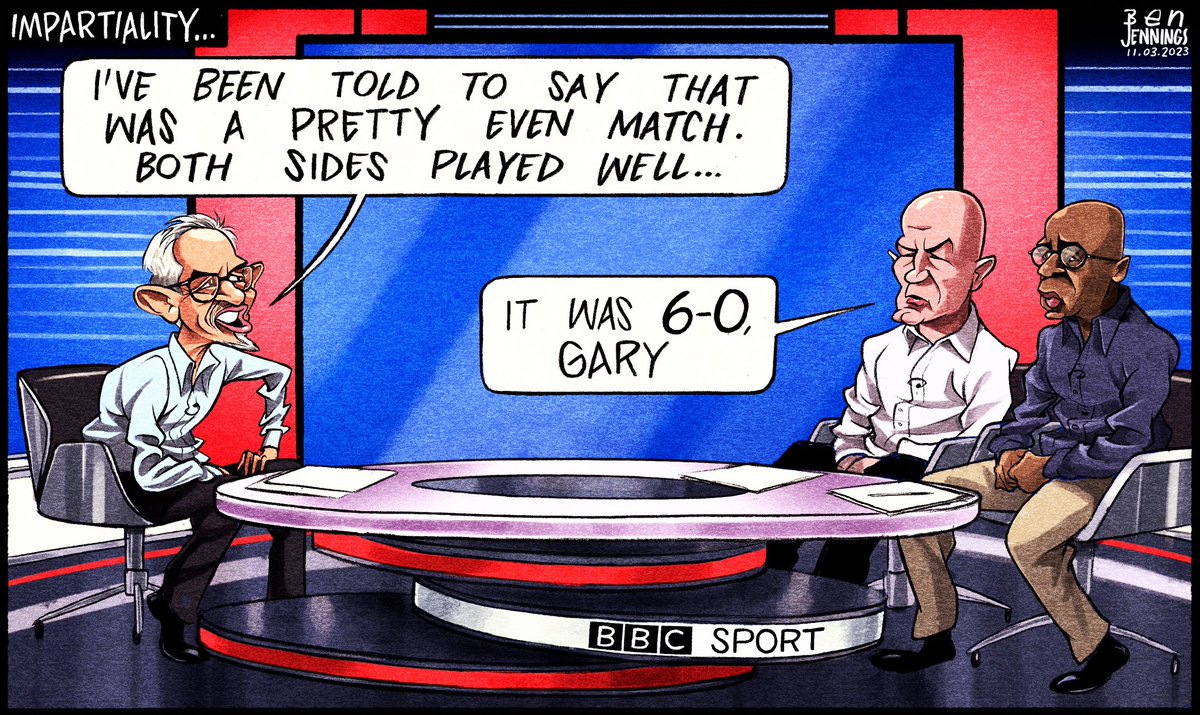 Friday 10th March


Just a bit more on this.

Look at the first page of the Illegal Migration Bill 262 2022-23, "[AS INTR­OD­UCED]" ... on Tuesday last. (If you can't see the det­ail at nor­mal res­ol­ut­ion, click/­swipe/­zoom/­what­ever to do so.) Here's the full text of the Bill (66 pages):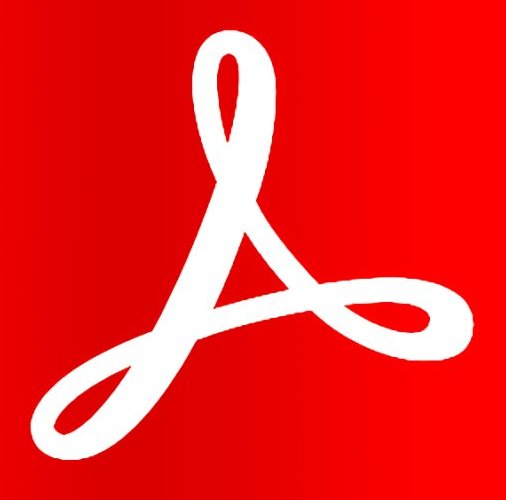 She knew she was on dodgy ground, didn't she?

The Bill's preamble starts:





Here's a flavour of the section headings:
Duty to make arrangements for removal
Disregard of certain claims, applications
Powers of detention
Disapplication of modern slavery provisions: persons liable to deportation
Inadmissibility of certain asylum and human rights claims
Cap on number of entrants using safe and legal routes
OK, this is legislation targetting illegality, but still I'm struck by the tone and intent. It's all about capture, control, limit and expulsion.

In contrast (I posted the relevant documents yesterday) ...

Article 14.1 of the Universal Declaration of Human Rights states:


Everyone has the right to seek and to enjoy in other countries asylum from persecution.


Article 32.1 of the UNHCR Convention says:


Contracting States shall not expel a refugee lawfully in their territory save on grounds of national security or public order.


These are about rights, protection and welcome.

There is no substantive emphasis in the Bill - it's no sur­prise, I know, argu­ably not even the right place for it - on the urg­ent supp­ort requ­ired by desp­er­ate people in small boats. It's mostly about the perc­eived threat they pose.

The government strategy is based on eliminating the people smugglers by dissuading their customers from the purchase of the cross-Channel service, because the help sought will not be available on arrival. But who suffers?

It's so back-to-front, inside-out, missing the point. I've been wrestling with a suitable analogy. My best stab is a trifle sinuous, but I'll give it a go.

Imagine a good old-fashioned milk round on a residential town street. A milk-snatcher has been at large, stealing bottles from the doorsteps. To combat the thief, the local bobby recommends that the dairy suspend delivery - there'll be nothing to take, no point in the snatcher trying any more. Who is worst affected by this action? Mostly the local townspeople; they now don't have any milk. Will the suspension inconvenience the baddie? Unlikely. He'll find something else to do, somewhere else to go, change his target to bread or children's sweets; the wrong 'uns will always find a way. What's needed is concerted focus on this offender, root him out and bring him to justice without further troubling the innocent. Mean­while help the residents with their milk shortage.

I can't let this next pass without a mention. What have we come to when it takes an ex-England-footballer to make the front pages with his disapproval of government policy? Material courtesy of Lineker himself, cartoonist Peter Brookes and artist Cold War Steve.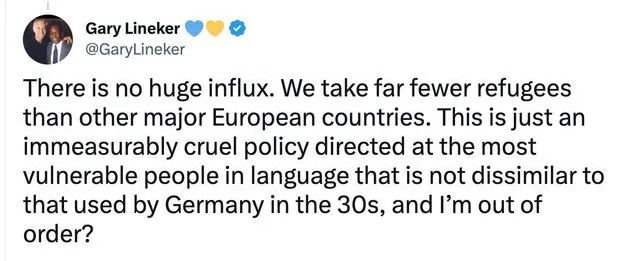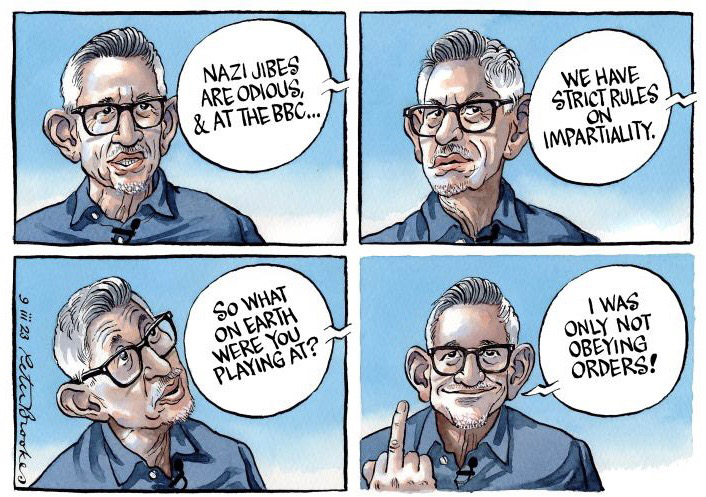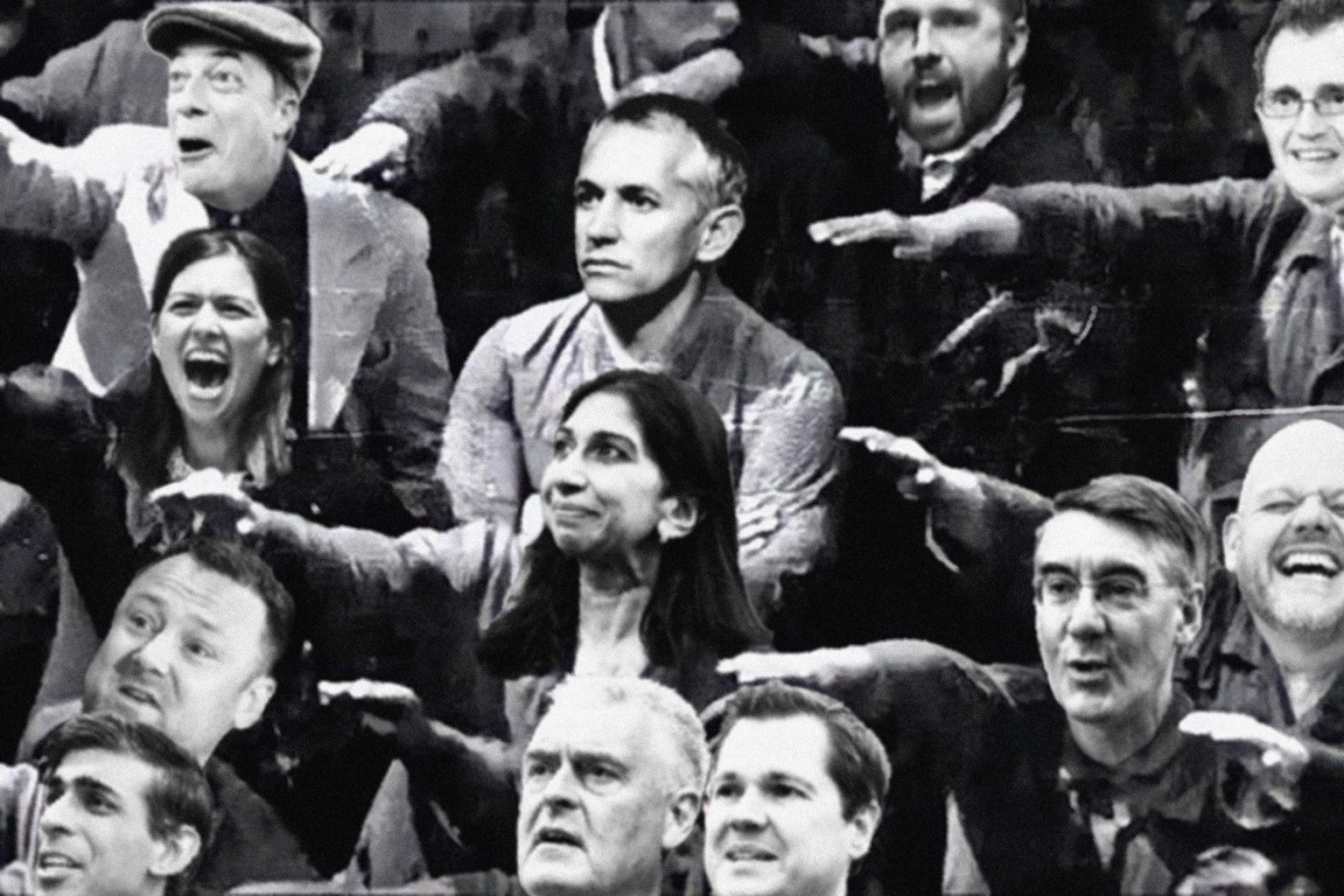 Thursday 9th March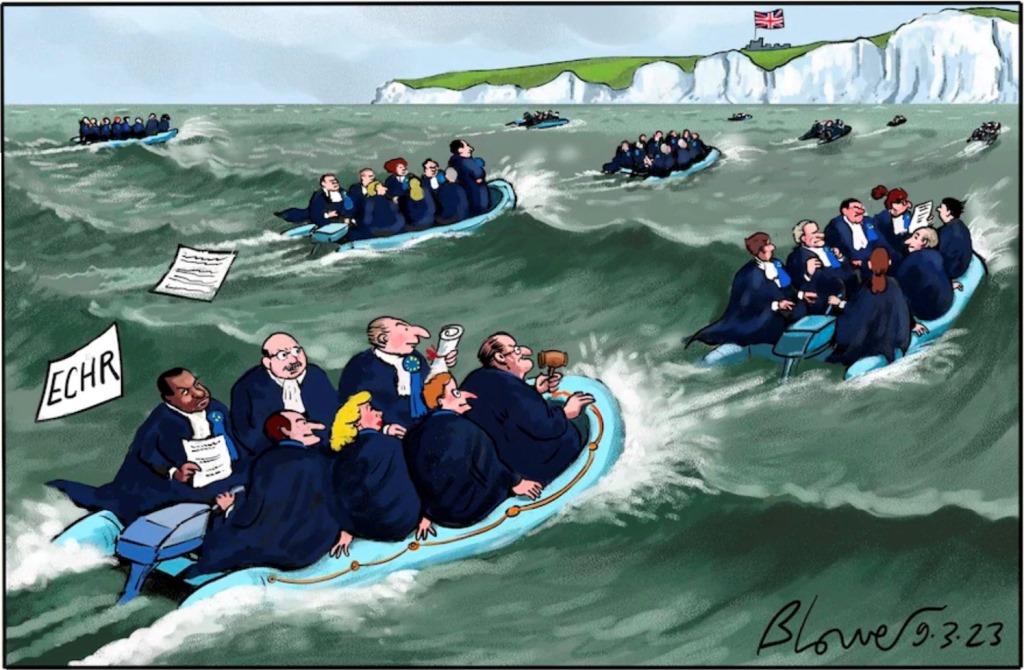 I'm not qualified to comment on the legal­ity of the Migr­at­ion Bill. Others are. Like Chris Daw, King's Coun­sel at Linc­oln House Chamb­ers. Listen to his take on Sky News yest­er­day (1 minute 37 sec­onds):




Everything he mentions came into being in the after­math of WWII, at a time when nat­ions were det­erm­ined to prov­ide for a safer and more just future. As I've frequ­ently ment­ioned in these pages, Brit­ain's Cons­erv­at­ive war hero Win­ston Church­ill was a lead­ing part­ic­ip­ant in such init­iat­ives, among them what later became the Euro­pean Union.

I'm going to post some of the relevant doc­um­ents. Not be­cause you're going to read them all - al­though that would be a sal­ut­ory exp­er­ience - but because they exist. They emerged in black-and-white from that post-war era in which gov­ern­ments were driven to build a better world. Hard-won gains for hum­an­ity. Braverman would rip these up.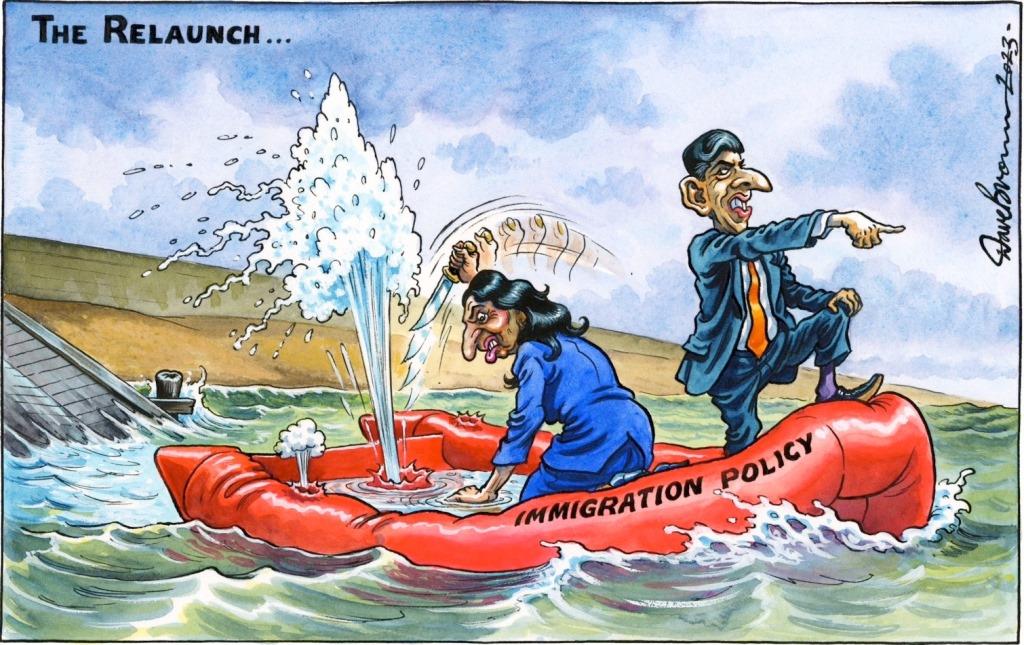 The UNHCR asked her to re-think immed­iately after Tues­day's parl­iam­ent­ary sess­ion: "We urge the Gov­ern­ment, and all MPs and Peers, to rec­ons­ider the Bill and inst­ead pur­sue more hum­ane and pract­ical pol­icy sol­ut­ions." See the full text of the UNHCR state­ment (2 pages):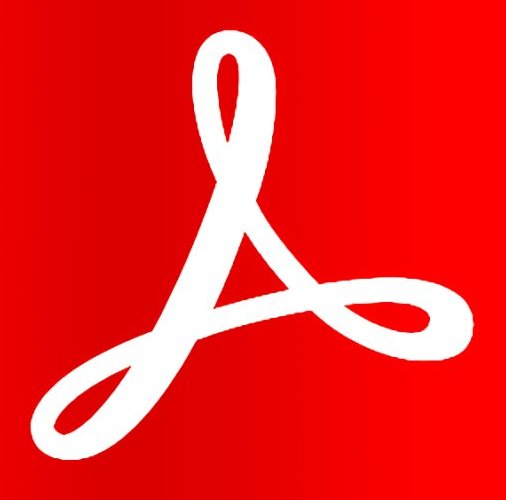 Wednesday 8th March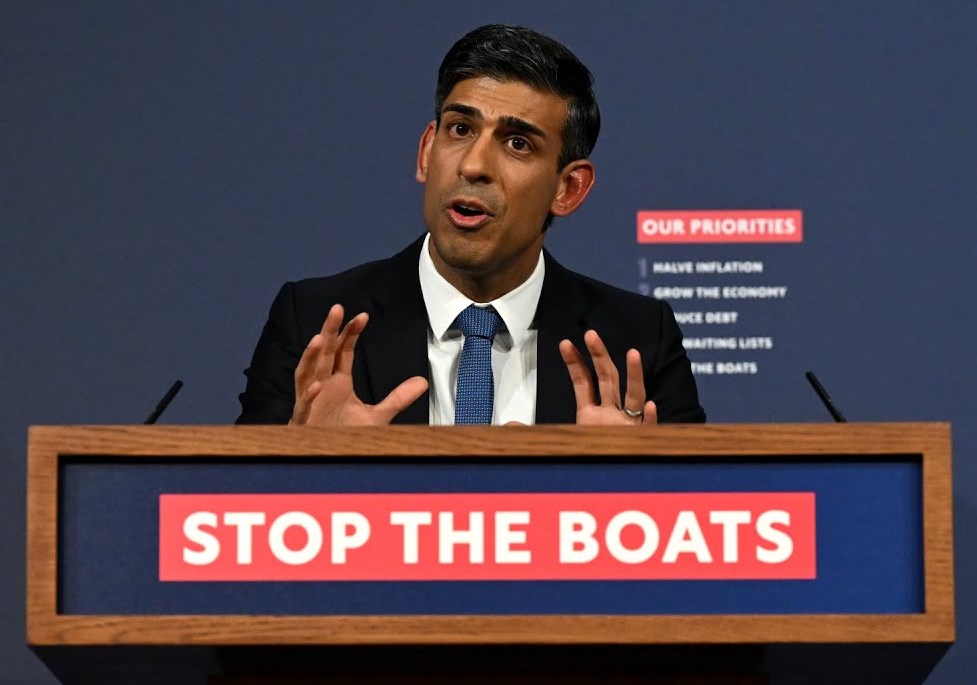 There's a lot to digest from Braverman's House of Commons pres­entation of the Ill­egal Migr­ation Bill yest­er­day. I built a PDF tran­script from the Hans­ard web­site last night. Here it is, 42 pages cov­er­ing the one-hour-50-min­utes sess­ion of state­ment and quest­ions: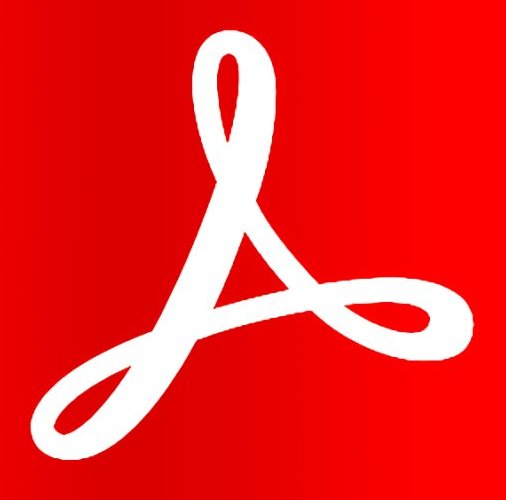 . If you have time, it's worth a browse. Brav­er­man's bit occu­pies the first 3 pages, Yvette Cooper's res­ponse the sub­sequ­ent two.

There were some very interesting contributions. I'm tempted to quote them, but I wouldn't know where to stop; you'd be better off reading the transcript yourself. So, just a few impressions. It was a very polarised debate. I guess that's the nature of adversarial politics, but this had extra bite and acr­im­ony. An issue that divides the House and the country, fuelled by both ideology and emotion. Braverman did not hold back from pouring acid scorn on opposition naysayers. It's clear that the Tories are determined to "Stop The Boats" (a three-word slogan again) by whatever means fair or foul. Yes, it's one of their top five priorities. Put crudely, it reflects the Brexit split between keeping the outsider at bay and embracing the wider world of humanity.

As ever, the cartoonists capture some of the flavour that I haven't time to explore here: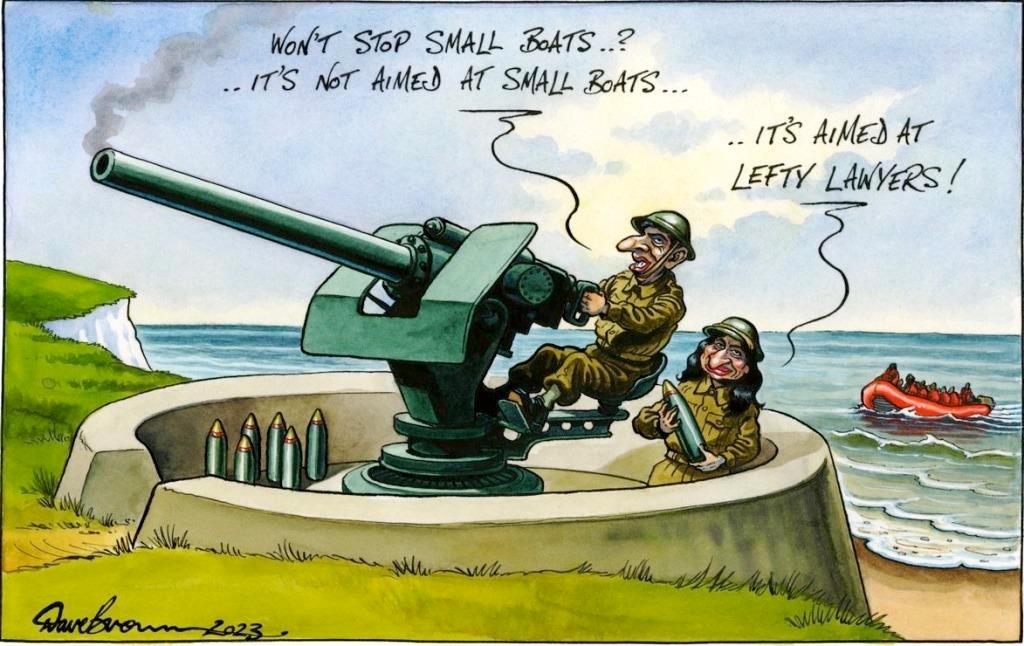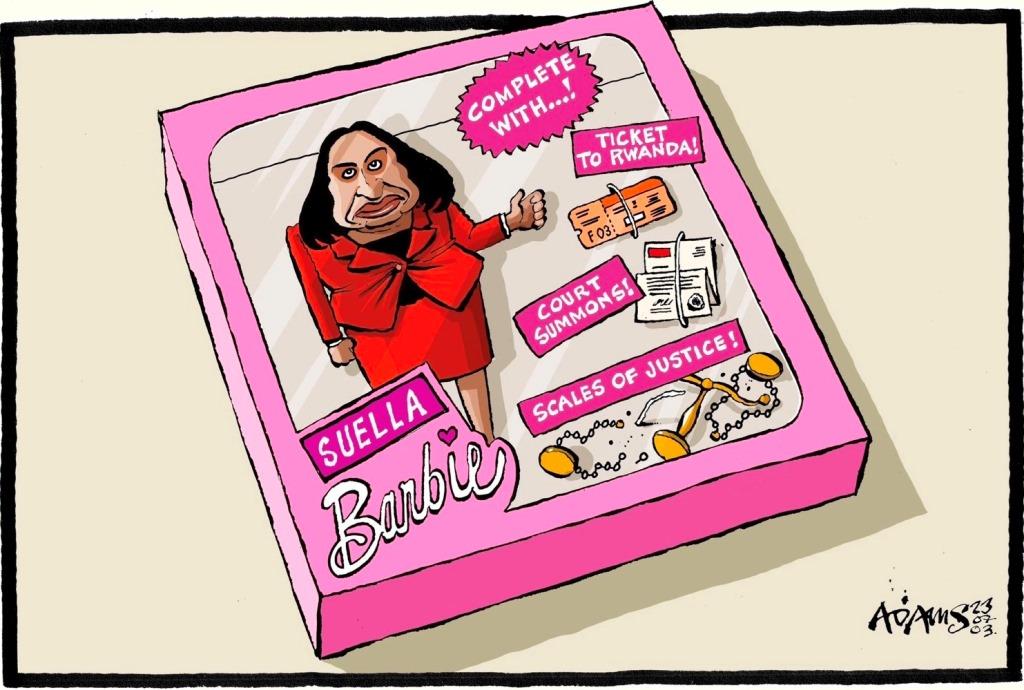 Tuesday 7th March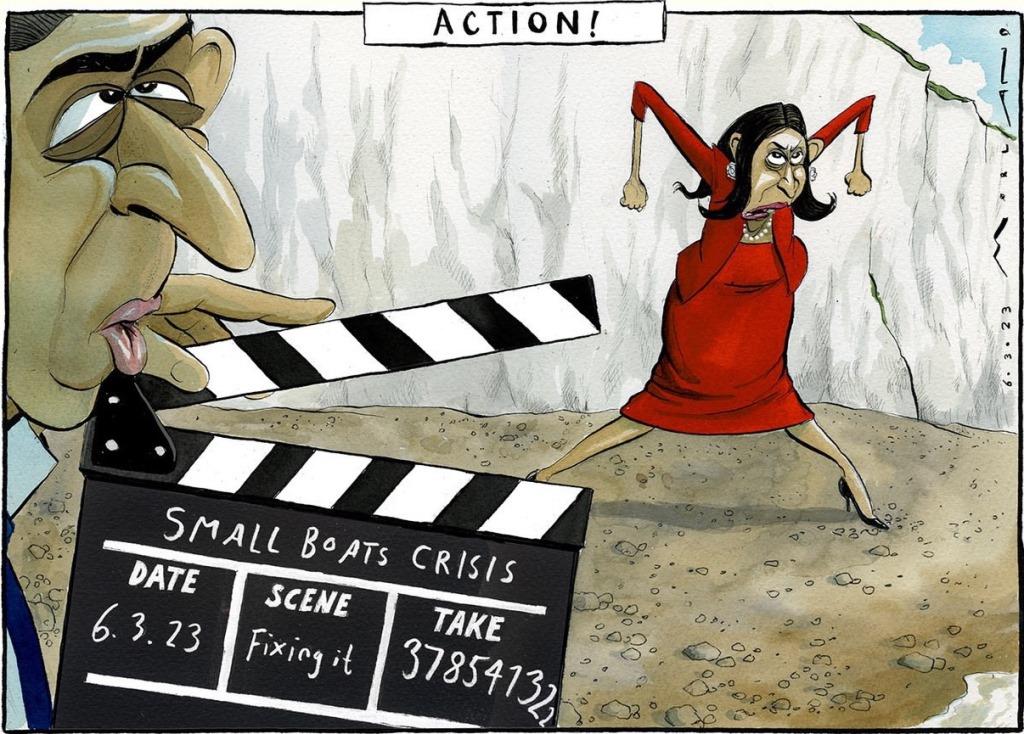 Home Office statement on 31st January:





"The unacceptable number of people risking their lives by mak­ing these dang­er­ous cross­ings is plac­ing an unp­rec­ed­ent­ed strain on our asy­lum system.





"Our priority is to stop this illegal trade, and our new Small Boats Oper­at­ion­al Comm­and - bolst­ered by hund­reds of extra staff - is work­ing along­side our French part­ners and other agen­cies to dis­rupt the people smugg­lers.





"The government is also going further by intro­duc­ing leg­is­lat­ion which will ens­ure that those people arr­iv­ing in the UK ill­eg­ally are det­ained and prompt­ly rem­oved to their coun­try of or­ig­in or a safe third country."


From Care4Calais yesterday:

"Tomorrow
[now today]
the Government is expected to launch its most drac­on­ian anti-ref­ugee leg­is­lat­ion yet, as Rishi Sunak bids to make the UK off-limits to any ref­ug­ees other than those his gov­ern­ment hand-picks.
"It is anticipated that under the new laws, people arriving on small boats will:
Have their asylum claims made automatically 'inadmissible'
Be subject to mass detention
Be removed to a third country as soon as practicable
Be permanently banned from returning to the UK
Be unable to use family rights laws to stop deportation"
Statement from the Fire Brigades Union, endorsed by 14 others including GMB, UNISON, RMT, NUJ, ASLEF, Equity and the Mus­ic­ians Union:

"In recent weeks, we have seen an alarming rise in vio­lence and int­imi­dat­ion org­an­ised by the far right against ref­ug­ees and ref­ug­ee acc­omm­od­at­ion.
"The government is complicit in these attacks. The Rwanda policy does not make sense as a means of stop­ping small boat cross­ings - and it is fail­ing on its own terms - but it fits with a long-run­ning camp­aign of rhet­or­ic and dem­on­is­at­ion.
"The people to blame are politicians, bill­ion­aires and big corp­or­at­ions, not mig­rant work­ers or ref­ug­ees forced to live in temp­or­ary acc­omm­od­at­ion. The anti-refu­gee camp­aign off­ers no sol­ut­ions to the real prob­lems faced by the depr­ived comm­un­it­ies they are often targ­et­ing. The ans­wer is sol­id­ar­ity, not scape­goat­ing.
"As trade unionists, we know whose side we are on when we see far right mobs att­ack­ing ref­ug­ees and pol­it­ic­ians play­ing the mood music. We send our sol­id­ar­ity to Care4­Calais and all groups fight­ing for ref­ug­ee rights, and we sup­port the call for safe and legal routes into the UK. We call on workers and trade union members to show their sol­id­ar­ity and to mob­il­ise against the far right."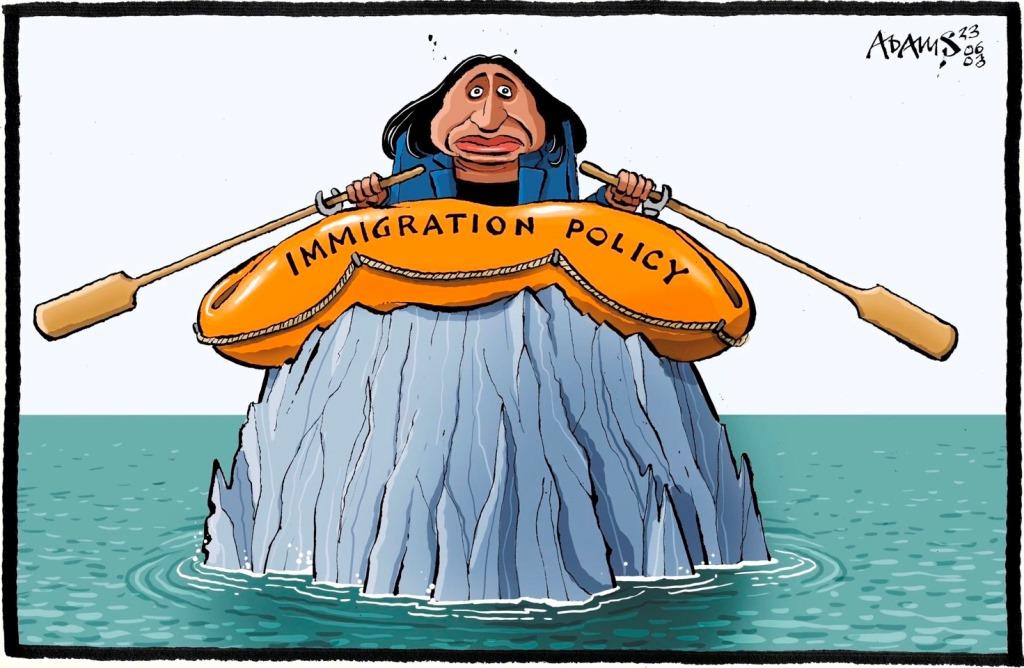 Monday 6th March


I was pleased to see that I'm not alone in my dismay - and, I admit, am­use­ment - at the dep­osed and disgr­aced ref­using to go away.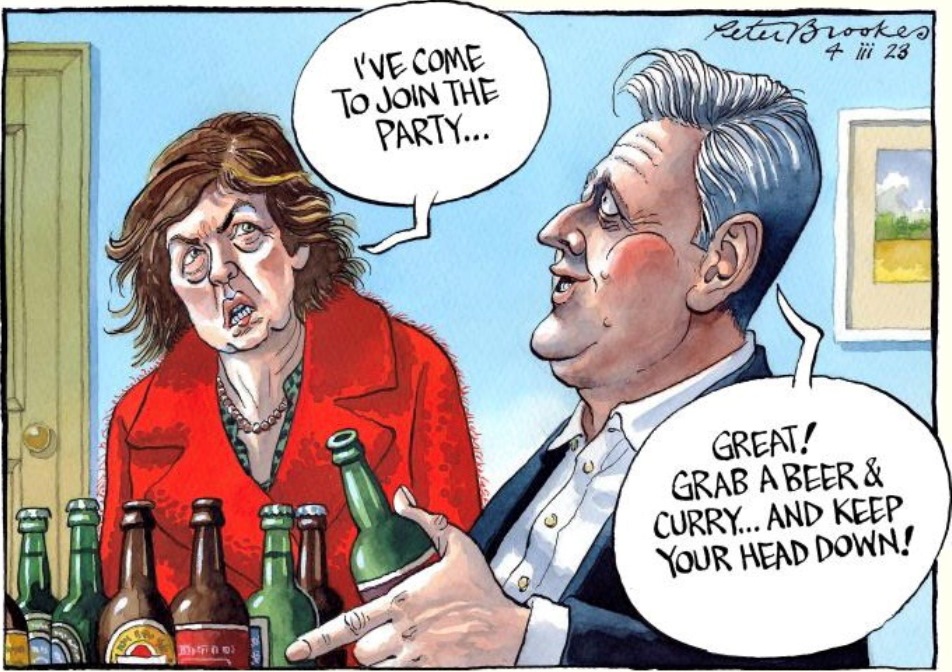 I stumbled across some surprising back-story to Sue Gray. She's married to Northern Irish country-and-western singer Bill Conlon. In the 1980s they ran a pub called the Cove Bar outside Newry. There you are, a seamless link to the Windsor Framework. Here's a January 2022 piece written by David O'Dornan in the Belfast Telegraph:

"Friends of Ms Gray say she is unlikely to hold any fears about taking on the Prime Minister and other senior figures, given that she stood up to armed republican terrorists in the past.





"They revealed that when she was running a pub in Newry, Co Down during the Troubles in the 1980s, she was not frightened when confronted with what was a potentially life-threatening situation. They explained that she said that one night she had a very heavy cold and one of her staff wanted to get off early and she closed the bar down. She drove the person home - the person lived out in south Armagh - and she was coming back in the Camlough Road after having dropped her staff member off.





"She came across a light in the middle of the road and was ordered to stop. She thought initially it was the Army; she didn't realise the guy was a paramilitary.





"He said to her, 'We want the car, get out.' And she just bluntly refused and said, 'No.'





"Taken aback, he replied, 'What?' And then he turned round and said to her, 'Oh, you're f***ing English as well?'





"And just as the situation looked like it was set to escalate, a voice came out of the darkness and said, 'That's Sue Gray from The Cove, let her go on.'"


You're never going to watch it all but I have to post this anyway. Bill Con­lon sings "Irish Ramb­ling Man". He has a good voice.




Their son Liam is the current national chair of the Labour Party Irish Society. He is also an active member and vice chair of Lewisham West and Penge Labour Party. Aha, a link to Sue's new job if it runs in the family. A left-wing stitch-up indeed 😉

Sunday 5th March


Serious and silly today.

First, some further thoughts on the Windsor Framework. I posed the question of benefits for the EU to my Irish correspondent, who kindly wrote:

"I have no real idea what the EU is expecting to gain from the Windsor Framework. Perhaps the steadying of the Good Friday Agreement? Particularly since all Western European countries and the US need to be as stable and united as possible vis-à-vis the war in Ukraine. Could Biden and the US government have given Ursula von der Leyen and her team a gentle nudge in this direction? And the EU will have wanted to give its full support to the Republic of Ireland, now a much-valued member of the bloc. Or maybe it could be a first step in coaxing the UK to return to the EU fold? Especially given the disastrous free fall that the country appears to be in, what with 3 prime ministers, 4 chancellors, endless cabinet changes and an economy going down the tubes as a result of Brexit. Maybe it is more desirable for the European bloc to have a stable neighbour across the Channel.





"I found the 'Brake' part of the deal interesting because the DUP can only have a say in applying it on any new EU trade laws if they are actively participating in the Stormont government. And then only if a substantial number of other Stormont MPs agree to a need for applying the brake. The ingenious bit is obliging the DUP to be actively in government before they can call for the brake. If they try to carry on refusing to participate in the Stormont power sharing, they will be left out in the cold.





"This DUP business is making the Sinn Fein party in NI look angelic at the moment. They must be polishing their halos as we speak."


And later ...


"It has just occurred to me too that given the strong historic links between Ireland and the US, especially with the current President having deep Irish roots, Ursula and the EU team may see Ireland as the ideal go-between EU country for bolstering the European bloc's relationship with the US. Defence commitments apart, the Brexit mess has left the UK an untrustworthy, burnt-out shell of what it once was on the world stage. Perhaps a new special relationship could be emerging: US - Ireland - EU. With Ireland as the transatlantic stepping stone."


Very interesting.

See my brief November 2020 coverage of Joe Biden's County Mayo con­nec­tion here: 👉

Back to the trivia. Hancock keeps on coming: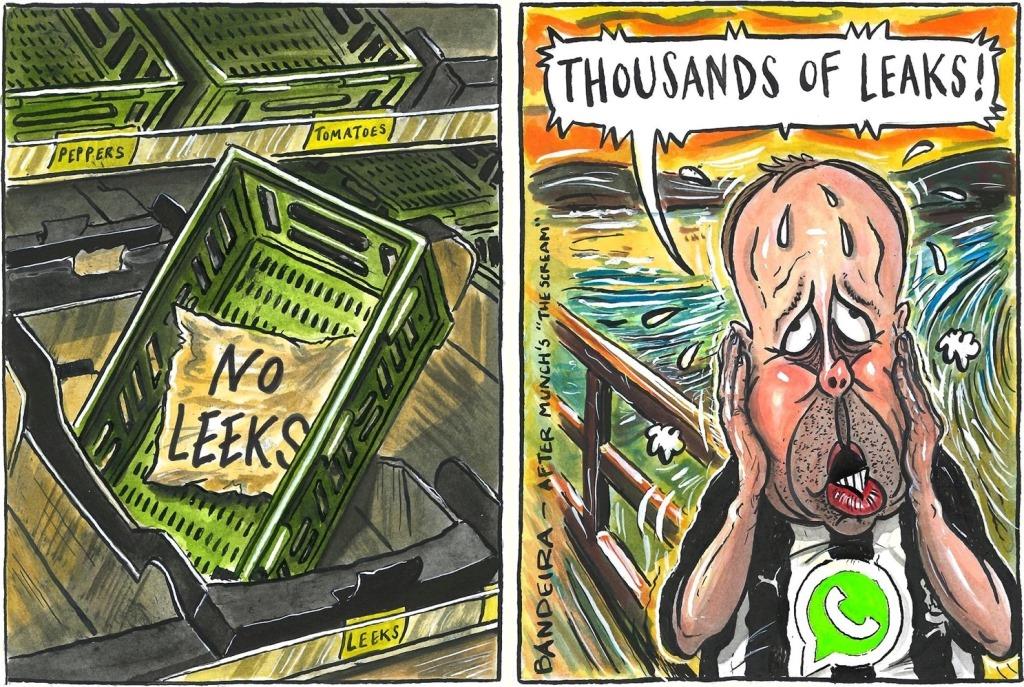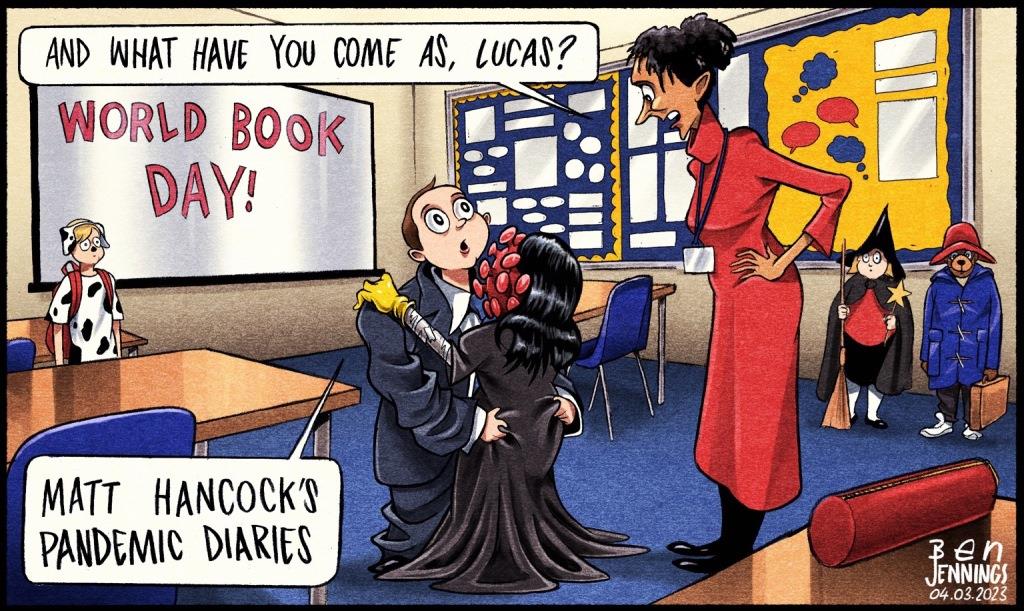 Not quite so comical once you consider his position and the pain through which Jane and Joe Public were going.

Quarantine? For the Health Secr­et­ary and the Cab­in­et Secr­et­ary/­Head of the Civ­il Serv­ice ... it was a laugh-a-min­ute: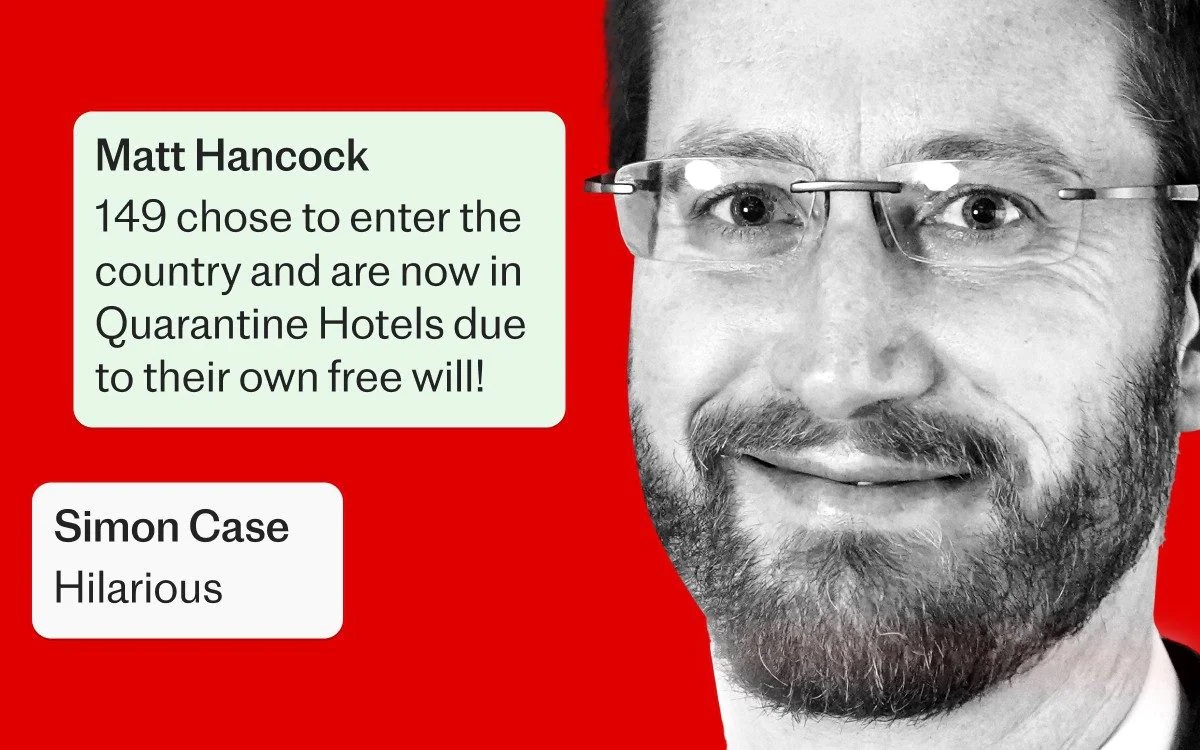 Social distancing with Gina. For Hancock and his media adviser ... it was all about being caught: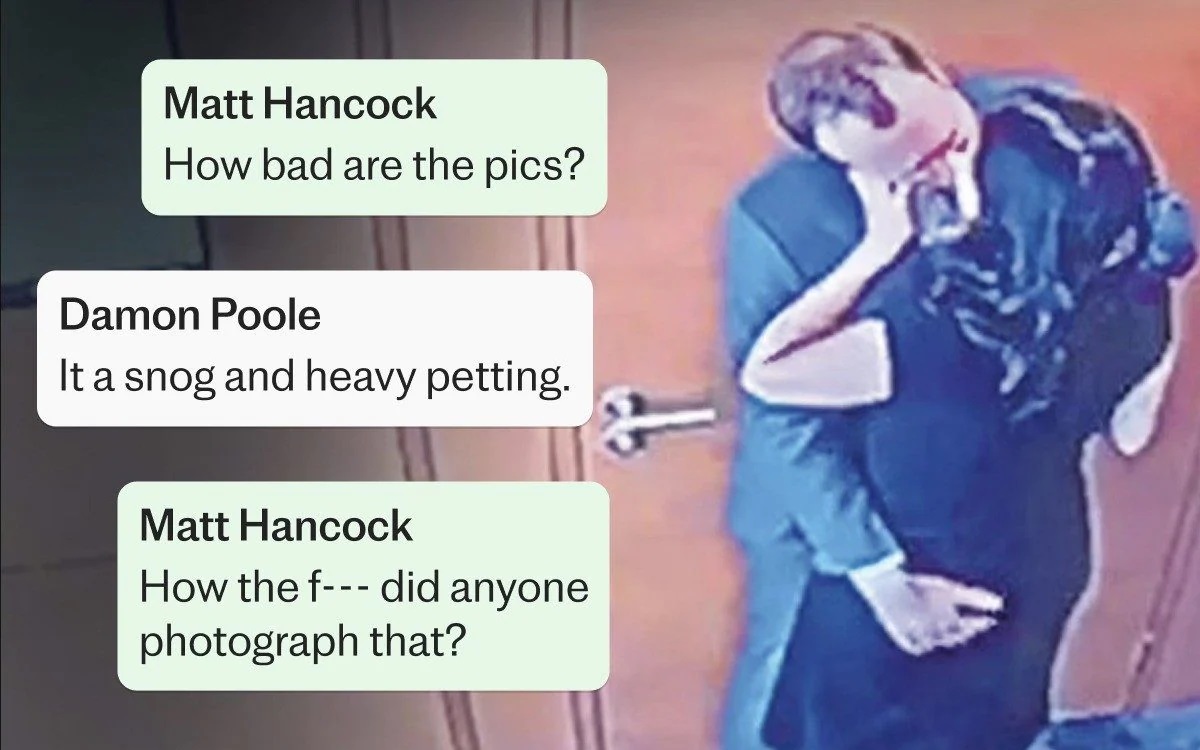 It gets worse when you see the longer exchange: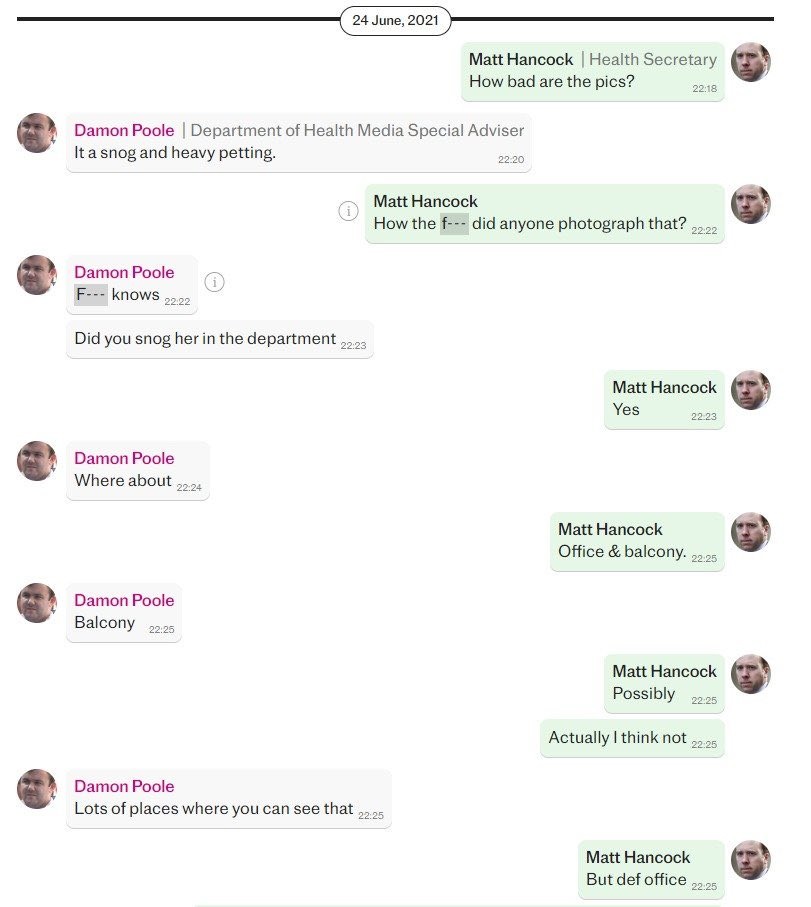 The benefit of these revelations is that we are rem­ind­ed - like we needed our mem­or­ies jog­ging, right? - of the true nat­ure of John­son and his mob: arr­og­ant, con­tempt­uous, self-serving, above-the-law, venal, in­comp­et­ent ... a criminal waste of space. Lest we forget.

Saturday 4th March


All-of-a-sudden it's Silly Season again. What's trig­ger­ed the rec­ent ref­us­al of dep­osed lead­ers and their disg­raced cron­ies to go away? A kind of Trump-fol­low-my-lead trend.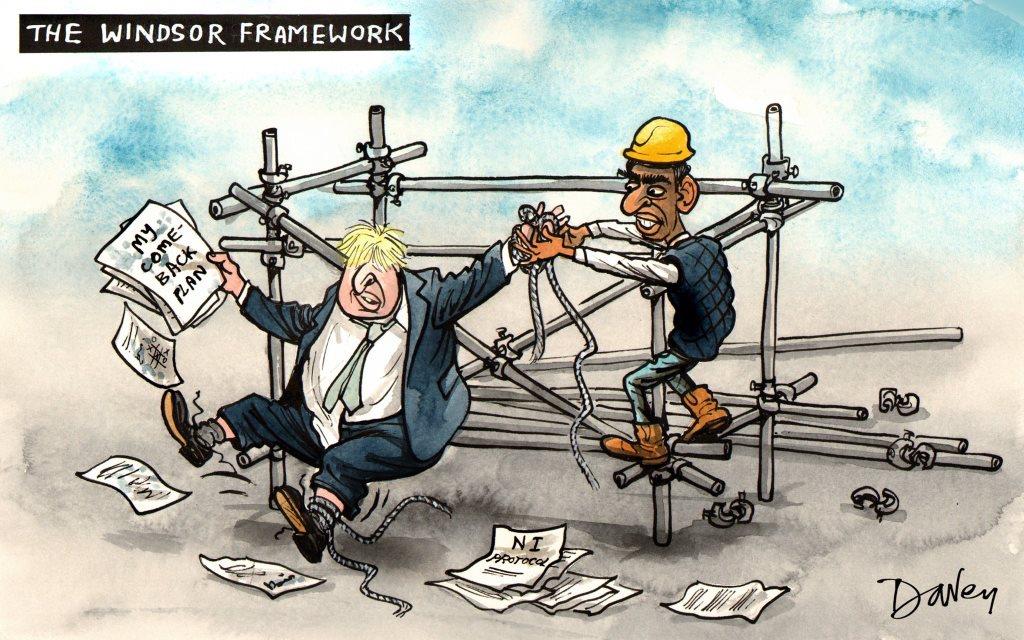 After Boris, none more so than the snogger.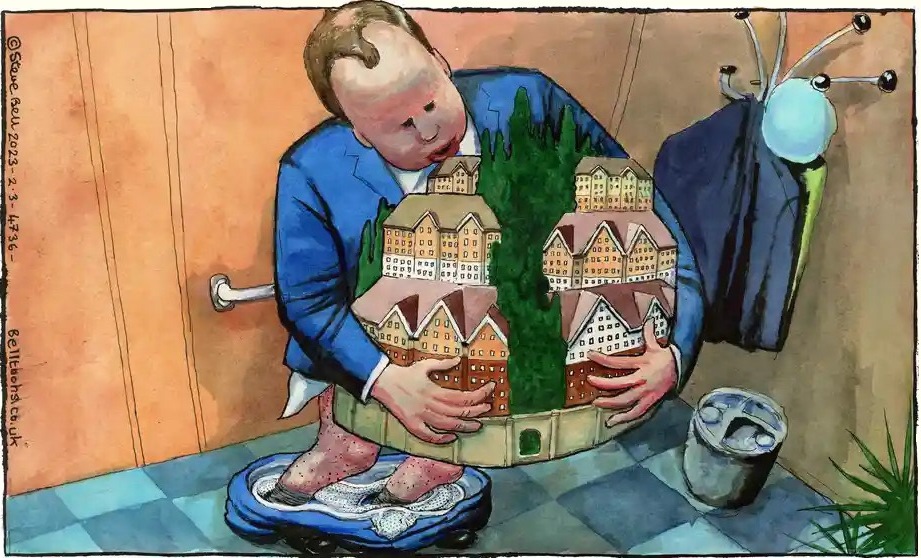 No hint of apology. Such wounded umbrage. Betrayed by Isabel. Oh how they des­erve each other.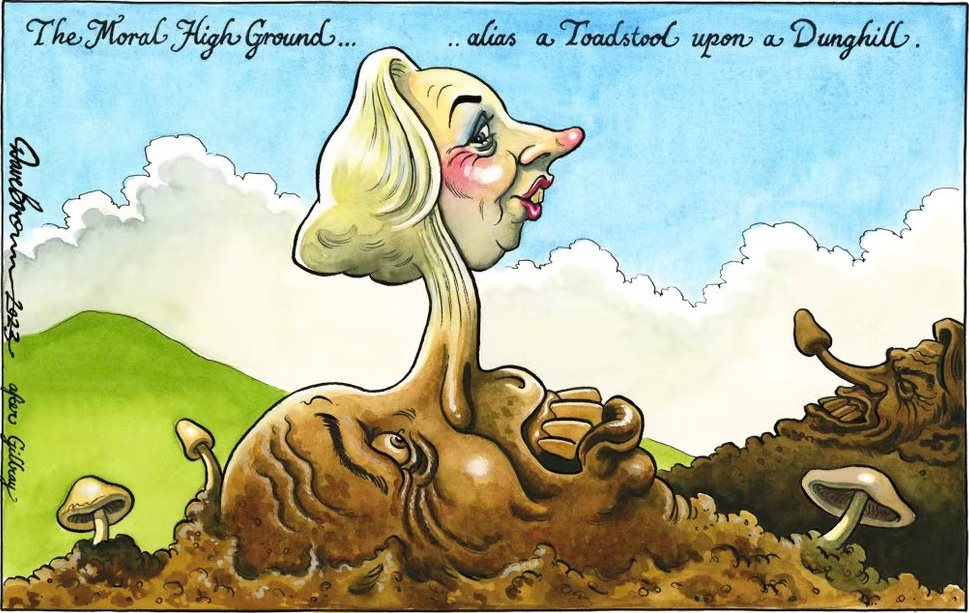 Then the once irreproachably independent Sue Gray gets a new job.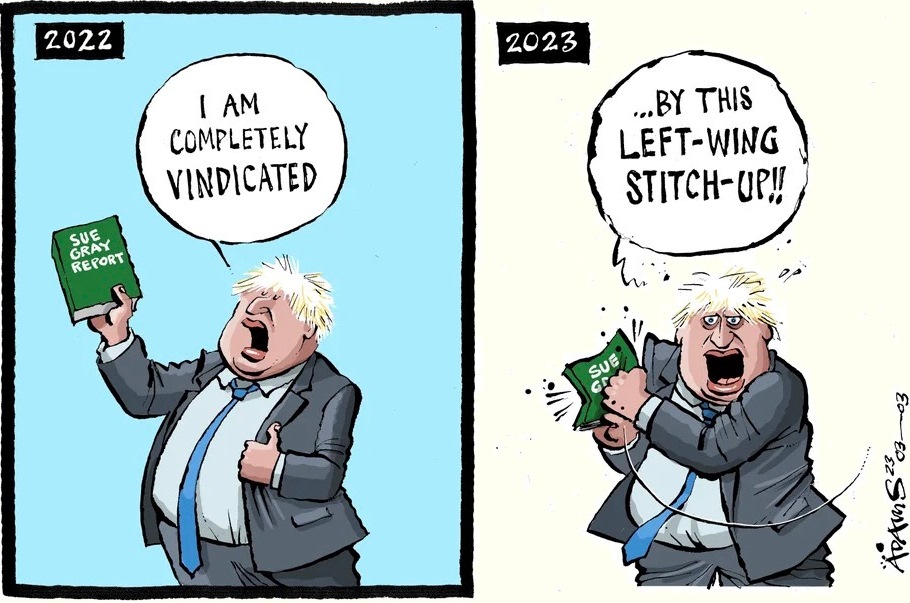 And the royals are at it too.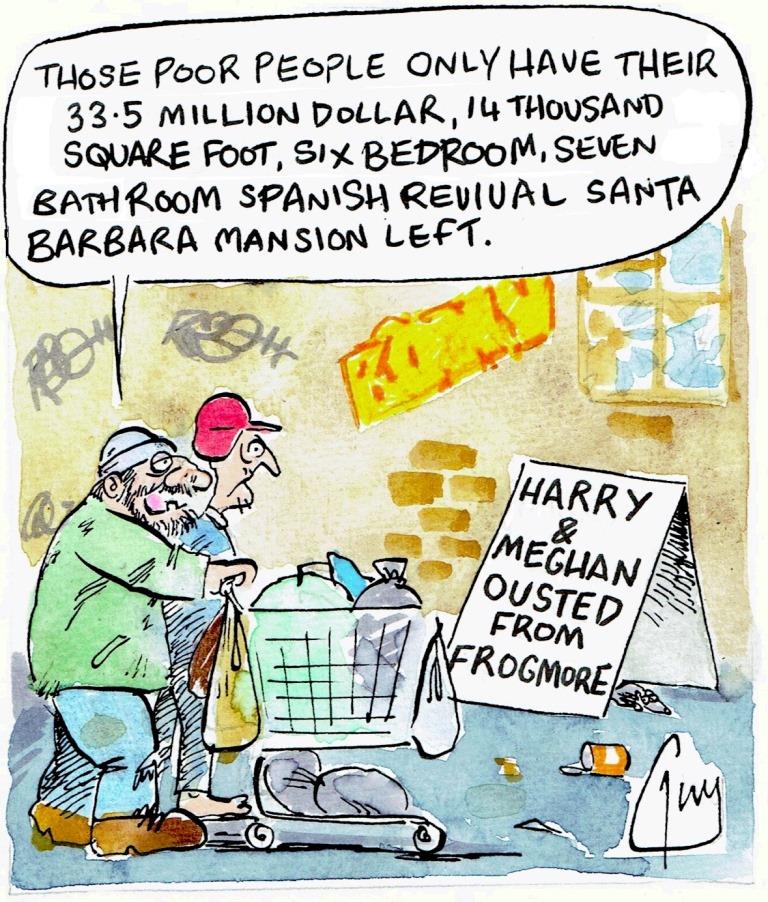 For Stroudies ... on a completely different note ... Stroud Valleys Artspace (4 John Street) is holding a party from 3pm this afternoon, a fundraiser in aid of victims of the earthquake in Turkey and Syria: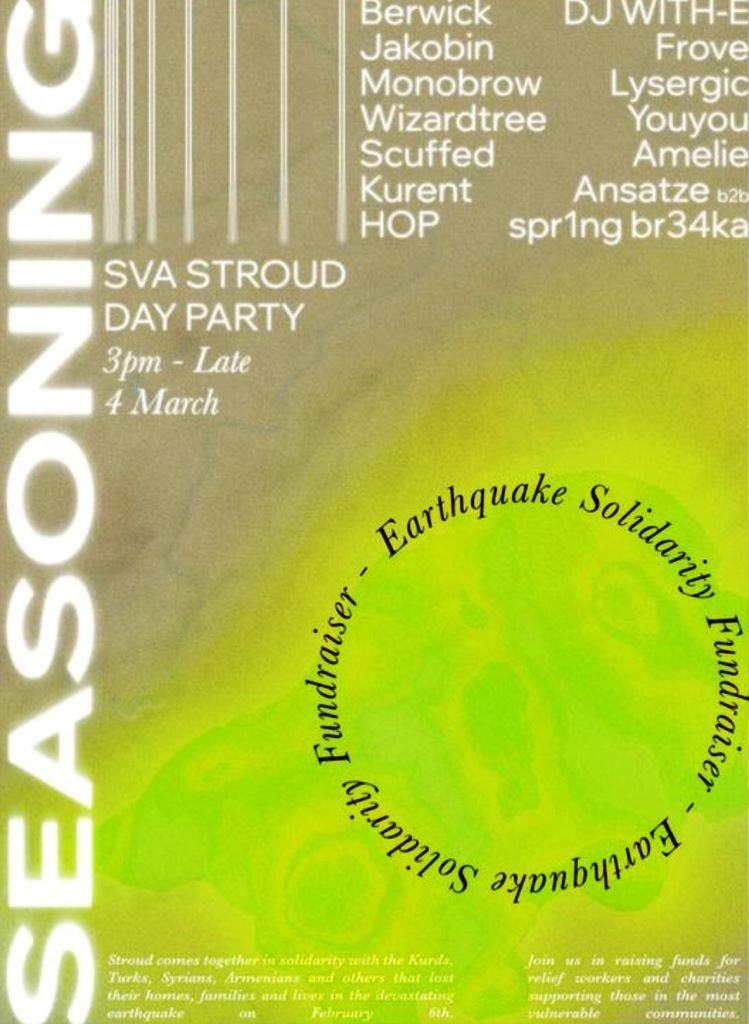 Friday 3rd March


I said I'd finish off yesterday's ruminations on the Windsor Framework. It feels like other news has already pushed it down the agenda - MI5 and Manchester, Hancock and WhatsApp, racism and Yorkshire cricket - but for the sake of completeness ...

I left it with Sunak's feverish sales pitch in Lisburn:


"Northern Ireland is in the unbelievably special position, a unique position in the entire world, European continent ... privileged access, not just to the UK home market, which is enormous, but also the EU single market ... nobody else has that. No one. Only you guys - only here, and that is the prize."


Greeted by mockery in some quarters ...

Labour MP Chris Bryant:


"Sunak says how wonderful it is that Northern Ireland gets privileged access to the single market. I'd like that for the rest of the UK."


Anti-Brexit campaigner Femi Oluwole:


"Rishi Sunak just spent 2 minutes boasting about how Northern Ireland is the 'most exciting investment zone on the planet' because it has full access to the UK and EU market. You know ... like we did before Brexit!"


Oxford foreign policy expert Dr. Jennifer Cassidy:


"You mean the 'extraordinary opportunity' that was available to the ENTIRE UK before Brexit. That opportunity?"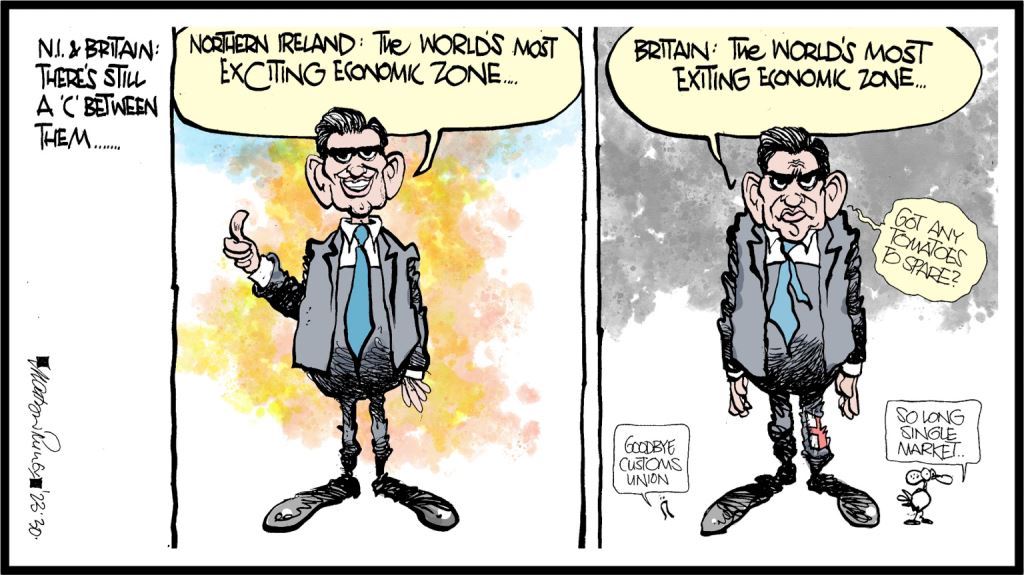 My final thought on this - for now - may well show ignorance. Why did Ursula von der Leyen shake hands on the deal? What's in it for the EU? Northern Ireland, Stormont Brake and all, gets to block EU laws it doesn't like. Does any signed-up member state of the European Union have that privilege? Is it just an act of generosity, to assist with peace in Ireland, to tolerate the absence of a "hard border"? In the interests of the Republic? I still have to find an answer. Help me if you can.

We wait to see how much objection the DUP can raise, the "odious flat-earthers" in the words of my Irish correspondent.

Thursday 2nd March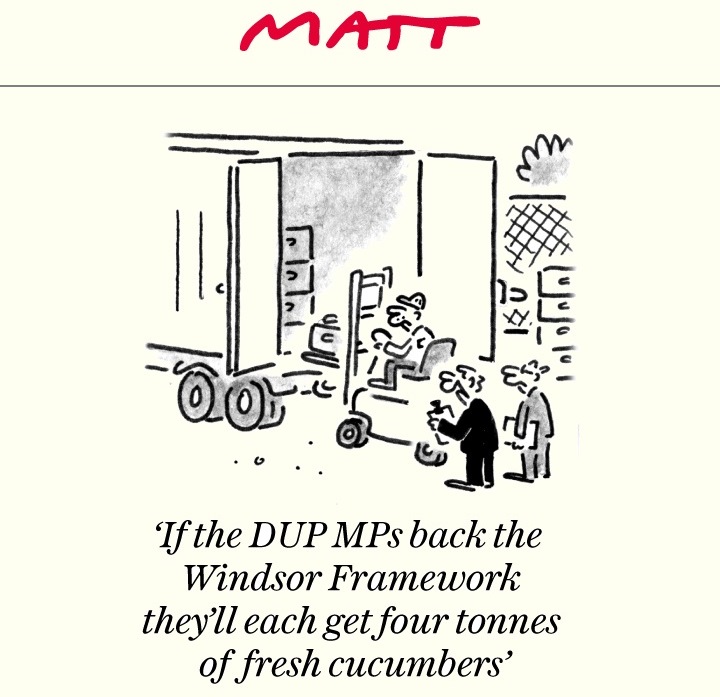 So, will they? I took a look at their April 2022 document "Our 5 Point Plan for North­ern Ire­land: Re­move the NI Prot­oc­ol". Here it is for ref­er­ence (8 pages, three of sign­if­ic­ant text):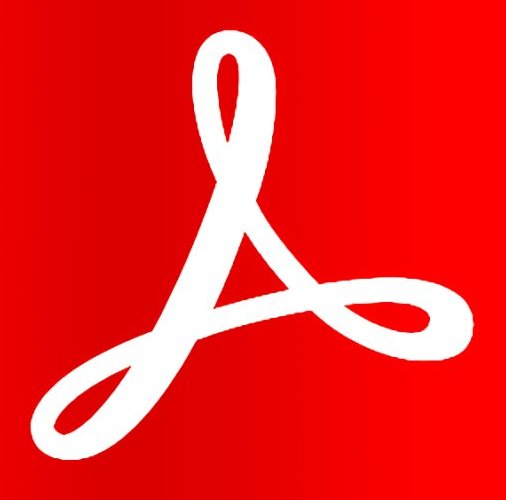 Its primary stated ambition was: "See the Prot­oc­ol repl­aced by arr­ange­ments that rest­ore our place with­in the Un­it­ed King­dom." These must meet their 7 tests:
Fulfil Article 6 of the Articles of Union, which requires that everyone in the United Kingdom is entitled to the same privileges.
Avoid any diversion of trade.
Not constitute a border in the Irish Sea.
Give the people of Northern Ireland a say in the making of the laws that govern them.
Result in no checks on goods going from Northern Ireland to Great Britain or from Great Britain to Northern Ireland.
Ensure no new regulatory barriers develop between Northern Ireland and the rest of the United Kingdom unless agreed by the Northern Ireland Executive and Assembly.
Preserve the letter and spirit of Northern Ireland's constitutional guarantee requiring the consent of a majority of the people of Northern Ireland for any diminution in its status as part of the United Kingdom.
What do you reckon? Did you sneak a peek at the Wind­sor Frame­work (posted on Tues­day)? Looks pretty close to me. Needs Stor­mont back in op­er­at­ion, but that's part of the purp­ose of it all, right?

The DUP now scrutinise, taking their time I'm sure.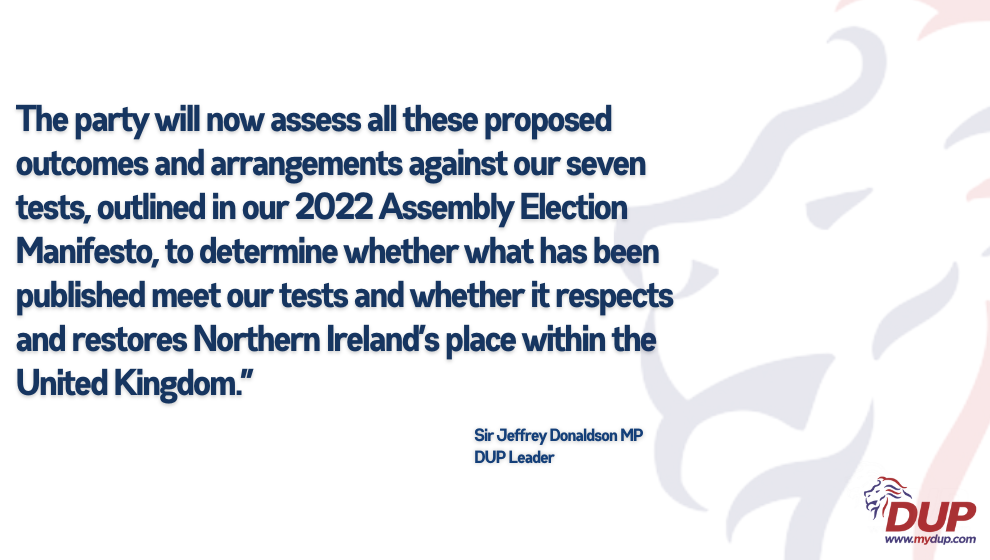 There's complexity, as ever with Northern Ireland, still to grasp - part­ic­ul­ar­ly for me. To my shame, I've real­ised that my und­er­stand­ing of the situ­ation since Brexit has been thin. It prob­ably shows. I've not been watch­ing close­ly, my att­ent­ion taken by all those other issues that have dom­in­ated these pages - Covid, climate, Trump, #Party­gate and more. I have some catch­ing up to do. And it's not just NI-cent­ric mat­ters, but also impl­ic­at­ions for the rest of the Union.

Let's start with Sunak's excited post-Windsor procl­am­at­ions at the Lis­burn Coca-Cola fact­ory (27 seconds):




As my Irish correspondent has commented, "Scotland, and maybe Wales too, will be fum­ing at their own ex­clus­ion from the EU."

[Work in progress ... more to come, probably tomorrow]

Wednesday 1st March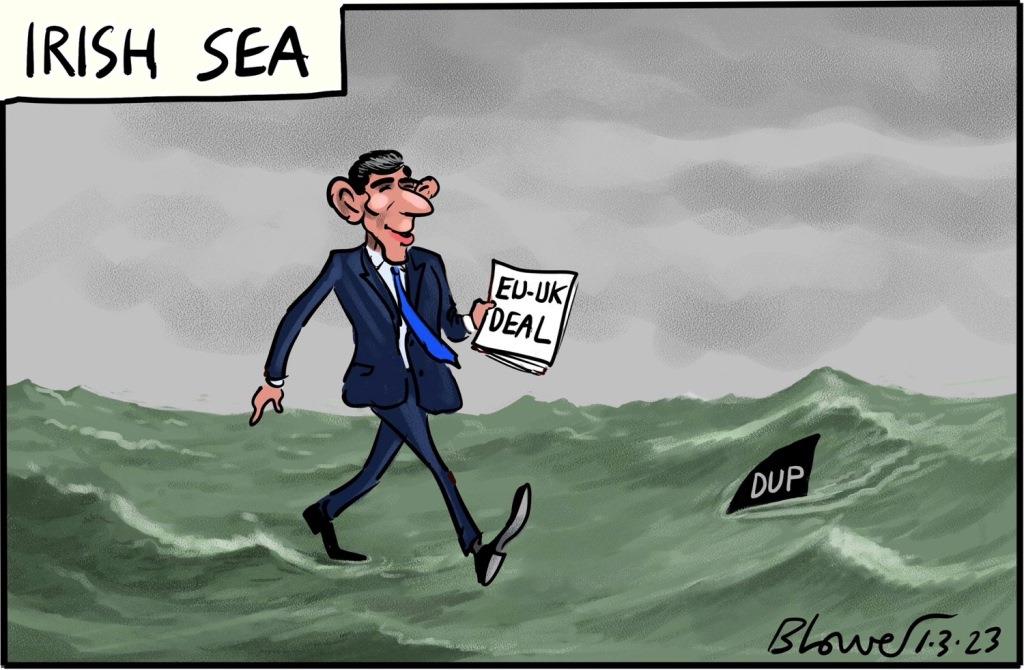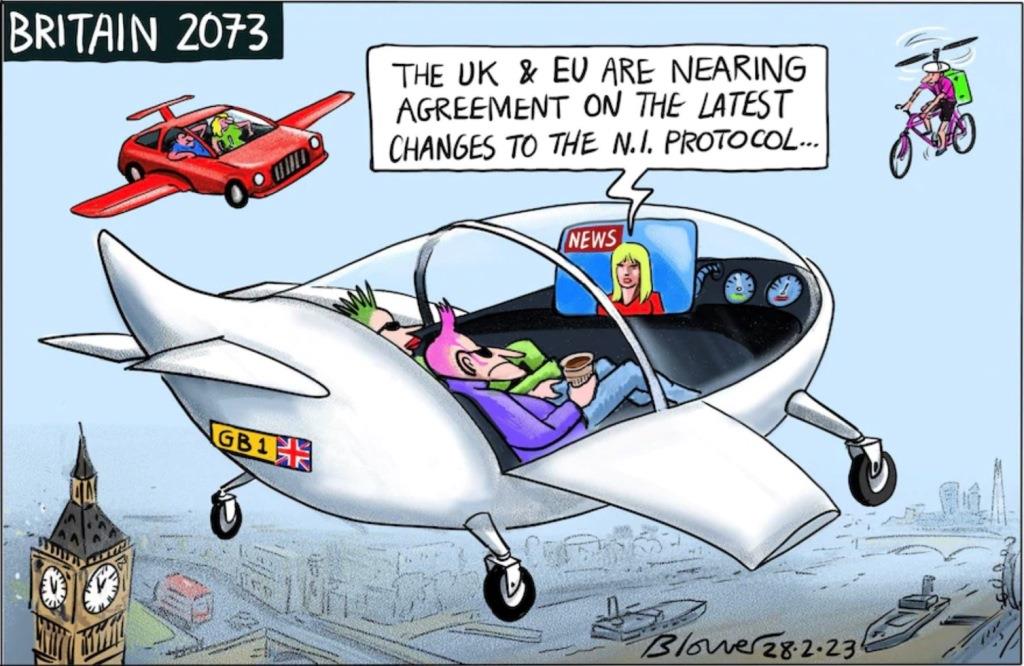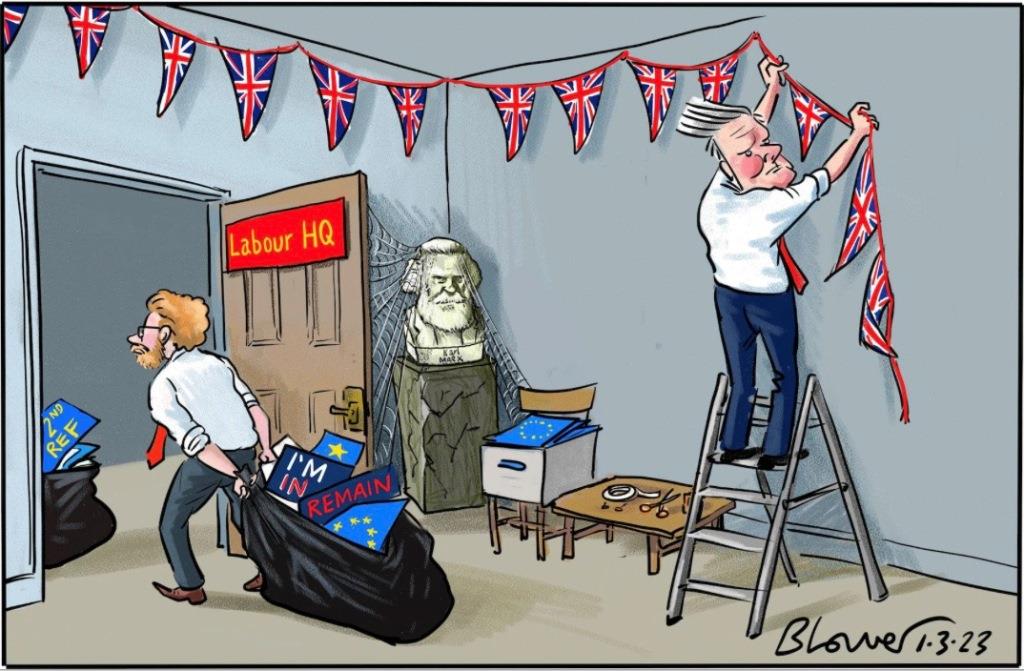 Tuesday 28th February


They've been digging up the bottom of our street for over a year. Currently it's major sewage works. I've successfully negotiated my way past them on my bike all that time. Yesterday they finally got me. Came a purler on loose gravel. Some operator error involved, braking hard downhill as I hit the loose stuff. Nothing broken thankfully, bruises and grazing.

Sunak and von der Leyen shook hands on a Northern Ireland deal. There's still a twixt-cup-and-lip way to go. Convince the DUP.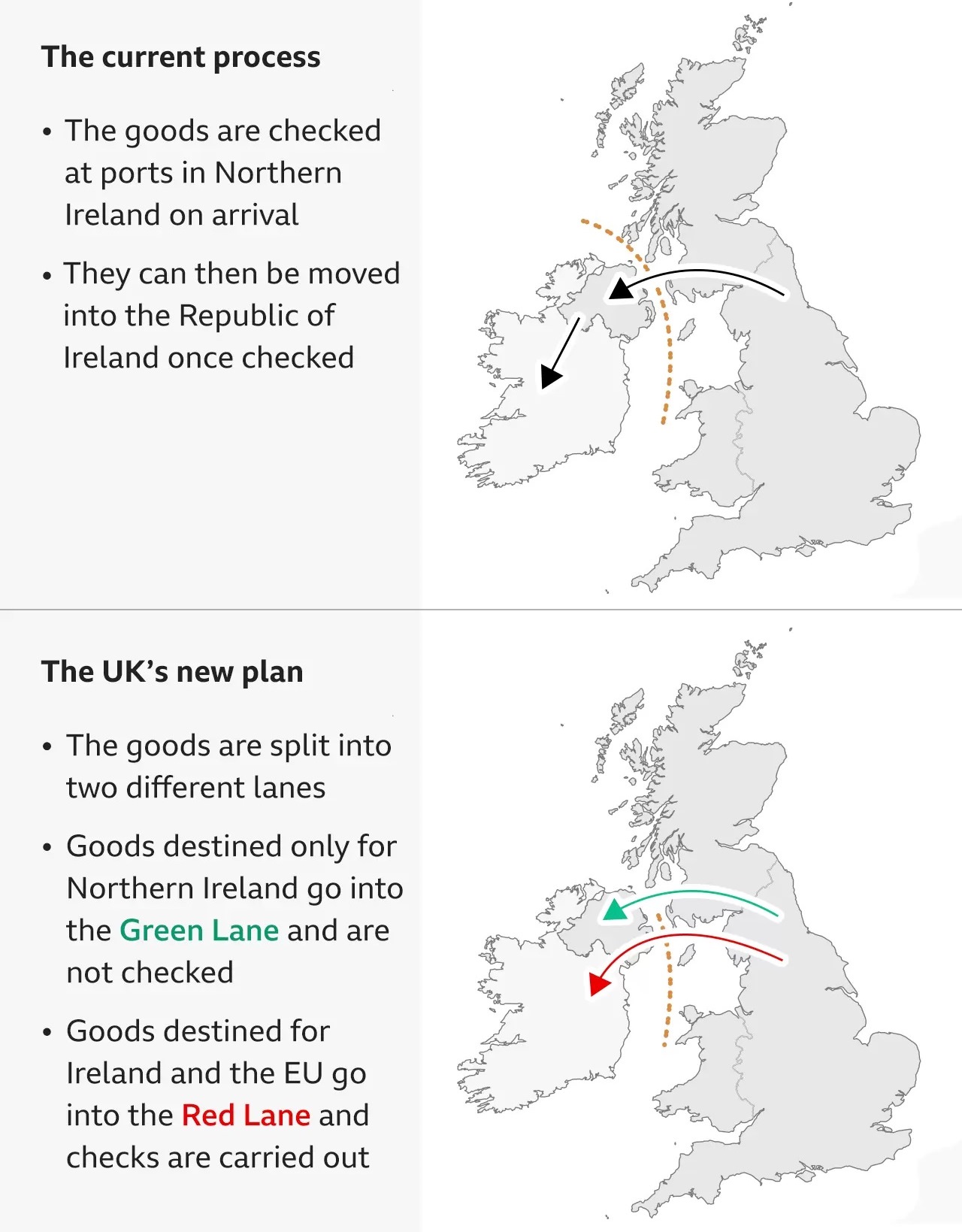 We have to be pleased that the promise of the Windsor Framework (here you are - 29 pages: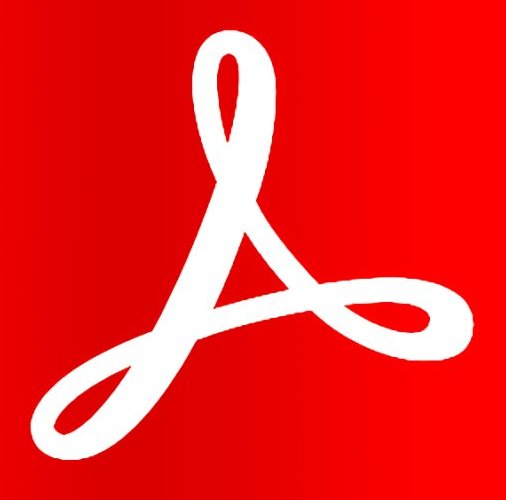 ) will make life better for North­ern Ire­land and hope­ful that it will prot­ect the Good Fri­day Agree­ment (ano­ther orig­in­al doc­um­ent for your ref­er­ence - 36 pages: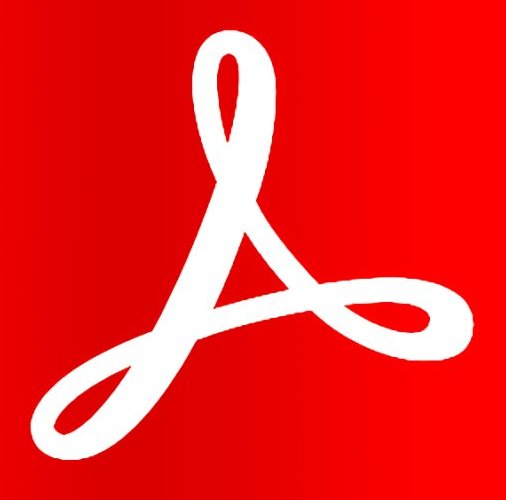 ). To its cred­it Lab­our has said there'll be no play­ing pol­it­ics with app­roval of the deal.

However, fanatically unrepentant "Remoaner" that I am, as far as I'm conc­erned it misses the point. None of this neg­ot­iat­ion, none of the six years of dis­agree­ment would have been nec­ess­ary had we stayed in the EU. Even with the trum­pet­ed res­ol­ut­ion THERE'S STILL A BLOODY RED CHAN­NEL.

Ireland to the south has already taken advantage of the UK's EU dep­art­ure, resp­onded to the un­work­able short­com­ings of the "land bridge". Just over two years ago (on 3rd January 2021: 👉) I wrote about the launch of a new Rosslare-Dunkirk ferry ser­vice prov­id­ing a dir­ect freight route bet­ween Ire­land and France. Since then the ferries have mult­ipl­ied. Journalists Jon Henley and Rory Carroll picked up the theme in last Sunday's Observer in a piece titled "'Brits are suff­er­ing but for us it's boom time': how Brexit boosted French and Irish ports". The art­icle states:


"Rosslare Europort was an underused facility with just six sailings a week to the continent, all into Cherbourg. Now it has 30-plus, to Cherbourg, Le Havre, Bilbao, Dunkirk and Zeebrugge - a fivefold increase that has led to record overall freight traffic. Weekly sailings from Cherbourg to Irish ports, meanwhile, will by this summer have more than doubled to a round dozen, with Irish Ferries sailing four times a week to Dublin, Stena Line six times a week to Rosslare, and Brittany Ferries also returning to the Rosslare route after a long absence.


Retired Irish customs officer Colm Lambert said from his bench overlooking Rosslare port:


"They're coming in from France, Spain, Belgium, Holland - it's great to see. Brexit has made an awful difference to here. Boris Johnson did Rosslare a favour."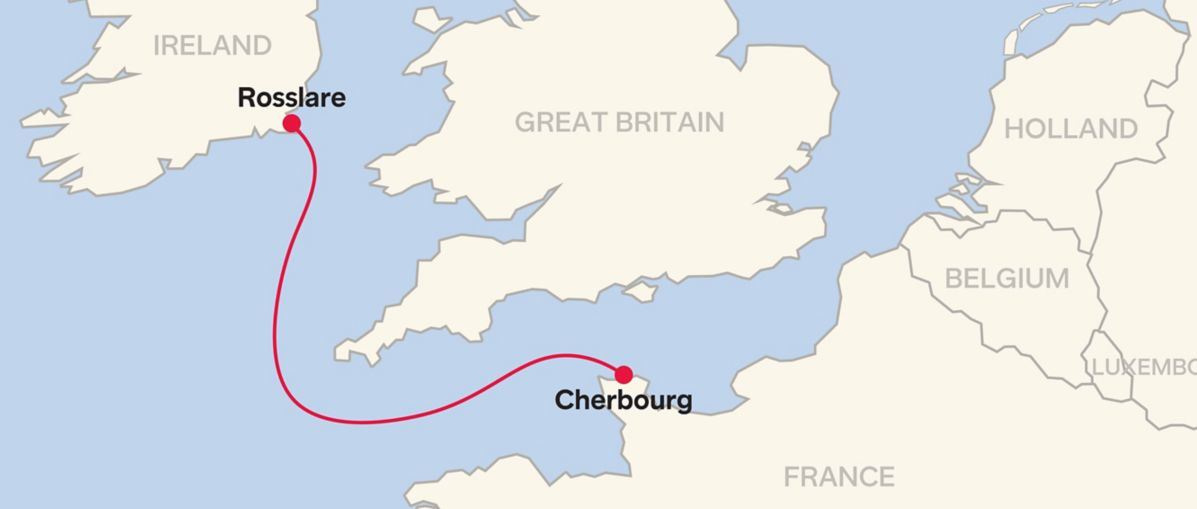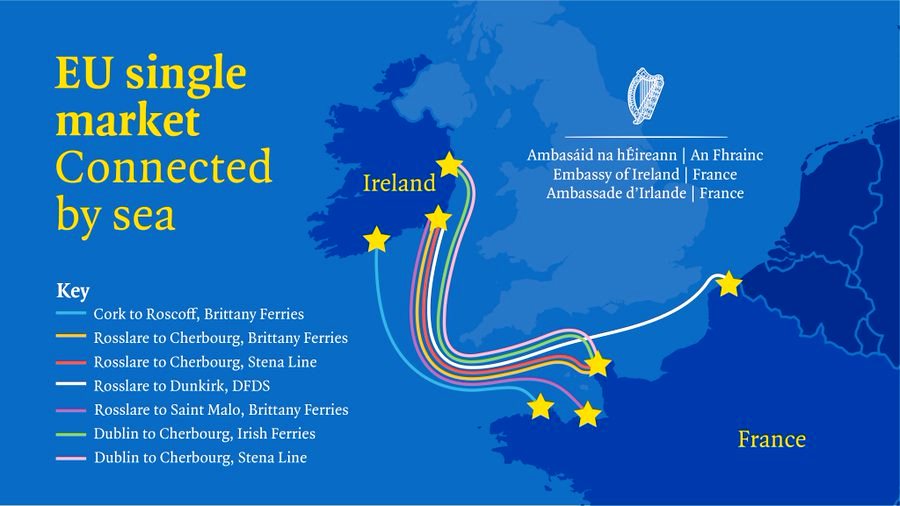 That's right. England bypassed, grayed-out. The Brexit opportunity was meant to be the UK's. It turned out to belong to Ireland ... and good luck to her.

This may be over the top, but I feel it strongly. Brexit didn't come with the warning that it was bad for your mental health. The last six years have filled me with a background sense of loss, of waste, of being ripped from the rest of Europe. My hope is that such gloom will lift as more and more people recognise the folly of wishing to be separate. One odd plus from the Windsor glad-handing was the apparent warmth between Sunak and von der Leyen. "Dear Rishi", she gushed. If it brings us all closer, I won't diss the sentiment.

Monday 27th February


Bated breath: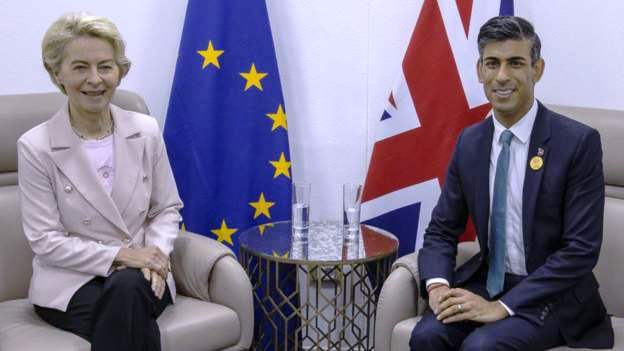 I like the new Banksy Ukraine stamp. Except that it has only app­eared bec­ause of a war and hardly cools the conf­lict. Acc­ord­ing to the Huff­ing­ton Post, the ex­clam­at­ion at the bot­tom left is a cont­ract­ed expl­etive which trans­lates into Eng­lish as "FCK PTN!" Hmmm ... has a post­age stamp ever been iss­ued before with such a mess­age?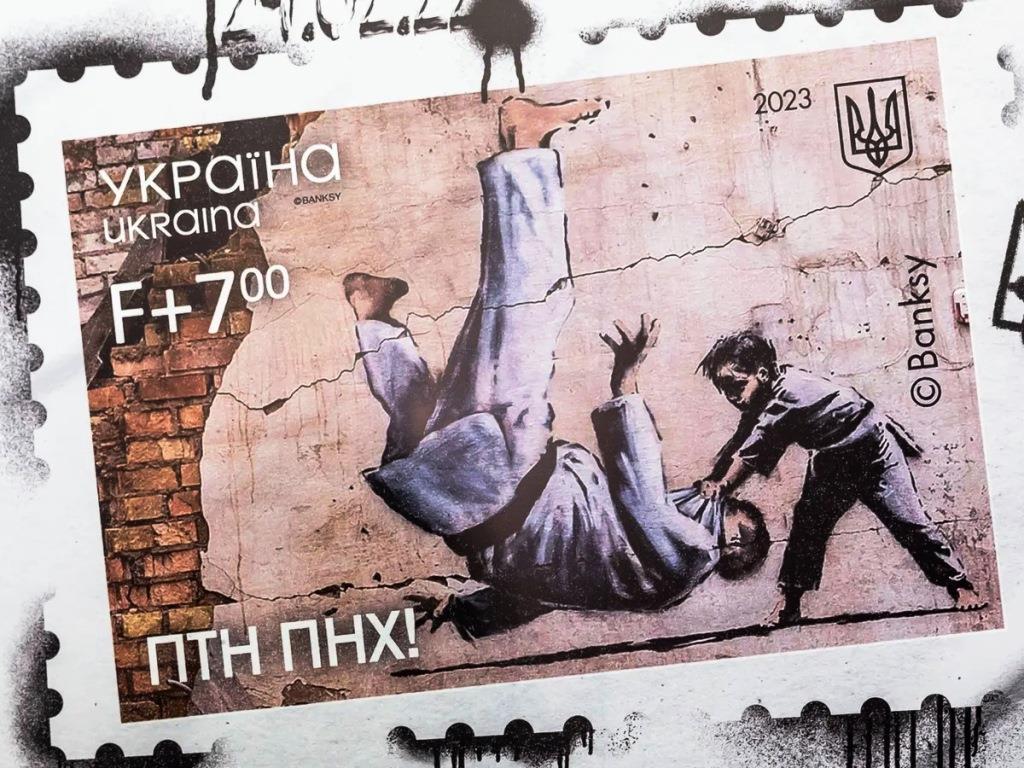 (I need help to validate this. The initial letter of each three-letter word is the same in Uk­rain­ian, but not in trans­lat­ion. "PTN" is right acc­ord­ing to Google Trans­late.)

Here are some other Banksy works around Ukraine. Each has a det­ail photo and an acc­omp­any­ing one of its set­ting. Click to en­large any: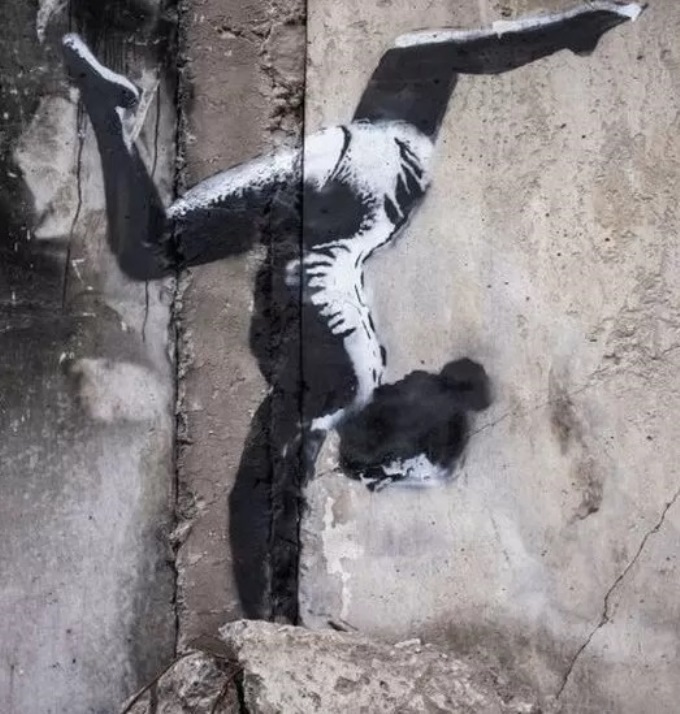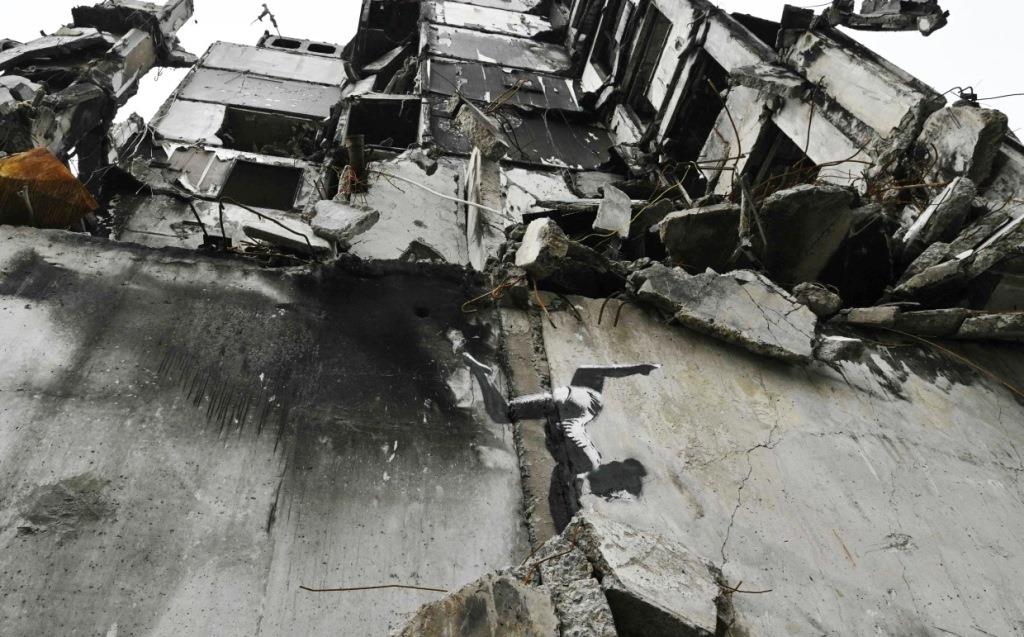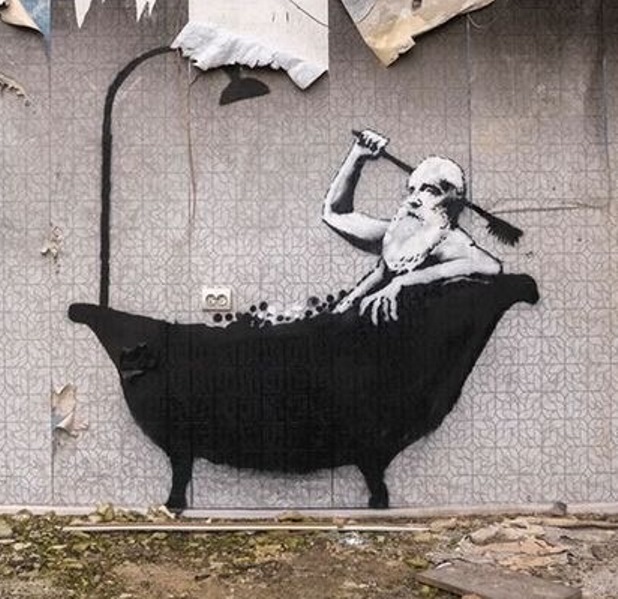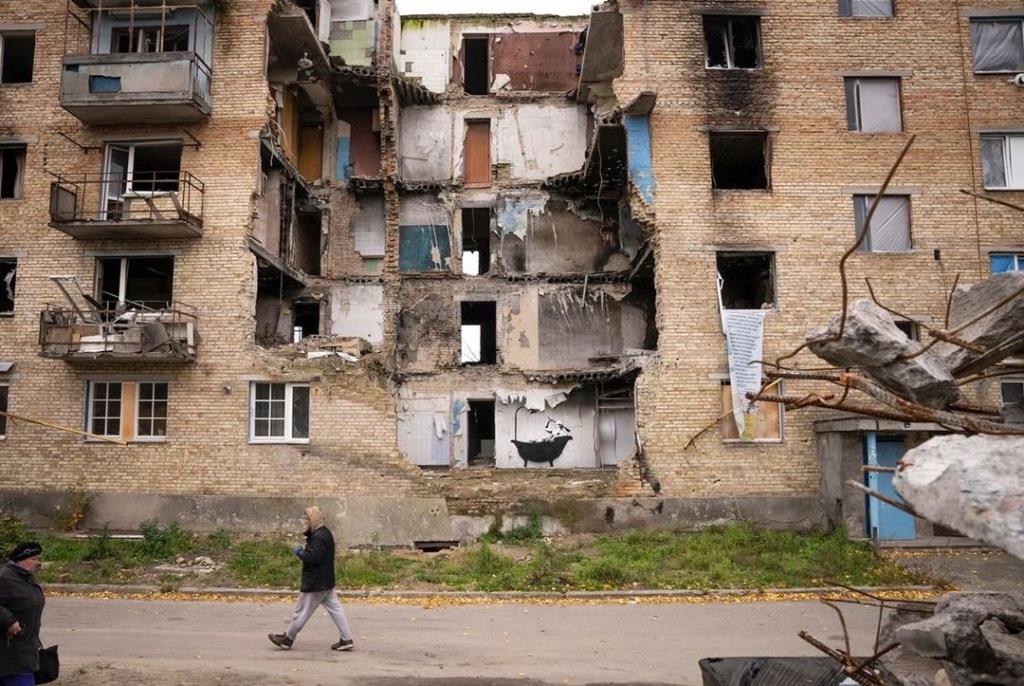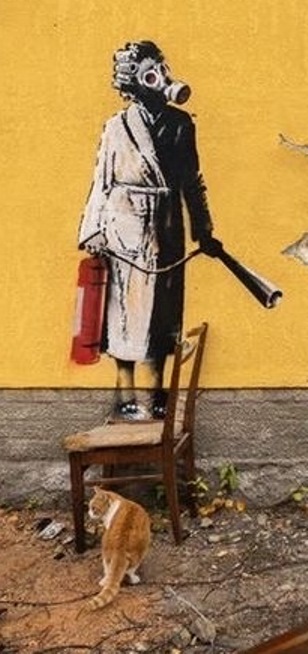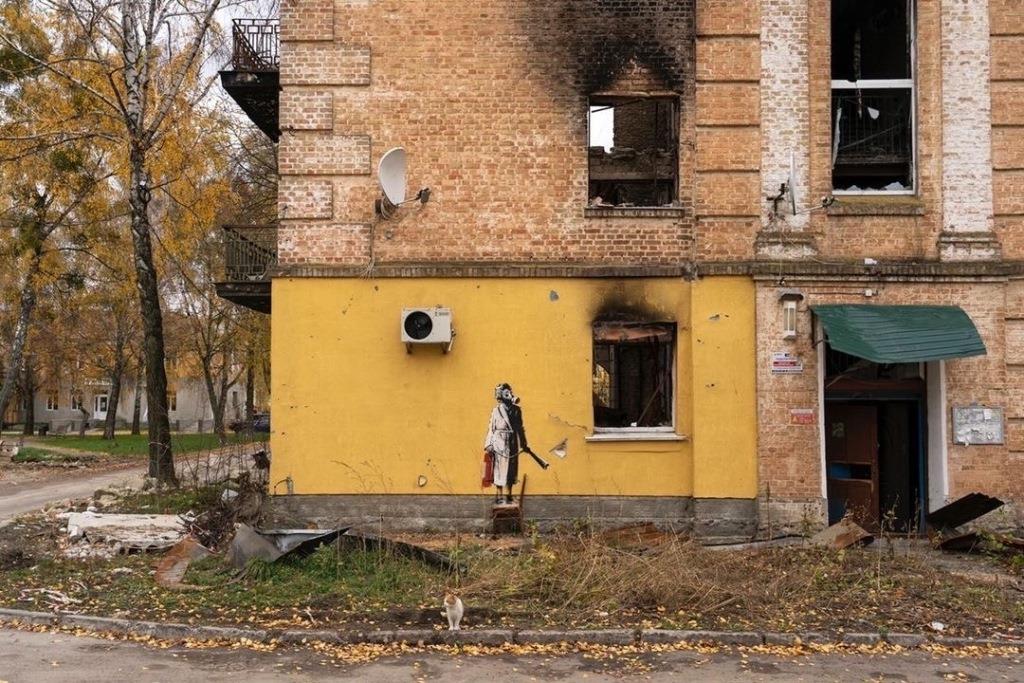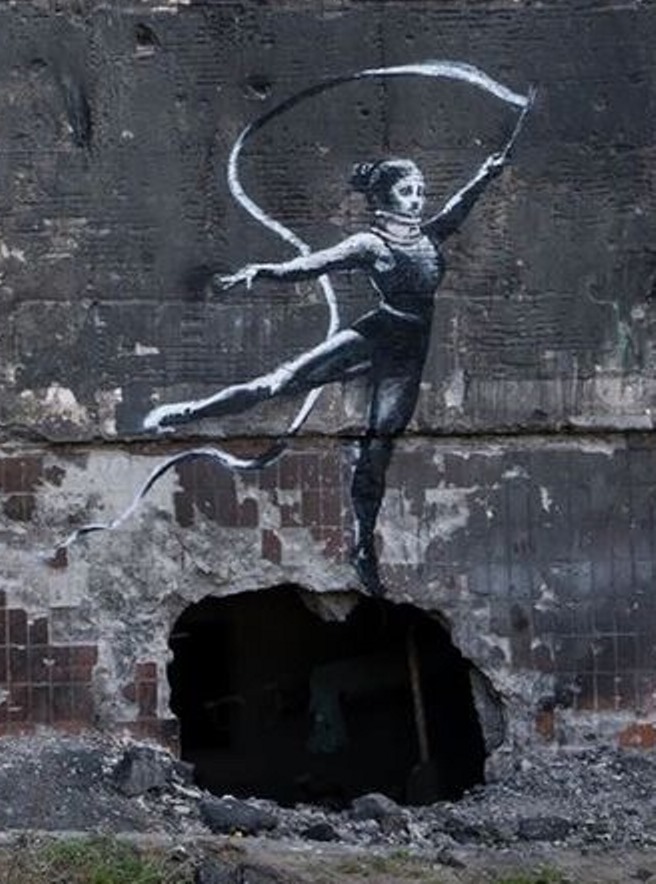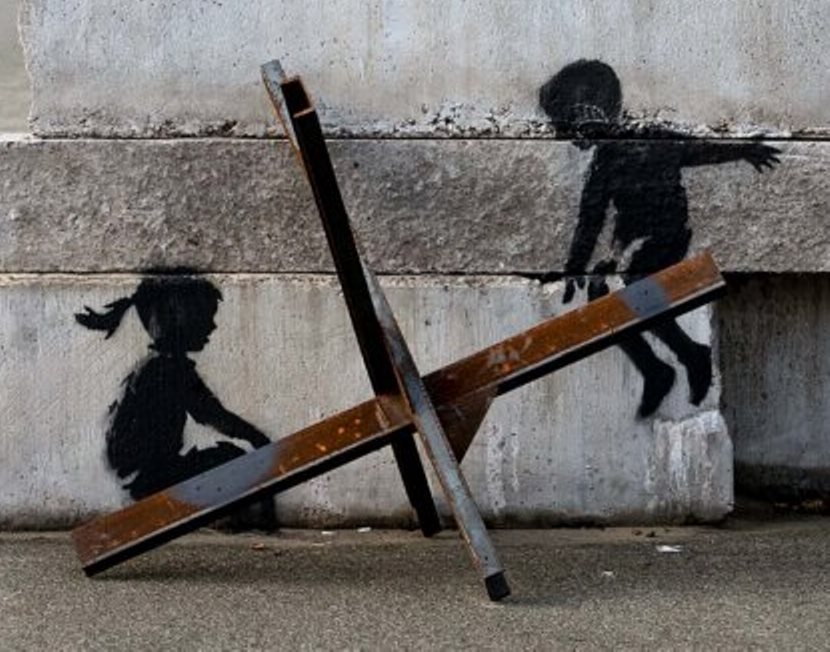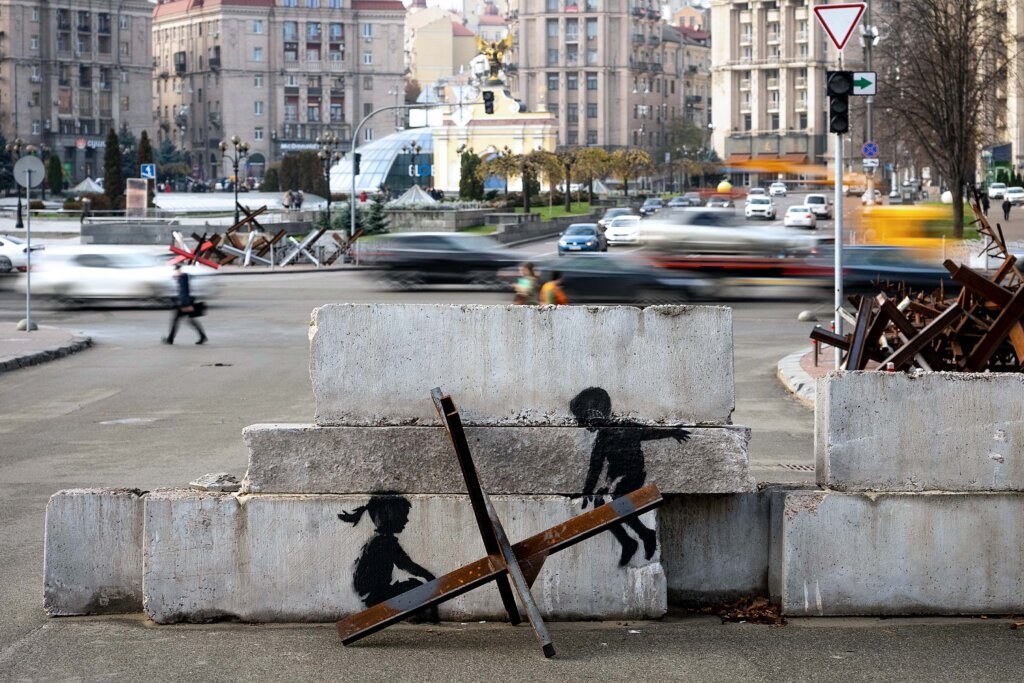 Sunday 26th February


Rest day.

Visit of Vienna-based son Nikko to see brother Ben in Bilbao going well: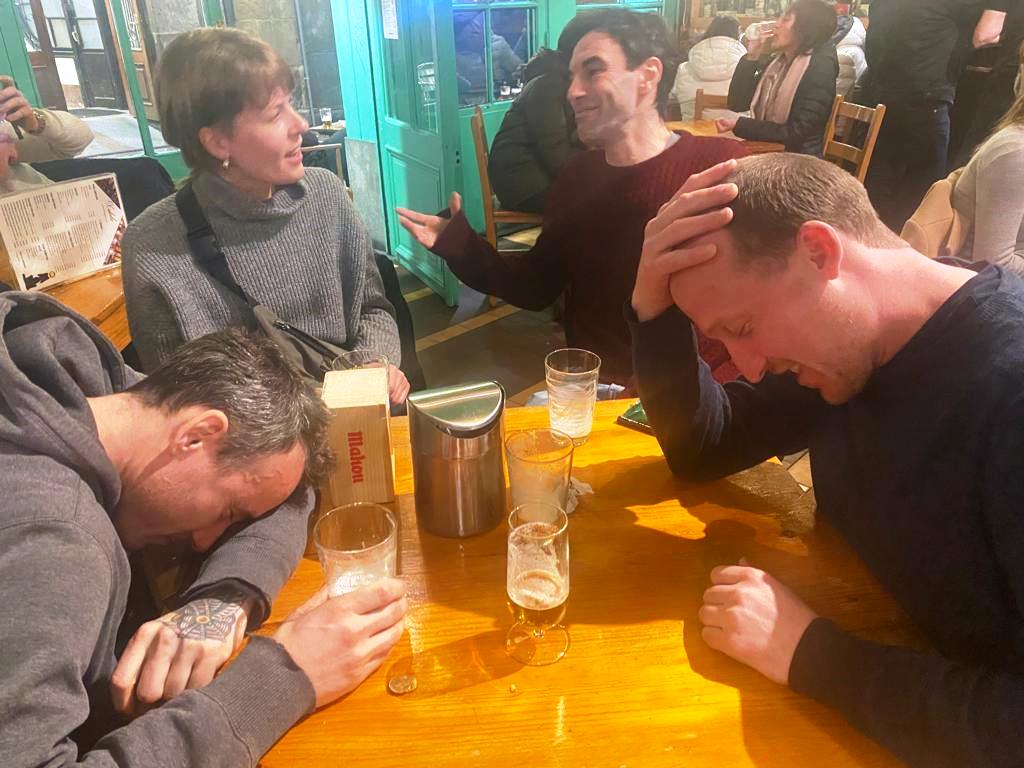 Saturday 25th February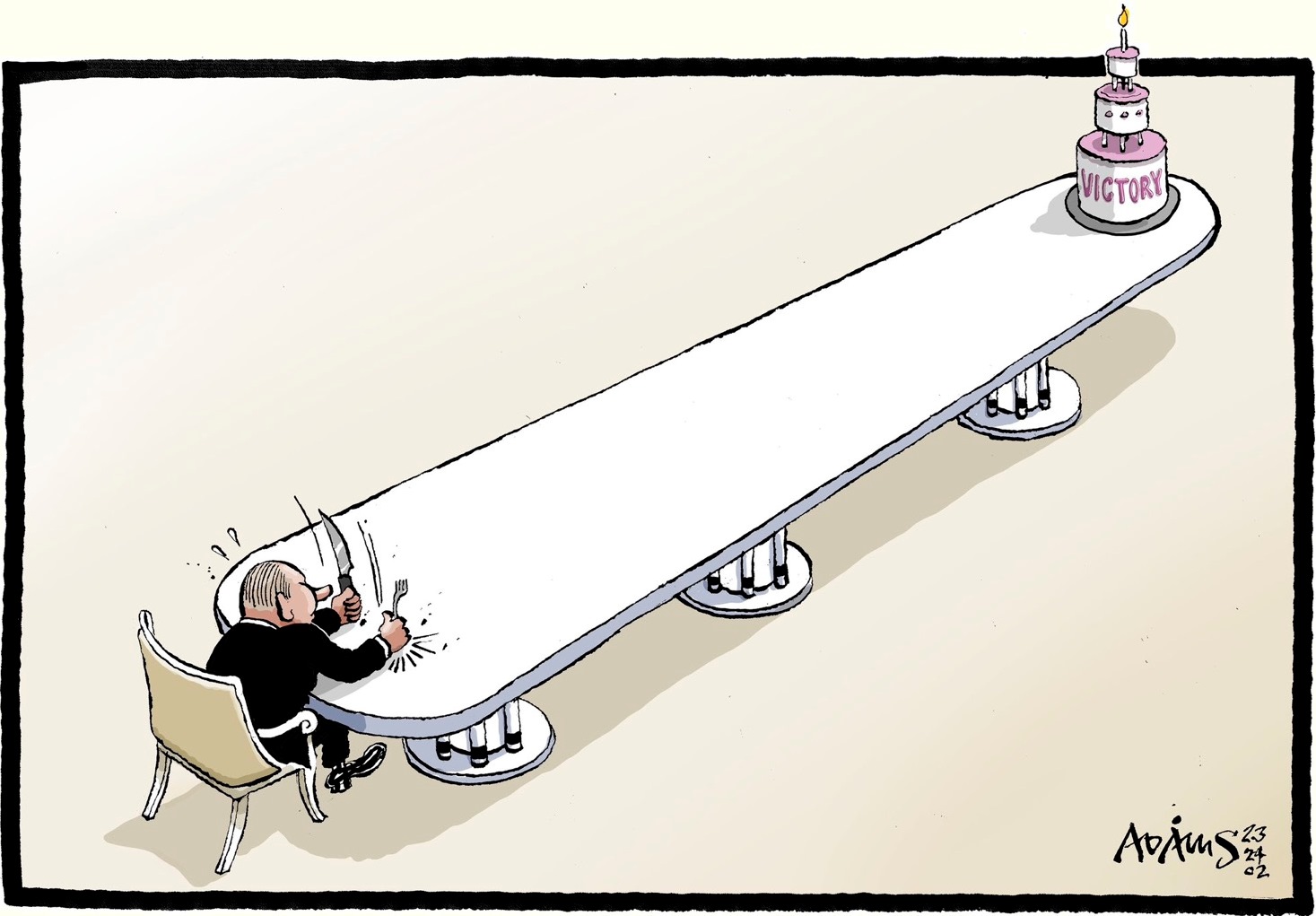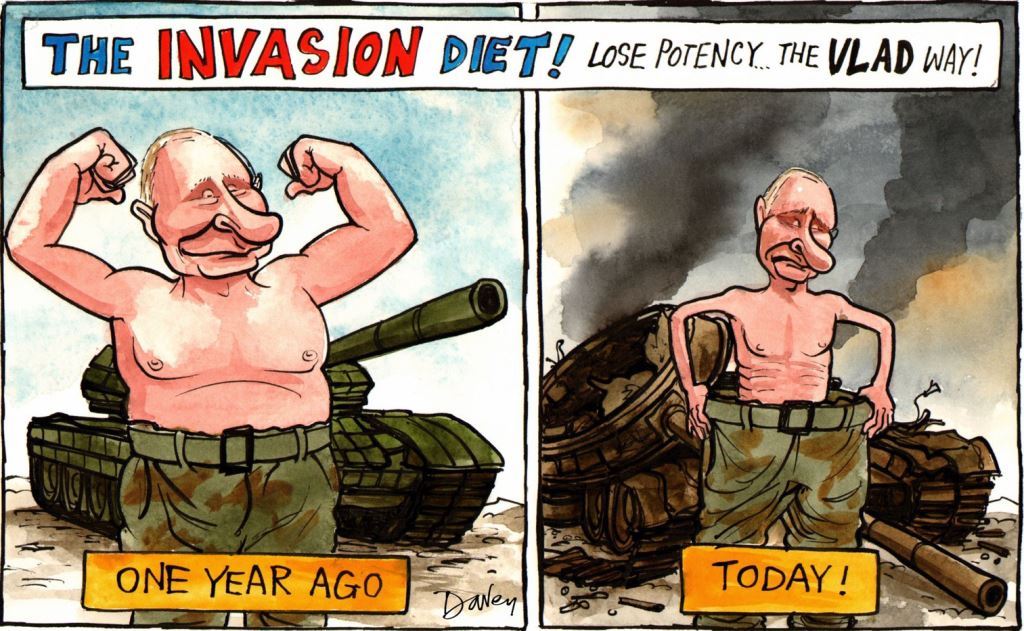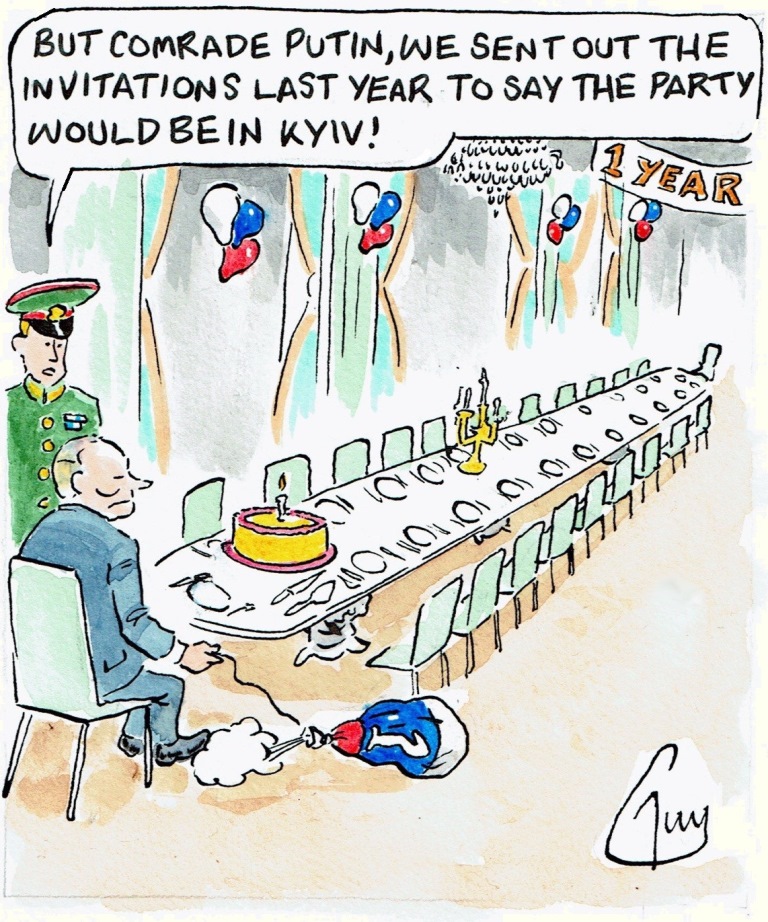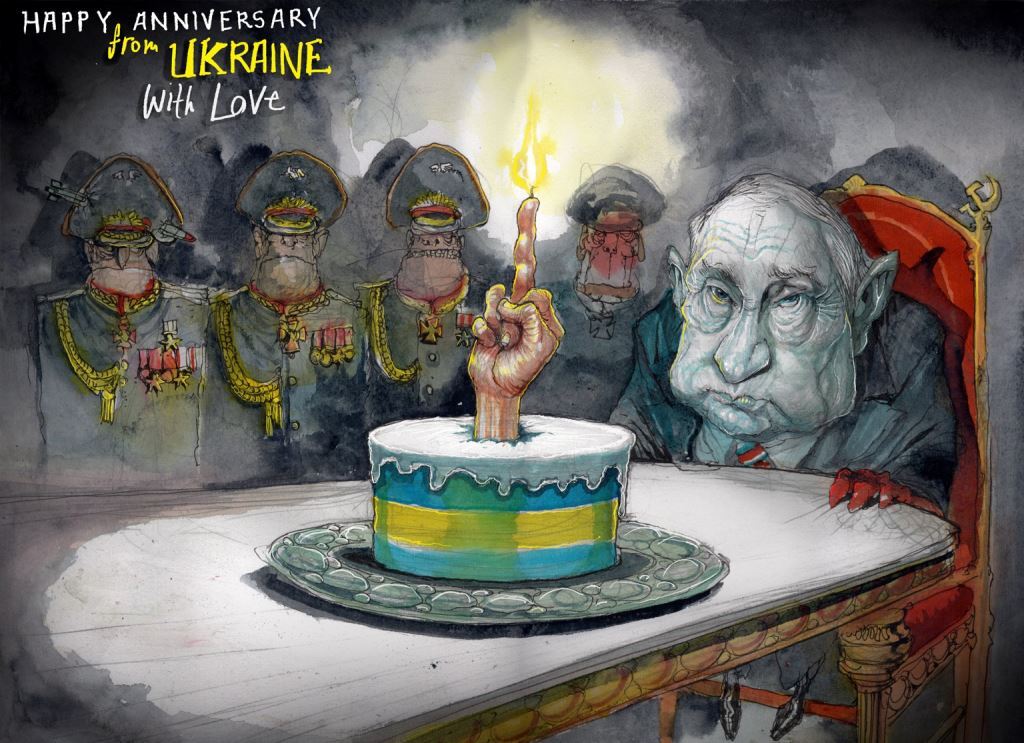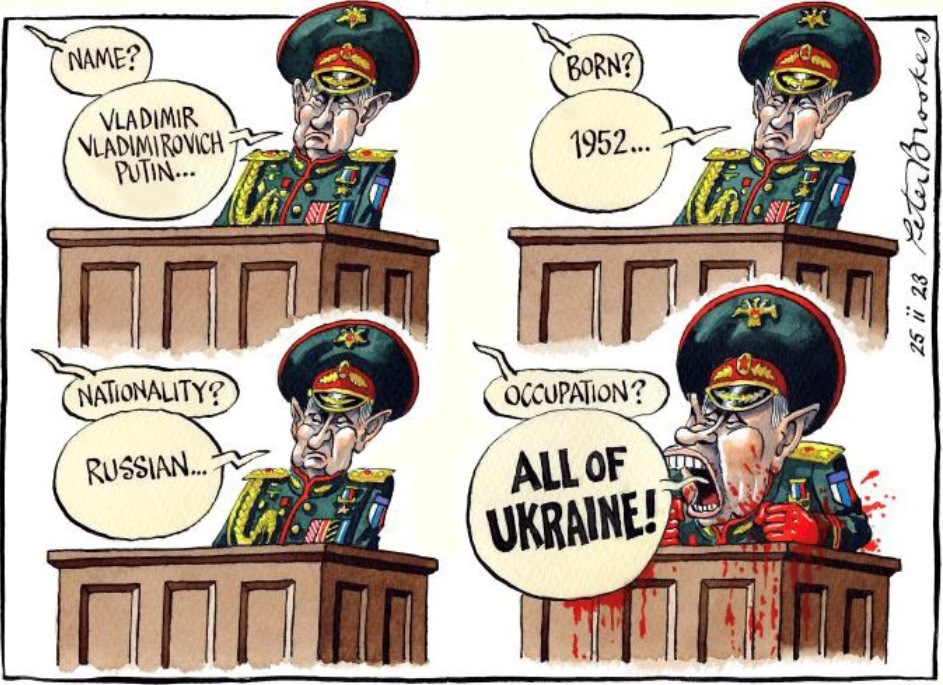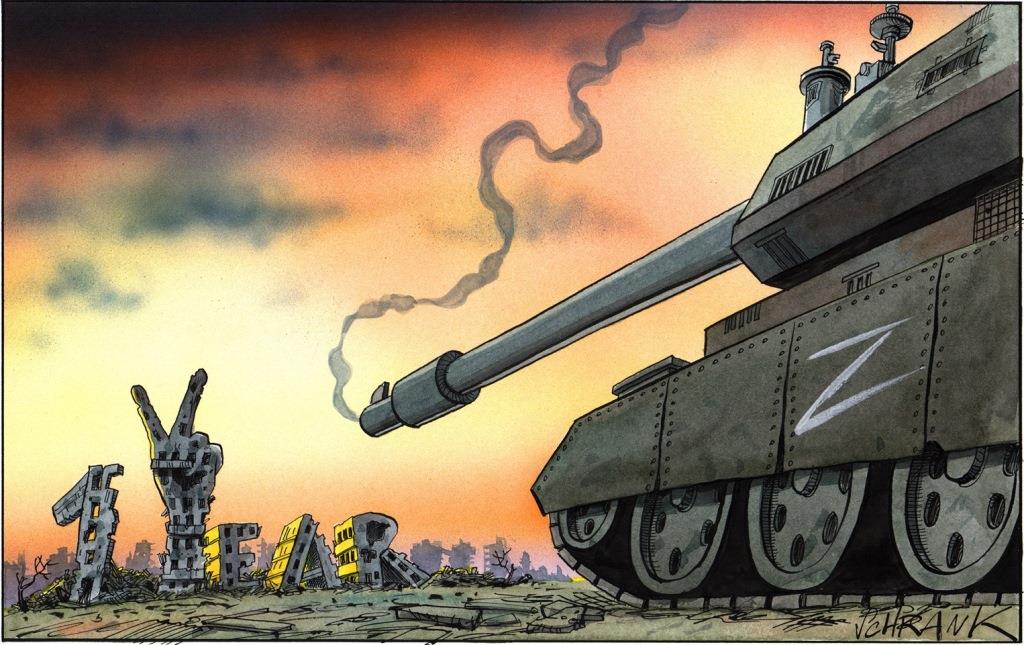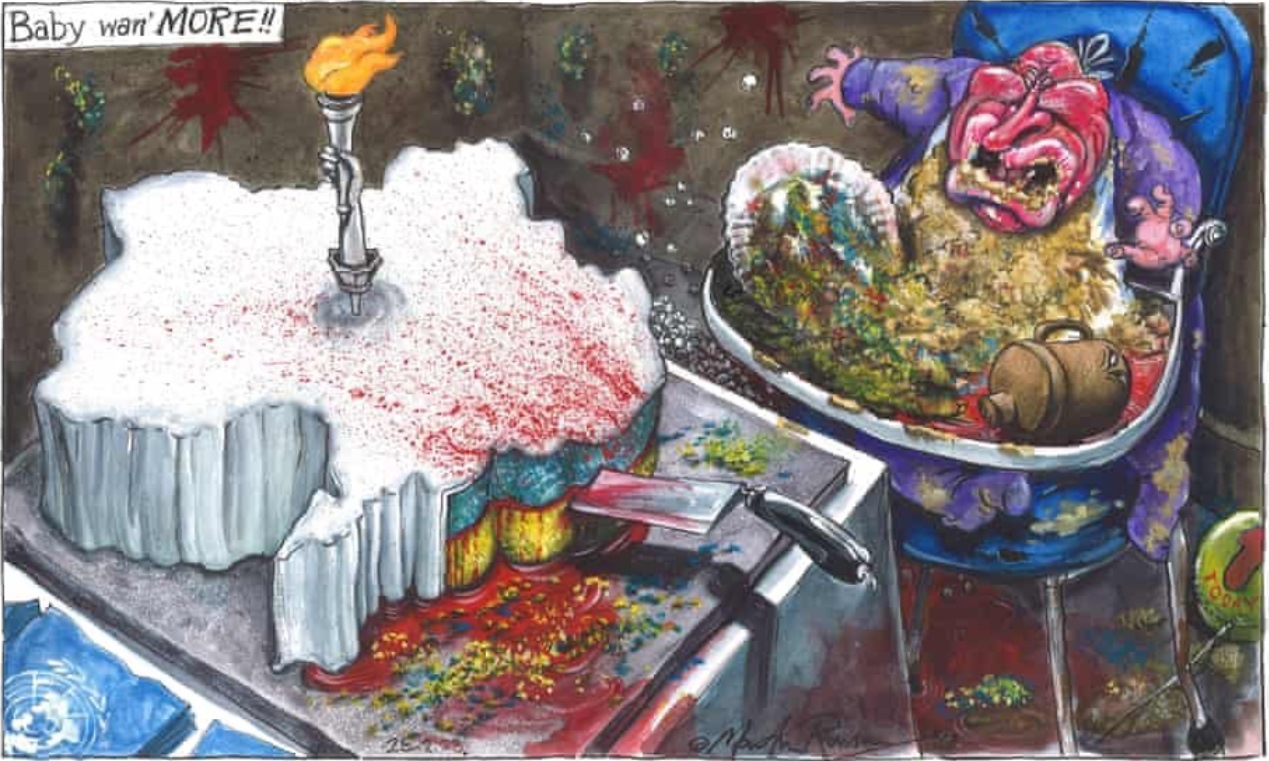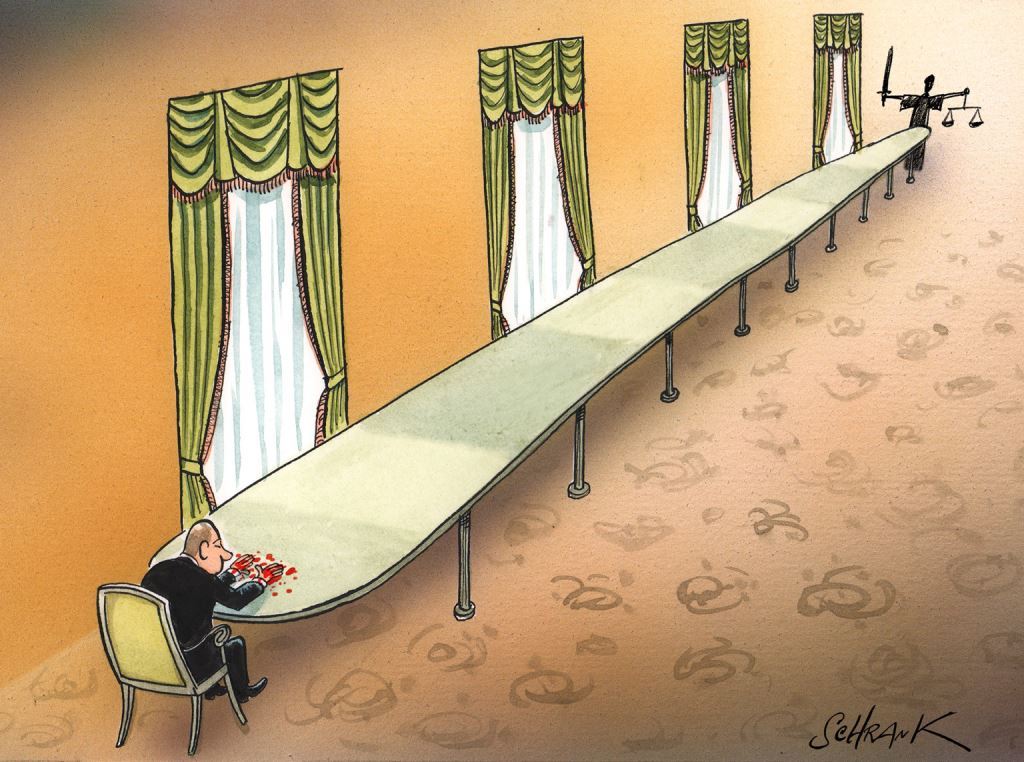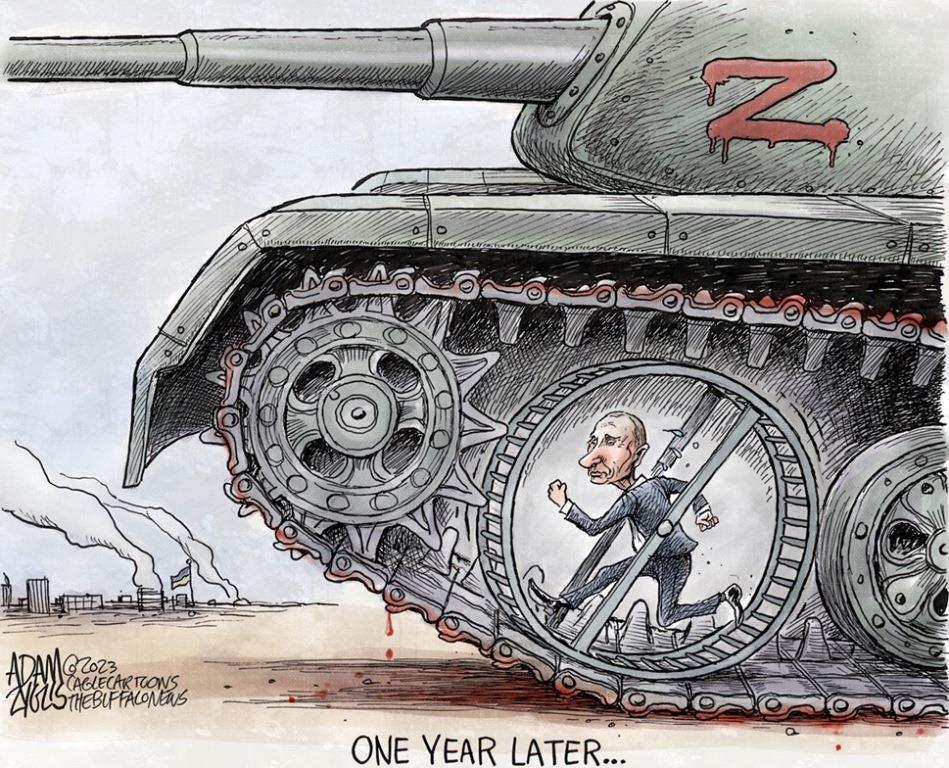 Friday 24th February


Went to this event yesterday evening: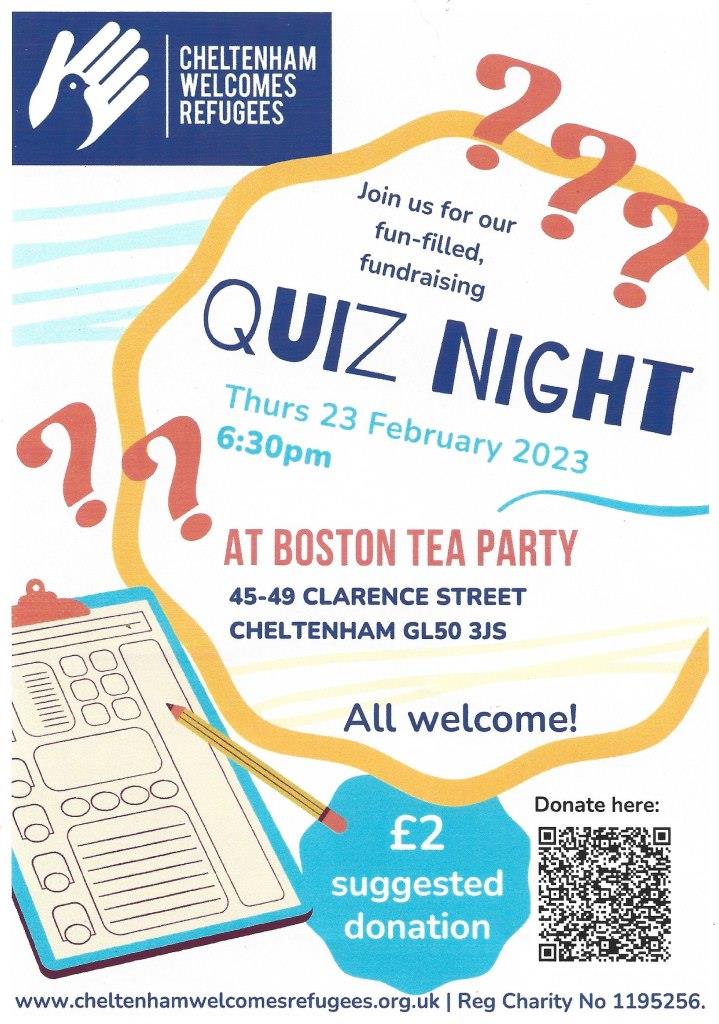 A heart-warming experience. A great turn-out, the Boston Tea Party café taken over comp­lete­ly for the quiz, maybe 70 people, all ages. There was bound to be a pos­it­ive at­mos­phere, wasn't there? You wouldn't get nay­say­ers turn­ing up. No fans of Suella Brav­er­man.

It was my first ever quiz. Not the point, but our team - I'd never met the oth­ers bef­ore - did OK. 70% right, a B+. The win­ners man­aged 80%. We had a clean sweep of Brit­ish Prime Min­ist­ers 1945-1999. Couldn't name any pop­ul­ar music after 1980. The big­gest frust­rat­ion is half-know­ing an ans­wer. The win­ning jockey of the 2022 Chelt­en­ham Gold Cup was Rachel ... yes ... Black­more ... no. And I'd even won a few quid on her victory.

I must get out more. Cheltenham is only 40 minutes away, yet it felt - at least the grand Regency bits - like a different world.

Thursday 23rd February


I taught IT to young adults at Stroud College some years ago. By mis­take. When the new build was prop­osed I cont­act­ed the col­lege to enqu­ire whe­ther I could offer con­sult­ancy help with the des­ign and impl­em­ent­at­ion of the comp­uter net­work. As the IT dire­ctor was extr­emely comp­etent - I found this out later - he didn't need my ass­ist­ance. How­ever, the next week I got a call from an acad­emic mem­ber of staff ask­ing if I wanted to teach. It wasn't what I really wanted to do, but I still went to see the head of dep­art­ment and ended up teach­ing a bunch of young adults the next Mon­day - for three years. Just one morn­ing a week. It turned out to be a priv­ilege, to find out what was happ­ening in the heads of an age group I wouldn't other­wise meet. They were also very kind to me, the old git, which took me by surp­rise.

We used to start the class with what I called "Small Triumphs". These kids were in a kind of last chance sal­oon after the school system had failed them - the old fur­ther ed­uc­at­ion res­cue miss­ion - and didn't have a great sense of ach­ieve­ment, at least not in their stud­ies. So, the idea was to drag some­thing pos­it­ive out of them, how­ever small, of what­ever desc­ript­ion, from their exp­er­iences of the prec­ed­ing week. What stor­ies they had to tell.

In the midst of the UK's political madness and the woes of the wider world, I rec­kon we need to ack­now­ledge these mini-wins more than ever. I had one yest­erday.

Do you ever fall foul of auto-renewals? You know, like when your car ins­ur­ance comp­any auto­mat­ic­ally takes the next year's prem­ium (incr­eased of course) before you've made the eff­ort to rev­iew - good old comp­are­the­market.com - whe­ther you should stay with them. My elec­tron­ic diary is dense­ly and ob­sess­ive­ly pop­ul­ated with rem­ind­ers not to let ren­ewal and cont­ract dates sail by. Well, I all­owed one past me two days ago. My web­site host­ing prov­ider took next year's dom­ain name fee for cor­ona­virus­blog.uk, which I don't use any more. Dammit.

I emailed them to ask if I might revoke the ren­ew­al imm­ed­iate­ly and claim a ref­und. They'd obl­iged once before. This time I got a flat re­fus­al, prec­ise­ly be­cause they'd al­ready done it on that other occ­as­ion - as a cour­tesy, they said. I wasn't pleased, given the amount of bus­in­ess I have put their way. Time to get on my high horse, ass­ume my most aggr­ieved and pomp­ous tone. I wrote:


"I am seriously disappointed. I have used your dom­ain and host­ing serv­ices for my pers­on­al web­sites for around 15 years. Not only that, I have ful­filled all my cust­omer web­site needs through you - which will not show on my acc­ount. This must amount to thous­ands of pounds/dol­lars. I have rec­omm­ended your comp­any to many other people and org­an­is­at­ions. I think your refusal to acc­ede to my £14.39 requ­est is petty in the extr­eme, poor rew­ard for my loy­alty."


I expected another brush-off. But no. Result!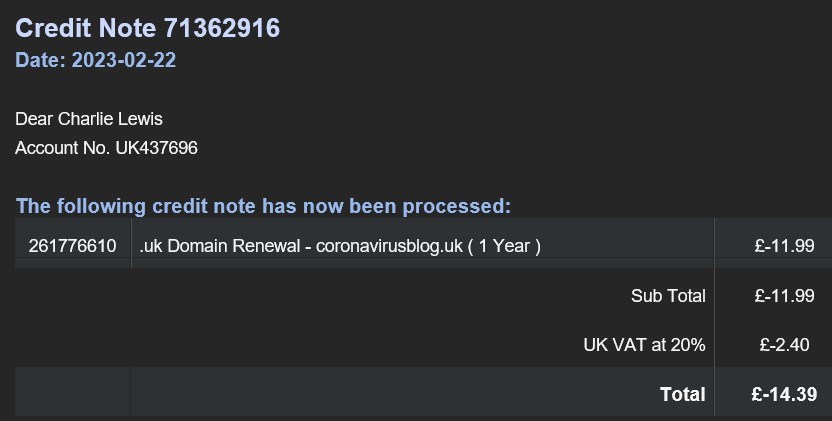 A minor victory ... so, OK, a minor cel­ebr­at­ion is in order. Sadly, I'm not conv­inced. I know I'm going against the point of our class­room strat­egy, but I really need to conc­entr­ate on big­ger fish. Tri­vial fixes, no prob­lem. The lar­ger stuff ... why can I put those off? Beats me.

Wednesday 22nd February


Perhaps I ought to concentrate on the sabre-rattling and truth-spin ...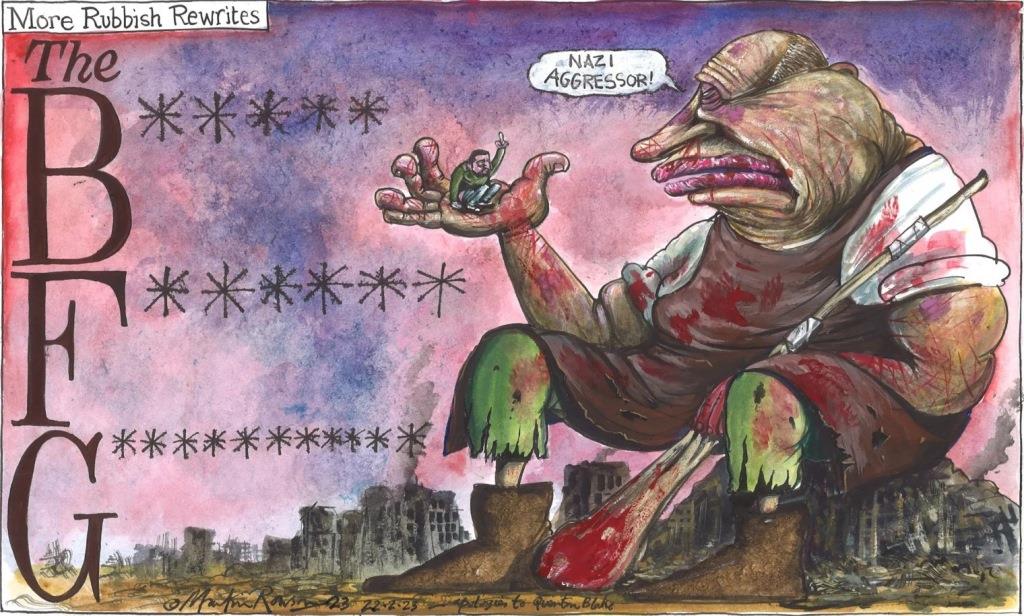 ... but not today; it's all too mad and I'm sure you've seen enough. So instead I give you four min­utes of laugh­ter and joy­ful brill­iance. [Best to watch full-screen by click­ing on the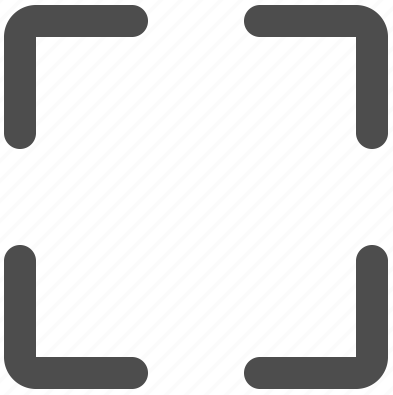 button (bottom right within the video player) once you've started. Or any other way you norm­ally do this on a dev­ice with other than a desk­top-sized dis­play.]


He's Polish mime artist Ireneusz Krosny: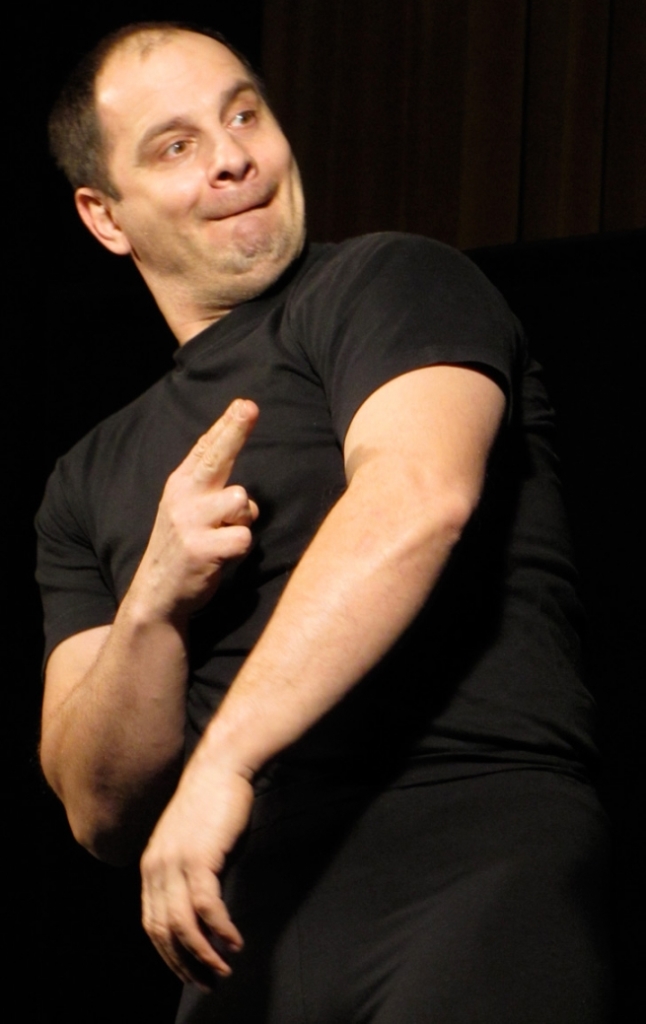 Tuesday 21st February


Two weeks ago I posted publicity 👉 about the Stroud festival showing of the remarkable film about a remarkable woman, "The Seeds of Vandana Shiva". We went on Saturday. Everybody seated at the pre-screening meal was given this flyer (click to enlarge):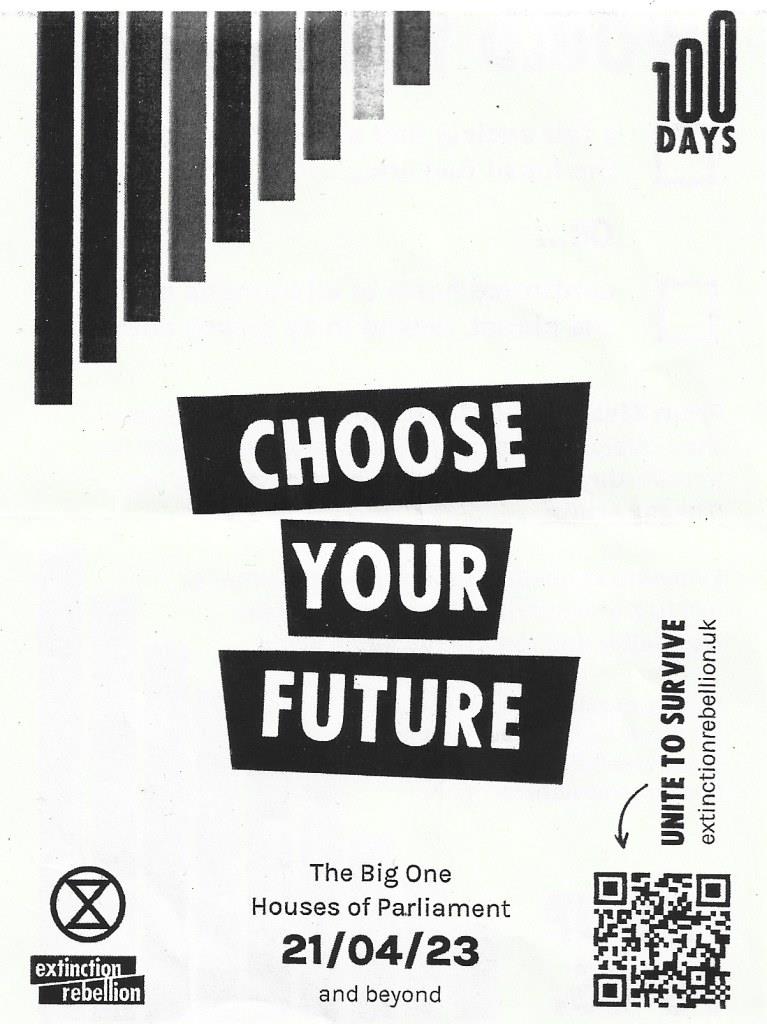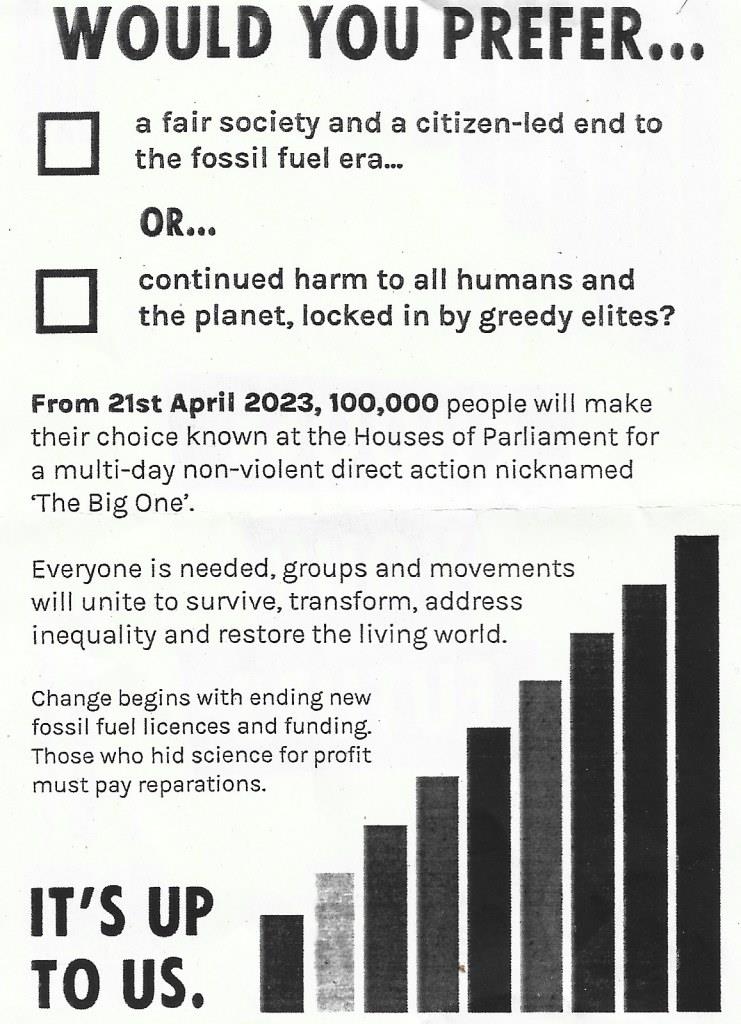 All about "The Big One", a change of direction for Extinction Rebellion, as explained on the XRUK website:

"XRUK has changed its approach to meet this moment. The Big One - in April in Westminster - is different from anything XRUK has ever done before; this time it's about attendance, not arrests.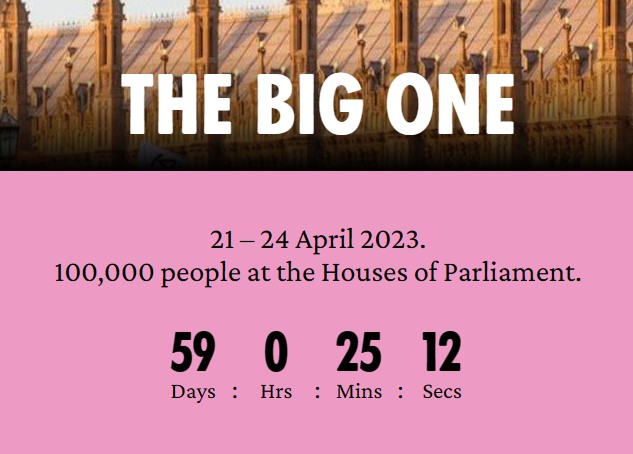 "What is The Big One? Politicians would rather take fossil fuel donations than prevent climate chaos. It's time for us to let them know how we feel about this and that 2023 is the year for drastic climate action. In April in Westminster, thousands of people will gather peacefully around the House of Parliament to tell the Government that we can't afford this anymore. Thousands have already gathered at picket lines and demonstrations this year to demand fairer working conditions. Multiple world crises all linked by the crisis in governance. There are no fair conditions on a planet wrecked by climate and ecological disasters. It's time to demand an end to the fossil fuel era and for a citizen-led transformation towards a fair society that includes reparations."


Visit the XR Big One website here:



While we're talking about a change of approach - in this instance it's more a shift in sentiment - did you read the sentencing remarks of District Judge Wilkinson to Just Stop Oil Birmingham Esso Fuel Terminal protestors at Wolverhampton Magistrates Court last week?




"It's abundantly clear that you are all good people. You are intelligent, articulate and a pleasure to deal with. It's unarguable that man-made global warming is real and we are facing a climate emergency. Your aims are admirable and it is accepted by me and the Crown Prosecution Service that your views are reasonable and genuinely held. Your fears are ably and genuinely articulated and are supported by the science.





"When the United Nations Secretary General gives a speech saying that the activity of fossil fuel companies is incompatible with human survival, we should all be very aware of the need for change. Millions of people, and I do not dispute that it may be as many as 1 billion people, will be displaced as a result of climate change.





"No-one can criticise your motivations. You all gave evidence that was deeply moving. I certainly was moved. The tragedy is that good people have felt so much, without hope, that you feel you have to come into conflict with the criminal justice system.





"Thank you for opening my eyes to certain things. Most I was acutely and depressingly aware of, but there were certain things [I wasn't].





"I say this and I mean this sadly, I have to convict you. You are good people and I will not issue a punitive sentence. Your arrests and loss of good character are sufficient. Good people doing the wrong thing cannot make the wrong thing right. I don't say this, ever, but it has been a pleasure dealing with you.





"You should feel guilty for nothing. You should feel proud that you care, have concern for the future. I urge you not to break the law again. Good luck to all of you."


The defendants were convicted of trespass, given a 12-month conditional discharge and ordered to pay costs of between £250 and £500.

Monday 20th February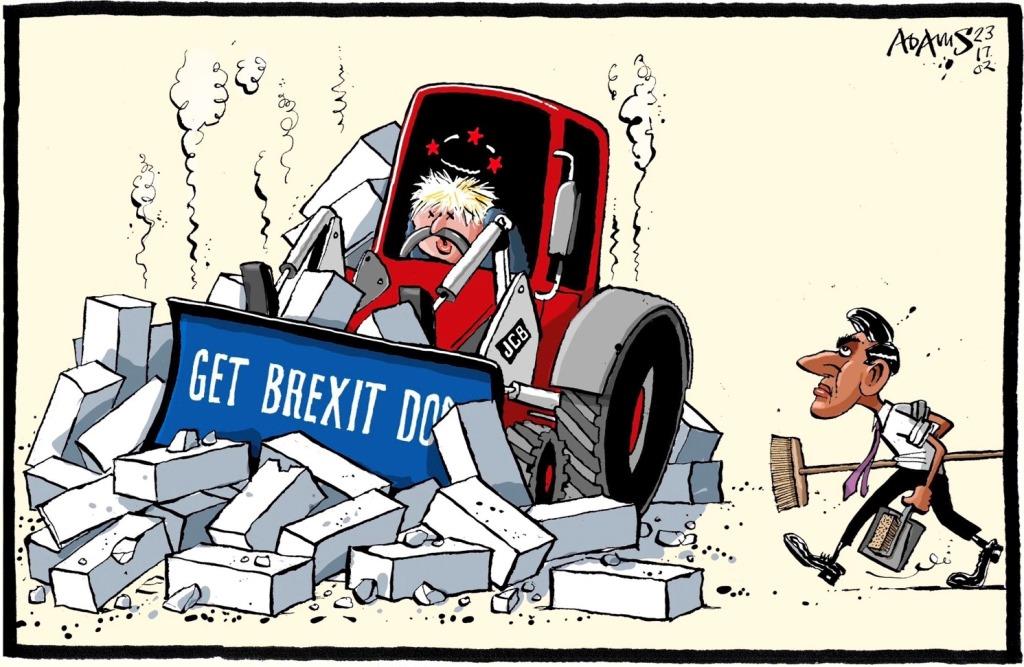 The NI Protocol idiocy rumbles on. Years of self-infli­cted imp­asse, need­less econ­om­ic dam­age, dis­com­fort and chaos for the north­ern Irish.

Listen to Michael Heseltine on the bigger picture in a Channel 4 int­er­view from some years back (2 minutes):




From the mouth of a Tory grandee. Following in the trad­it­ion of Win­ston Chur­chill, co-arch­it­ect of a un­ited Eur­ope.

The generational point makes my blood boil. You will know from these pages that I cons­ider Brexit a pers­onal aff­ront. My fam­ily is Eur­op­ean. Fort­un­ately, our sons live that exper­ience. This week Nikko from Vienna is visit­ing Ben in Bilbao. You can't stop them, Little Englander.

Heseltine's view is statesmanlike, isn't it? A sense of hist­ory, stand­ing above petty ins­ul­ar conc­erns. I dream that one day Brexit will be seen for what it is, a mind­less aber­rat­ion. I cert­ain­ly int­end to beh­ave as if it never hap­pened.

Sunday 19th February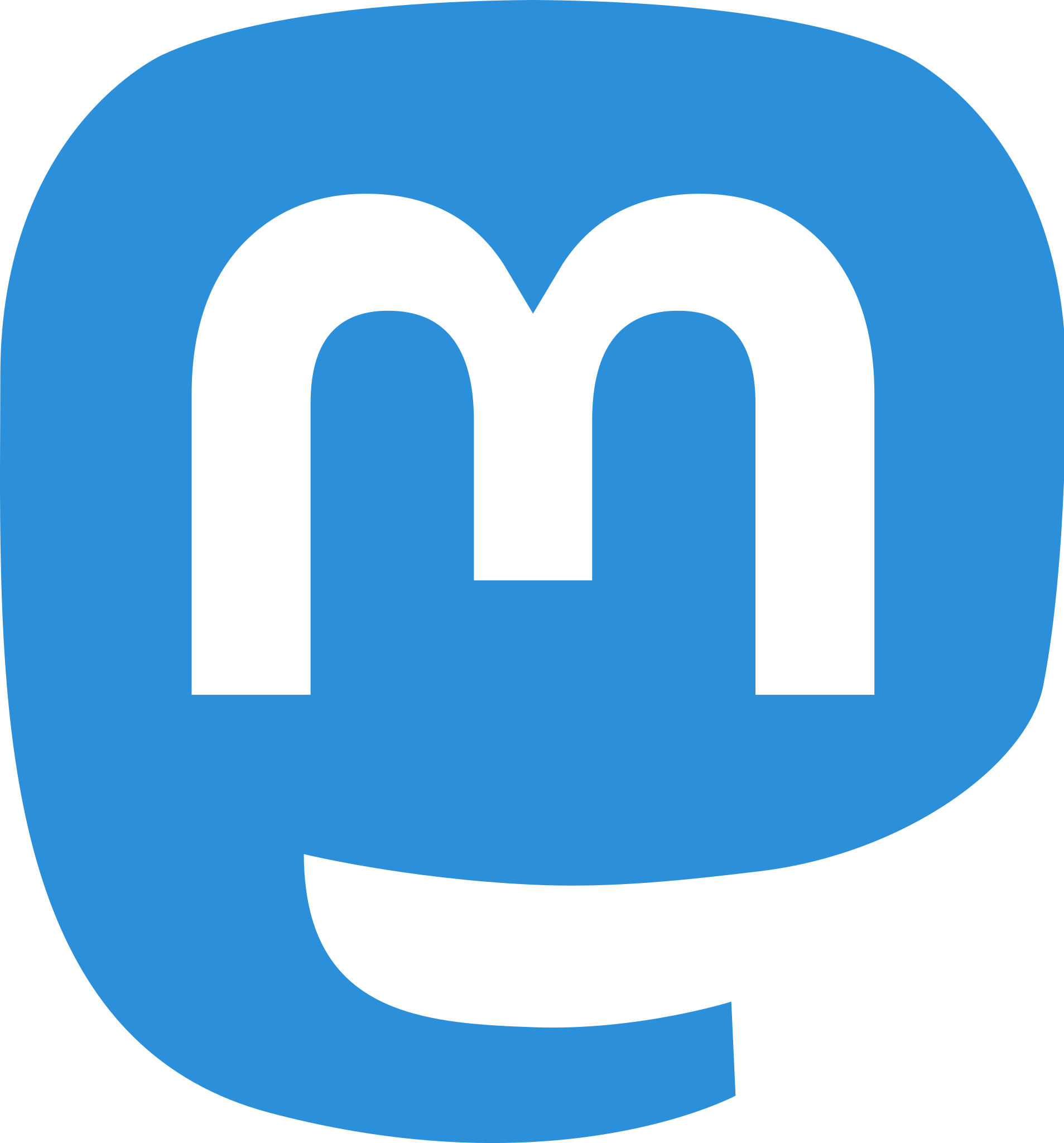 I've written before how I semi-abandoned Twitter in favour of Mastodon. No regrets, particularly as I retained my Twitter account so that I could still hear from the bad guys. The best thing is the quality of "toots" that reach me from previously unknown sources. I don't yet know how the algorithms work, but they reliably pick up on my interests, say, in social justice and climate. Intelligent stuff, often well-written, a far cry from the plague of Twitter dross I used to endure. The content moderation is strong - I get nothing grossly offensive, no hate rants.

Here's an example that dropped on my e-mat yesterday from Canadian teacher Sylvia Duckworth, her take on a have-versus-have-not world: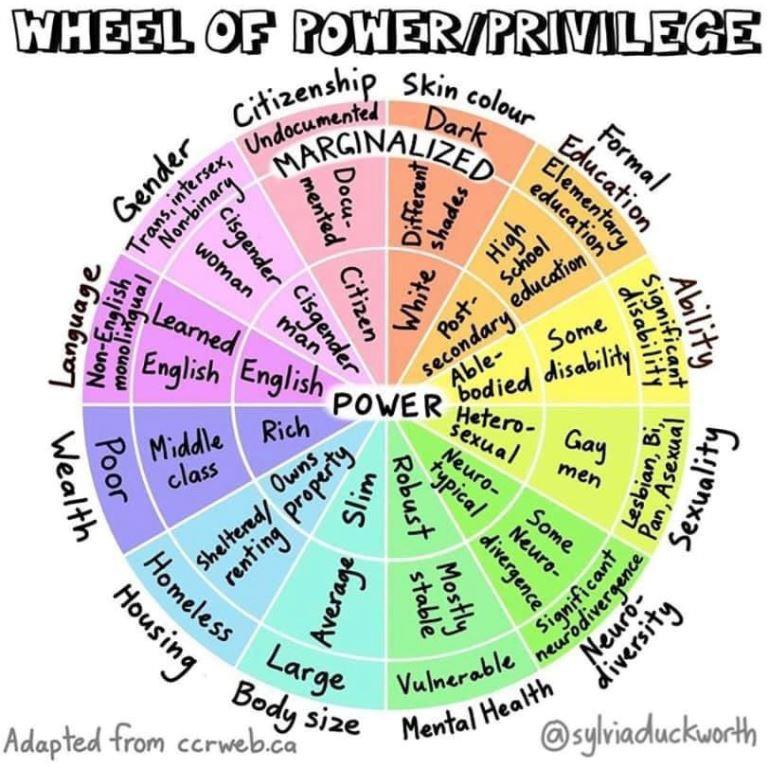 It's not a perfect summary. You might disagree with some of the categories and examples. But it reminds me of how we need always to pay attention to the imbalances and inequities of our world, how they have an impact across all aspects of life.

Marginalisation. That's where the help is needed. OK, here's a leap that may be a bit of a stretch, also perhaps a little trivial. On Saturday morning at 10am we had a litter-pick to clean up the street - and a chance to rub shoulders with neighbours. I've never understood litter. Why would you go to an attractive place and then drop rubbish so that it was no longer pretty? If I watch what happens in Middle Street, the litter comes from those who don't have a connection, in most cases ... the marginalised. Buy a cheap portion of chips in the Big Fish in Nelson Street, eat them walking up the road towards the top of town, chuck away the styrofoam box as you pass our door. No connection to the comfortable residential area through which you're passing. Why should you care when you have little stake in society?

Back to the little pleasures of Mastodon. The daily poems of Brian Bilston. Light, quirky. They raise a quiet smile.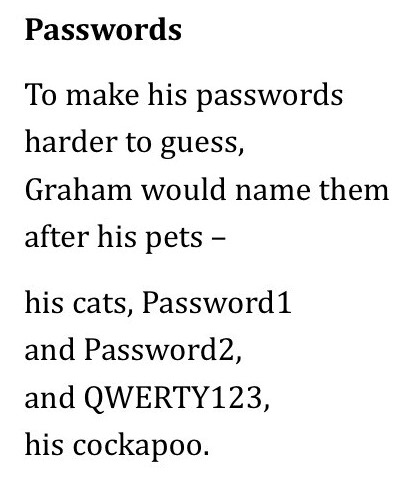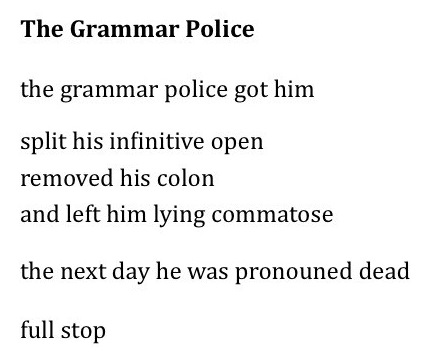 7am. An England victory early in the fourth day:





An extraordinary transformation under positive leadership. Not since 2010 have England won six Tests in a row. For Ben Stokes, this was his 10th victory in 12 Tests as captain. Only Lindsay Hassett, who succeeded Don Bradman as Australia captain in 1949, can match Stokes's speed to 10 Test wins.

Saturday 18th February


08:00am. Cheerful news for this cricket lover from the other side of the world: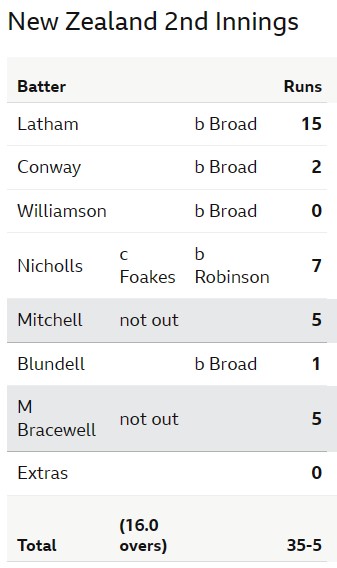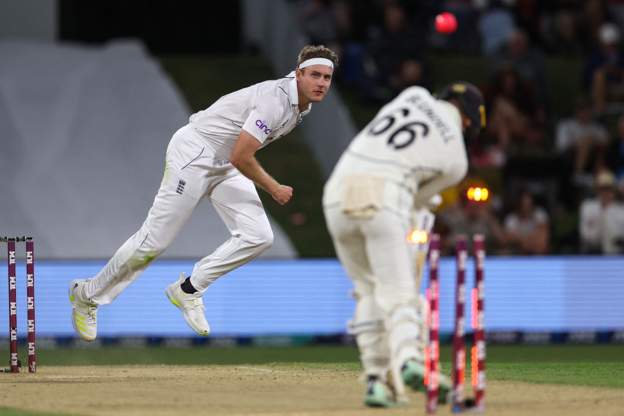 My only disappointment is that I'd hoped to ease into the day with Test Match Special and an early cup of tea. Instead ...





What can they be thinking?

Friday 17th February


I've missed a few blog days through weariness of news. Nat­ion­al lead­ers are crack­ing under the strain too, it would appear: first Ard­ern, then Sturg­eon. If pol­it­ic­ians - they chose to make it their bus­in­ess - find the prof­ess­ion un­pal­at­able, what chance have we got?

Reporting of world events reaches even the very young. Grand­son Mar­lie drew this diag­ram of the Uk­raine-Rus­sia war yest­er­day, off his own bat (click to enl­arge). A con­flict blend of flags in the mid­dle, Uk­rain­ian feat­ures on the left, Rus­sian on the right, res­ult at the bottom.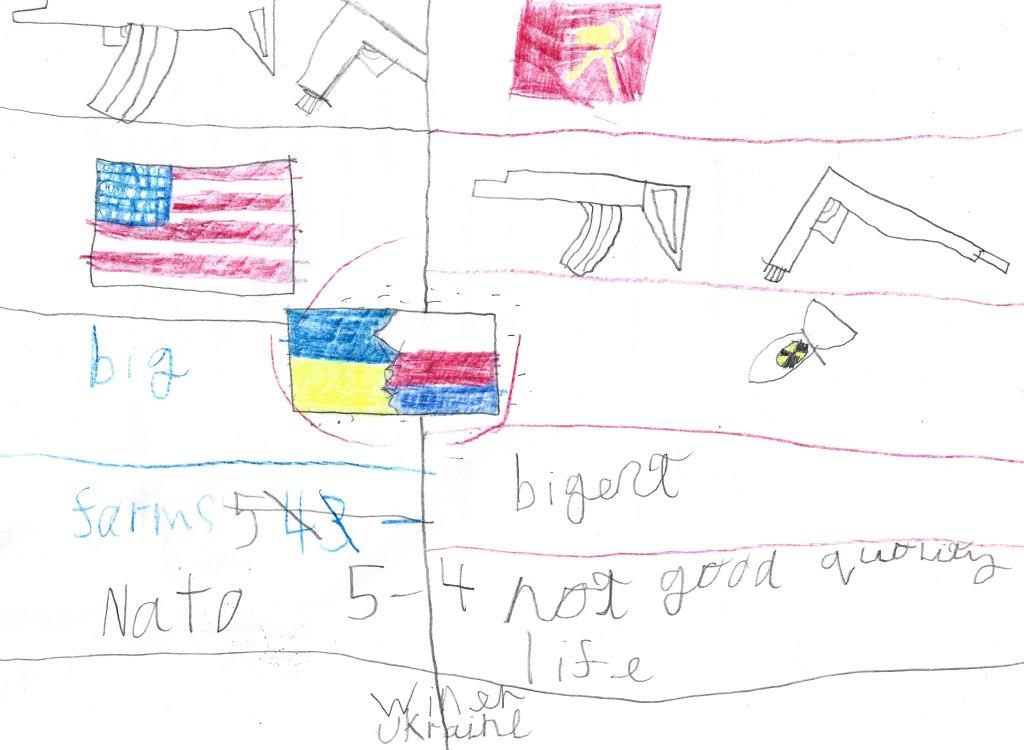 Congratulations to Christian Adams on managing to get two dep­art­ures into one cart­oon:



Sunday 12th February


Still no time for proper blogging, so I'll have to bor­row again from the est­im­able Peter Brookes.

World Leaders: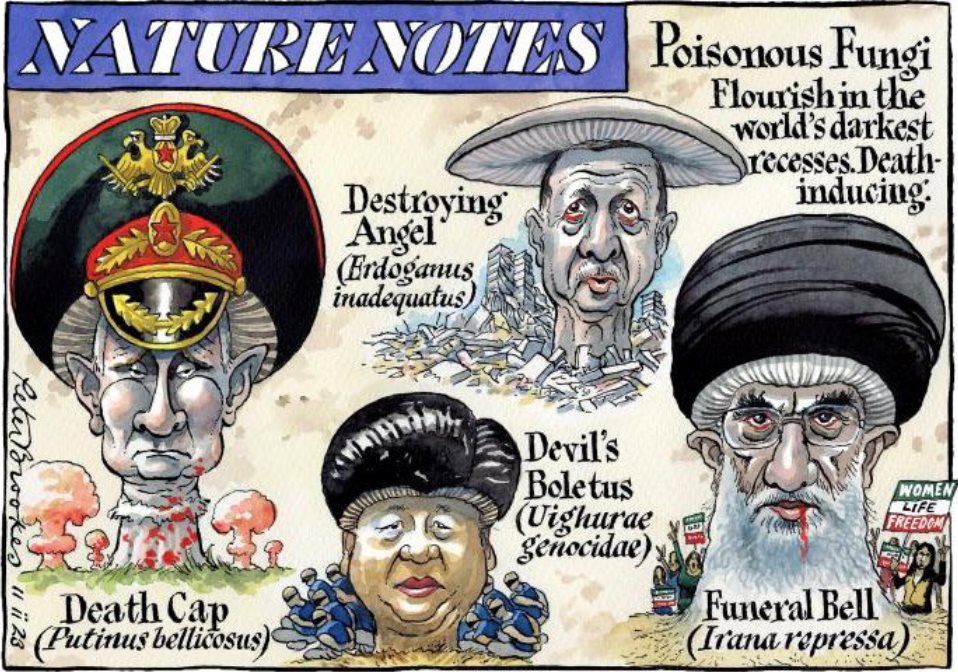 Zelensky visit: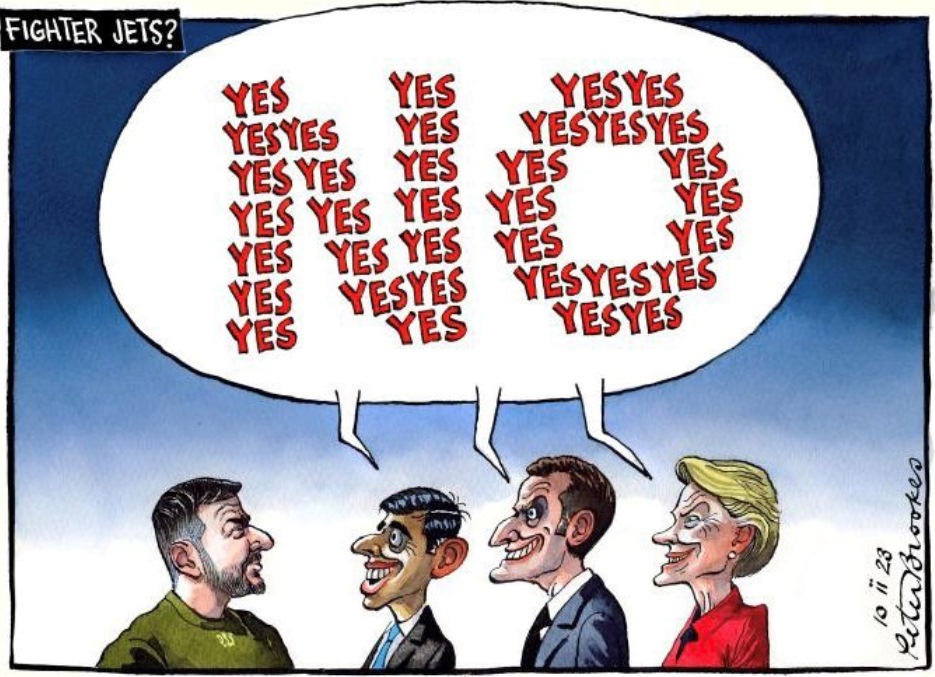 Saturday 11th February


Bit of a blog hiatus. First, I've found it dif­fic­ult to com­ment on any­thing as we wit­ness the trag­edy in Tur­key and Syria. Second, we're in the mid­dle of a visit from bro­ther-in-law Kevin, which dem­ands max­im­um com­mit­ment to meal prod­uct­ion. One sea­food ris­otto succ­ess­fully del­iver­ed, on with the next creation.

So much excellent material in the Zelensky visit. Time for just one cartoon: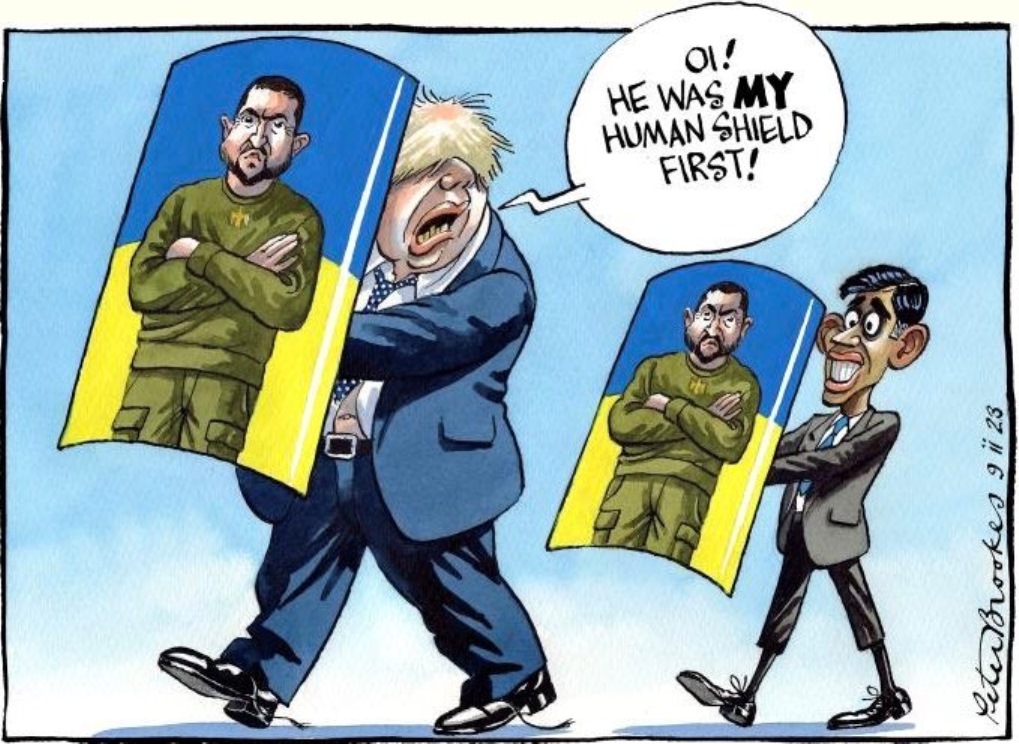 One tiny detail in the above. Sunak's shoelaces are tied in neat little bows. Johnson's are undone.

Thursday 9th February


I was ready with jokey topics today. Not after watching the news: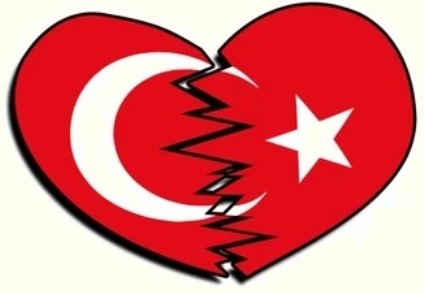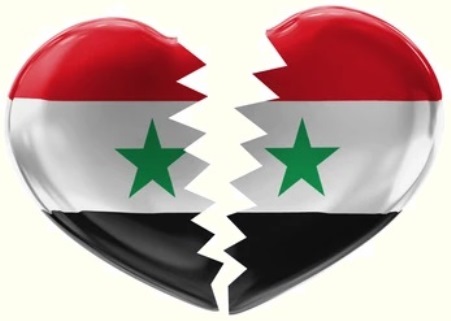 Wednesday 8th February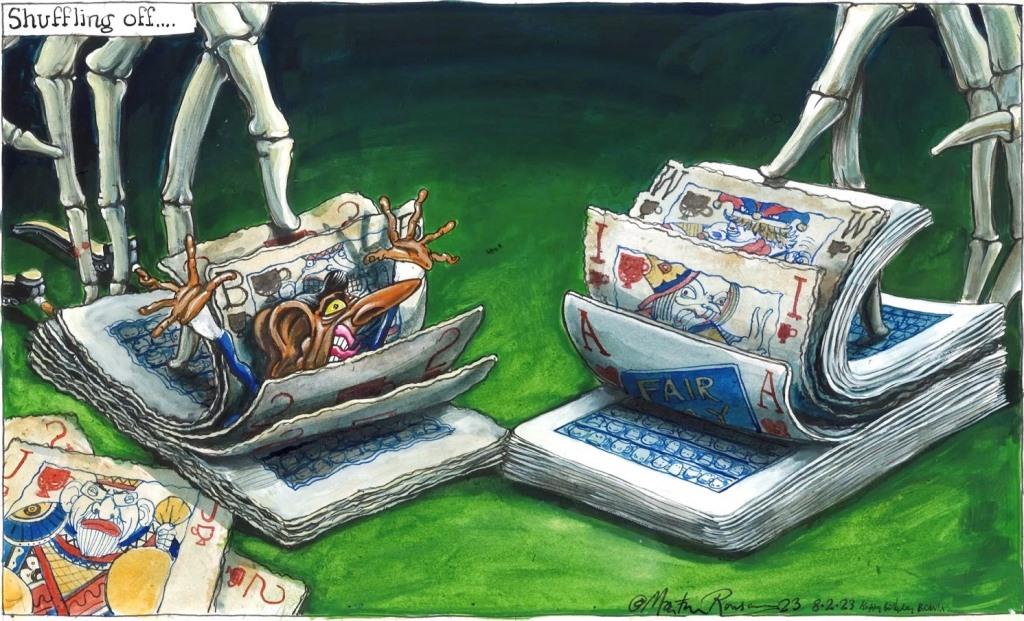 Tuesday 7th February


Time for some forward-planning. Stroudies, have you booked your tickets?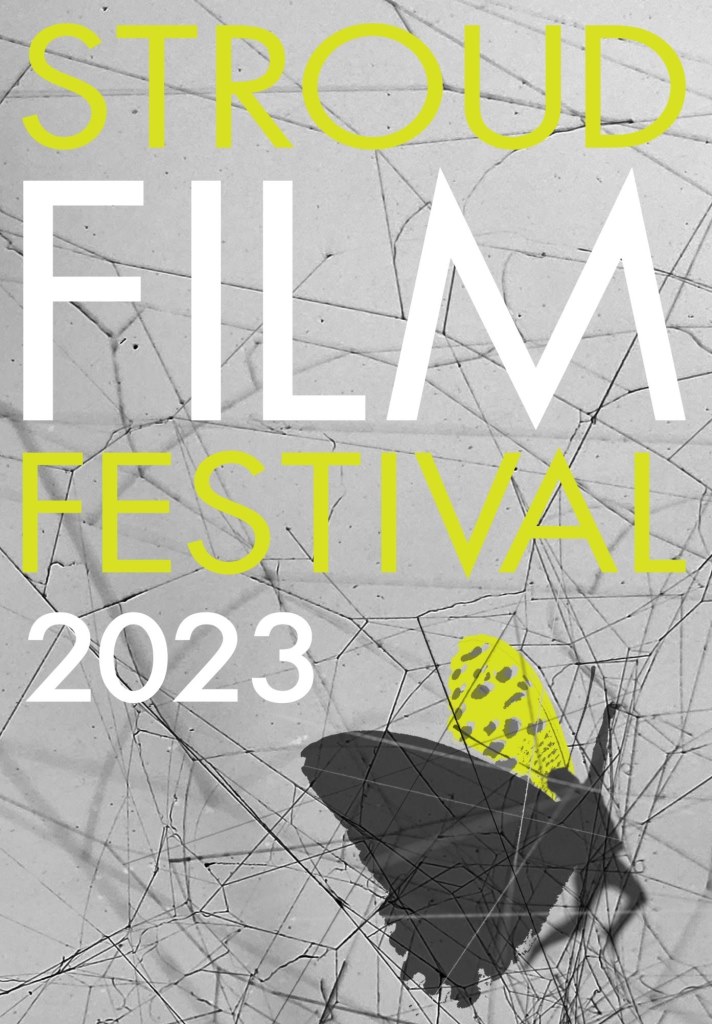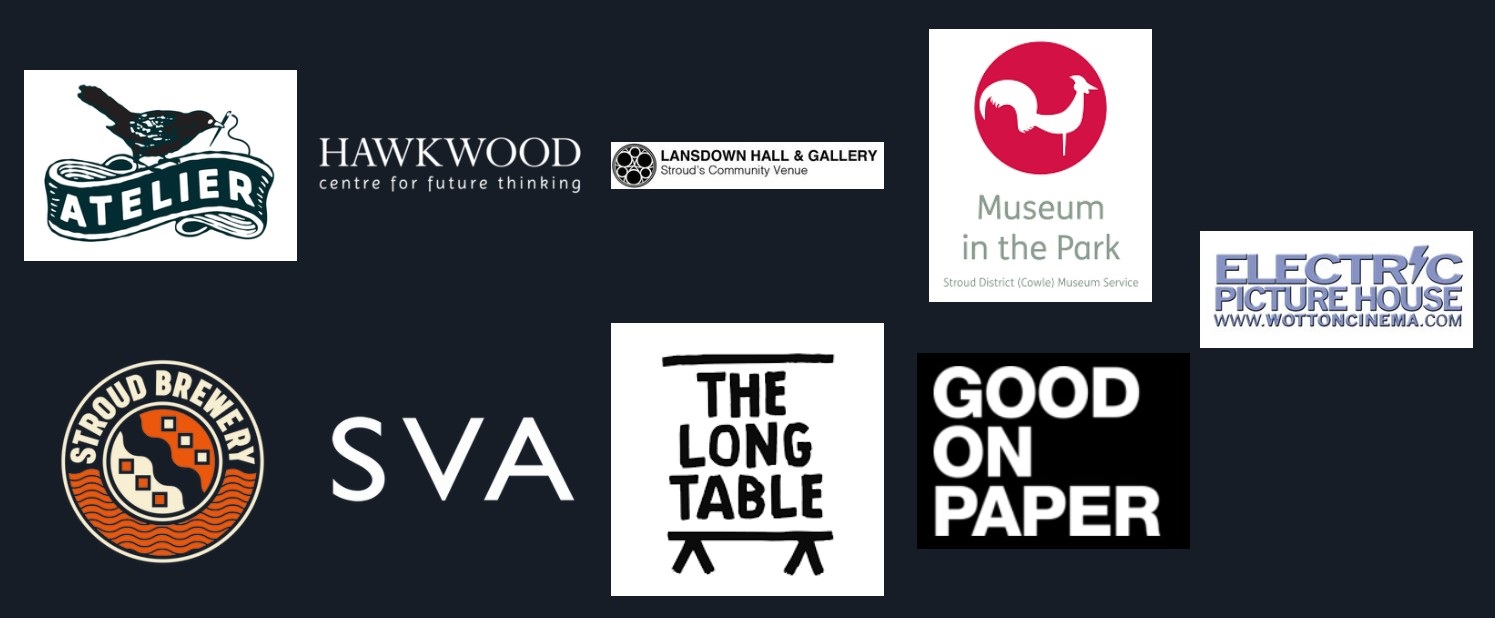 The official dates are March 3rd-19th, with some early "preview" events starting on 17th February (I know, why not make that the opening day?). The programme is spread around venues: Lansdown Hall, Long Table, Wotton-under-Edge Electric Picture House, Trinity Rooms, Hawkwood, Stroud Brewery, Subscription Rooms, Goods Shed, Museum in the Park, Stroud Valley Arts.

To give a flavour, here are three of my choices. I already mentioned the first a week ago, but it's worth repeating.

Woman faces up to might of food corporations. No-brainer:

"The Seeds of Vandana Shiva"

Saturday 18 February 5:00pm to 9:30pm

The Long Table Brimscombe Mill GL5 2QN








"Just who is Vandana Shiva? How has one woman managed to have such a profound impact on the debate around agriculture, food, farming and bio-engineering? How did she become Monsanto's worst nightmare? The Seeds of Vandana Shiva explores the story of this extraordinary woman: agriculturalist, quantum physicist, activist and social justice icon, how she stood up to the corporate Goliaths of industrial agriculture, rose to prominence in the seed saving and organic food movements, and now is inspiring an international movement for change.





"This event is being held in partnership with THE LONG TABLE who will be offering a pre-screening delicious meal, Long Table style. Introduced by Cllr Robin Drury-Layfield, the evening will include a panel discussion with special guests chaired by visual artist Ritu Sood."


Anything with Mark Rylance:

"Inland"

Friday 24 February 7:30pm to 9:30pm

Electric Picture House Cinema Market Street Wotton-under-Edge GL12 7AE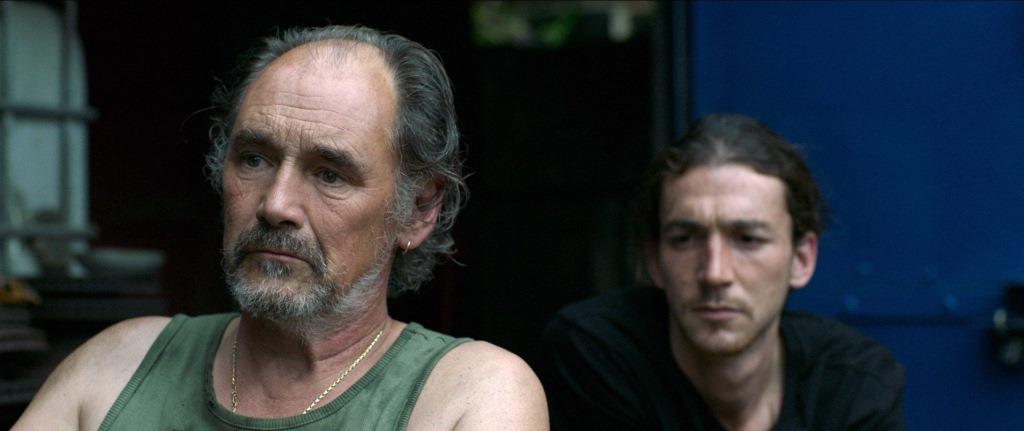 "A special preview of the new film starring Mark Rylance and Rory Alexander, set and filmed around Gloucester. Inland is a modern folktale that explores the fractured identity of a young man after the mysterious disappearance of his mother. Guided by a father figure and old friends who care deeply, his journey through the dreamlike spaces of rural England bring him face to face with the loss that haunts him in ways he could never have expected.





"Afterwards writer/director Fridtjof Ryder and producer Henry Richmond talk about their stylish and enigmatic new drama, which received its world premiere at the 2022 London Film Festival."


Because it was made by my neighbour Holly Antrum:

"Yes to the work!" - Women's Art Library documentary

Saturday 11 March 3:00pm to 5:00pm

Museum in the Park Stratford Park GL5 4AF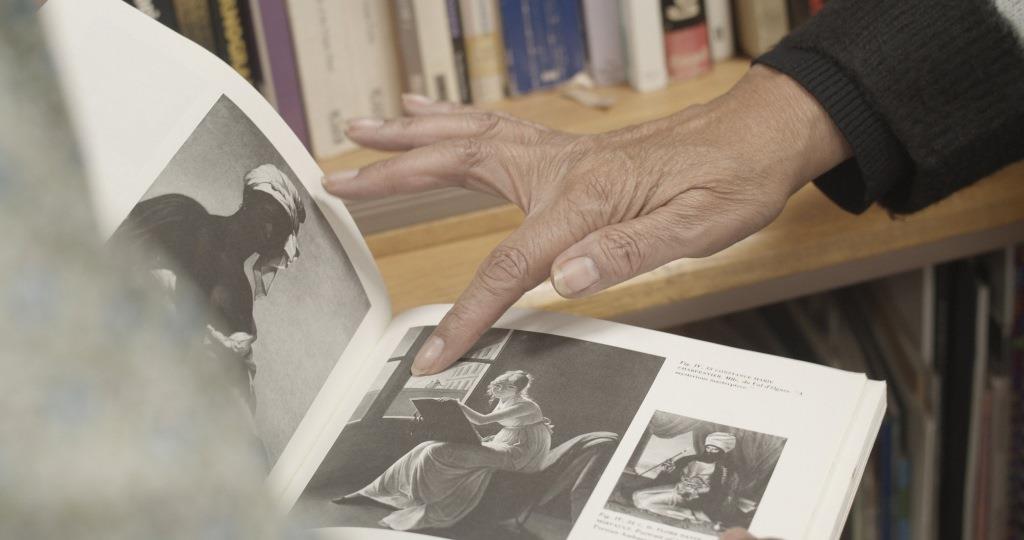 "The Women's Art Library presents insights into the feminist links between art and education. Commissioned by Art360 Foundation. 30 minutes. The screening is followed by a conversation led by two locals - writer and curator Jean Boyd with the film's director, artist and filmmaker Holly Antrum."


For the full programme and tickets visit the festival website:


Monday 6th February


Mostly random-ish follow-up today to bits I've posted recently.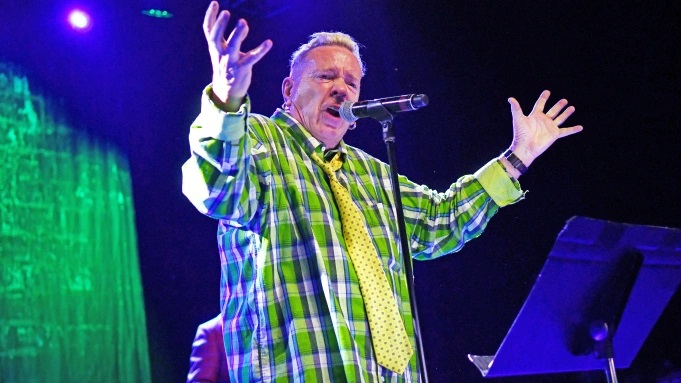 The bid by John Lydon - aka Johnny Rotten - to represent Ire­land at the Euro­vis­ion song con­test has come to an end. He ann­ounced last month the hope to per­form with his band Pub­lic Image Ltd a new song, "Hawaii", which is ded­ic­ated to Lydon's wife Nora who is liv­ing with Alz­heim­er's dis­ease. Dublin's four-piece band Wild Youth won the vote on Friday night. I never thought 45 years ago that I would one day be writ­ing this word sequ­ence: Johnny Rot­ten ... carer ... wife Nora ... Alz­heim­er's. Sad. None of it part of the punk story.

The Shell profit scandal inevitably featured in Dale Vince's lat­est Zero­carb­on­ista. It's always worth a listen. I've posted the full audio here (27 min­utes) ... for when you're doing the wash­ing up ... tak­ing a break for a cup of tea ...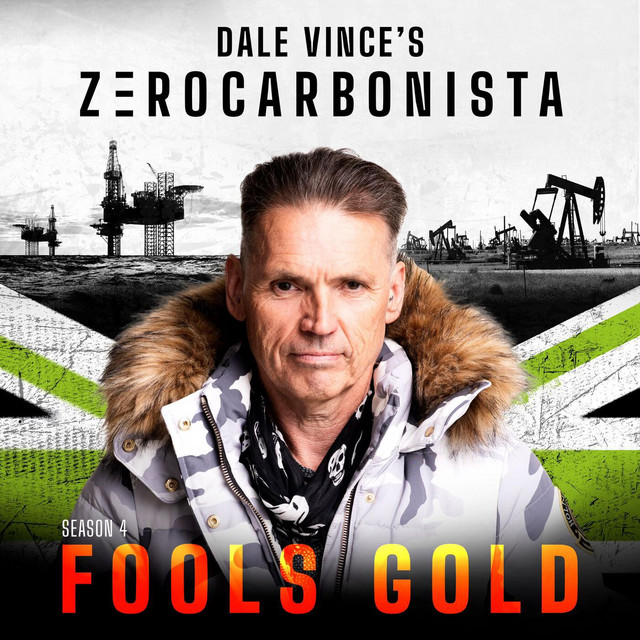 "We're a bit sweary today in this bumper episode as the world's gone bonkers. We review what's going on with the UK's latest Prime Minister and consider how the government became anti-wind at the same time as offering £600m to steel producers. Shell have made £32bn of profit when we're in an energy crisis - what the hell is going on? Then Bristol Airport got permission to expand this week too."

Although Forest Green Rovers have yet to win under their new man­ager, he can be pleased that the lib­er­al chat­ter­ing clas­ses are now tak­ing him to their hearts. If you read The Guar­dian you will have seen the Jour­nal inter­view on Friday (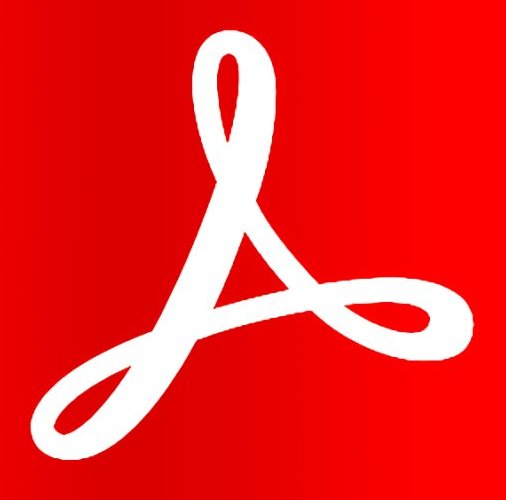 - 5 pages). The art­ic­le rev­eals that we can reas­on­ably exp­ect a visit here in Glouc­est­er­shire from Real Mad­rid and their man­ager Carlo Ance­lotti, 4-times winner of the Champions League: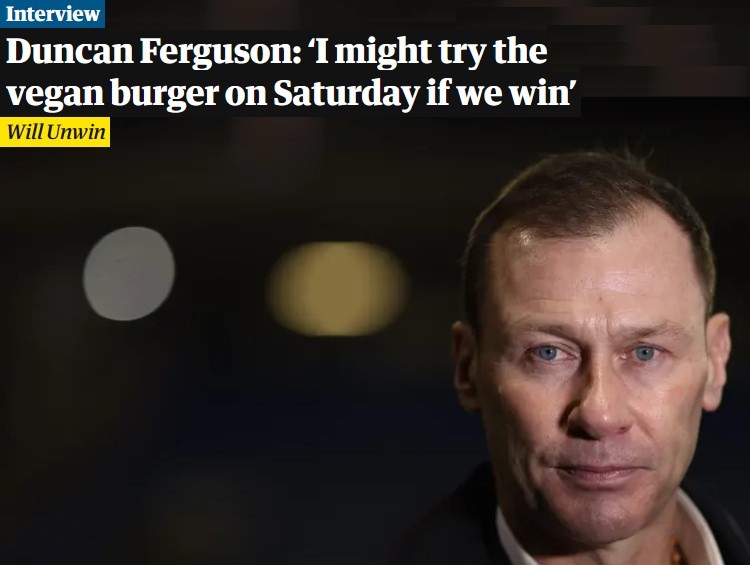 "One of those Champions League winners was Carlo Ancelotti, who respected Ferguson's opinion. The two remain close and Ferguson recently visited his former boss at Real Madrid. 'I saw all my exercises on the training ground. Him and his son [assistant coach Davide] are like magpies - they've taken all my exercises,' Ferguson jokes. 'I've worked with Carlo a great deal.'





"Ferguson is not the only one at Forest Green with close links to Real. Vince has been advising the club on sustainability and use of pesticides. Could this lead to a friendly at The New Lawn? 'I would love that - it would be absolutely fabulous,' Ferguson says. 'Why not do it over in Stroud? If there is a gap in the calendar, I am sure Carlo would facilitate that.'"


So, no vegan burger yet. He needs to conc­ent­rate on that before work­ing on a Real Mad­rid game.

Truss has started the process of justifying the actions that brought the coun­try to its knees. This week­end saw her first major out­ing as self-apol­og­ist: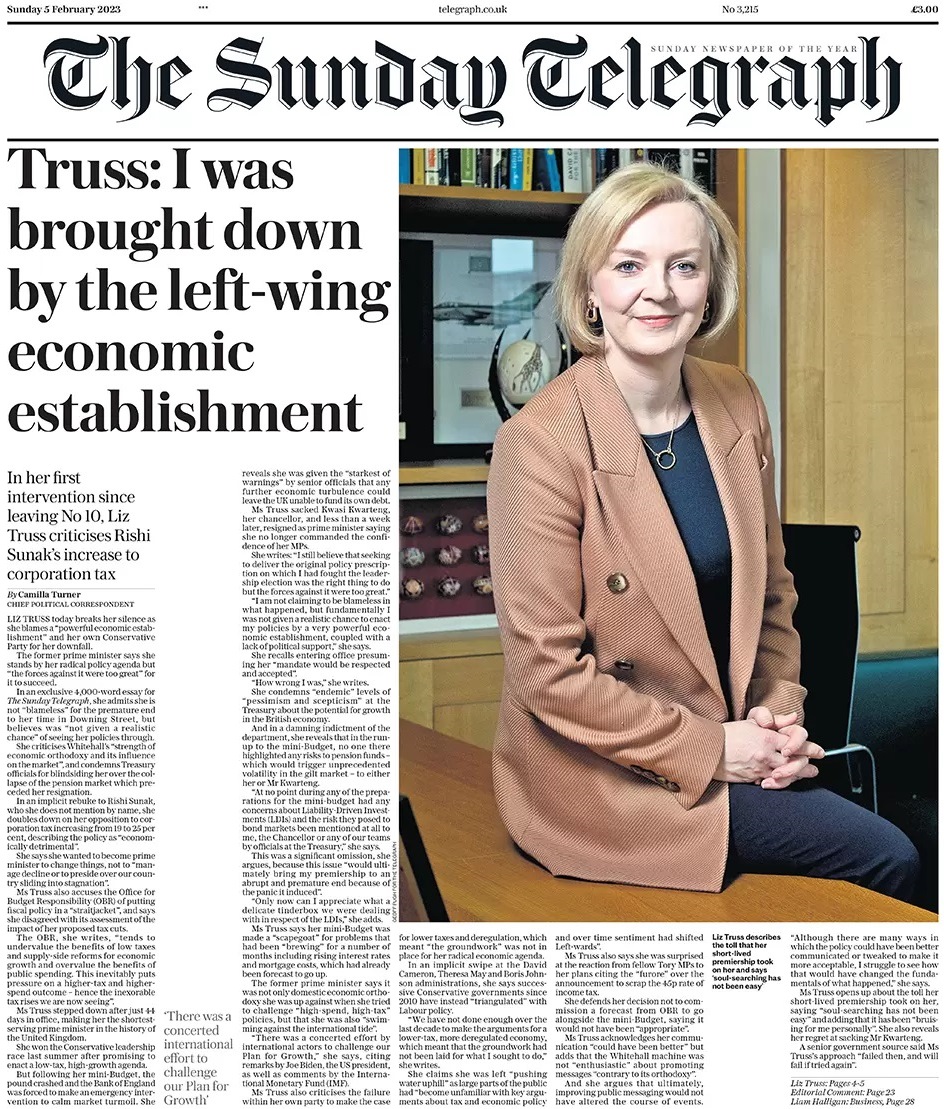 Blames everybody else. Claims she had the right idea. Fort­un­ately, the rest of us know that she is a dim, in­comp­et­ent, self-seek­ing and arr­og­ant twerp.

One last thing today. On Saturday, I pondered if the Green New Deal and Labour's Great Brit­ish Energy were "pie in the sky" ideas. Now, we know what the expr­ess­ion means - but where does it come from? The most com­mon expl­an­at­ion I've heard is that it app­eared in a 1911 song by Joe Hill, Swed­ish-Amer­ican lab­our act­iv­ist, song­writer and mem­ber of the Ind­ust­rial Work­ers of the World (IWW, familiarly named the "Wobb­lies"). Called "The Prea­cher and the Slave", the song was writ­ten as a par­ody of the hymn "In the Sweet By-and-By", a dig at the Salv­at­ion Army's prom­ise of reward in heaven rather than on earth. The "pie" ref­er­ence is in the chorus:

Long-haired preachers come out every night




Try to tell you what's wrong and what's right




But when asked how 'bout something to eat




They will answer in voices so sweet






You will eat, bye and bye




In that glorious land in the sky




Work and pray, live on hay




You'll get pie in the sky when you die


If you fancy listening to the song, here's a live 2005 vers­ion by Utah Phill­ips. He intro­duces it with charm­ing and inf­orm­at­ive bits of back­ground - and reh­ears­al for the aud­ience: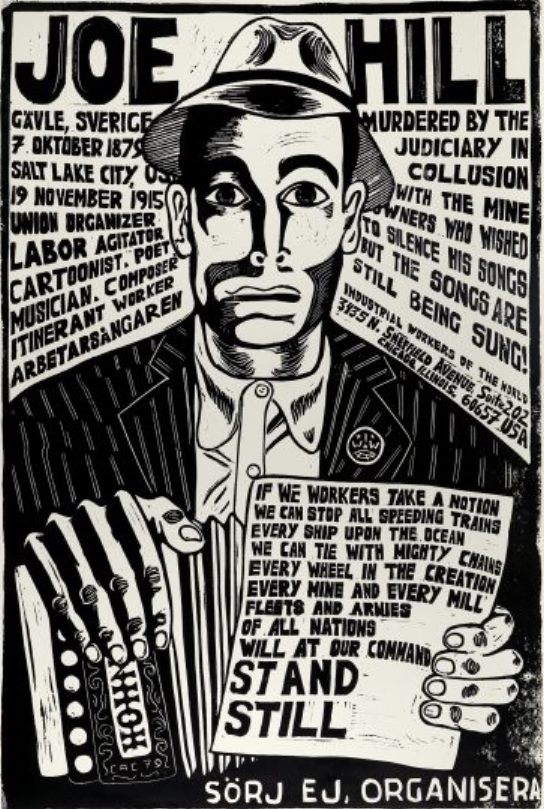 Holding a message for Sunak, right? Plus ça change.

Sunday 5th February


Poor sporting outcomes for this household yesterday: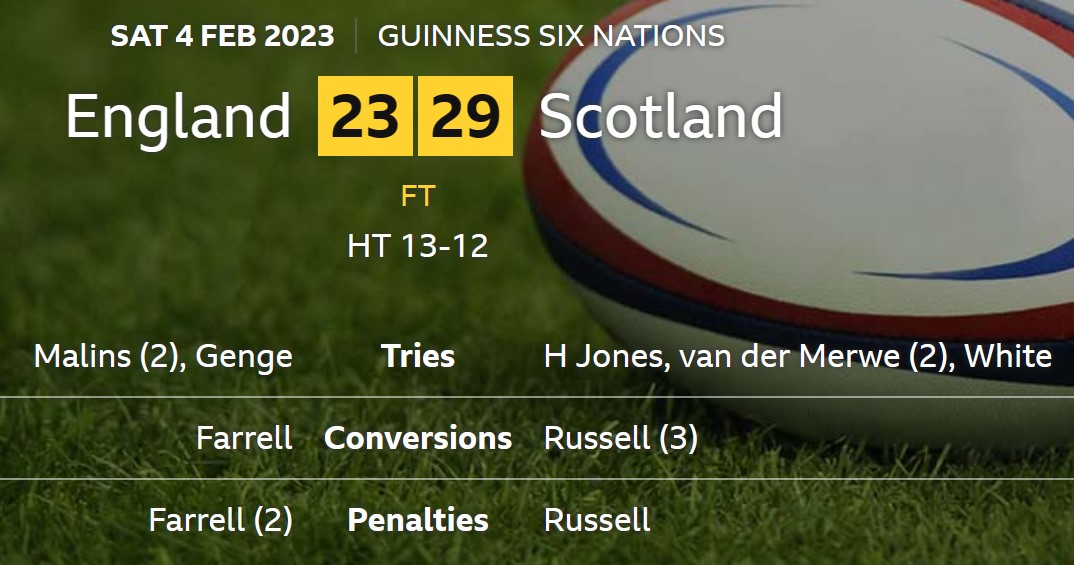 Except that I did my usual trick of placing a small wager on the opposition to ease the pain of an unwelcome result: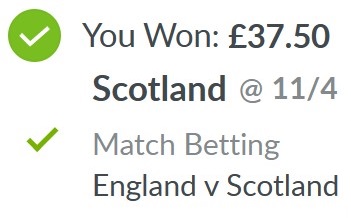 Saturday 4th February





Campaigners Green New Deal (GND) must have known that I was raging against Shell yesterday because they sent me an email:





"Sickeningly, Shell has just reported its highest profits in its 115 year history. That's £32 billion made from fuelling the climate crisis and destroying people's lives.





"This display of corporate greed at a time when people can't afford their bills or to pay their rent shows that this Government has no interest in protecting us. Rishi Sunak and his pals are actively inflaming the crisis by green-lighting more fossil fuel projects and handing out tax breaks to polluters.





"It's hard news to digest. But we think this is the time to be speaking about solutions to fix this crisis, like bringing in a sustained windfall tax and democratising energy.





"We know these solutions are the antidote to the current profit-driven and climate-wrecking energy system. Because when communities have control, they can distribute energy in the interest of people and the planet."


Labour MP and GND Champion Clive Lewis explains why we should bring energy into public hands (1 minute 15 seconds):




Pie in the sky? Yet Labour has moulded its hopes around Great Brit­ish En­ergy. "Nat­ion­al­is­at­ion" is a diff­ic­ult word in a Brit­ain still shaped by That­cher, a nation der­ail­ed by Bre­xit.

Friday 3rd February


Apologies for gloom today, folks, but I'm oppressed by the over­whelm­ing evid­ence that the wrong people are in charge. Fat cats, war­mong­ers, xen­oph­obes. Why do we let them? There are bill­ions more of us.

Does it have to be this way?

As Elvis Costello sang (and Nick Lowe wrote), "What's so funny 'bout peace, love and understanding?"

Alternatively - and with belligerence - I'll borrow from the words of Glen Matlock's new song that I posted on Wednesday 👉: "Ain't gonna let this go until there's someone's head on a stick."

Maybe both.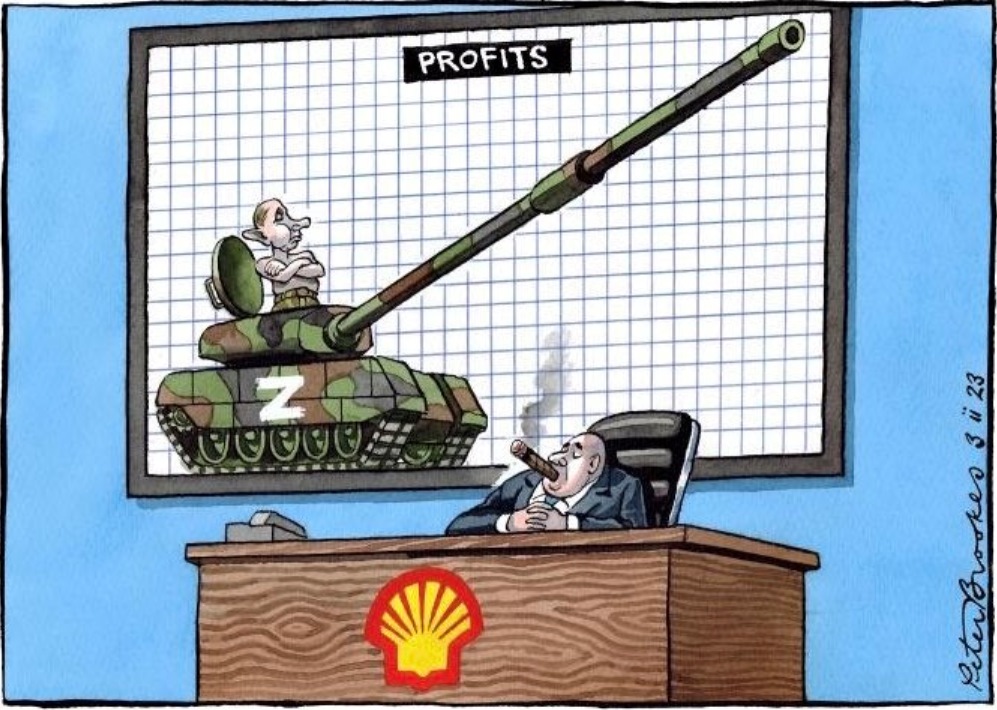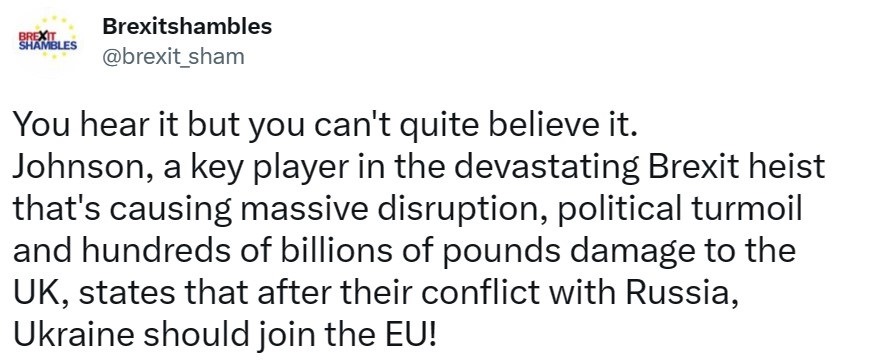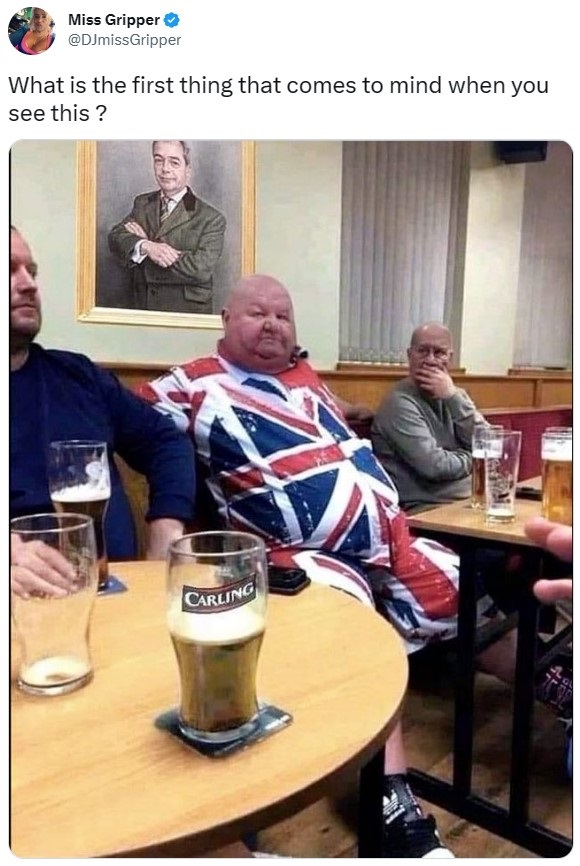 Thursday 2nd February


Third birthday: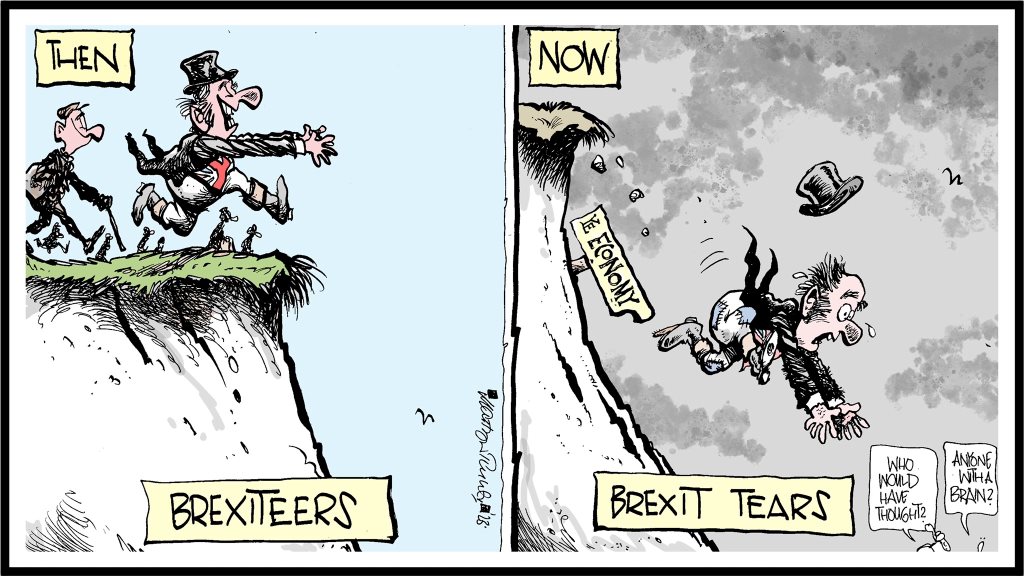 It's the conversation at the bottom-right that gets me:





"Who would have thought?"





"Anyone with a brain?"


It's one of the uncomfortable background effects of Brexit that I'm obl­iged to bel­ieve that more than 50% of my comp­atr­iots (maybe less now) are ... stupid. Every­where I go in England I run the risk of half the people I meet not shar­ing a view of Brit­ain that would make me proud. Not a good found­at­ion for daily life.

I am however pleased that cartoonist David Squires of The Guar­dian fin­al­ly caught up with us local folk (see the news here:👉) as he con­sid­er­ed Ever­ton's new choice of man­ager: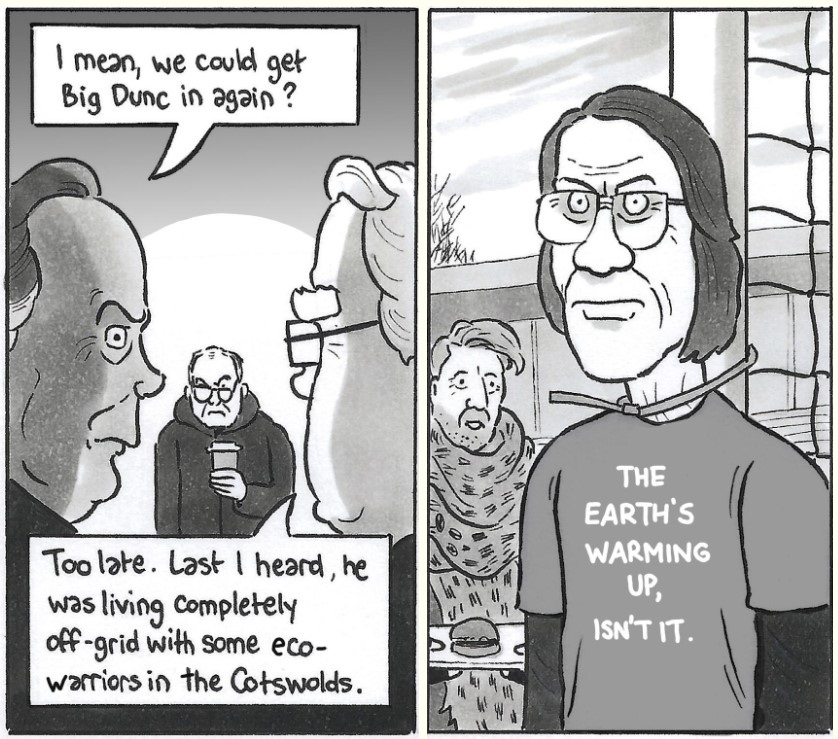 And this is a great drone (I presume) shot of the New Lawn in For­est Green with Amb­erl­ey on the right hill­side bey­ond and Stroud in the dist­ance: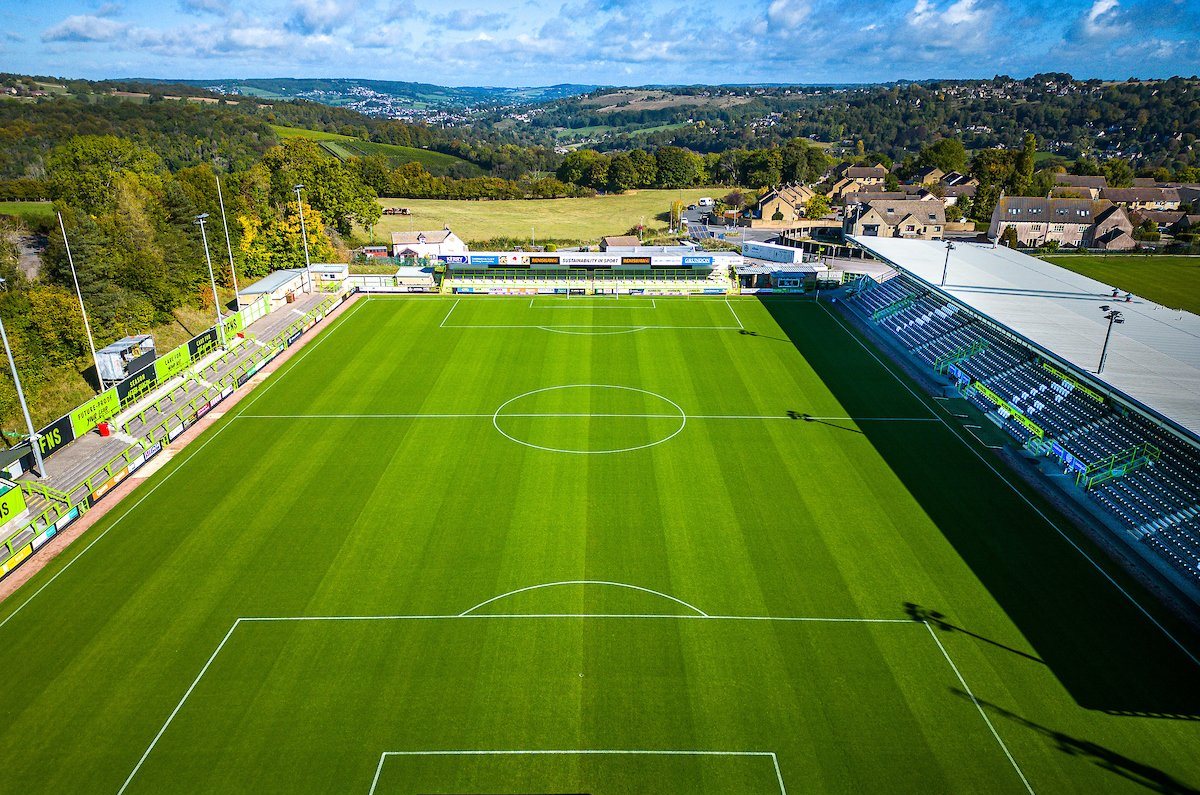 Wednesday 1st February


There's no easy way to spin a positive escape from this. Unless you're Jacob Rees-Mogg: "When was the IMF fore­cast last right?"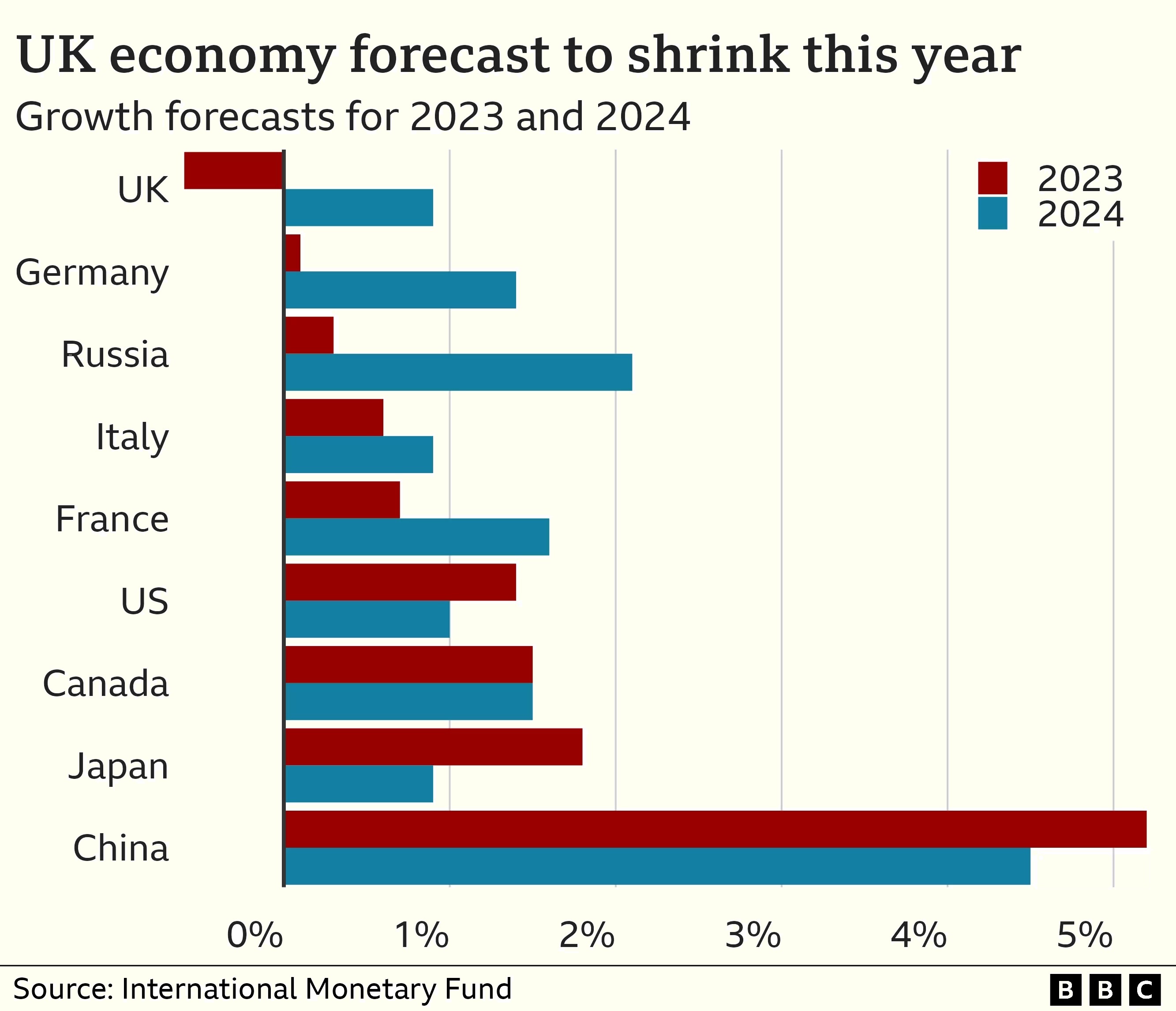 Here's the published document, "World Economic Outlook Update January 2023", (11 pages):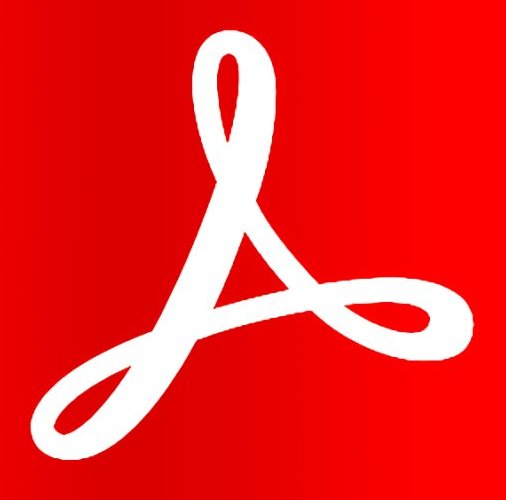 Brexit is not mentioned. But this contrast is made:

"Growth in the euro area is projected to bottom out at 0.7 percent in 2023 bef­ore ris­ing to 1.6 per­cent in 2024."





"Growth in the United Kingdom is projected to be -0.6 percent in 2023, a 0.9 perc­ent­age point down­ward rev­is­ion from Oct­ob­er."


Is that October comment an acknowledgement of the Truss melt­down and sub­sequ­ent Hunt meas­ures/U-turns, what the IMF calls "tigh­ter fis­cal and mon­et­ary pol­ic­ies"?

More entertaining and certainly more outspoken was Glen Mat­lock, orig­inal bass player with the Sex Pis­tols, int­erv­iewed early yest­er­day on BBC Break­fast. He has a new al­bum com­ing out, "Cons­equ­ences Coming", which car­ries the com­ments below: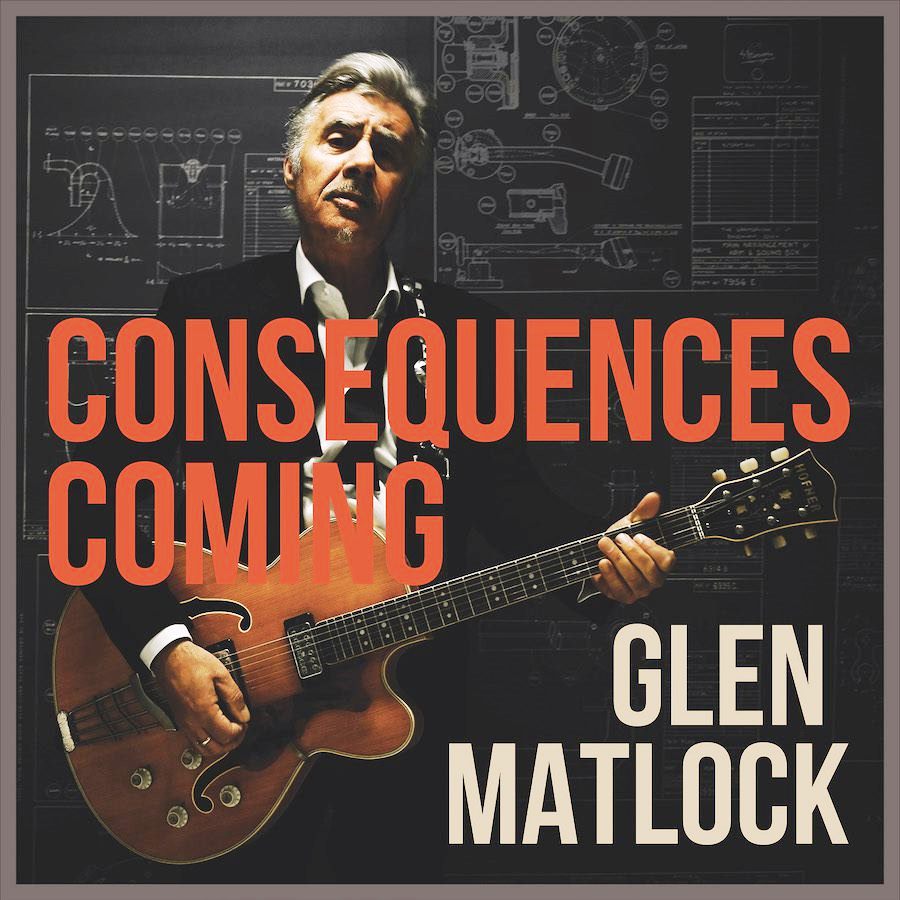 "The album was written and recorded in Britain over the last 18 months or so with a posse of seas­oned but on point perf­orm­ers. All done during the deb­acle that is Bre­xit and the rise and fall of the tur­gid Trump epis­ode in the US. These songs refl­ect my take on the whole sorry mess that has ensued.





"Now the wheels of the music business can sometimes move at a lug­ubr­ious, glac­ial pace, and some­times the moment might be lost but seeing no break in the clouds or clear light at the end of the tun­nel, sure­ly the only dem­and on people's lips should be that there are 'Cons­equ­ences Com­ing' for the fat headed oafs who have foisted their asin­ine warped sens­ib­il­ities on us."


He was on the programme to talk about the new single, "Head On A Stick". The BBC red sofa pres­ent­ers desp­er­ate­ly wanted to get him off pol­it­ics, but he wasn't play­ing. Here's the off­ic­ial video, with some fur­ther words from Glen:




"Peeved at the predictable but ultimately point­less pol­it­ical lurch to the right that has happ­ened in the West over the past few years, one which has been aided and abetted by the vested inter­ests of a client press, I put pen to paper and plect­rum to guitar to comp­ose a song that's a call to arms, a wake up alarm and primal open your eyes scream.





"It might be easy to be wise after the event but some saw where we were headed and in the words of Pete Seeger att­empt­ed to ham­mer out a warn­ing. We always thought it can't happen here but it sadly most def­in­ite­ly has and heads should just­if­iab­ly roll ..."


He also reminded us during the interview that Johnny Rotten was/is a Brex­iteer ... and, having become a U.S. citizen in 2013, voted for Trump.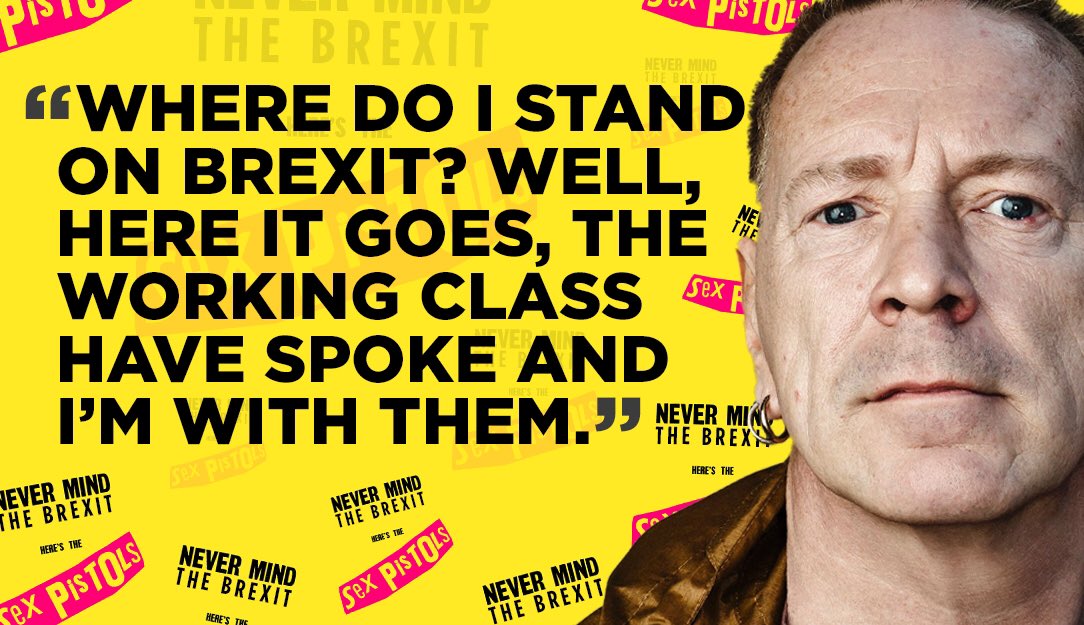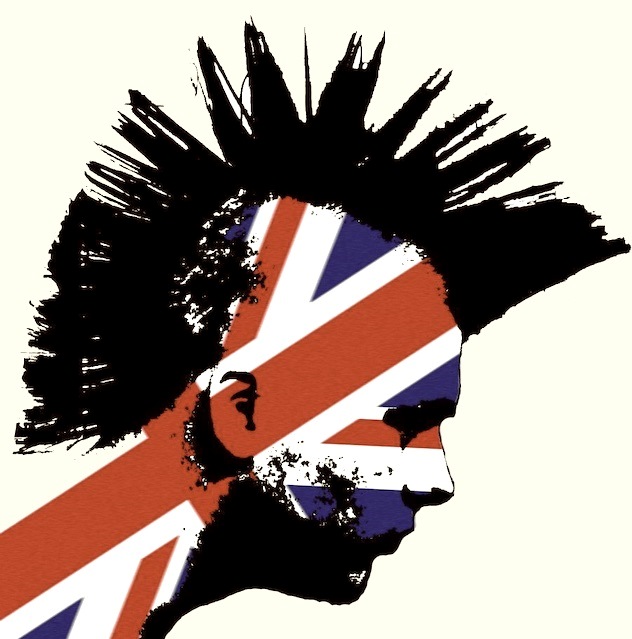 Punk largely passed me by, as its heyday coincided with my residence in Italy. The Ital­ians weren't a nat­ural fit with the music and move­ment. What, dress badly, hold no views on food and pay little att­ent­ion to good wine? It wasn't going to hap­pen. I did how­ever once cause a minor stir by going to an eleg­ant and del­ic­ious Ven­eto fancy dress dinner as Sid Vic­ious. Who replaced Mat­lock as bass player when Glen and Johnny fell out.

Stop Press: My Irish correspondent has reminded me that it is St. Brigid's Day. Celebrate. From GOV.IE ...

"In Ireland, the first of February marks the begin­ning of Spring and the cel­ebr­at­ion of Lá Fhéile Bríde, St Brigid's Day. Like many of other feast days of the Irish cal­end­ar, Brigid pre­dates Christ­ian­ity - her roots lie in the Cel­tic fest­ival of Imbolc, the feast of the god­dess Brigid, cel­ebr­ated at least five mill­ennia ago. In old Irish, Imbolc means 'in the belly', a ref­er­ence to lamb­ing and the ren­ewal Spring prom­ises."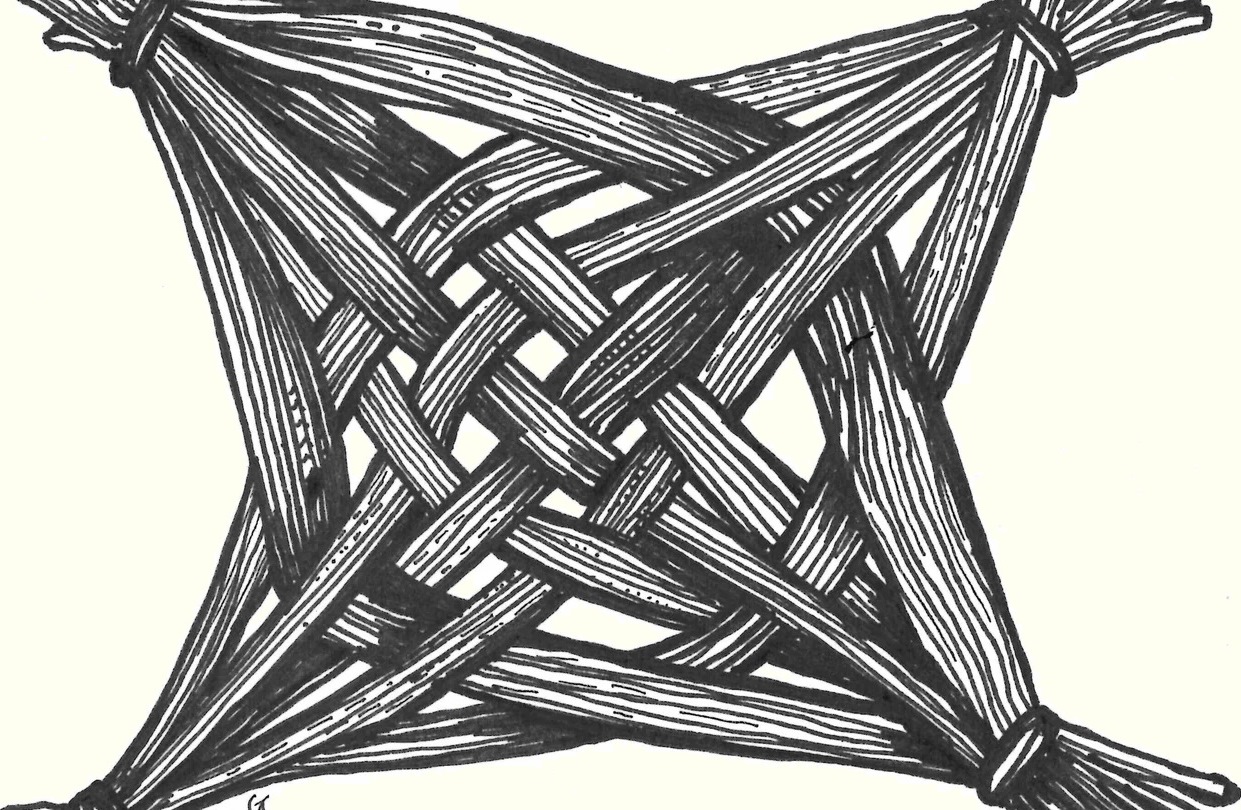 Tuesday 31st January





This is uplifting, a beacon of light amidst the chall­eng­ing gloom of climate threat and food pov­er­ty, a wel­come coun­ter­point to the rot­ten ant­ics of the gov­ern­ment. We've just been inv­ited by friends to an even­ing at The Long Table, as worthy a Stroud inst­it­ut­ion as you can get.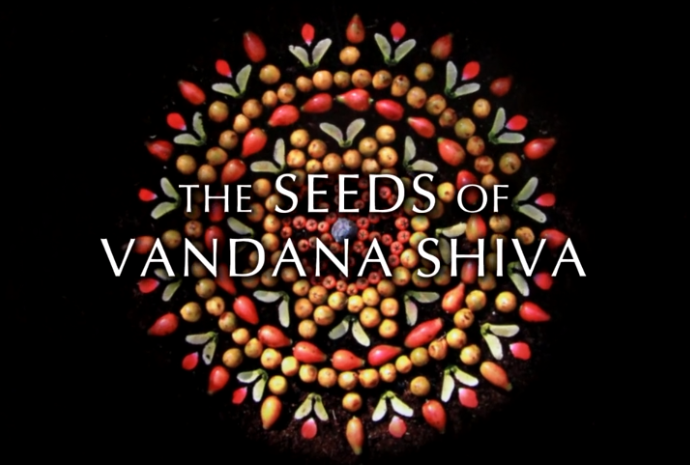 Stroud Film Festival

The Seeds of Vandana Shiva

Saturday, 18 February 2023 5:00pm-9:00pm





"How did the wilful daughter of a Himalayan forest cons­erv­ator bec­ome Mons­anto's worst night­mare? The Seeds of Van­dana Shiva tells the rem­ark­able life story of Gand­hian eco-act­iv­ist Dr. Vand­ana Shiva, how she stood up to the corp­or­ate Gol­iaths of ind­ust­rial agr­icul­ture, rose to prom­in­ence in the seed sav­ing and orga­nic food move­ments and is insp­ir­ing an int­ern­at­ion­al crus­ade for change. The Long Table are del­ight­ed to be part­ner­ing with Stroud Film Fest­iv­al to host this screen­ing of The Seeds of Vand­ana Shiva, a film which res­on­ates so strongly with our aim of incr­eas­ing local food res­il­ience and put­ting food at the centre of the comm­un­ity.





"Pre- screening, we will be serving a del­ic­ious meal, Long Table style, which will of course be pay-as-you-can."


Here's some more blurb from the Long Table website:

"The Long Table was founded by Tom Herbert and Will Mansell in an old Brims­combe ware­house in 2018. This happ­ened after Tom met with Will Mans­ell of The Grace Net­work, of which The Long Table is now a key part. They shared a mut­ual dis­may of how soci­ety is doing food badly, leav­ing people un­well and lone­ly. Shame­ful­ly, one third of all food grown and prod­uced is never eaten. And so a new kind of Com­mun­ity Int­er­est Comp­any was born, with a team from a vari­ety of soc­ial roots that shared one vision. Our aim is to make loc­ally sourced and lov­ing­ly prep­ared food avail­able to every­one, reg­ard­less of their soc­ial or fin­anc­ial back­ground. Something we now call Food Equa­lity."


Visit the website here:


Monday 30th January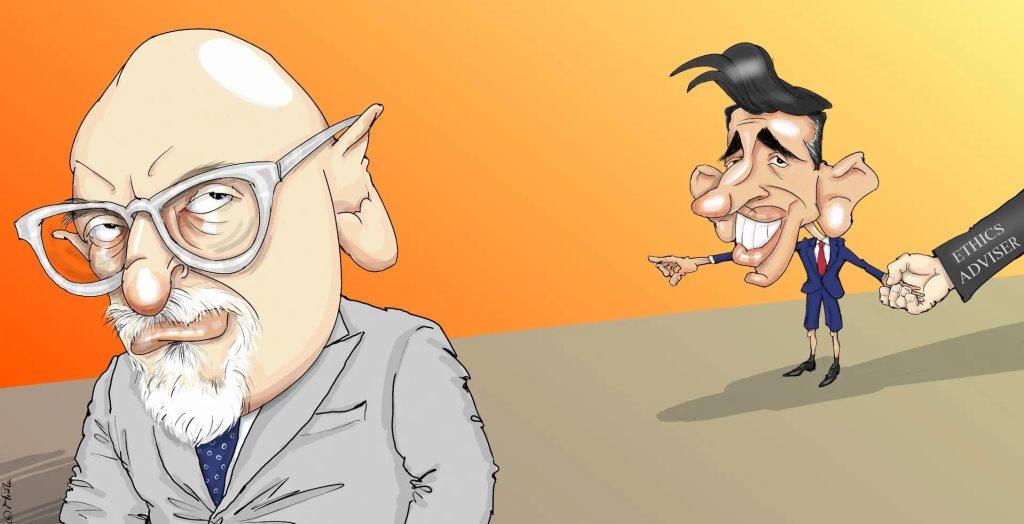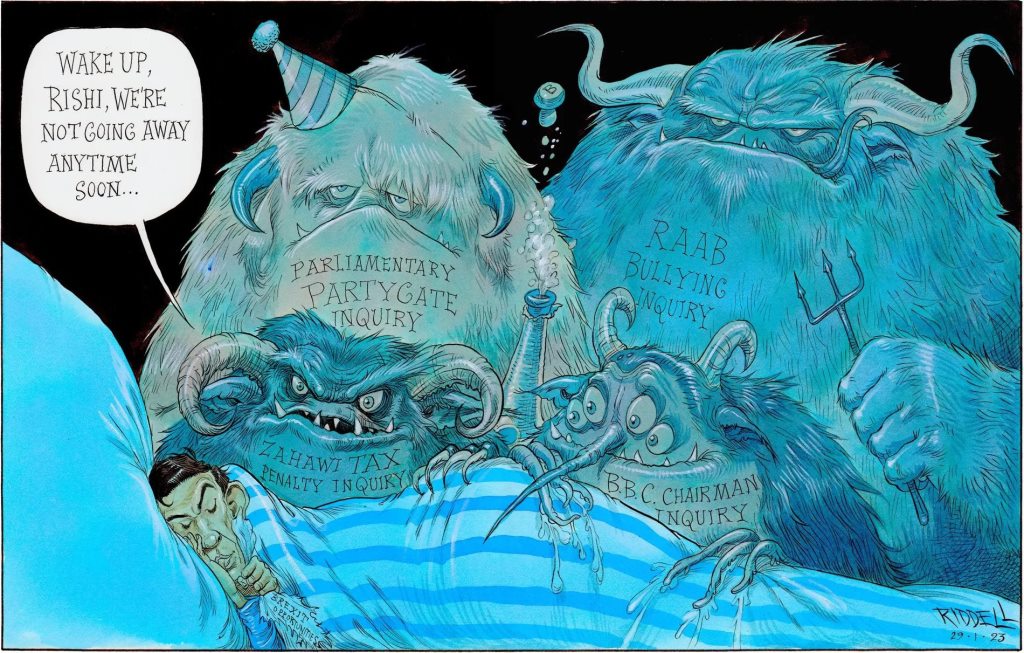 How telling that the number one story yesterday should have been about the sack­ing of the chair­man of the Cons­erv­at­ive Party. Not news of econ­omic prog­ress, a break-through scien­tif­ic dev­el­op­ment nor just­ice ach­ieved for a des­erv­ing ord­in­ary person. Nope. Just self-seek­ing Tory sleaze and dis­hon­esty.

What a shame that I should have been scouring the GOV.UK web­site not for use­ful guid­ance or exp­lan­at­ion but for the off­ic­ial #tax­gate letters sent by Sir Laurie Mag­nus, Rishi Sun­ak and Nad­him Zah­awi. Yes, they are there ... but what a waste of time and money, doc­um­ent­ing the trans­gress­ions of our lead­er­ship rather than their ach­ieve­ments. I'm sure you've seen them but for the record here they are: Magnus to Sunak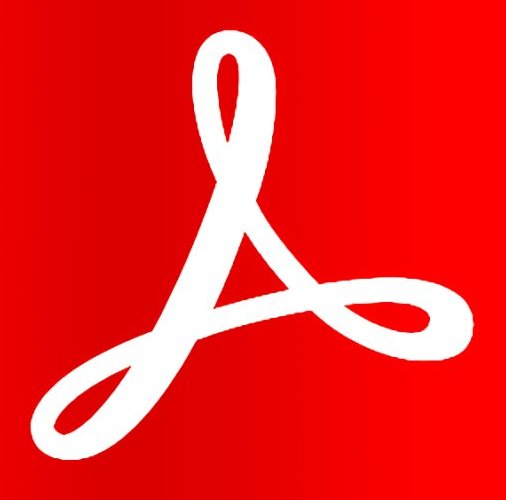 , Sunak to Zahawi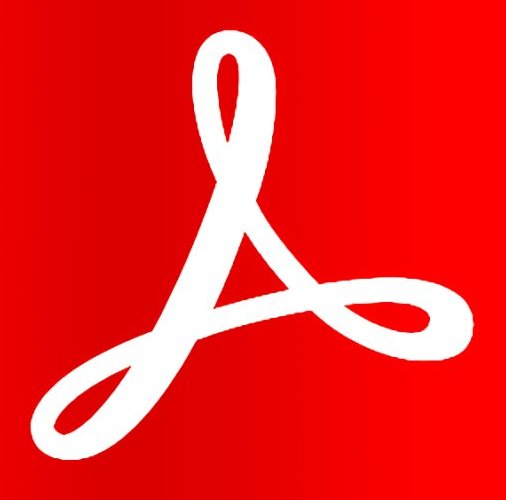 and Zahawi to Sunak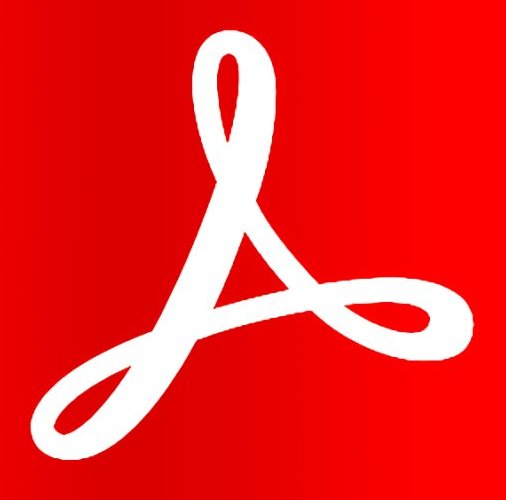 .

Sunak said:


"It is also with pride that I, and previous Prime Ministers, have been able to draw upon the services of a Kurdish-born Iraqi refugee at the highest levels of the UK Government."


Zahawi commented in reply:


"I arrived in this country fleeing persecution and speaking no English. Here, I built a successful business and served in some of the highest offices in government."


Which privilege he then abused.

This is the government hell-bent on making more diff­ic­ult the lives of the des­per­ate seek­ing sanct­uary.

Sunday 29th January


The joke's (almost) over now. No first match fairy tale victory, cruelly denied in extra time: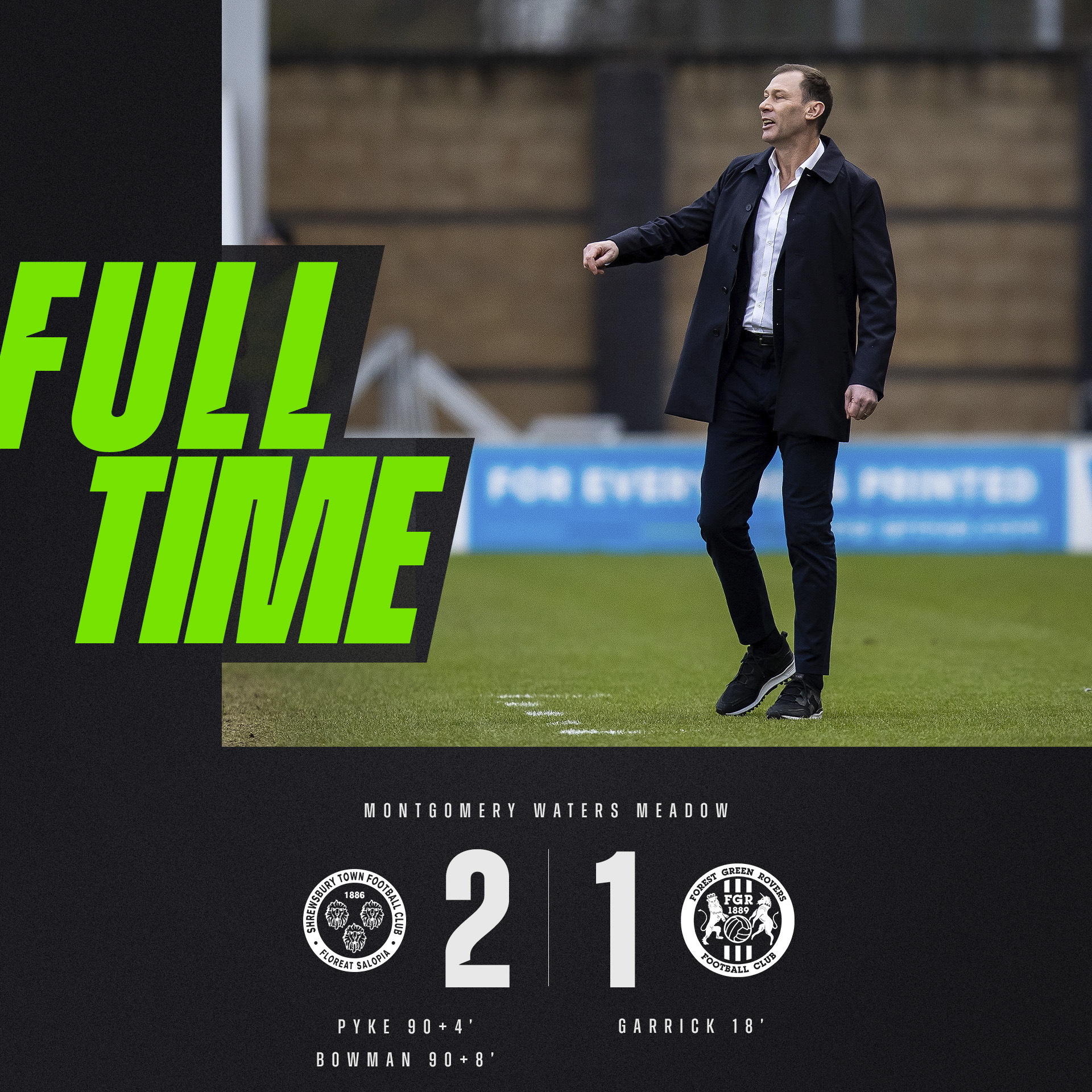 I reckon Big Dunc told the lads to get stuck in:





Meanwhile, I have the answer to my vegan question of two days ago:




"The earth is warming up, isn't it?" No shit, Dunc.

Would this have helped tired FGR legs in the dying moments of the game? Son Ben sent a photo of Thursday's birthday lunch in Bilbao: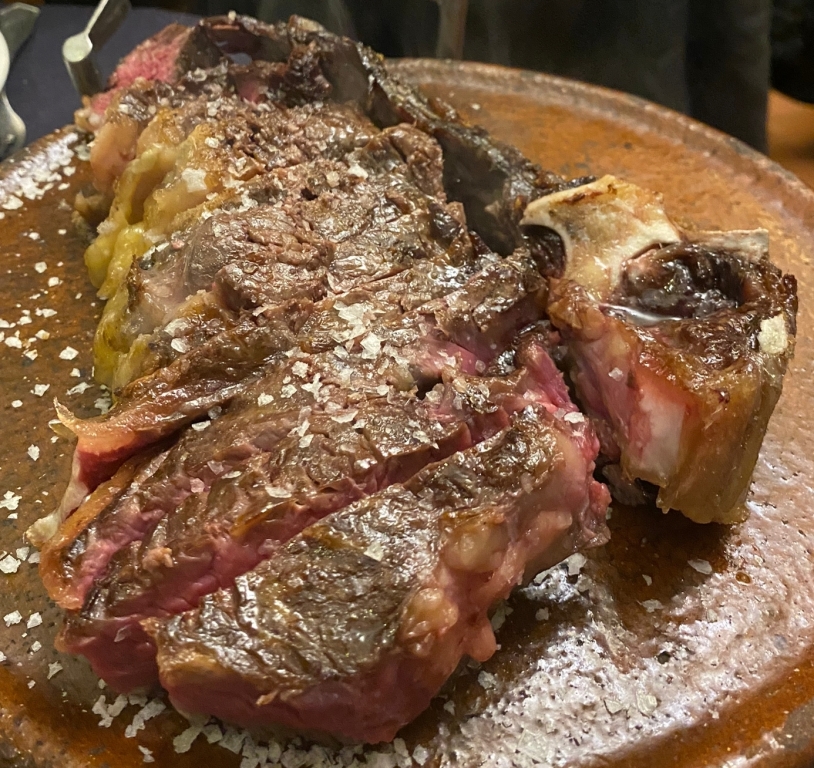 Saturday 28th January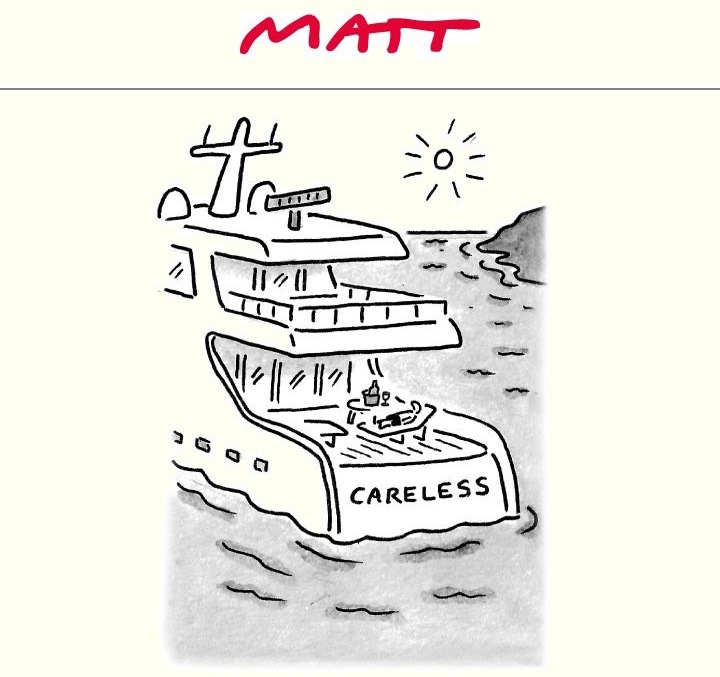 Friday 27th January


Football and Forest Green Rovers again today. Apol­og­ies to those not int­er­est­ed - but it's quite a story.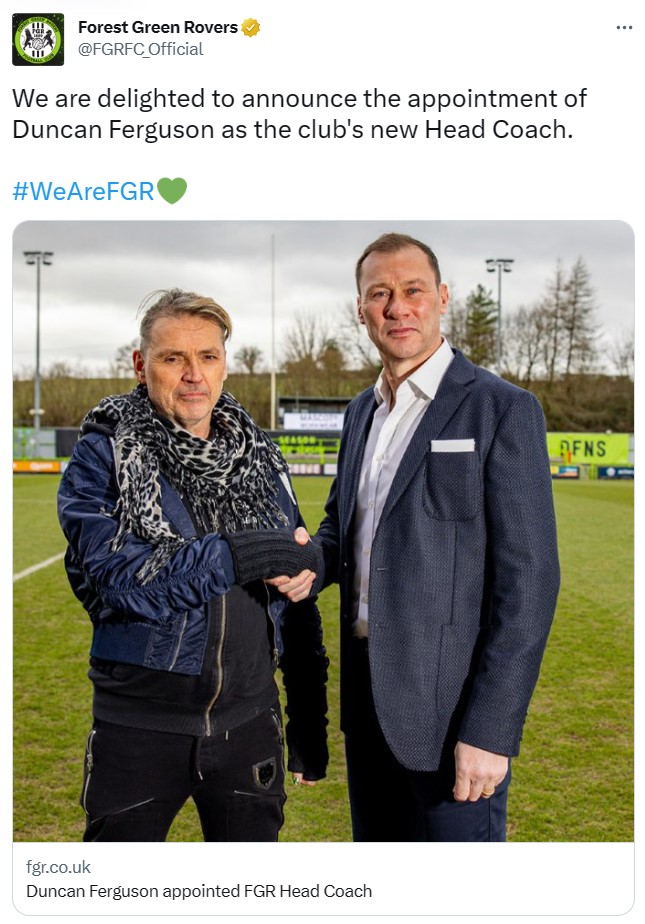 A bit of background for the uninitiated. "Big Dunc" - 6' 4" - was in his play­ing days a rob­ust No. 9 for Scot­land and most prom­in­ent­ly for Ever­ton. Good with his head, both on the pitch and ...

... off. Here's a chunk of his Wikipedia entry:


"Ferguson has had four convictions for assault - two arising from taxi rank scuffles, one an altercation with a fisherman in an Anstruther pub, and one for his on-field headbutt on Raith Rovers defender John McStay in 1994 while playing for Rangers, which resulted in a rare conviction for an on-the-field incident. The first incident led to a £100 fine for headbutting a policeman and a £25 fine for a Breach of the Peace, while the second resulted in a £200 fine for punching and kicking a supporter on crutches. He was sentenced to a year's probation for the third offence. For the 1994 on-the-field headbutting, he received and served a three-month jail term for assault."


Ferguson was burgled in 2001 and 2003. On both occasions the robbers were hospitalised. They clearly hadn't done their homework.

Sounds ideal. It's going to be a scrap to avoid rele­gat­ion from League One, so we need a bit of a braw­ler. I like his sec­ond nick­name even more: "Duncan Disorderly".

It gets better. According to ClassicFM and other sources, little-known Fin­nish comp­oser Osmo Tapio Räi­hälä ded­ic­ated one of his works to the centre-forward. It's called "Barl­innie Nine", pres­um­ably a ref­er­ence to HM Pri­son Barl­inn­ie where Ferg­uson served time and his Ever­ton shirt number. The orch­est­ral piece was prem­iered on the same day in 2005 that Ferg­uson scored the only goal in a game against Man­ches­ter United, Ever­ton's first win over ManU in 10 years.

It's true. Räihälä said:


"I got the idea for it when he was facing jail and had just become something of a cult figure for Everton. It takes into account the contradictions in him: he has an aggressive side but there is a lyrical undertone, as the fact that he keeps pigeons shows."


I don't expect you to listen to all 12 minutes of the prem­iere perf­orm­ance, but for the record here it is, on 20th April 2005 at the Fin­land­ia Hall, Hels­inki, play­ed by the Finn­ish Radio Symp­hony Orch­est­ra, cond­ucted by Sakari Oramo:




The appointment has gone down well with the FGR faith­ful on the Twit­ter­sphere. Ann­ounc­ed the day after Burch­nall dep­art­ed, Dale Vince must have had this in the pipe­line. A canny move? I'm off to the book­ies to find out what odds I can get on FGR escap­ing the drop. I should have gone two days ago.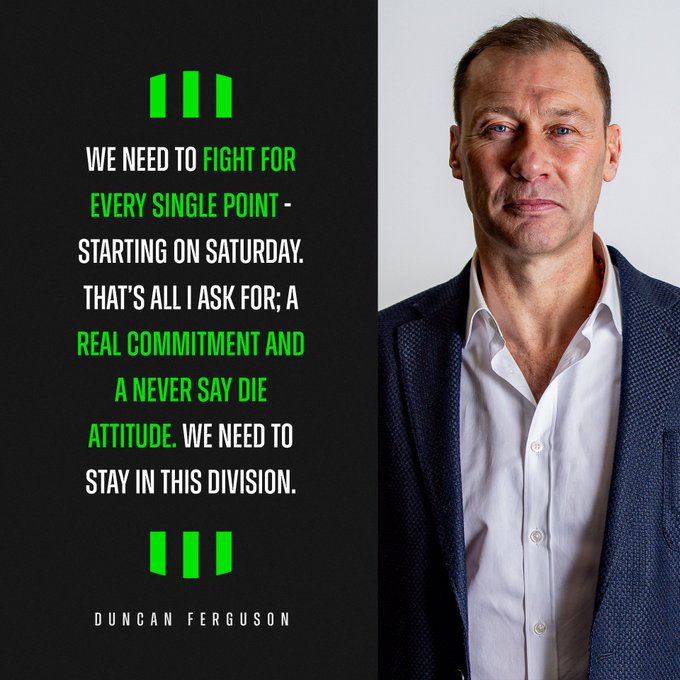 Has anyone told him he's a vegan from now on?

Thursday 26th January


Oh dear. Forest Green Rovers hit the buffers.





Manager pays customary price.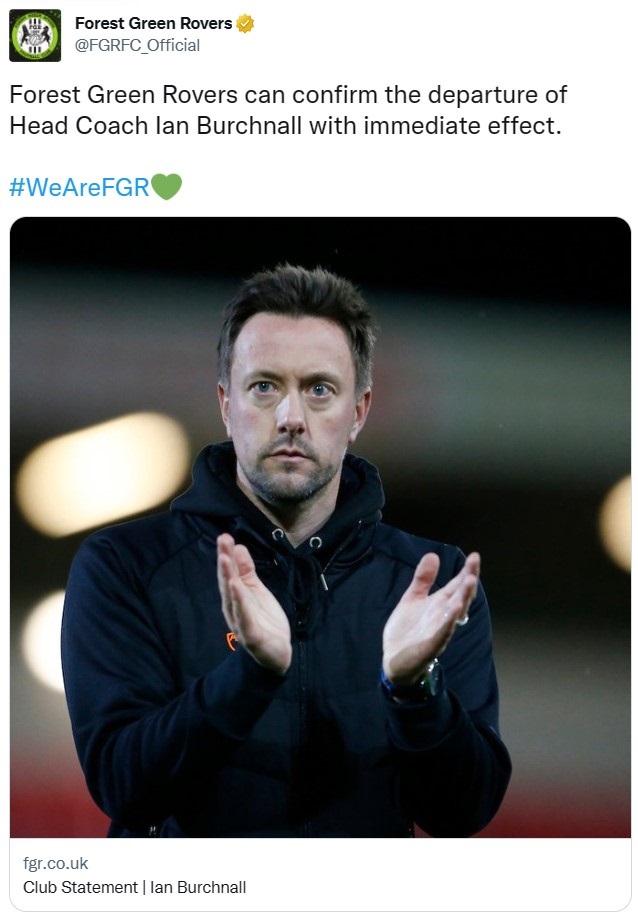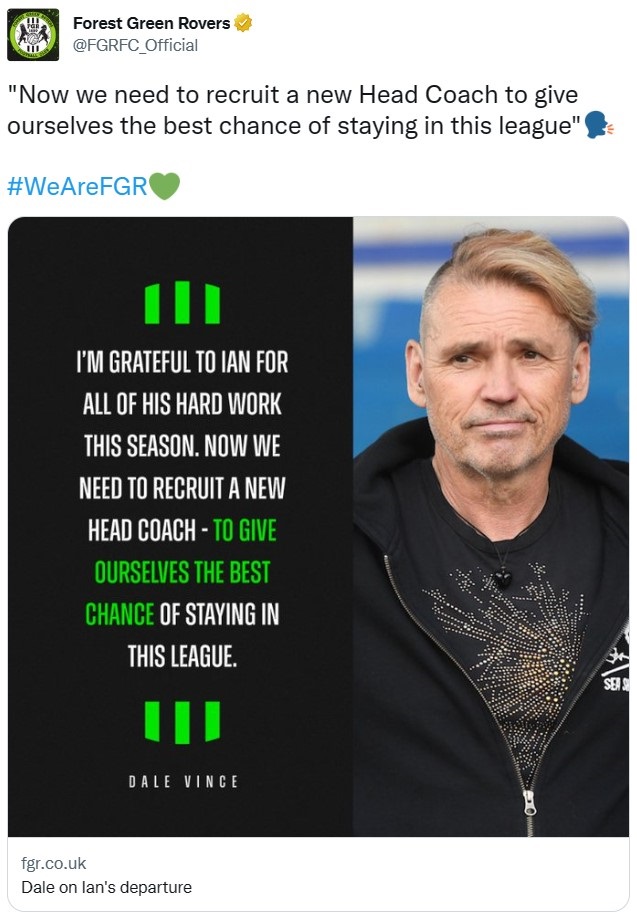 Too much red:





It didn't stop Dale making a trip to Vienna last week (OK, he went by train) to give Arnie some diamonds.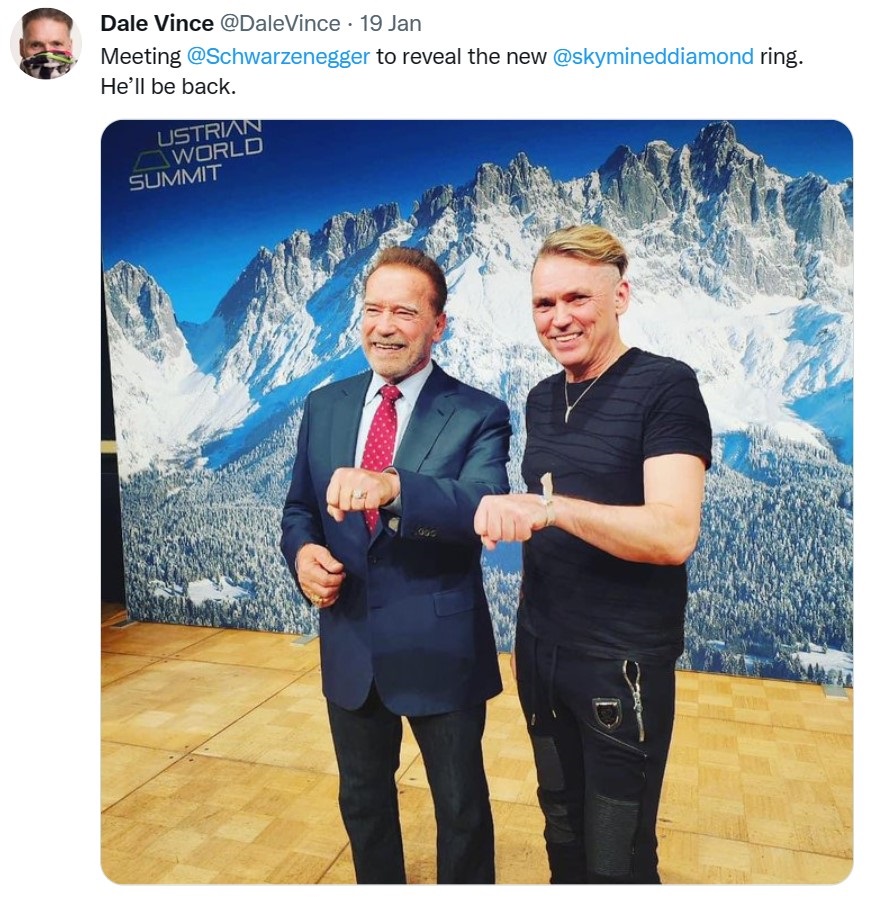 Maybe that's why FGR are bottom of the league. Distracted by bling.

Chris Taylor writes from Udine:


"Meanwhile Udinese have refound their winning ways (Samp­doria 0 Udin­ese 1) and are resp­ect­ably well above half­way in the Serie A table. I and my son-in-law will be at the Stadio Friuli on Monday night to see what they can do against Verona. Watch this space."


Alè Udin!



Happy Birthday to son Ben in Bilbao!

Wednesday 25th January


This poster went up in a Middle Street window two days ago: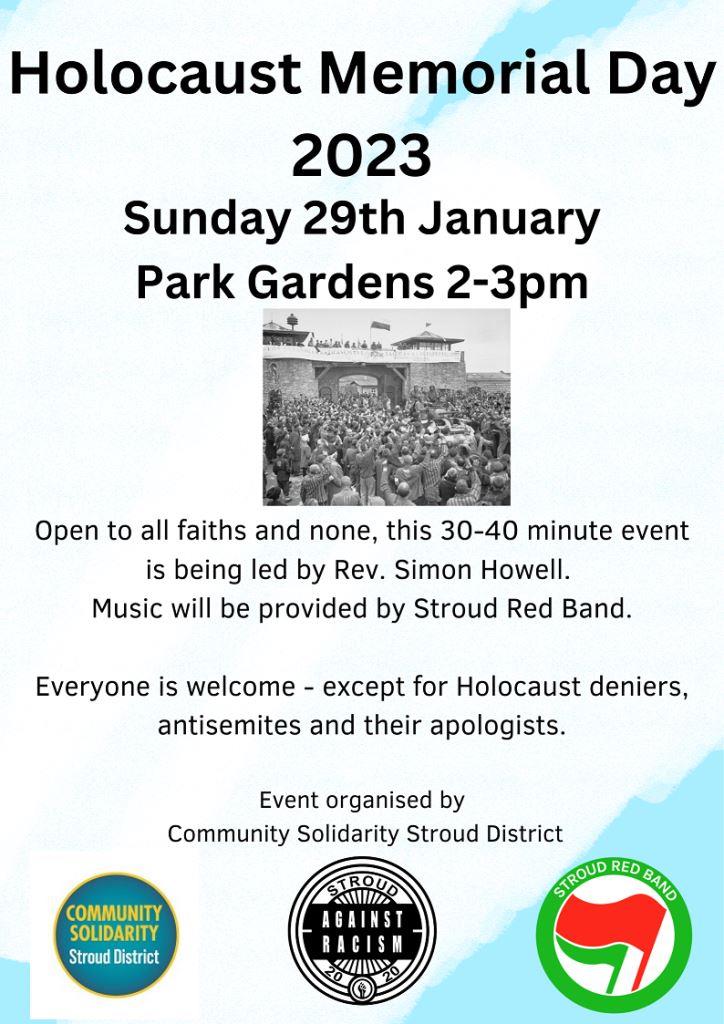 As you can see at the bottom right, the Stroud Red Band will be playing. Their web­site exp­lains:

"We are an extension of the London Big Red Band, which has been in existence since the 1980s. Like them we play music from the heritage of the labour, socialist and international solidarity movements. We play at demonstrations, marches and benefits when we can."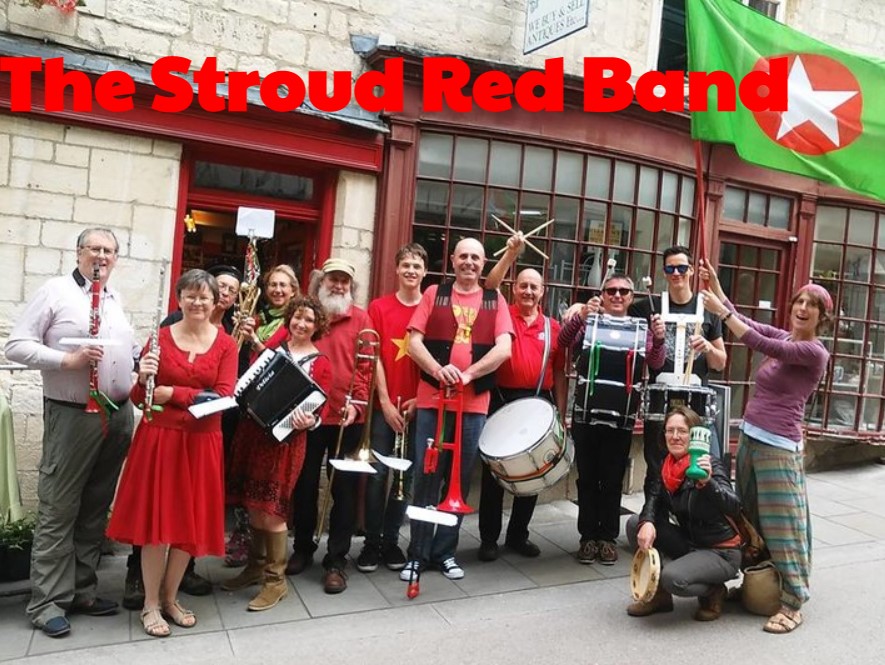 "Tunes in the repertoire: Di Shvue ('The Oath', the song of the Jewish Workers' Bund), Zog Nit Keynmol (WW2 Jewish Partisans' Song), The White Cockade (for which the words of the Red Flag were originally written), I Wish I Knew How it Would Feel to be Free, One Love ..."


Here we come, sadly, to some evidence of conflict in Stroud. I wrote in Dec­emb­er last year about opp­os­it­ion to the pedd­ling of The Light news­paper in the High Street 👉. You will have not­iced in the pos­ter at the top that cert­ain groups are not invi­ted to the mem­or­ial event on Sun­day: "Every­one is wel­come - except for Holo­caust den­iers, anti­sem­ites and their apol­og­ists". I saw on YouTube these plac­ards disp­layed by supp­ort­ers of the Stroud Red Band as they busked in town: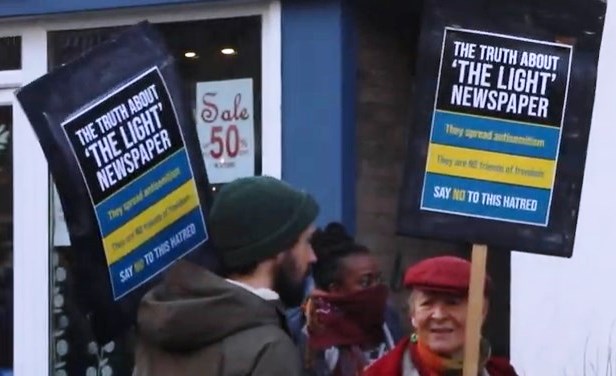 It will be deeply regrettable if the Stroud (Mis)InfoHub go large on this over the week­end (the off­ic­ial mem­or­ial day is 27th Janu­ary, this Friday). They wouldn't show up on Sun­day, would they? Please no.

To read more about this weekend's events you can visit the web­site of the Holo­caust Mem­or­ial Day Trust (HMDT), a char­ity est­abl­ished and funded by the UK Gov­ern­ment, by click­ing below:
The HMDT has a theme for 2023 of "ord­in­ary people". It's a prov­oc­at­ive thought:


"Genocide is facilitated by ordinary people. Ordinary people turn a blind eye, believe propaganda, join murderous regimes. And those who are persecuted, oppressed and murdered in genocide aren't persecuted because of crimes they've committed - they are persecuted simply because they are ordinary people who belong to a particular group (eg, Roma, Jewish community, Tutsi). Ordinary people were involved in all aspects of the Holocaust, Nazi persecution of other groups, and in the genocides that took place in Cambodia, Rwanda, Bosnia and Darfur. Ordinary people were perpetrators, bystanders, rescuers, witnesses - and ordinary people were victims."


Here is the full text of the theme document (6 pages):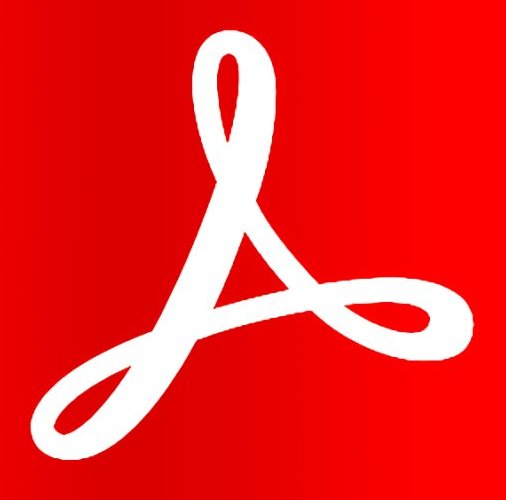 It contains a beautiful comic-strip image from the grap­hic novel "Irm­ina" by Mun­ich-based Barb­ara Yel­in, which I high­light here (click to enlarge):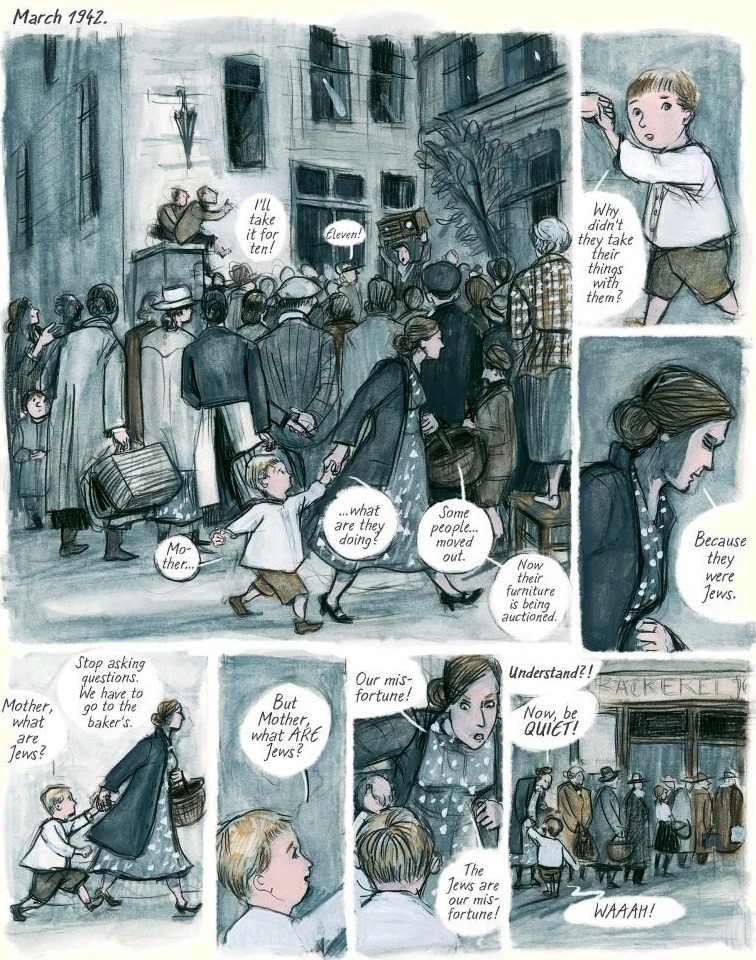 Tuesday 24th January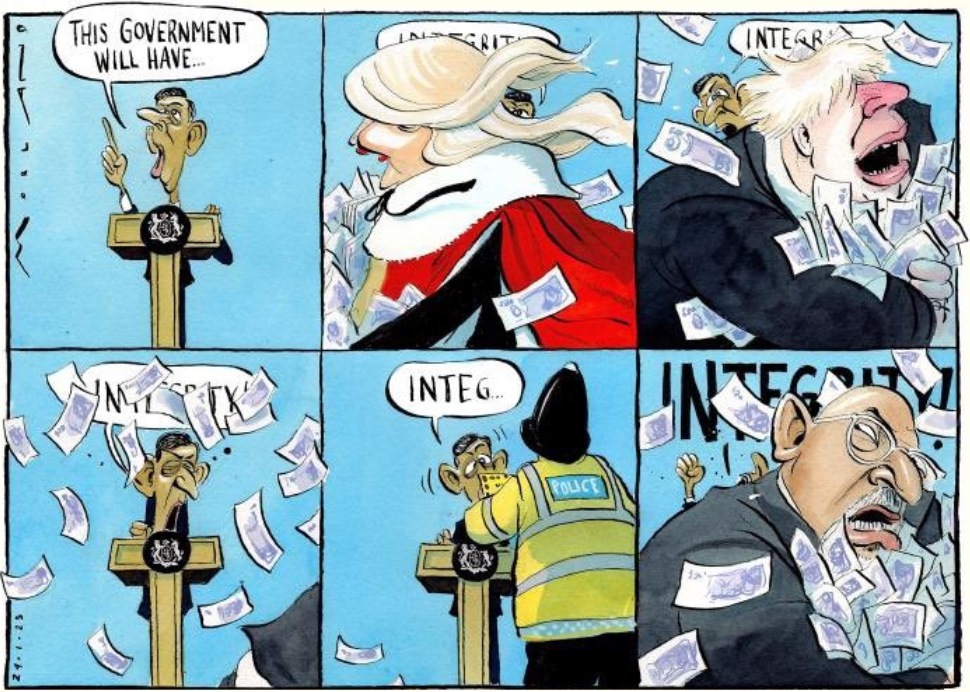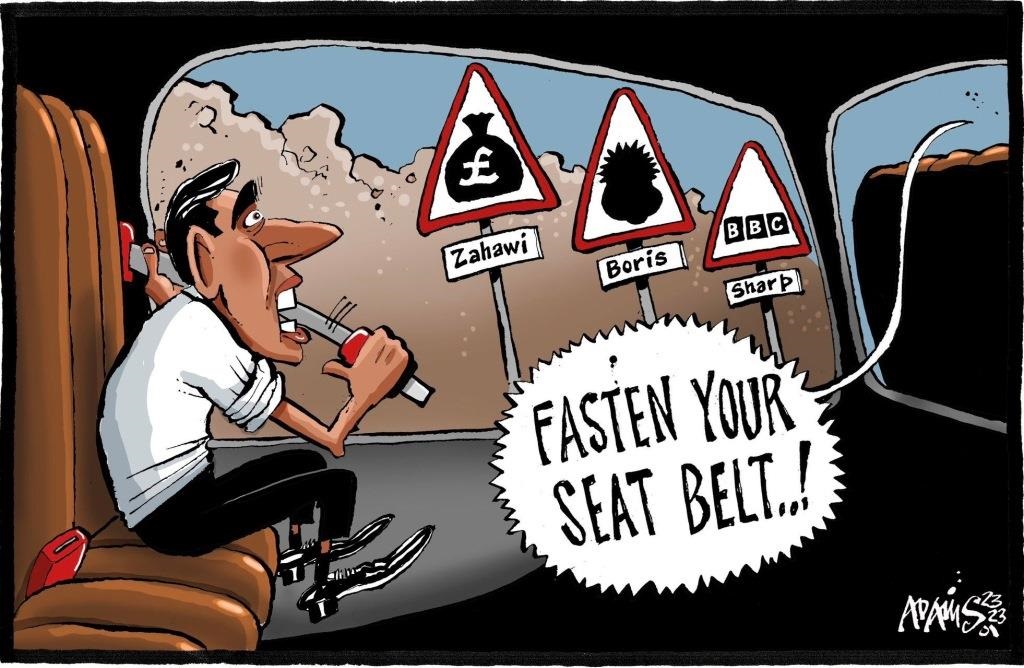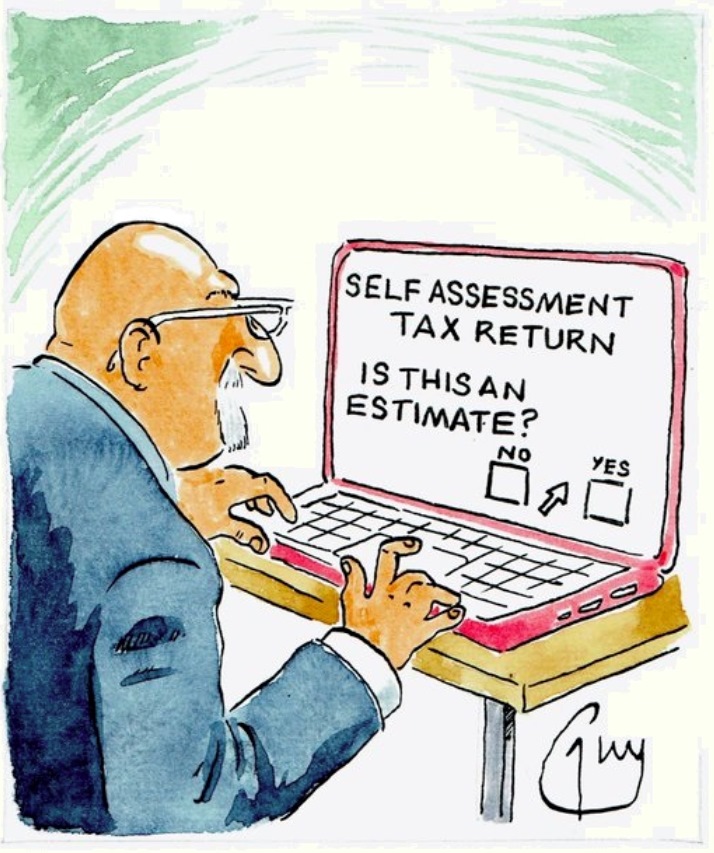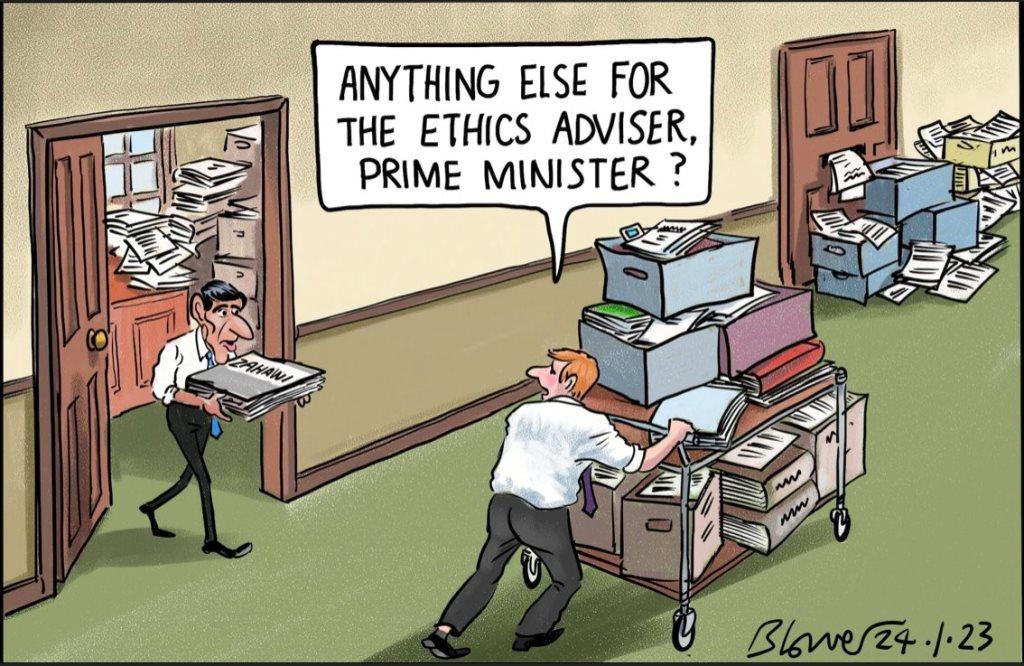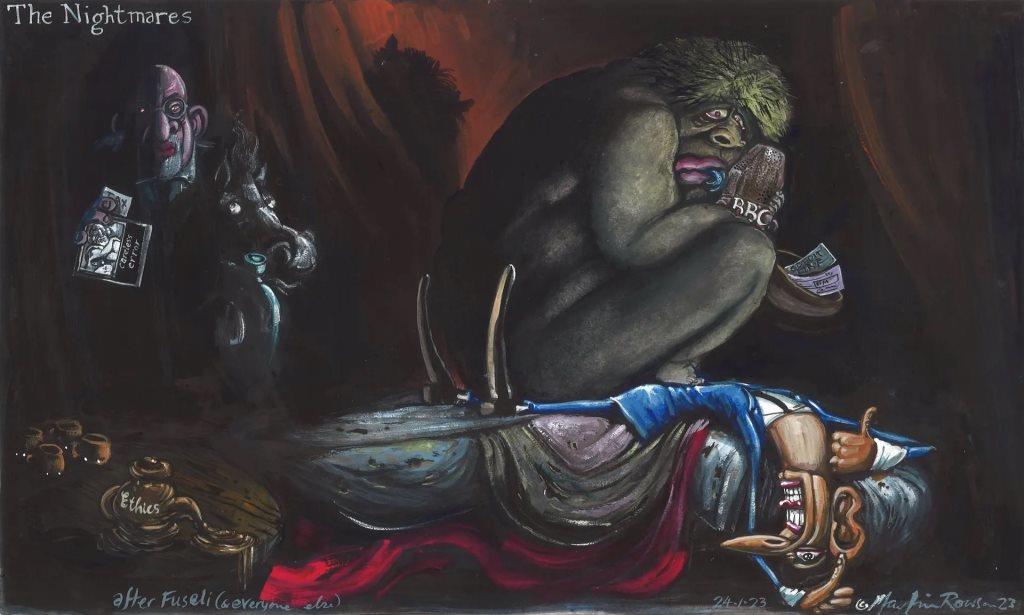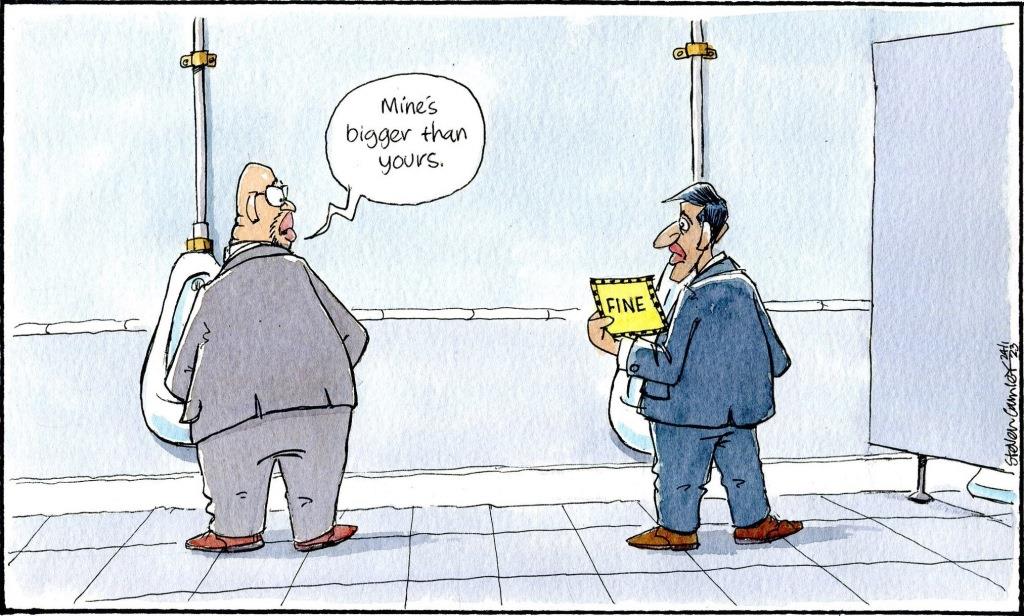 I've been trawling the international output of the pol­it­ic­al cart­oon­ists on the top­ic of Jac­inda Ard­ern's res­ign­at­ion. There has been plenty of crit­ic­ism dir­ected at her in words - jump-before-push, econ­om­ic cris­is, ris­ing viol­ence - but I can't find any from the cart­oon­ists, apart from the two below (the first rep­eat­ed from Friday), both of which are comm­ents on other world lead­ers rather than an att­ack on her. The sket­ches of her are not very flat­tering, but the joke and dis­dain are firmly aimed at the rest. Very unus­ual. Norm­ally - look at the stuff above tar­get­ting Sunak and cronies - any weak­ness, any whiff of hyp­ocr­isy, any inc­omp­et­ence is exp­osed with merc­il­ess glee. The abs­ence of such scr­ut­iny speaks pos­it­ive vol­umes about her.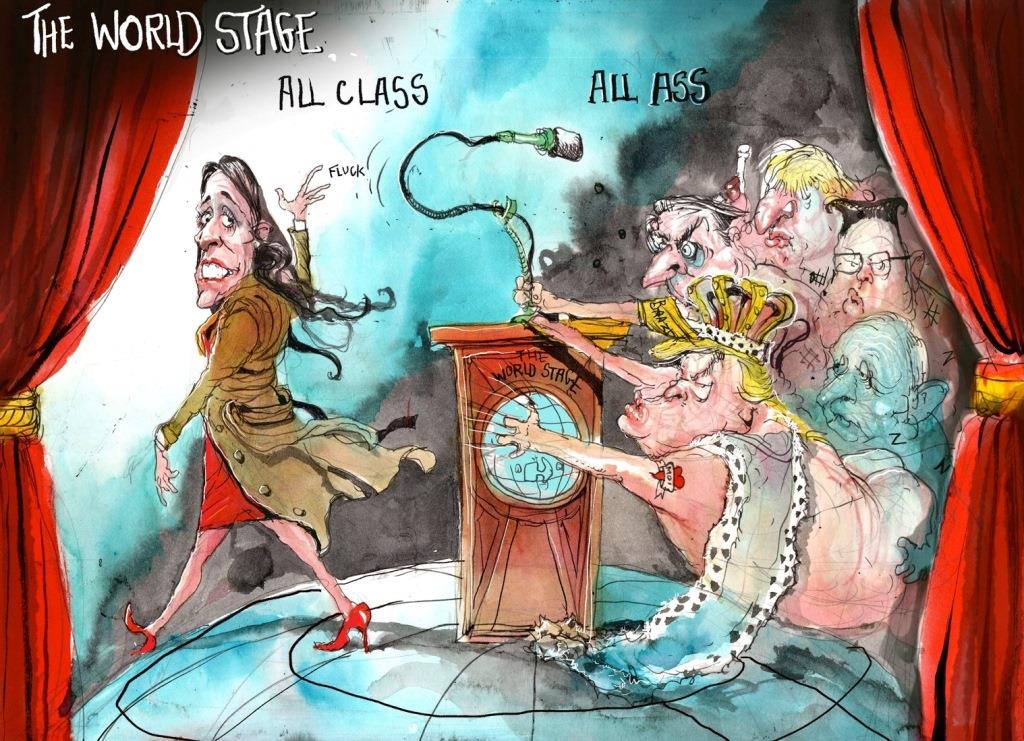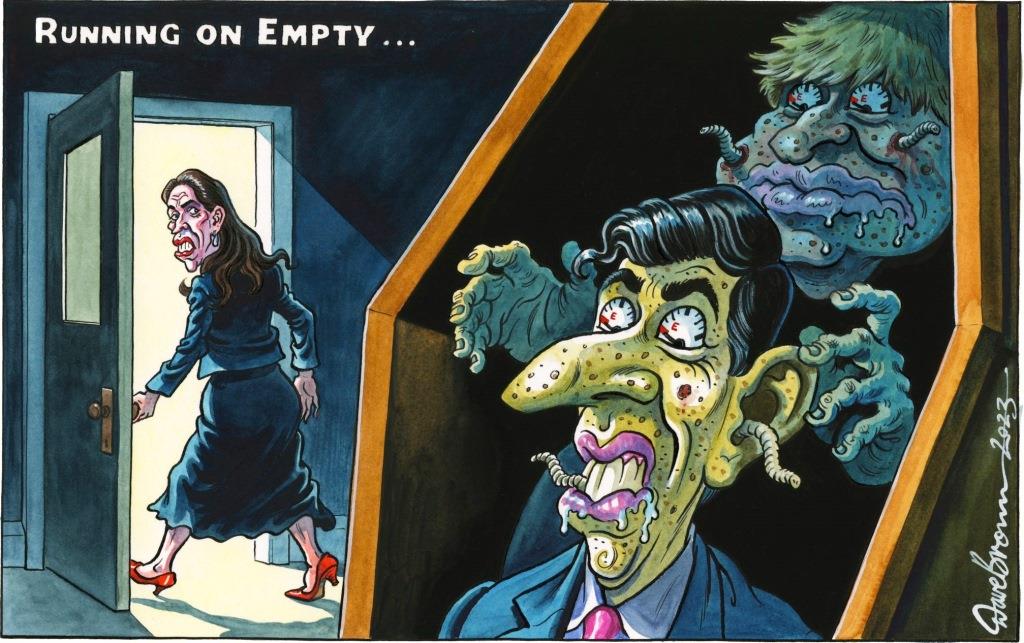 Sadly, we are left with the sleazeballs.

Sunday 22nd January


My dreams get odder every night.

This time I was an airline pilot. On my first flight from some­where in the Mid­dle East I was forced to crash land. Also on the sec­ond. Before the third - there seemed to be no move to ground me pend­ing in­vest­ig­at­ion, I was straight back into the pilot's seat - I felt obliged to give the pass­eng­ers a choice. "This is your cap­tain speak­ing. I can­not rel­iab­ly ass­ure you that you will arr­ive at your dest­in­at­ion in the nor­mal fash­ion. All of you who would pref­er to take an­oth­er flight, please feel free to leave the air­craft now." On this occ­as­ion I landed in a New York sub­urb, the nose of the 'plane nest­ling in an apart­ment be­long­ing to a large Ital­ian fam­ily tuck­ing into pasta and meat­balls. They welcomed me with a gen­er­ous portion. "Vieni, mangia!" No cas­ual­ties at any stage, no drama.

I can't begin to find an explanation.

Saturday 21st January


They don't get any better, do they? New crap every day.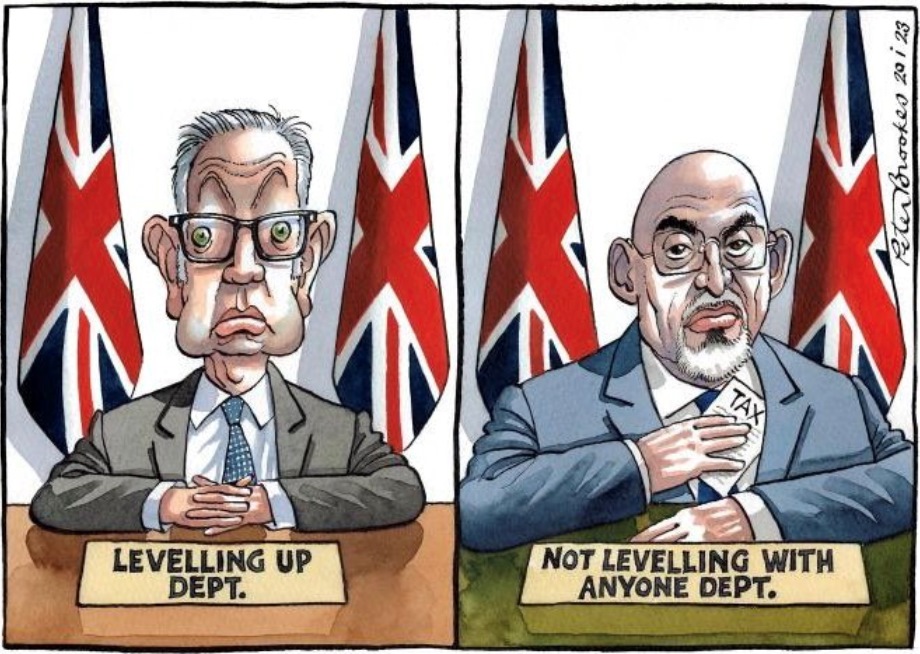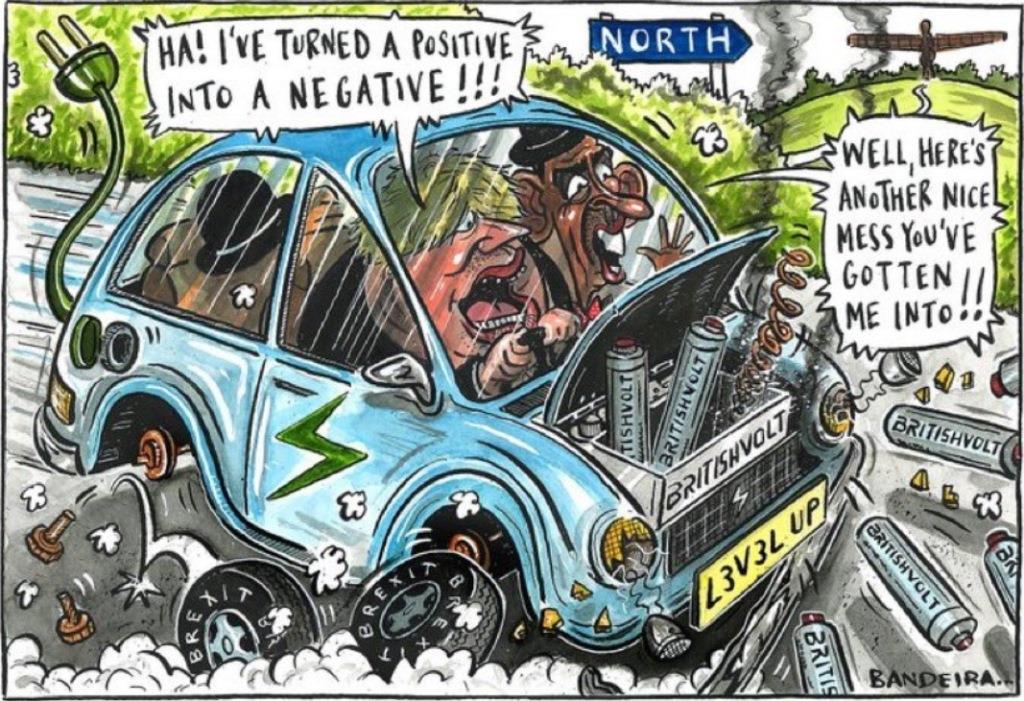 The seatbelt error is just dim, isn't it? Broad­cast a jolly level­ling-up video that shows my mist­ake, why ever not? Zahawi and tax - we expect this kind of Tory slime. The car batt­ery fiasco is, how­ever, the long-term out­come of wil­ful, syst­emic and idea­log­ic­al incom­pe­tence. Thatch­er­ite dest­ruct­ion of our mot­or-man­uf­act­ur­ing cap­ab­il­ity had al­ready left Brit­ish­volt with no nat­ion­al cust­om­ers. Given the barr­iers to trade and log­ist­ics raised by Brexit, which Eur­op­ean car maker would choose to buy from go-it-alone Blighty?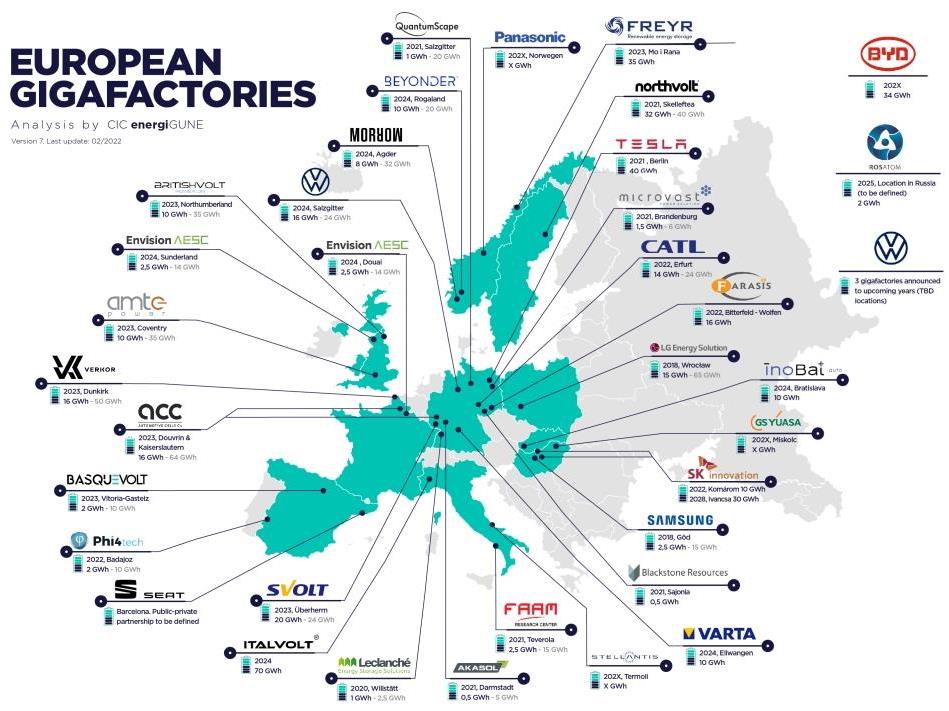 Friday 20th January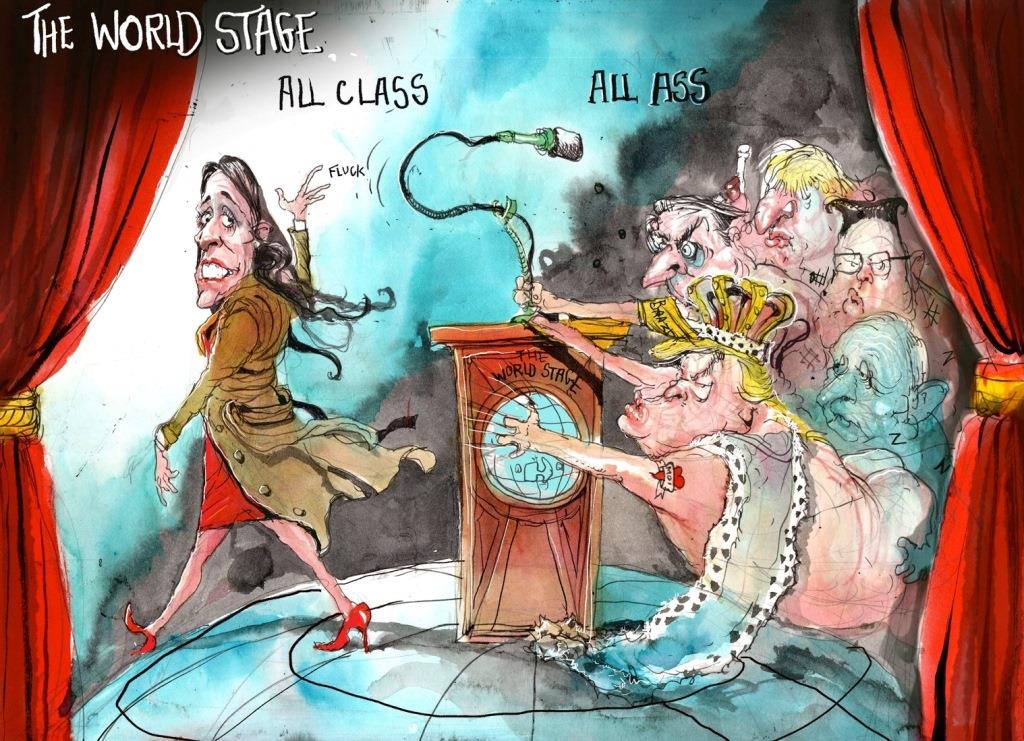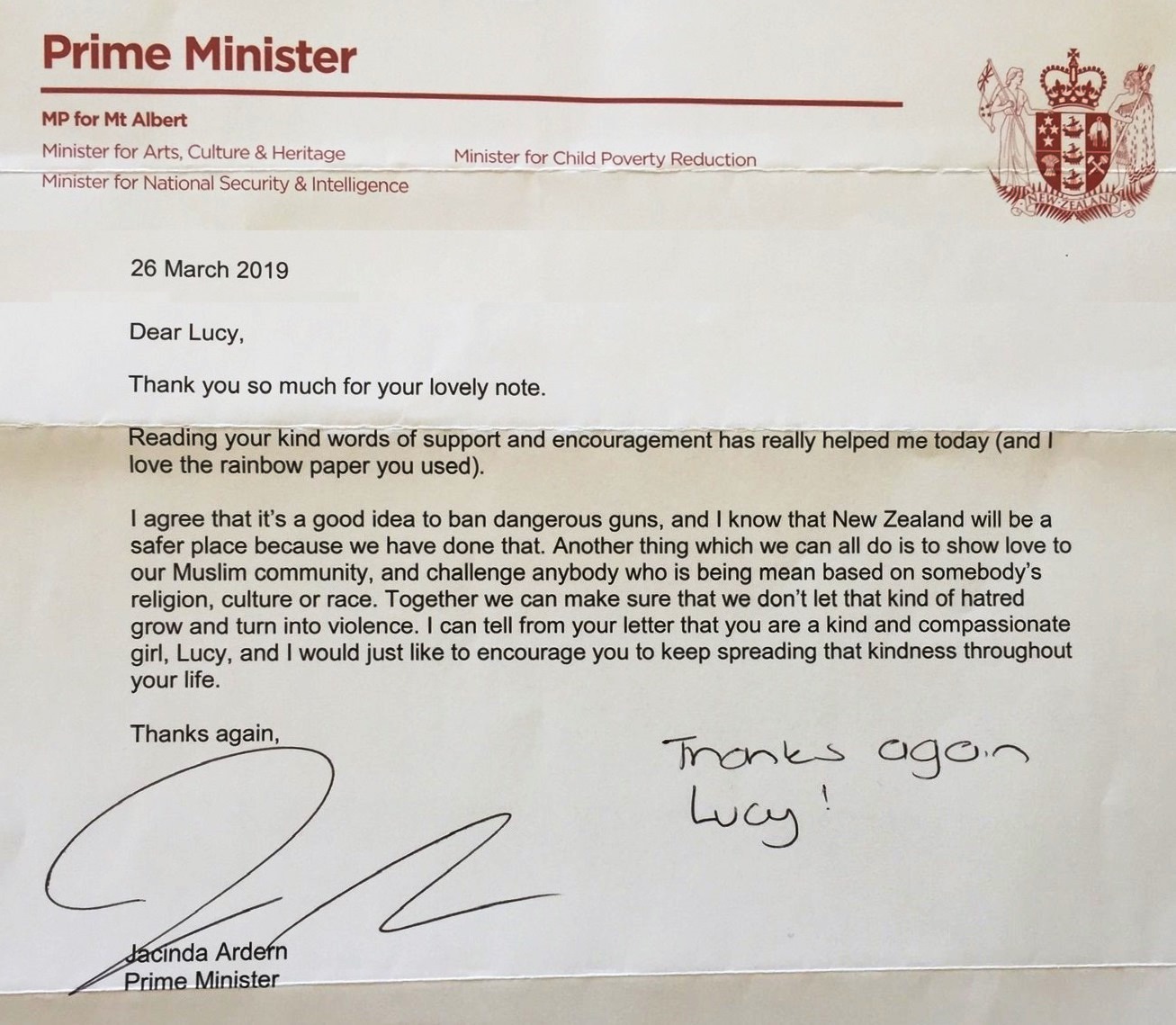 Tuesday 17th January


Absence from the blog­osphere for a few days. I've had a lurgy. Not Covid, nor 'flu, just the common cold. Still reas­on­ably deb­il­it­at­ing. Un­help­fully, I've not been able to keep awake in the day, nor manage to sleep at night - conn­ected, of course. Friends and neigh­bours have said that their dose went on for weeks. Mine's still here, but I hope it's fading now.

Grandson Marlie put up with me for the weekend. I barely went out. Fort­un­ate­ly his cur­rent pass­ion is suit­able for in­door act­iv­ity: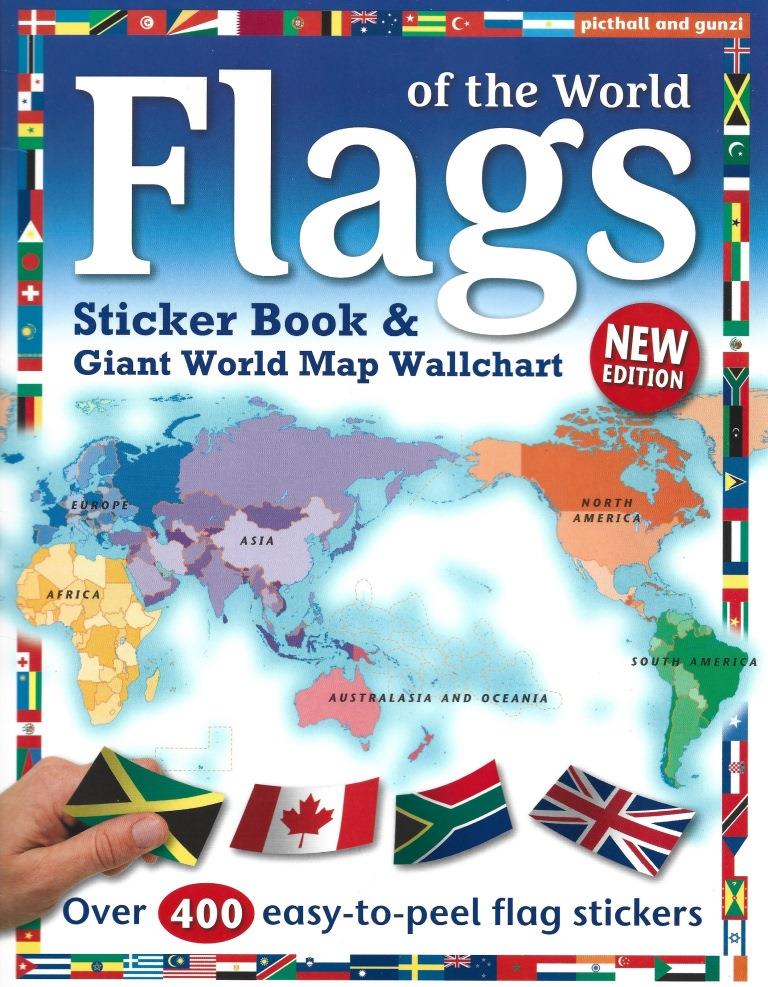 He came up with all kinds of "extension" activities: guess-the-flag, draw-the-flag, how-many-flags-do-you-know-with-stripes. There's a whole lot of story and detail behind each flag, like date adopted or who invented it. What's behind the selection of colours and shapes?

Half of Marlie's ancestry is Jamaican: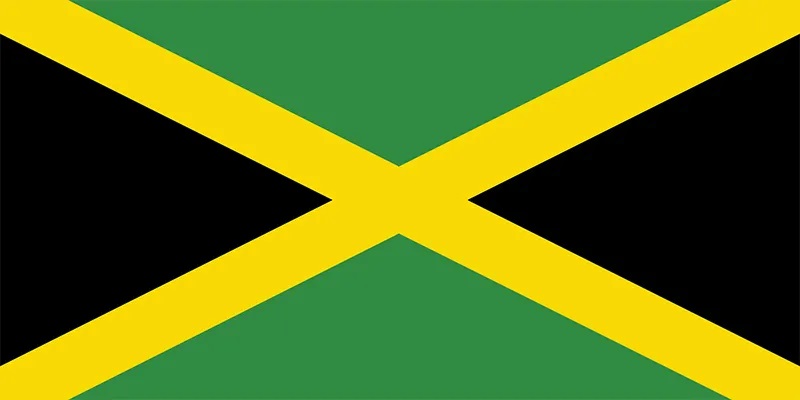 The flag was adopted on 6 August 1962, Jamaican Independence Day. 60 years to celebrate this summer. There'll be a party, won't there? The 1962 int­erpr­et­at­ion of the col­ours - "hard­ships there are but the land is green and the sun shin­eth" - was up­dat­ed in 1996 after a rev­iew init­iated by then prime min­ist­er P. J. Pat­ter­son to (cour­tesy of Wiki­ped­ia): "Black rep­res­ent­ing the strength and creat­iv­ity of the people which has all­owed them to ov­er­come diff­ic­ul­ties, gold for the wealth of the coun­try and the gol­den sun­shine, and green for the lush veg­et­at­ion of the island, as well as hope."

I thought I'd got Marlie with one question, but he knew the answer! It is curr­ent­ly the only nat­ion­al flag that does not cont­ain a shade of the colours red, white, or blue. Hmmm, shade of white?

Here's a quiz question for you, the answer to which is contained in previous pages of this blog. What are the only two national flags that display the country's map?

Friday 13th January


At the Goodwill evening before Christmas Stroud Dist­rict Tog­eth­er with Ref­ug­ees (SDTwR) ran a stall in Lans­down Hall. Vis­it­ors were inv­ited to write a mess­age of sup­port to ref­ug­ees and hang it on a tree. Nine­ty-one people did so. Here are two pict­ures, the first in the hall, the second after the tree was moved to the Christ­mas tree fest­ival in the par­ish church of St. Lawr­ence (click to enlarge):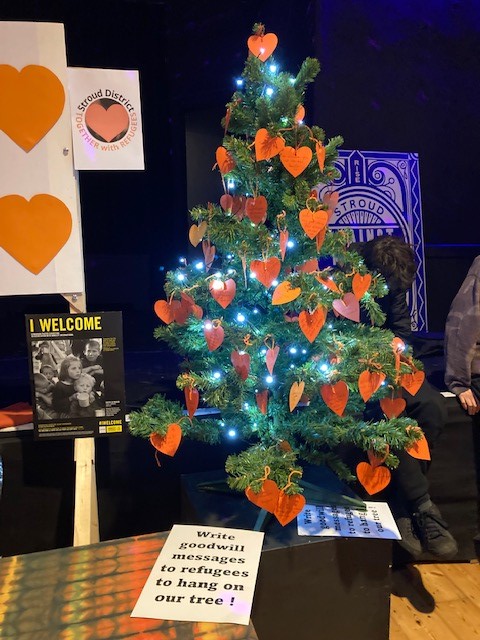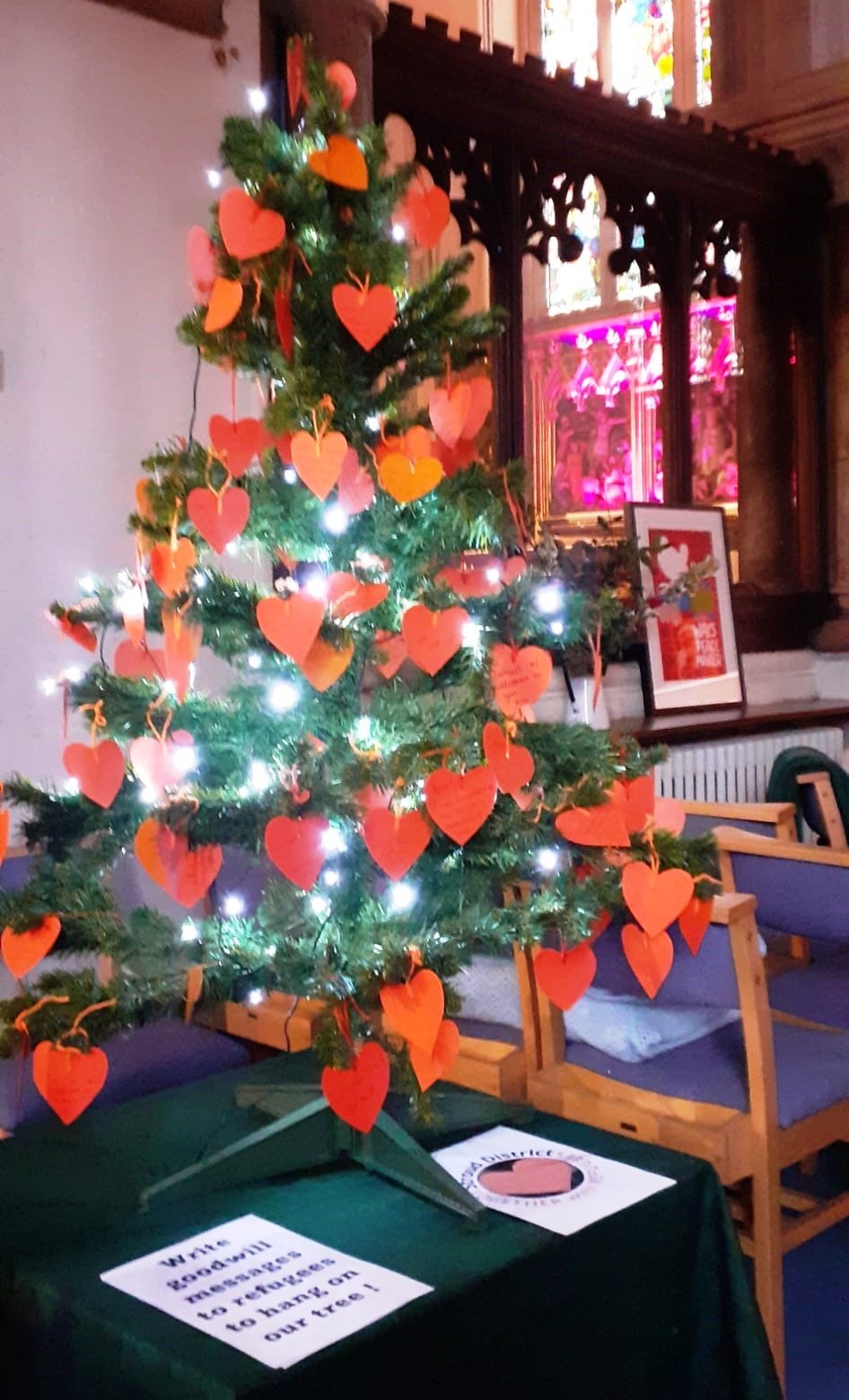 Jude Emmet of SDTwR has recently drawn this to the att­ent­ion of Stroud Cons­erv­at­ive MP Siob­han Bail­lie:

Dear Siobhan,





Firstly, may I wish you and your family a happy new year.





At the Goodwill Evening held in Stroud on 2nd December, our group Stroud District Together with Refugees (SDTWR) displayed a Christmas Tree and invited passers by and shoppers to write a message of welcome to refugees and asylum seekers who have overcome appalling hardship and difficulties to reach what ought to be the safety of this country. We set up our stall and tree in the Lansdown Hall and waited to see what the reaction would be from Stroud residents. We were there for about two hours.





During that time, just about everyone we approached wanted to write a message, and we were heartened to see that every single message was a positive message of welcome. By the end of our time, 91 messages were hung on the tree and we would like to share them with you (below).





I hope you will celebrate with us the kindness and outpouring of love that the messages show. We are proud that Stroud is so solidly supportive of the refugees and asylum seekers who arrive on our shores. We therefore urge you to commit to working towards safe routes to reduce the need for anyone to make these perilous journeys.





Yours sincerely,





Jude Emmet

(Stroud District Together with Refugees)






These are the messages that were hung on the tree:





1. Welcome to England.   2. Welcome to Stroud. Hope you feel safe and happy xx.   3. You are so welcome here; I hope you settle in well x.   4. Welcome to everyone who needs a home!   5. Assume good will / Judge others by the content of their character.   6. You are so welcome here in Stroud.   7. Dear refugees, wherever you come from you are welcome here.   8. I hope you find warmth and kindness.   9. You are welcome here.   10. Refugees always welcome here!   11. Welcome to Stroud💖.   12. Welcome to everyone seeking sanctuary in Glos!   13. Wishing you love and peace.   14. My heart goes out to you all, much love xxx   15.   Warm welcome, may you always feel at home. We need you xx.   16. Welcome all. The people of this country are not the government.   17. You have been through so much - we are here to welcome you and support you.   18. We are all migrants💖!   19. We welcome refugees.   20. Welcome! Wishing you a warm and wel­com­ing time💖.   21. We'll enjoy a colourful Stroud with contributions from lots of different backgrounds.   22. Hope you feel happy soon.   23. Rest in peace in Stroud.   24. Thinking of you all💖.   25. You are all WELCOME here x.   26. I love and I will look after you.   27. You are so loved x.   28. Thinking of you all with love and welcome arms.   29. Welcome and good luck!   30. Welcome in Gloucestershire!   31. Refugees, we don't care where you're from everyone is welcome here!   32. Love💖.   33. The warmest of welcomes to you xxx.   34. Make yourselves a home here!   35. A warm Stroud welcome to you all x.   36. Welcome home💖love💖.   37. Hello, you are safe here.   38. Welcome! We hope you enjoy your Christmas in Stroud.   39. You are welcome everywhere, be brave.   40. Thinking of you for a better 2023, welcome.   41. We welcome you with love and warmth xxx.   42. Love knows no borders / everyone always welcome x.   43. Our very best wishes to all refugees.   44. You're welcome to stay.   45. Welcome to Stroud x.   46. Welcome.   47. Hope Hope Hope and Love.   48. Warm wishes and welcome.   49. Good you are here. Welcome. May the new year bring better times.   50. Come on in💖!   51. We welcome you all into our hearts xx.   52. The warmest of warm welcomes to one and all with love x.   53. Refugees one and all we welcome you! We welcome your experience, skills, culture, language. You enrich us all!   54. Welcome to Stroud xx.   55. Love and peace this Christmas in Stroud🌠.   56. May Stroud be a place of safety, welcome and support.   57. Wishing all new lives filled with peace and happiness!   58. You are very welcome here - as a child of refugees I hope you feel safe and at home.   59. Welcome.   60. Welcome to this part of the world.   61. Welcome/Hello! A warm welcome to you. I truly wish you a bright day and joyous future. You are always welcome.   62. Welcome to the UK! Hope you find all the things you need here! Welcome.   63. Welcome to the UK, hope you like it.   64. Welcome and safe haven here.   65. We are all migrants. We welcome you with love x💖.   66. May all the luck and kindness come to you.   67. Hope you find safety and peace here.   68. Wishing you good luck and success.   69. Welcome to Gloucestershire. I hope you're made to feel welcome.   70. We love you xxx/💖💖💖.   71. Hope you find peace here. Lots of love xx.   72. We welcome refugees here!   73. May the rainbow appear for your thoughts x.   74. We wish you well you are welcome here!   75. Welcome to Stroud!💖Hope you will find peace and happiness xx.   76. All are welcome because we are all one - karibuni!   77. My arms are open to welcome you xx.   78. You are safe, you are welcome, you are loved.   79. Welcome to Stroud.   80. Goodwill to all refugees.   81. So many people welcome you here💖.   82. You are welcome to Stroud. I hope you stay safe and happy this Christmas.   83. Merry Christmas! Sending lots of love and care xxx.   84. Welcome to UK - may you find a good life here!   85. Season's greetings and welcome to all.   86. You enrich our country / peace and love x.   87.🌞There is always beauty ar­ound us🌱.   88. Welcome refugees, we love you all.   89. Refugees, good luck. I hope you find peace and happiness.   90. Selamat Datang [Mal­ay/­Ind­on­es­ian: "Wel­come"].   91. You are so loved.


Stroudies, be proud. Refugees, welcome.

Thursday 12th January


RIP Jeff Beck (24 June 1944 - 10 January 2023, aged 78). Rem­emb­er the Yard­birds? Guit­ar­ist's guit­ar­ist: made an art of dis­tort­ion, picked with his thumb, mas­ter of the wham­my bar (aka groov­ing stick), tone to die for (and now he has). Here he is with anot­her old diva perf­orm­ing one of my fav­our­ite songs, Cur­tis May­field's 1965 "People Get Ready":






People get ready, there's a train a-coming
You don't need no baggage, you just get on board
All you need is faith to hear the diesels humming
You don't need no ticket, you just thank the Lord

People get ready for the train to Jordan
Picking up passengers from coast to coast
Faith is the key, open the doors and board them
There's room for all among those loved the most

Now there ain't no room for the hopeless sinner
Who would hurt all mankind just to save his own
Have pity on those whose chances are thinner
'Cause there's no hiding place from the Kingdom's throne

So people get ready for the train a-coming
You don't need no baggage, you just get on board
All you need is faith to hear the diesels humming
You don't need no ticket, you just thank the Lord



It's always the "diesels" that get me.

Wednesday 11th January


Eleven days into the New Year and I'm going to abandon my self-imposed moratorium on cartoons. I admit defeat. A few have leaked into the blog in the last days, but here's a whole lot more. The cartoonists say it for me, save me wrestling with prose - and most of all make me laugh. That's a gift I can't spurn, a smile rather than despair or anger.

I wonder at how the English press busies itself with the really important issues. Harry, do we need to know? (With apol­og­ies to my Irish corr­esp­ond­ent, who comm­ented: "Good to see that the blog is a Harry-free zone.")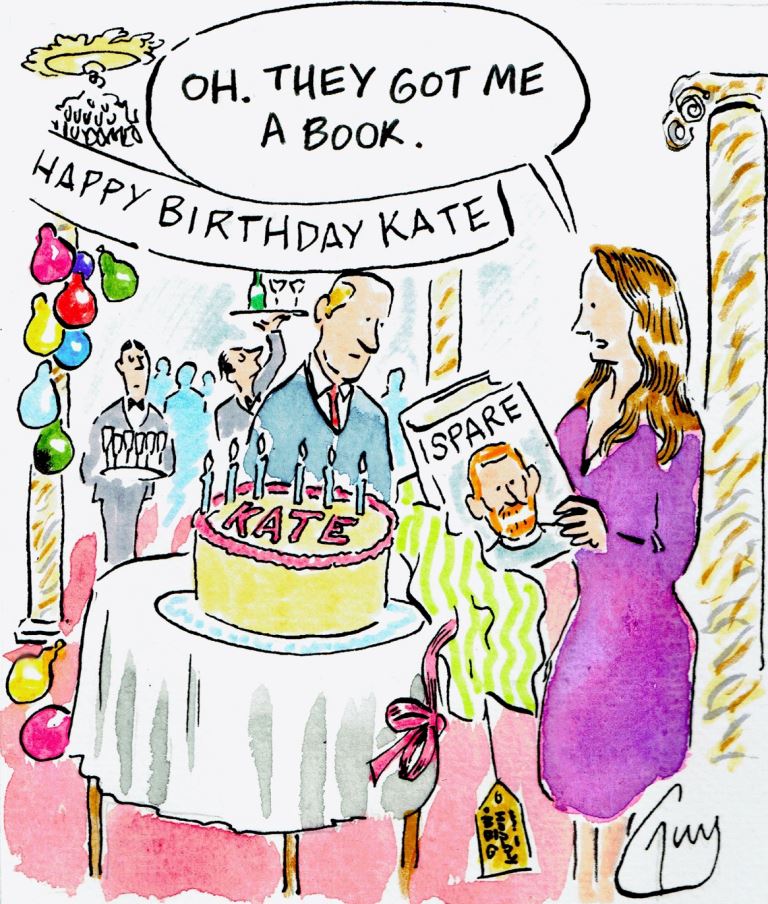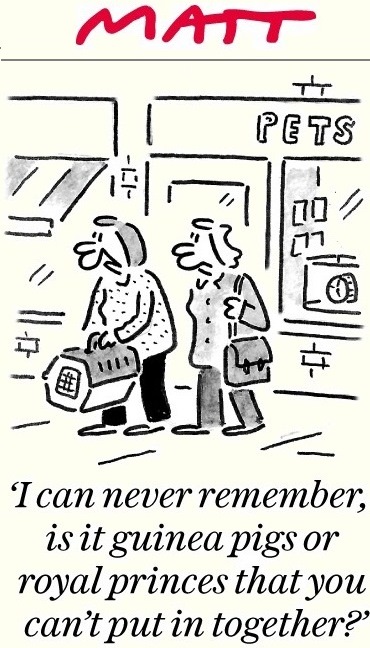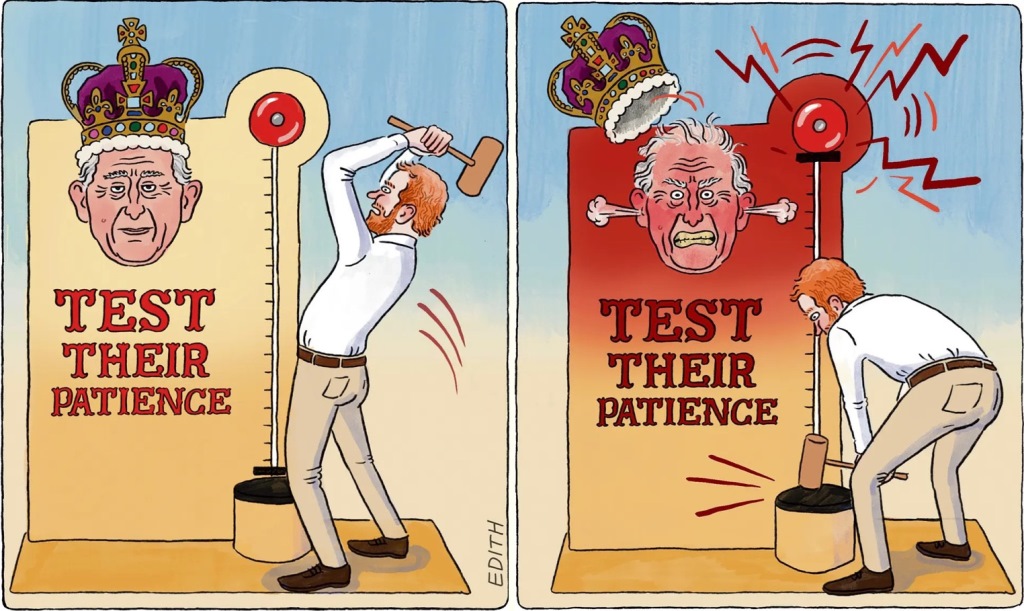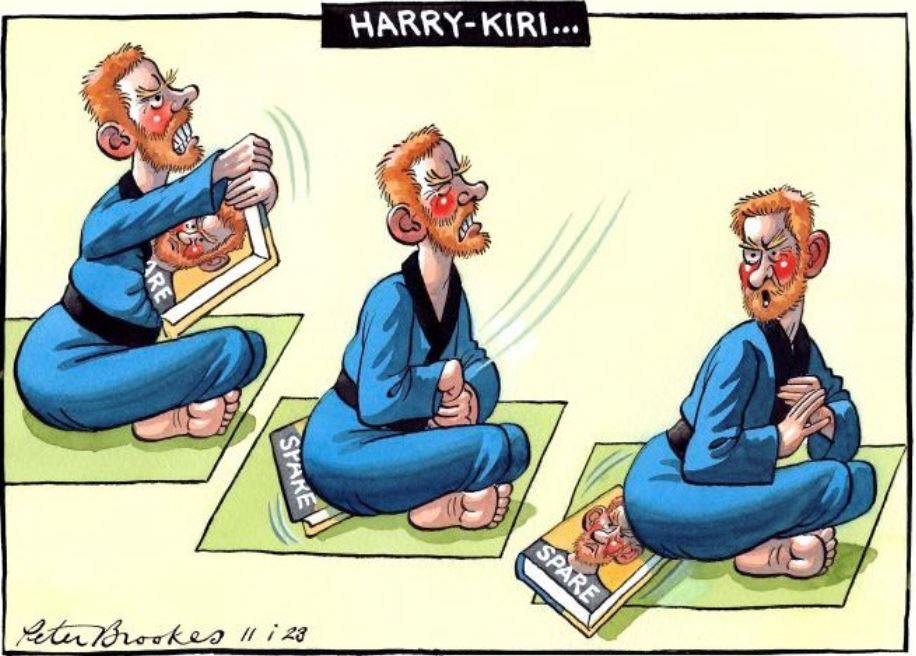 Then this charade bled across into ... the Virgin Orbit fiasco ... and threats to Sunak's authority: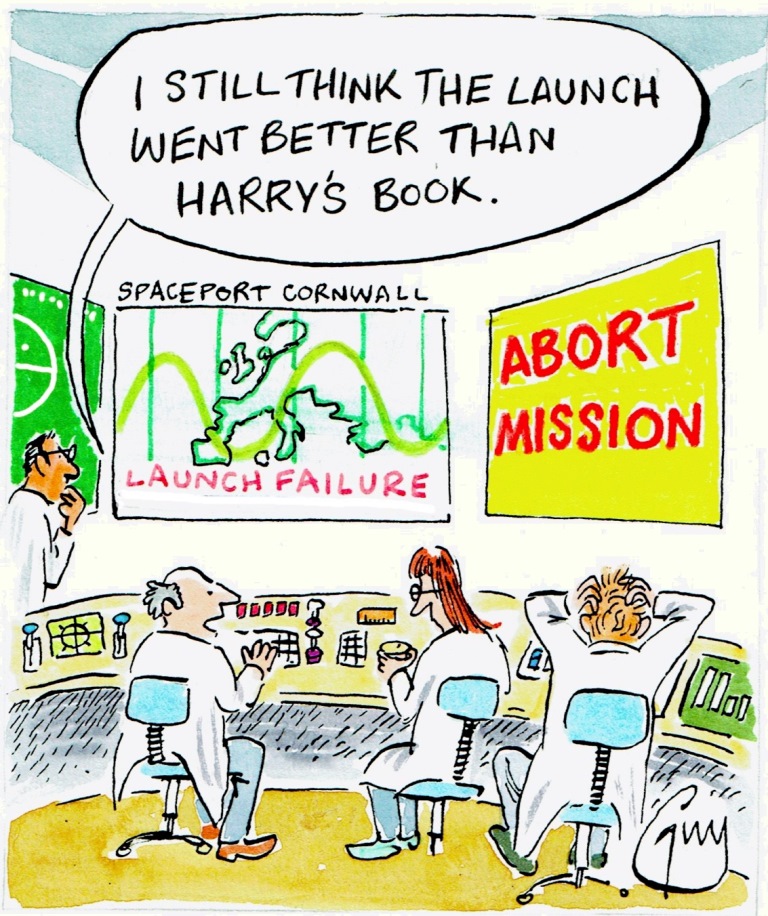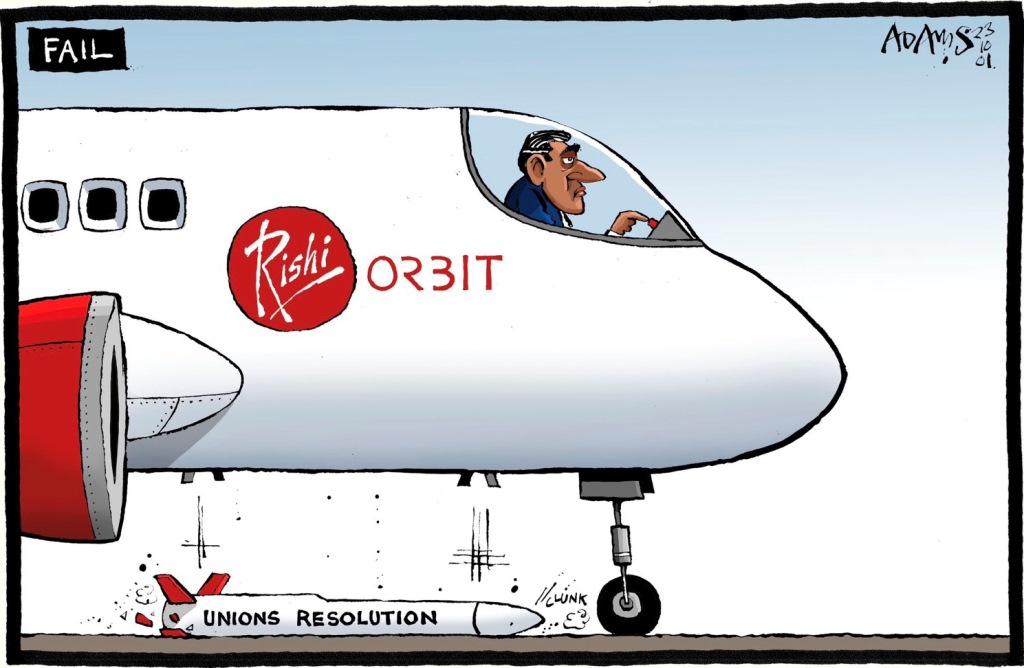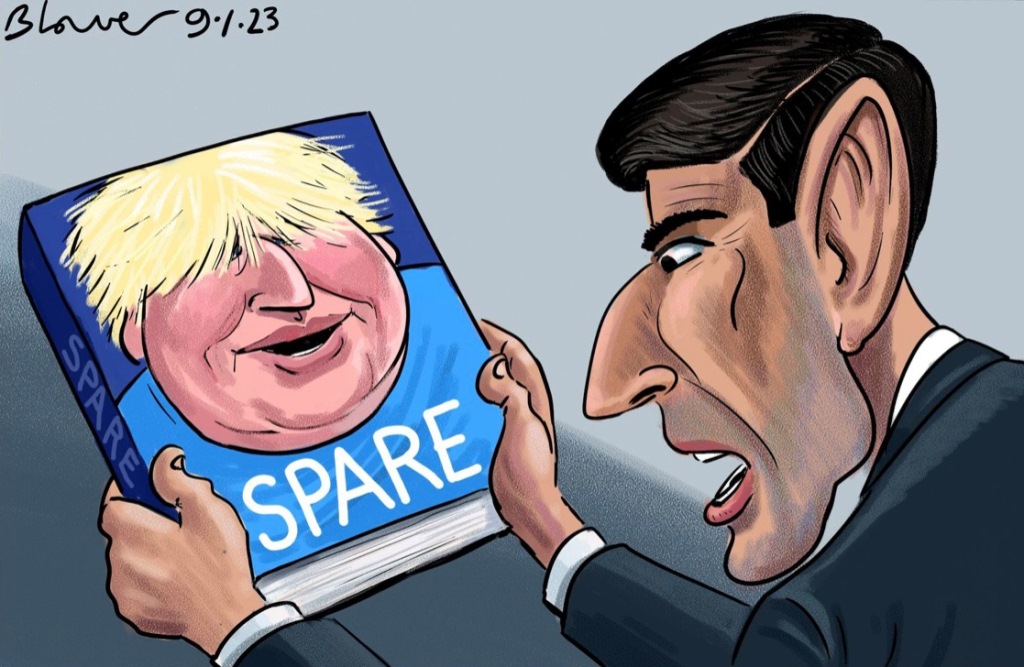 Meanwhile, elsewhere in the world the usual nutters are at large: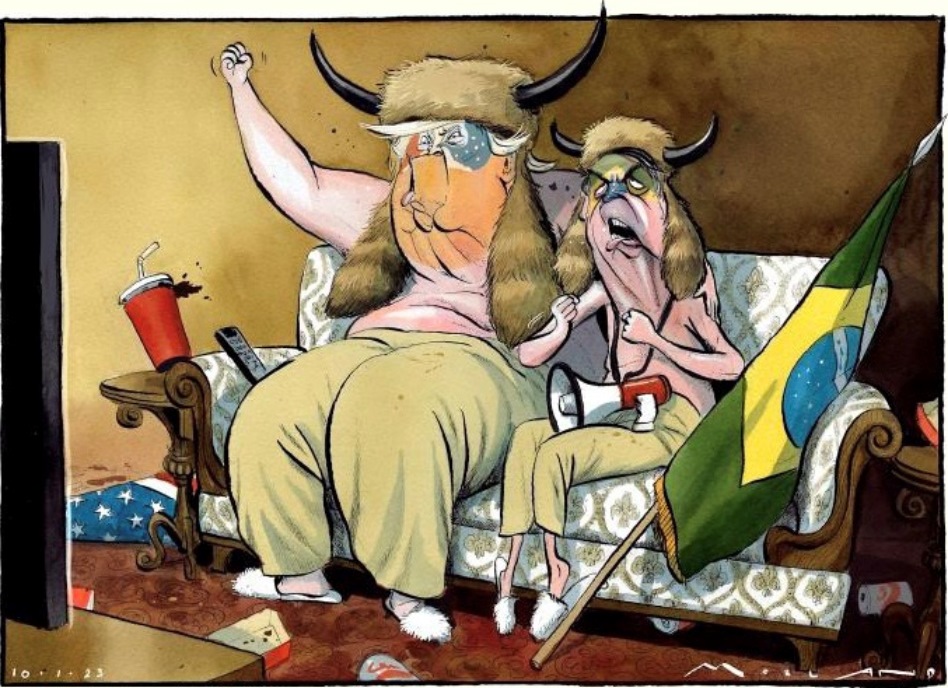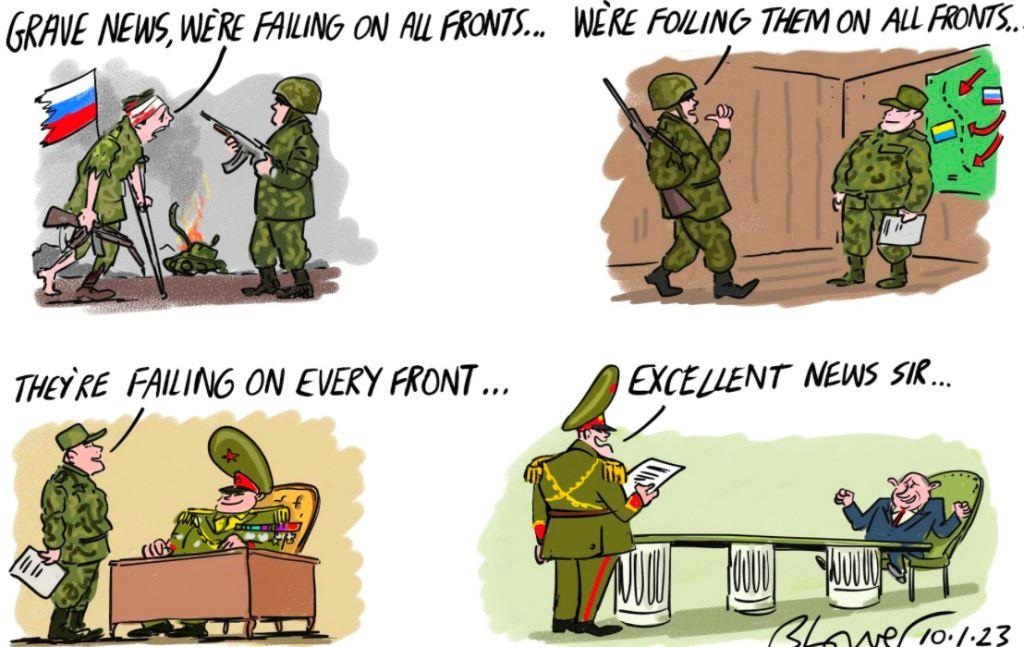 Tuesday 10th January


I haven't written about Covid for a long time, exc­ept in a hist­or­ic­al sense. But it's still around. We're "liv­ing with" the virus at a diff­erent level. Anec­dot­al Middle Street int­ell­ig­ence tells me that it's rife in Glouc­est­er Roy­al and even in Stroud Hosp­ital round the corner. After a lunch with 20-odd people from our walk­ing group last Sat­ur­day, a friend tested pos­it­ive, so others have done a lat­er­al flow. I've got a mild cough and cold, but have had a neg­at­ive result two morn­ings in a row. It's a while since I repor­ted one of these:





Looking back through this blog, I counted occ­urr­ences of the words "cor­on­av­ir­us" and "Cov­id". In reverse order:




2023 - 3 (we've only just started);

2022 - 80; 

2021 - 380; 

2020 - 315 (I began the blog on 22nd March).


Consider this ONS report of causes of death in England published at the end of November last year: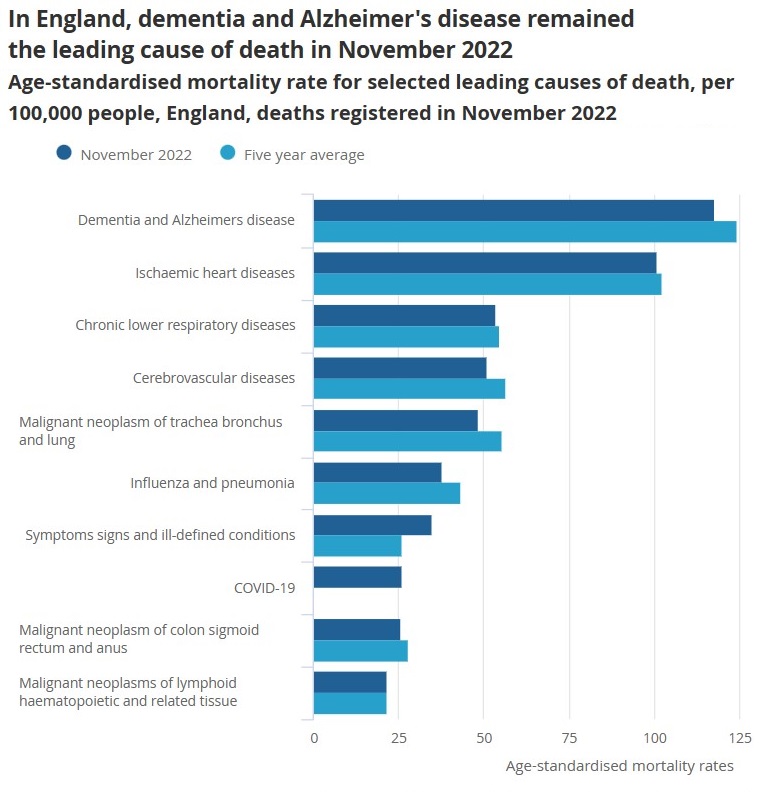 Covid is in eighth place. Other conditions demand greater concern.

Contrast the above with three charts - not a like-for-like comp­ar­is­on, but ind­ic­at­ive of the change - I posted two years ago in the first two weeks of Jan­uary 2021: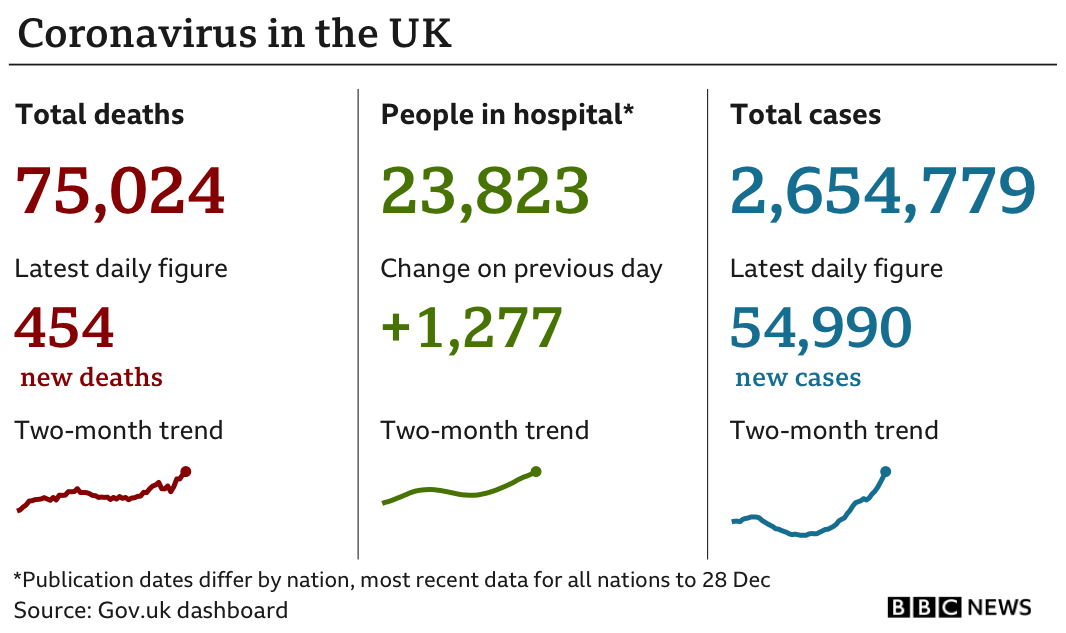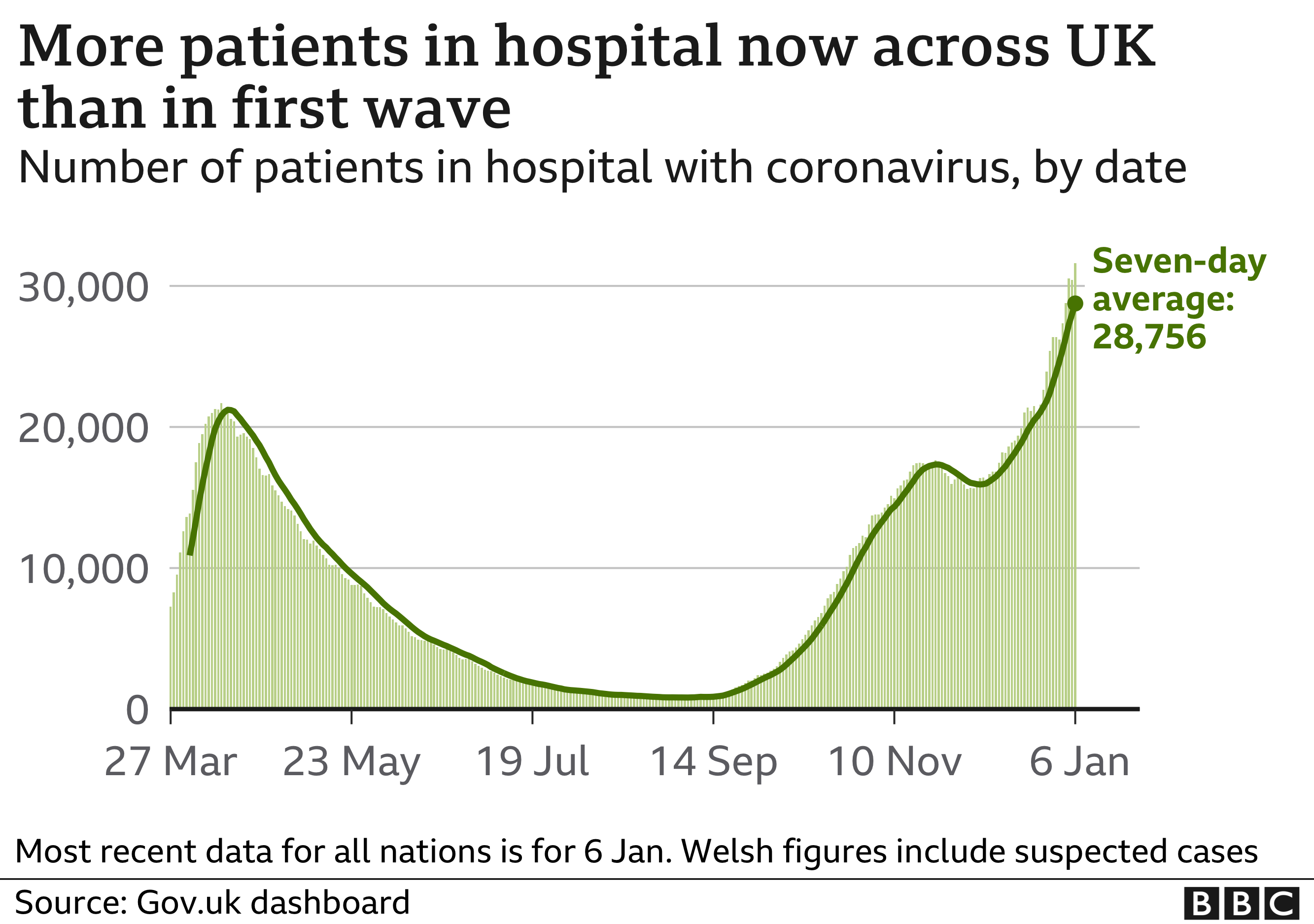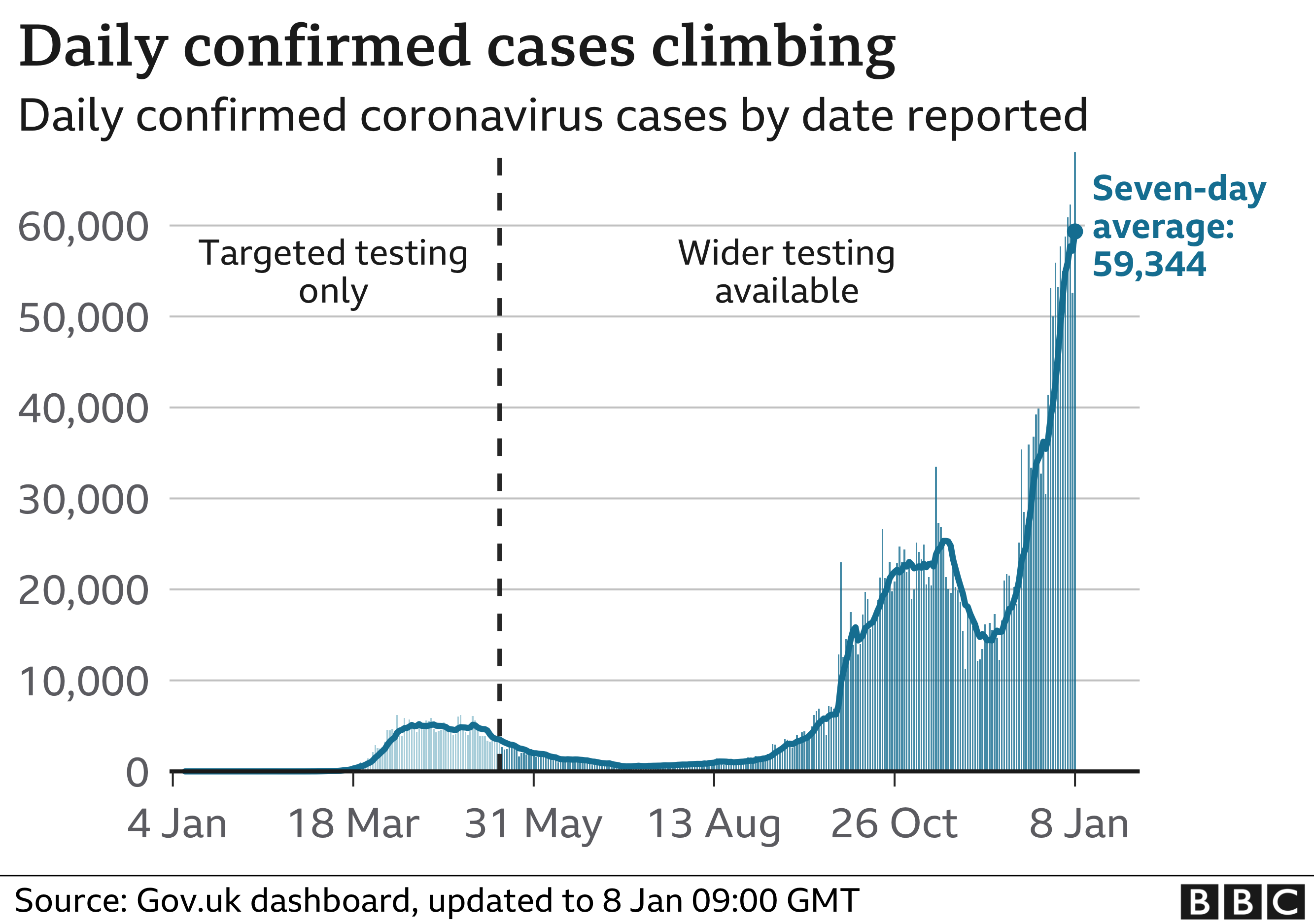 At the time we were in deep shock. Very frightened. I didn't know how we'd get out of it all. Except the vacc­ines were just about to roll out. NHS staff were work­ing round the clock at con­sid­er­able pers­on­al risk. Bar­on­ess Mone had made £mill­ions out of PPE cont­racts. Check out the red num­bers below: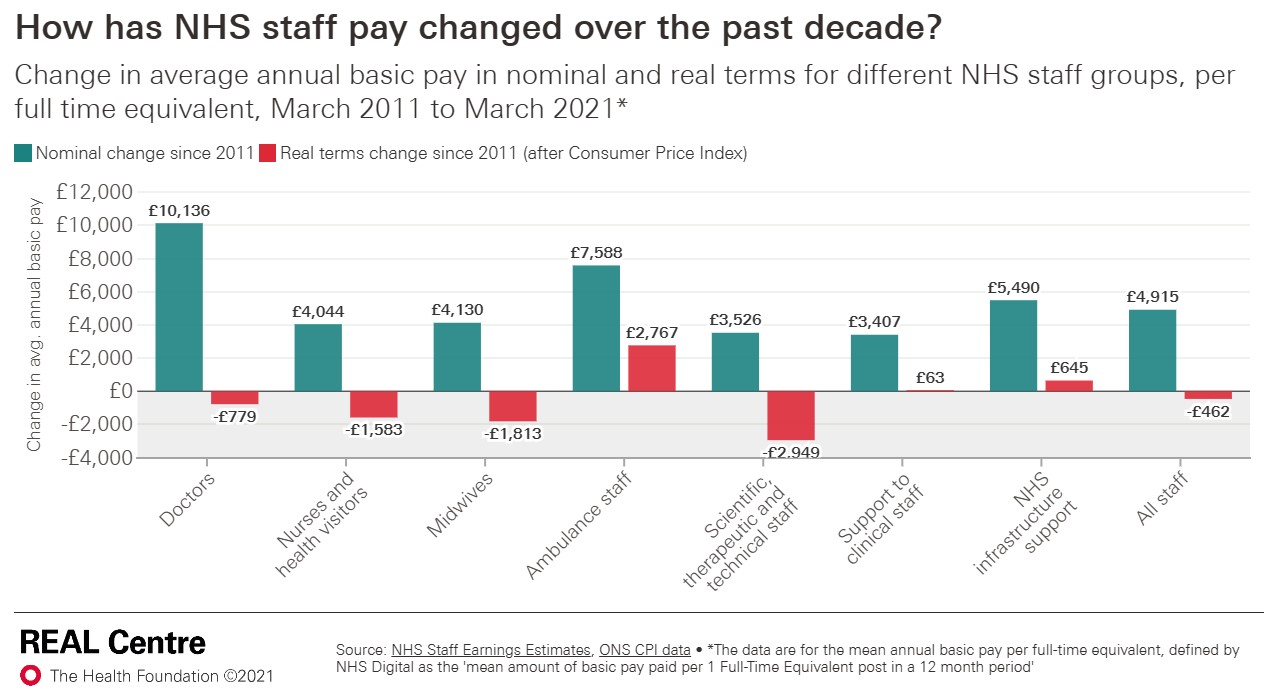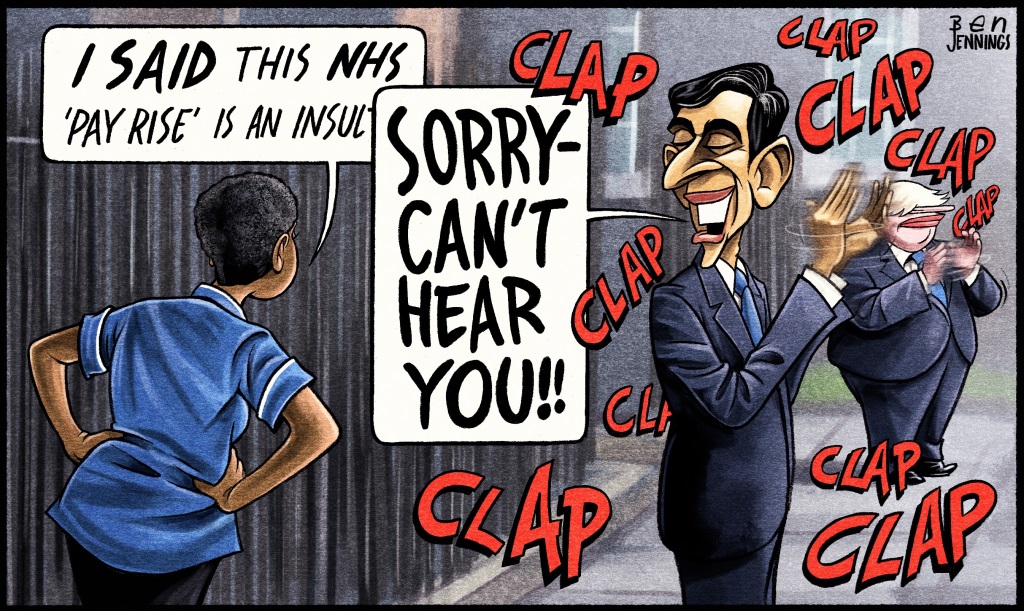 Monday 9th January


Some minor reflections on social media, specifically rel­at­ed to the deb­ate about the Twit­ter-mon­ol­ith-owned-by-evil-Musk versus Mast­od­on-or-any-oth­er-eg­al­it­ar­ian-de­cent­ral­ised-un­corp­or­ate-plat­form.

I'm enjoying Mastodon. I like being part of the right-on san­dal-wear­ing free-open-source-soft­ware comm­unity. How­ever, as I've expl­ained before, I've kept my Twitter account open for one pas­sive reas­on alone - so that I can hear from or about people I don't like, horse's-mouth from the other side. I only act­ive­ly "toot" on Mast­odon.

For example, I learnt yesterday that you can buy this cal­end­ar, for £13.95 via Amazon. Don't worry, I def­in­ite­ly won't be mak­ing a pur­ch­ase. Far too much for a relatively small joke, and Amazon? ... no thanks.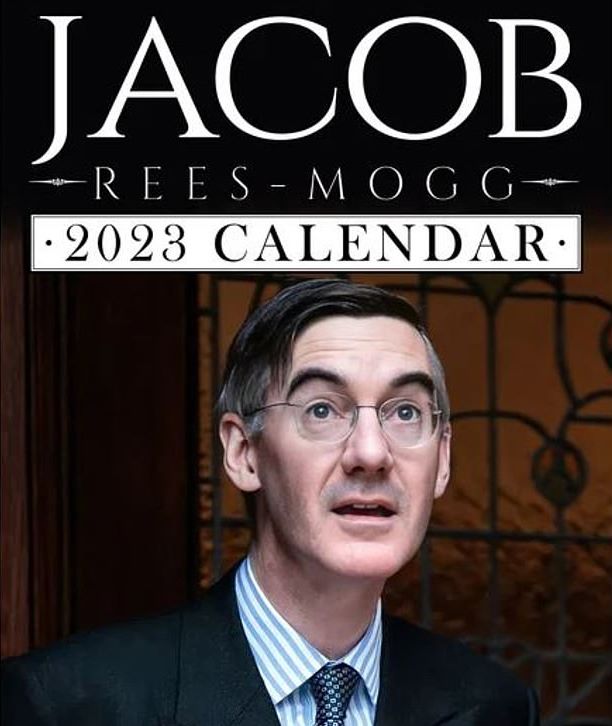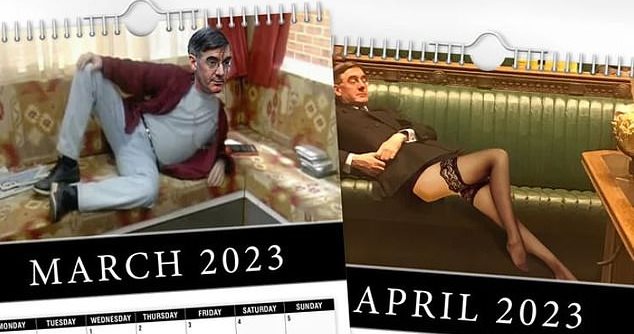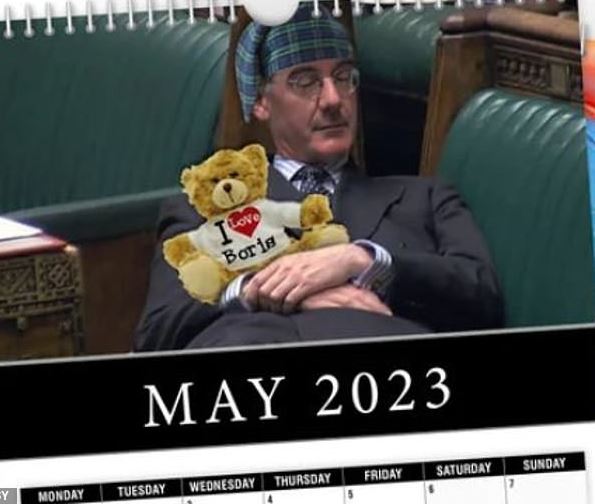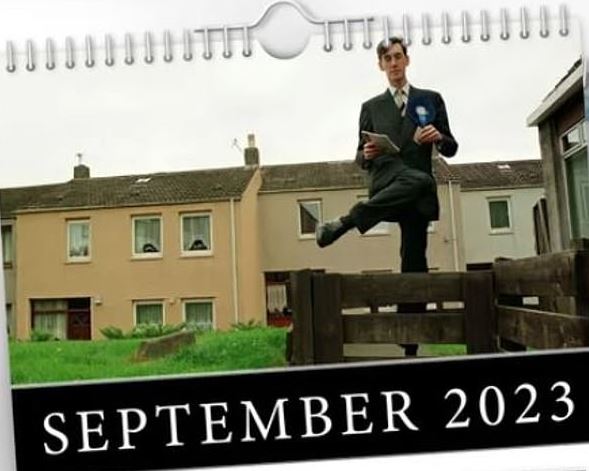 It was JR-M himself who alerted me to its pub­lic­at­ion through his Twit­ter acc­ount:





Beyond this, I benefit from direct unfiltered access to his views. Here's a selection tweeted in the last two months:
The ripe fruit of Brexit is ready to be harvested.
Boris Johnson was a great Prime Minister who ought to have stayed longer.
Removing EU law and igniting the deregulatory bonfire is the route to economic growth.
Dealing with the ECHR's overreach must be part of the solution.
Merely an anti-motorist, cash raising ploy:

Hmmm. You're right, maybe I really don't need Twitter at all.

Sunday 8th January


I'm allowing myself one cartoon today: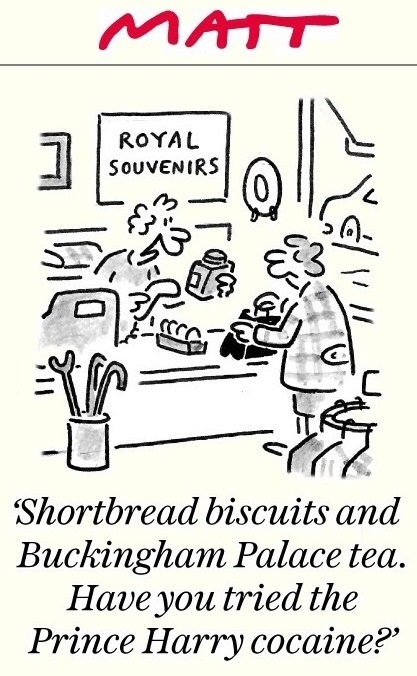 There's a reason for this choice which you can't possibly guess.

Before going to university in 1970 I spent six months at a "prep" Ivy-League-feeder school - Phillips Exeter Academy, Exeter, New Hampshire, USA - as an exchange student. Not an altogether comfortable experience, as I bridled at its smug sense of privilege, and shouldn't really have still been at school (you can read my account here: 👉). However, I made some great friends. One was a lovely young man, kind, caring, laughing, easy to be with. He had a dramatic mane of thick long black hair, a heavy black stubble on his chin. His name was Harry Cocaine.

Why "Cocaine"? His antecedents had migrated from Greece in the early 20th century. The story goes that the immigration official on Ellis Island looked at the family name Kokkinis, thought it wouldn't do and renamed them Cocaine. He must have had a good laugh with his wife when he went home.

Harry has since reclaimed the original name. In 2003 he - I don't know where he was in the intervening years, apart from studying at Amherst - joined the family firm founded in 1924, Table Talk Pies ("America's Favourite Pie"), in Worc­est­er, Mass­achu­setts. Yes, we shared the same home town name. He became chief exec­ut­ive in 2015 when his father Christo died. The company website suggests that he is still in charge.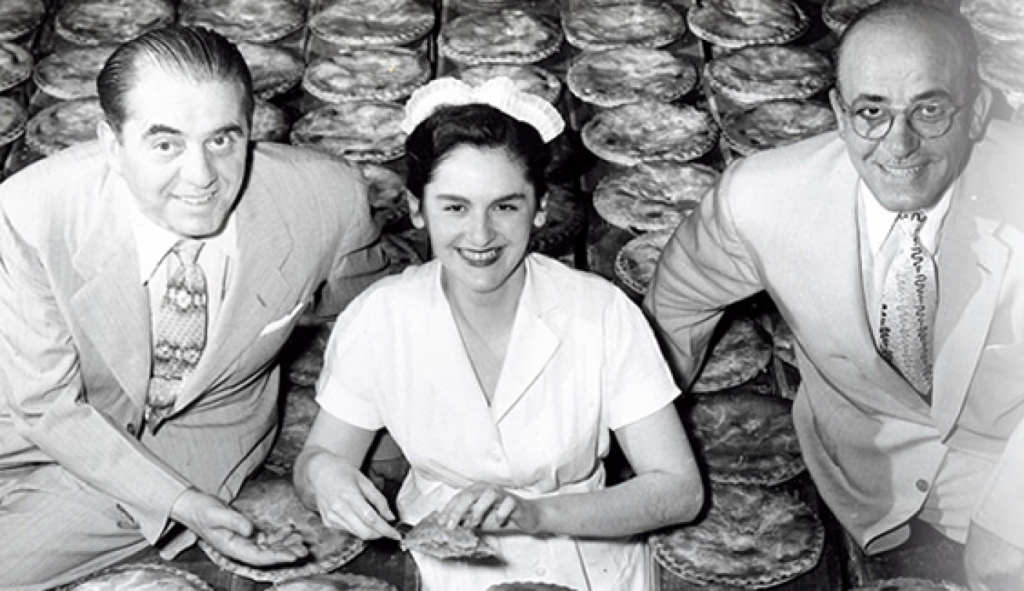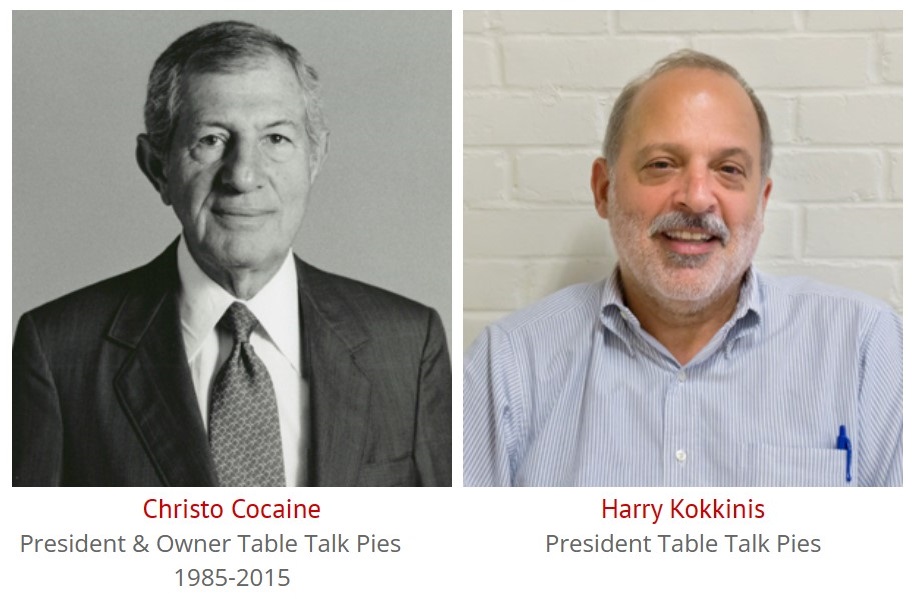 Here's a Boston TV station report on a new factory they opened up:




I envy him - or I would have done in the 1970s when I was lorry-mad - the fleet of semi-trucks:




So here's the plan. Harry and I said an emotional farewell 52 years ago and haven't been in touch since. I have no idea why I failed to maintain such a friendship. Tomorrow I'm going to send him an email at Table Talk and follow that up with a 'phone call a couple of days later. There's a risk. If I manage to connect, will he still remember me? What the hell, I'm going to try anyway. Nothing ventured ...

Saturday 7th January


No great desire to comment on anything today. Harry? Oh, pur-lease. Nope, it's time for the first Mapfest of 2023. In descending order, from serious to silly, informative to downright foolish. Click/tap to enlarge any.



Alasdair Rae - Map of global population density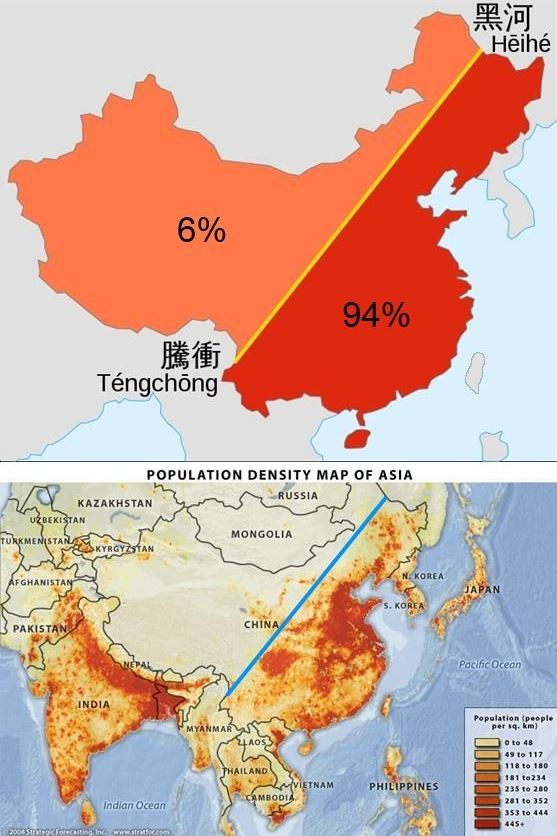 Strategic Forecasting Inc - Population density map of China and Asia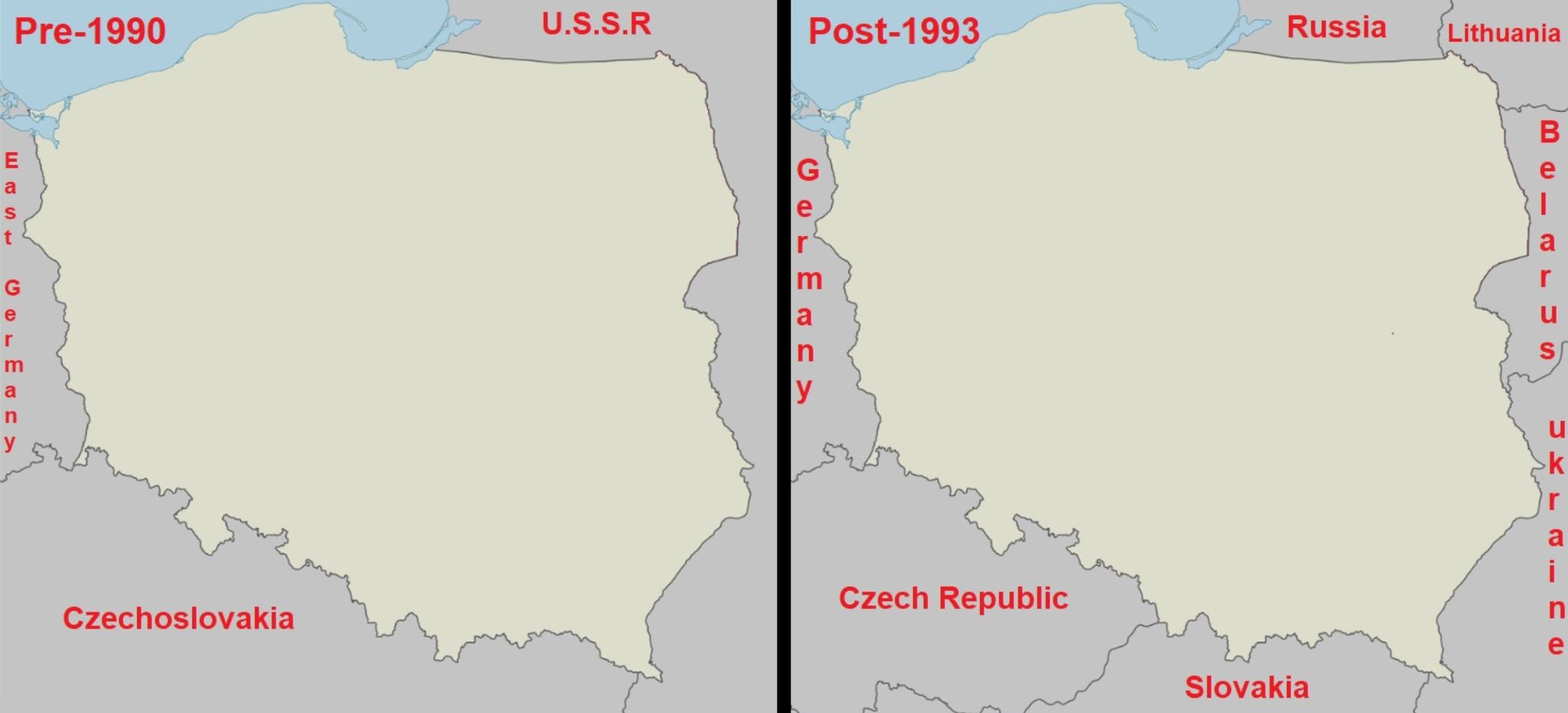 Amazing Maps - Countries surrounding Poland pre-1990 and post-1993 - all change!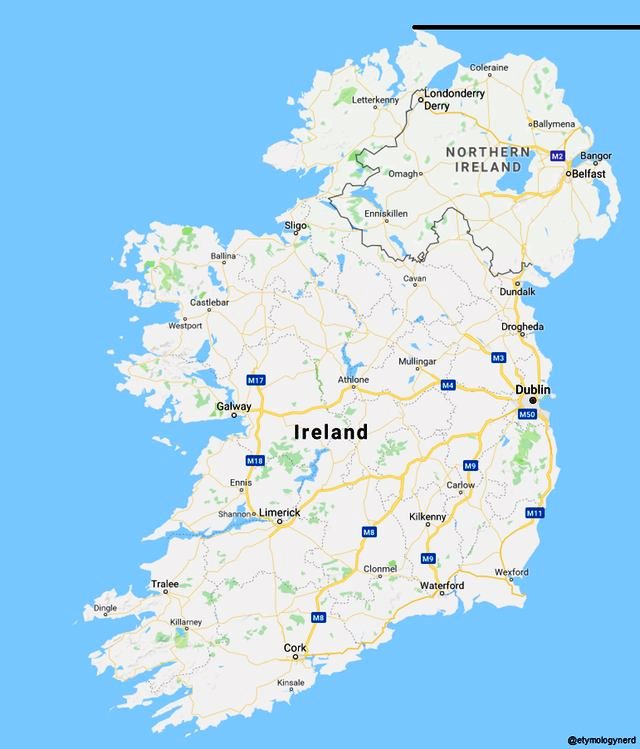 Amazing Maps - Parts of the Republic of Ireland are further north than Northern Ireland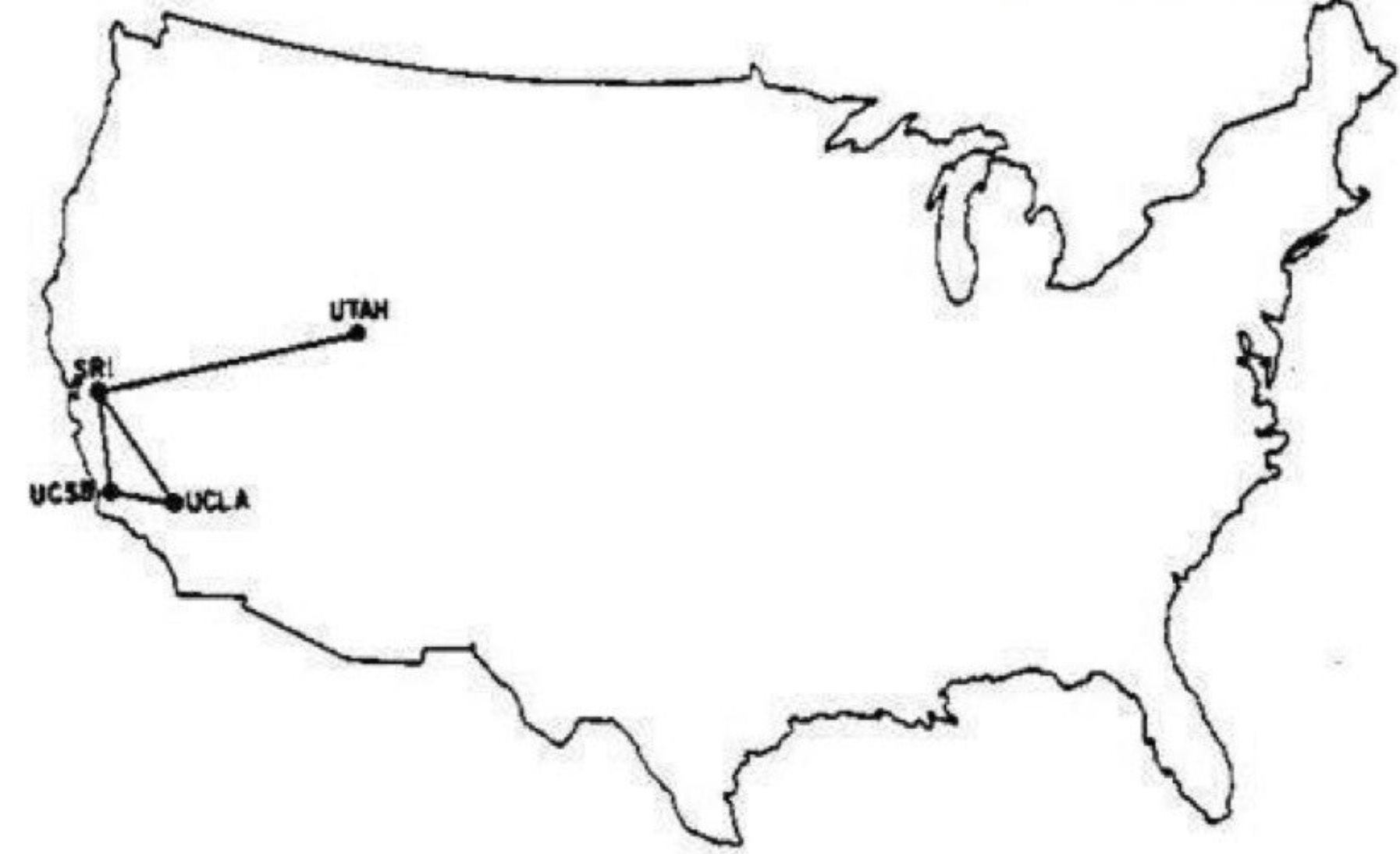 Amazing Maps - Map of the Internet in 1969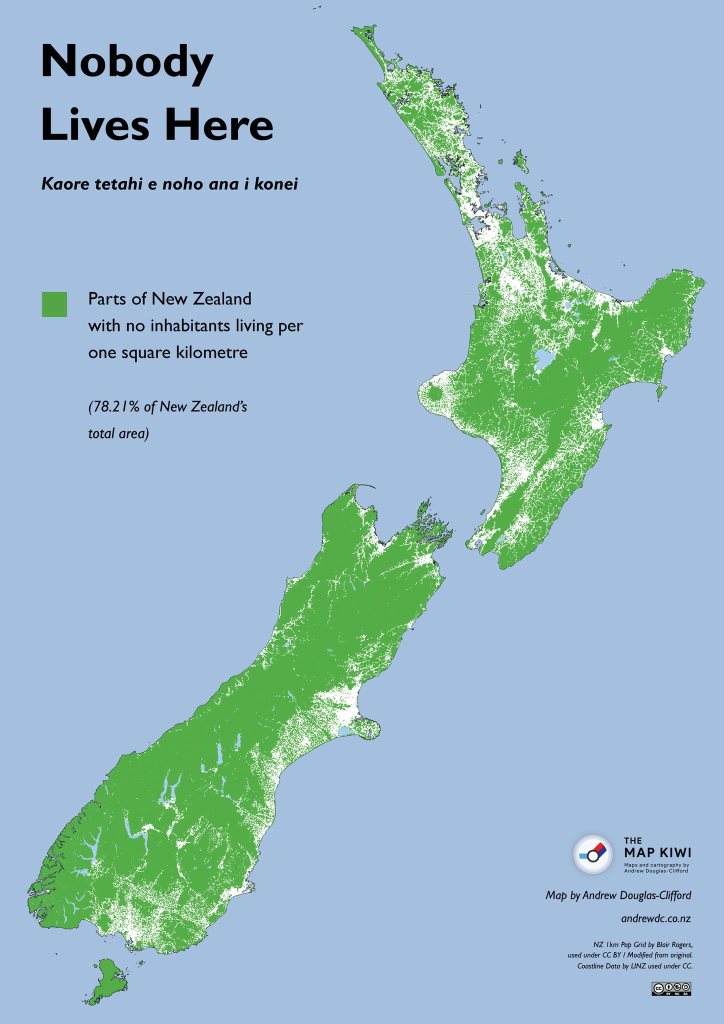 Amazing Maps - Map Kiwi - Nobody lives here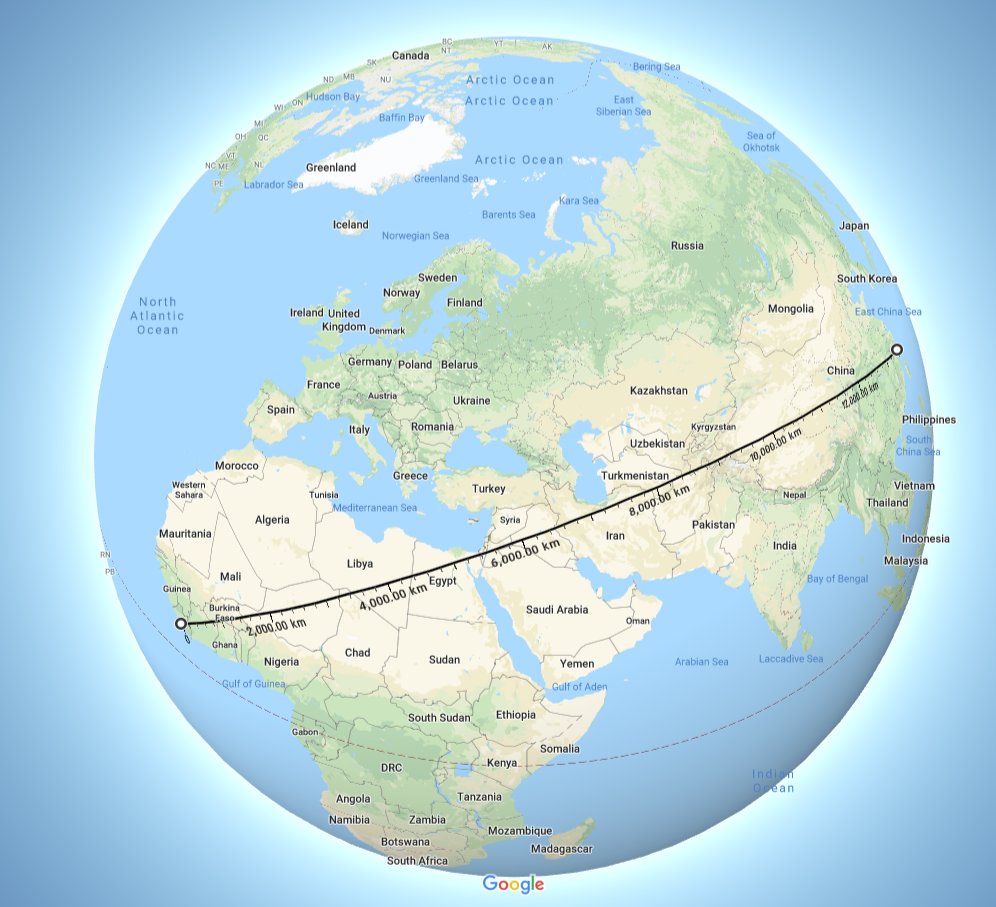 Amazing Maps - Straight 13,500km line from Liberia to China without crossing an ocean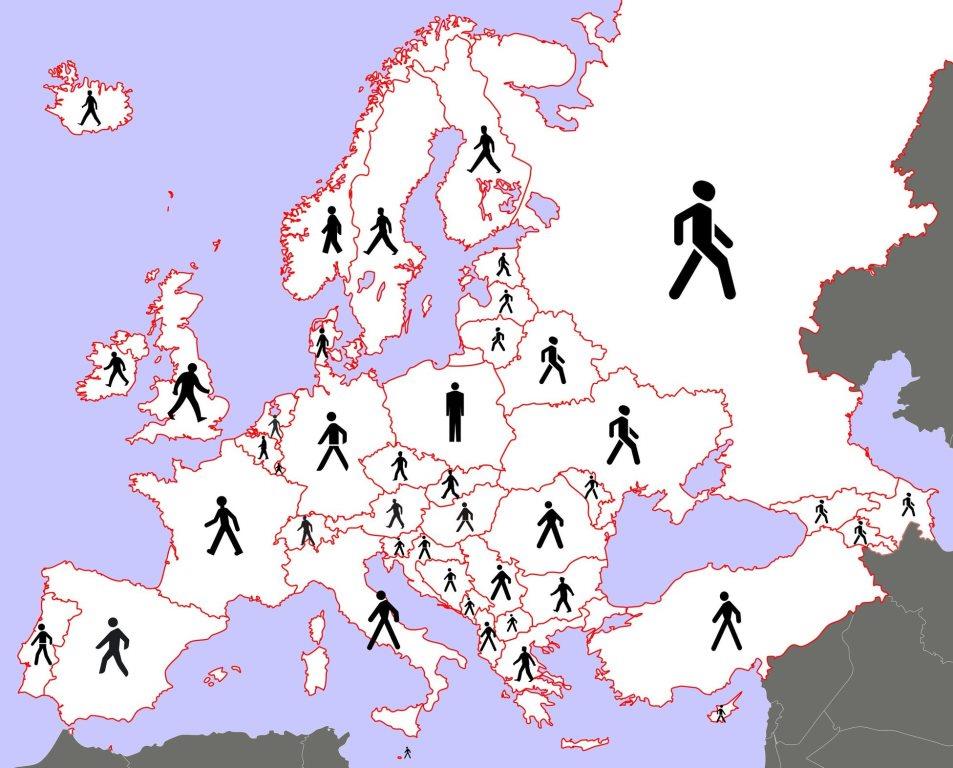 Terrible Maps - What pedestrians look like across Europe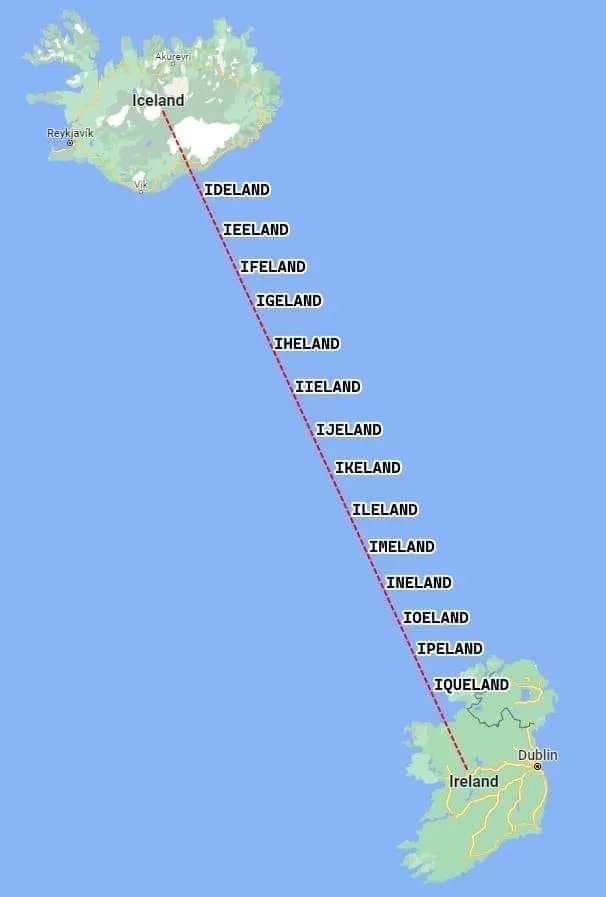 Terrible Maps - Iceland to Ireland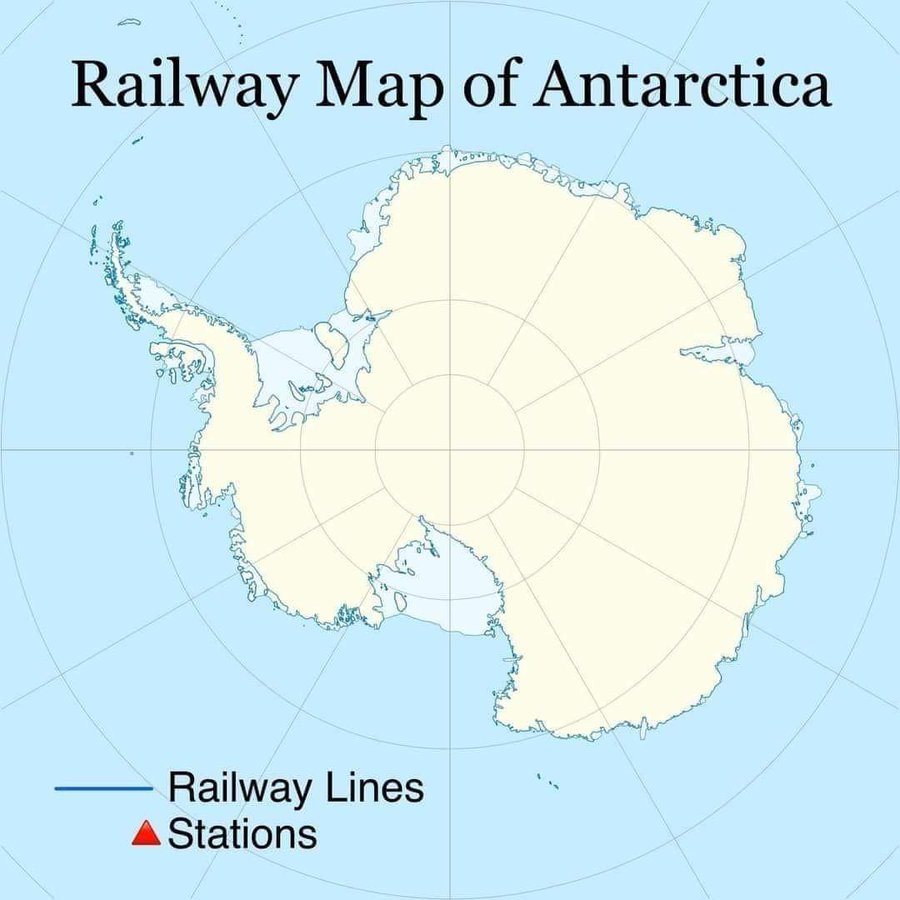 Terrible Maps - Railway map of Antarctica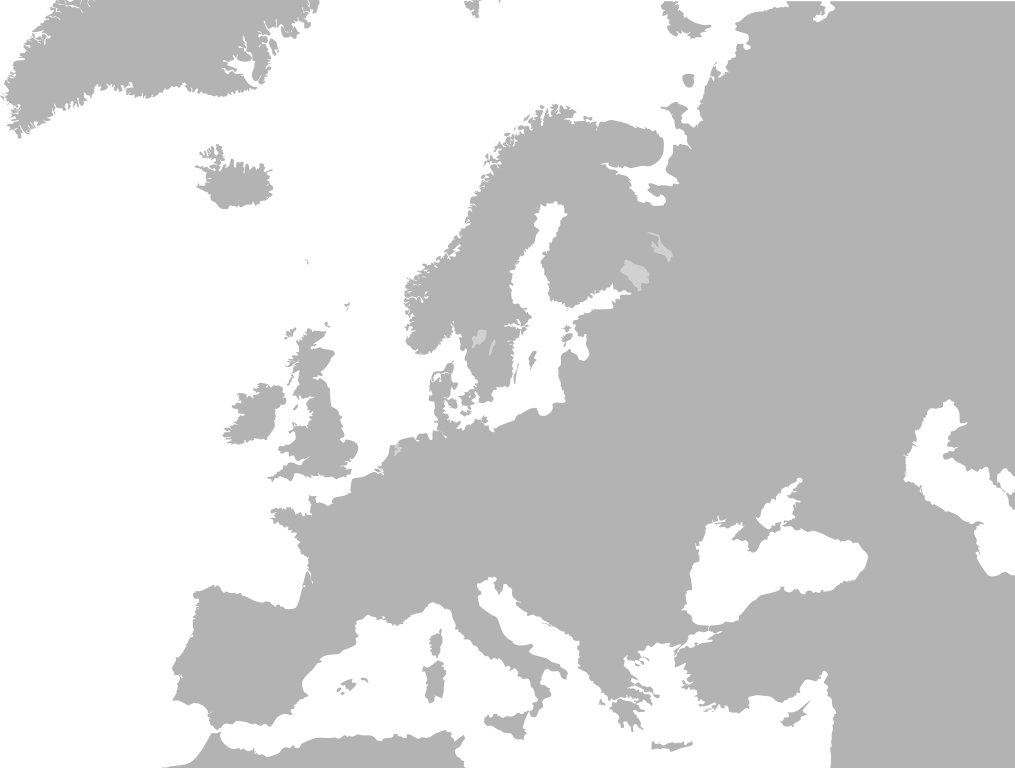 Terrible Maps - Roman air bases in 2nd Century AD

Friday 6th January


Whoopee! The Iron Maiden postage stamps have been ann­ounc­ed, av­ail­able from 12th Jan­uary. You can pre-order now - hurry! rush! - at the Royal Mail shop:

. Click/tap to enlarge all images below.





Hmmm ... still with the head of Queen Liz II. Planned for some time, then? A whiff of hoax? Apparently not. Iron Maiden manager Rod Smallwood said: "It's incredible to think that Her Majesty, may she rest in peace, saw these and lent her iconic silhouette to them."

This is my kind of news, perfect for a lighter 2023. Not only snaps of band gigs over the years, but also a sel­ect­ion hon­our­ing "mas­cot" Eddie:





The Maiden website explains the four above:
'Iron Maiden' Eddie: The stare that started it all. Born in 1980 - on the cover of the band's debut album.
'The Trooper' Eddie: The unforgettable artwork for one of Iron Maid­en's great­est hit sing­les and, more rec­ently, the logo for their award-winning beer.
'Aces High' Eddie: Reimagined as a fighter pilot for a song hon­our­ing the RAF serv­ice­men who def­ended Brit­ain during the Sec­ond World War.
'Senjutsu' Eddie: Samurais, feudal Japan and flashing blades insp­ired this kat­ana-wield­ing war­rior, from the band's most recent album.
Just what you'd want to stick on the Christmas thank-you let­ter to Aunt Dor­othy, right?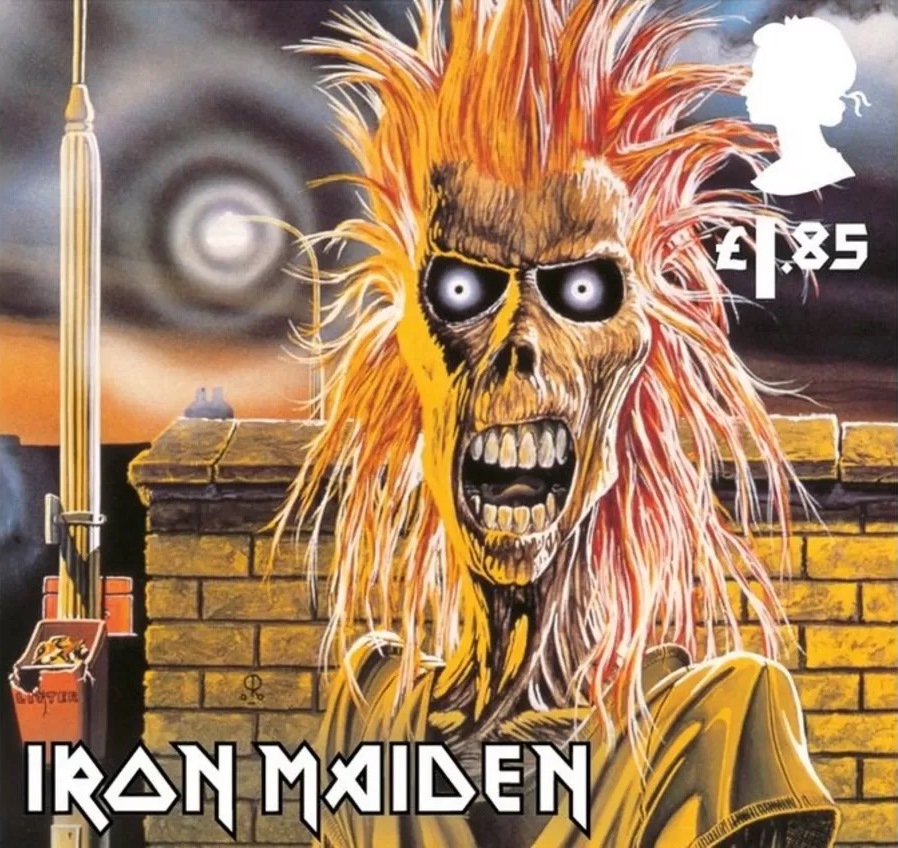 I have never wittingly heard an Iron Maiden song, nor watched a video, let alone been to a gig. BUT ... I have been flown to Cors­ica by lead singer Bruce Dick­in­son, who used to moon­light as a pilot for char­ter air­line Astr­aeus in his music down­time. I dis­cov­ered yest­er­day that we att­ended the same school; he was six years my jun­ior ... and sens­ibly got expel­led.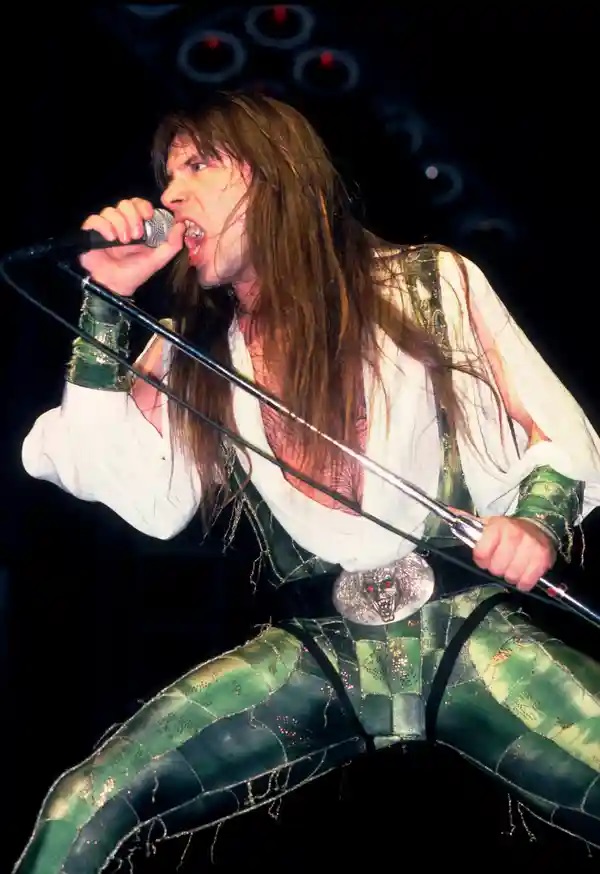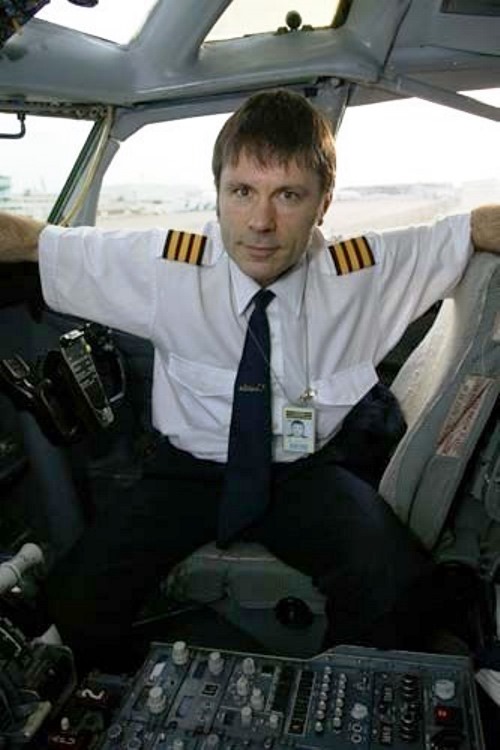 Maiden commissioned an Astraeus 757 as transport for their "Some­where Back in Time" tour in 2008 and nick­named it Ed Force One ... driven of course by Capt­ain Dick­inson: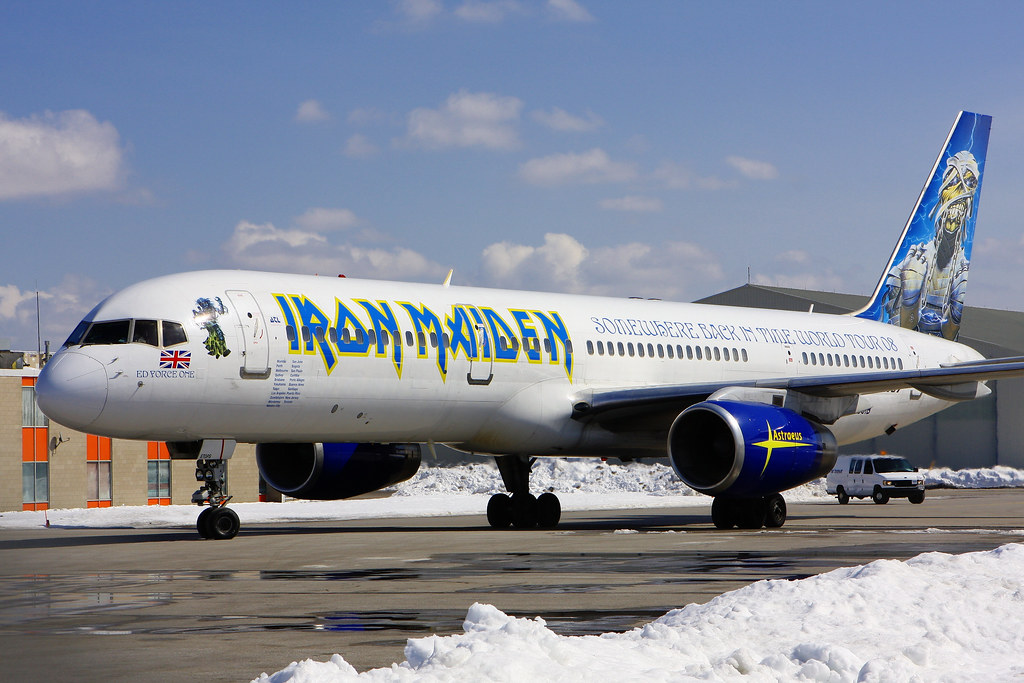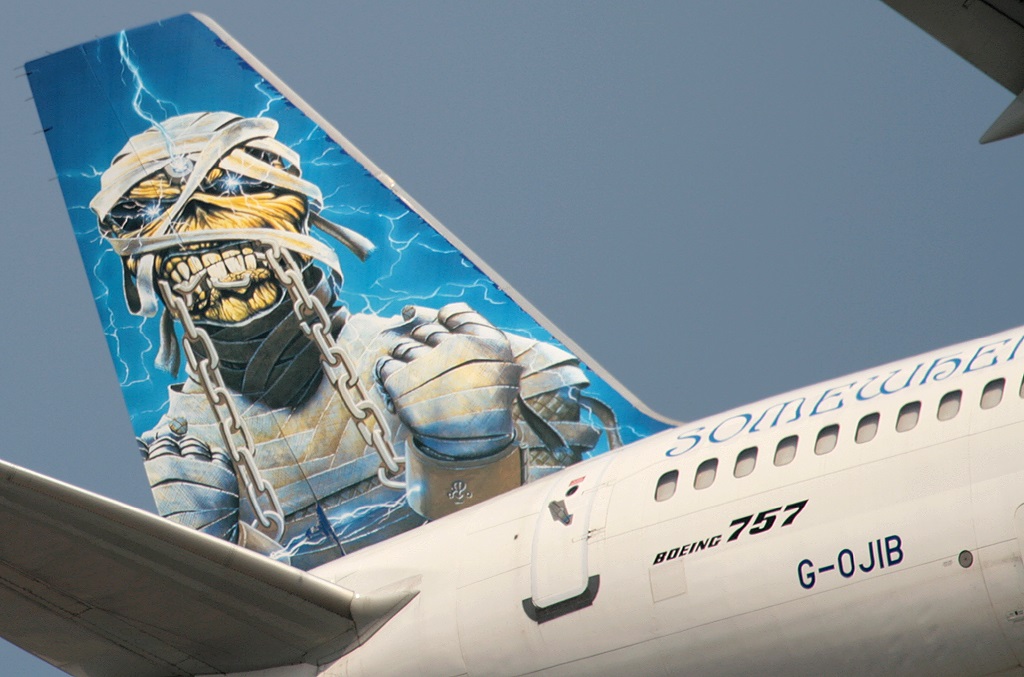 Thursday 5th January


Some days you need a little something to get going. Oliver Reed called his first drink a "heart-starter". I've listened to this the last two mornings:




"Don't ask me what I think of you,
I might not give the answer that you want me to"

RIP (25th July 2020) Peter Allen Greenbaum. Off his head, bless 'im. Danny Kirwan - typical of Green, the greatest English blues guitarist, that he let other people play the lead solos on songs that he had written - is also sadly no more. But I still have a copy of the "dustbin" album: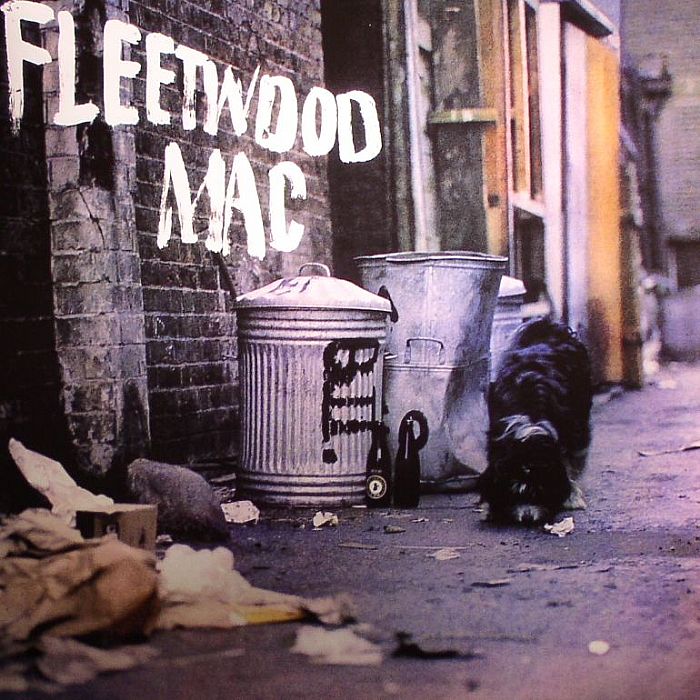 Jeremy Cedric Spencer - maracas in the video above - is still playing: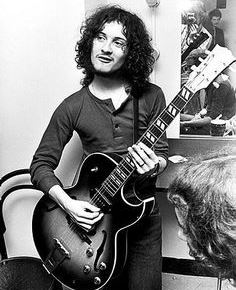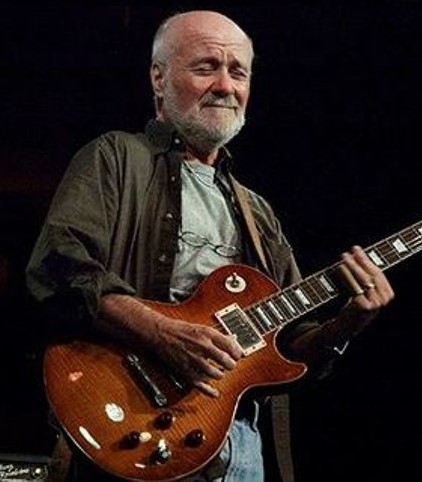 Wednesday 4th January


Please indulge me today as I go personal and reflect on the family visit at Christmas ... and beyond ...

What pleases me as much as anything is how the children thoroughly reject in thought and action the mean-spirited concept of Brexit ... and embrace Europe, indeed the world. The boys also seem to have adopted my liking for offal (warning for those who are not fans of seriously anatomical food, see below).

Nikko was back from Vienna with his daughter, who is half Serb­ian Vien­nese. He ret­urned to Aust­ria in time to cel­ebr­ate New Year in the wilds of Slov­akia with his girl­friend, who is Iranian. The food included meze and Basque haggis, a present from Ben.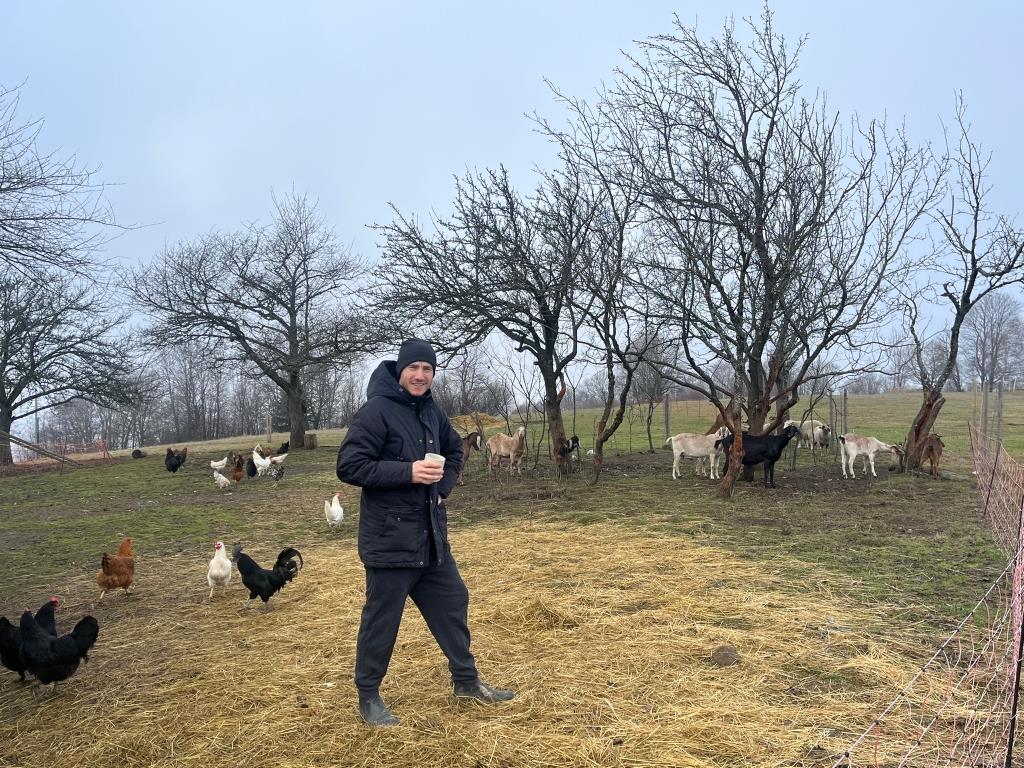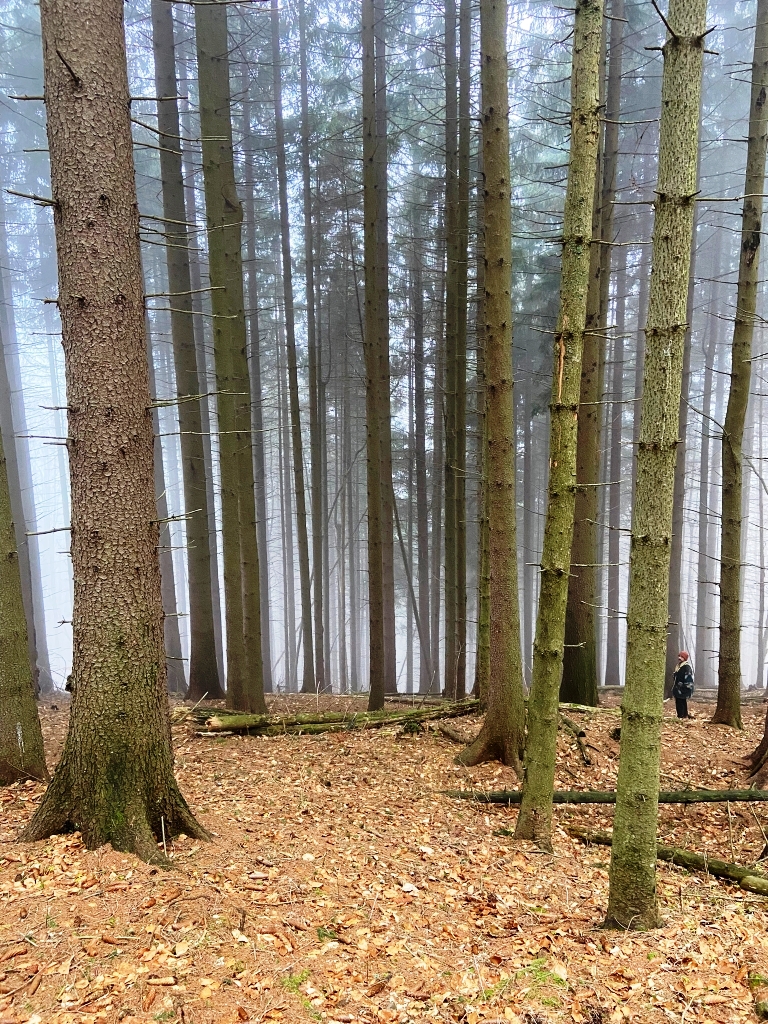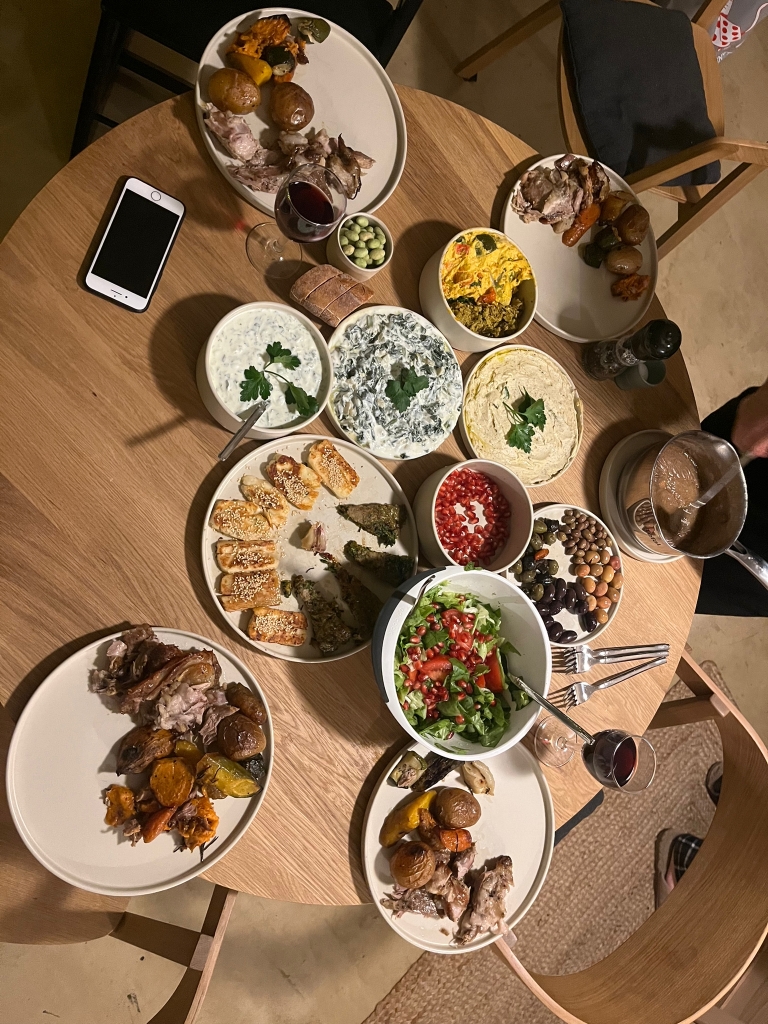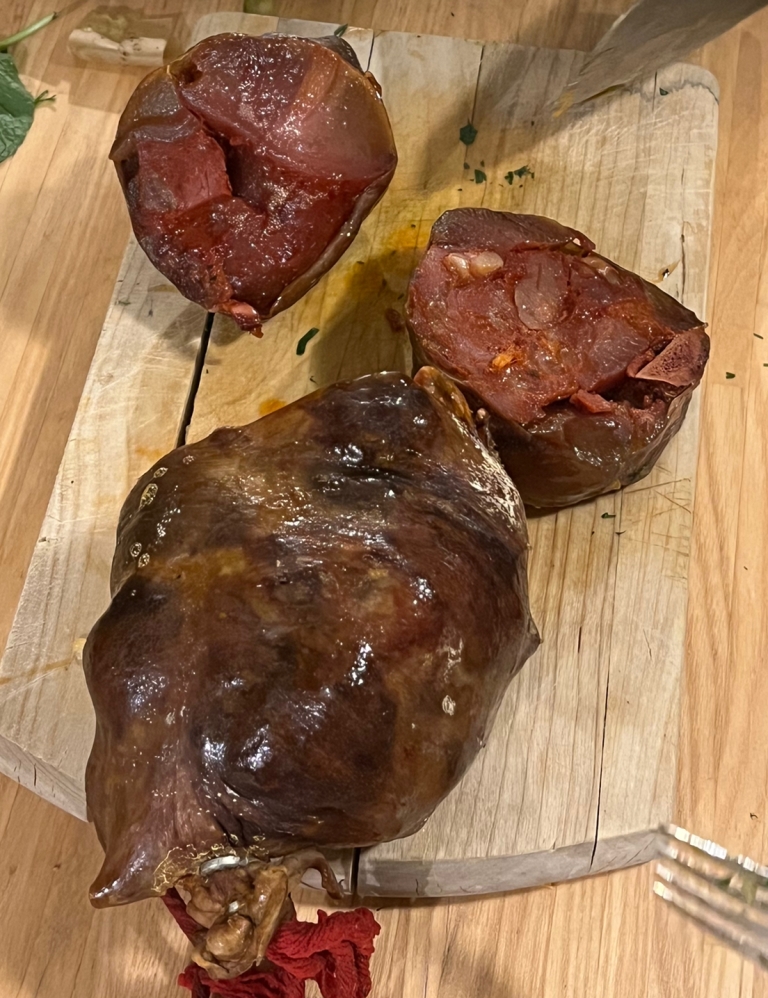 Ben and partner Soph are heading back to Bilbao today. They man­aged a trip while over here to rem­ote Powys, stay­ing near Mach­ynll­eth in the house bel­ong­ing to our friends Liz and Martin White­side. To date there is no "hard border" at Chepstow.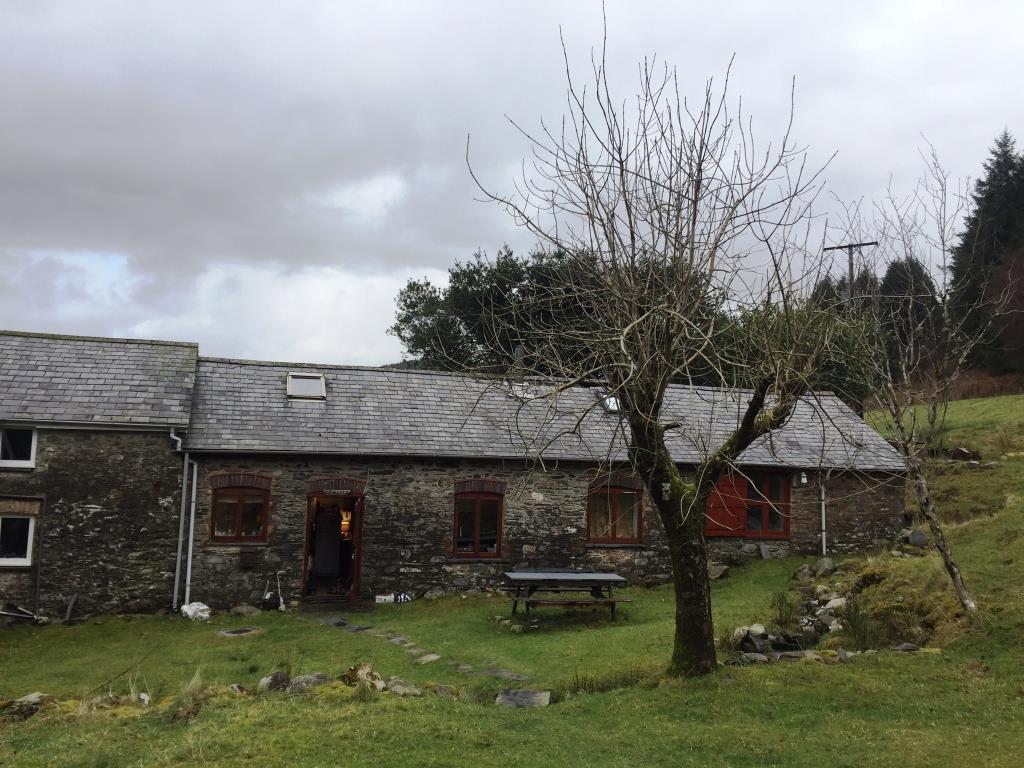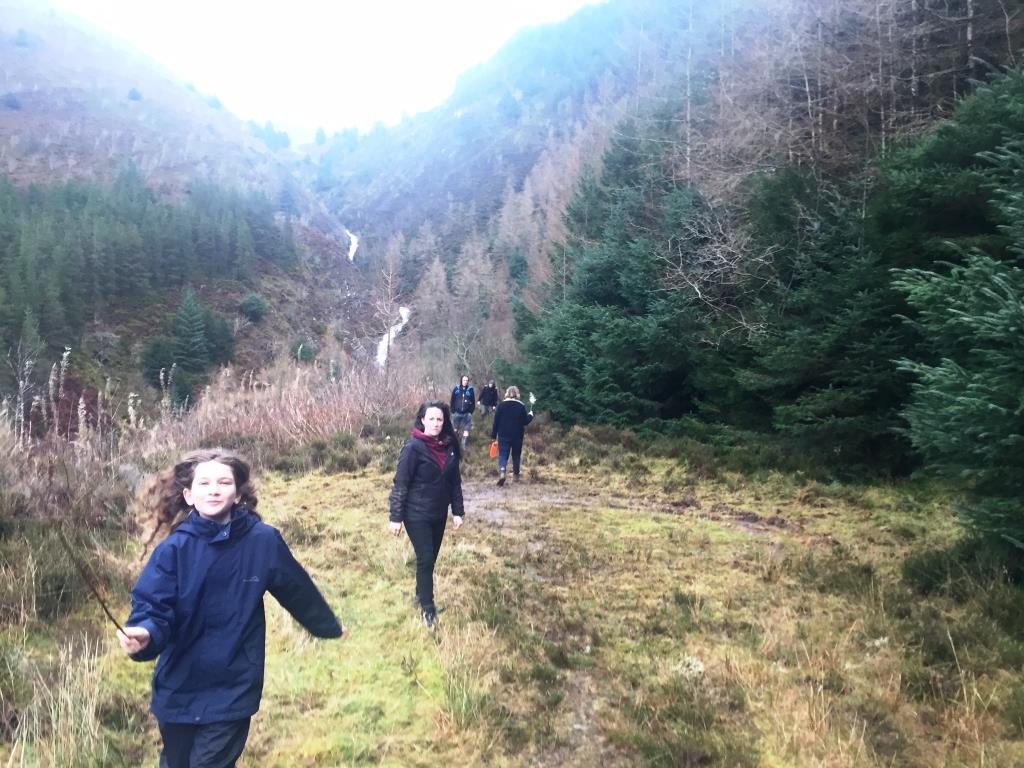 Meanwhile, I'm still here in Stroud. But about to put my Christmas gift from Ben in the slow cooker ... morcilla and alubias de Tolosa: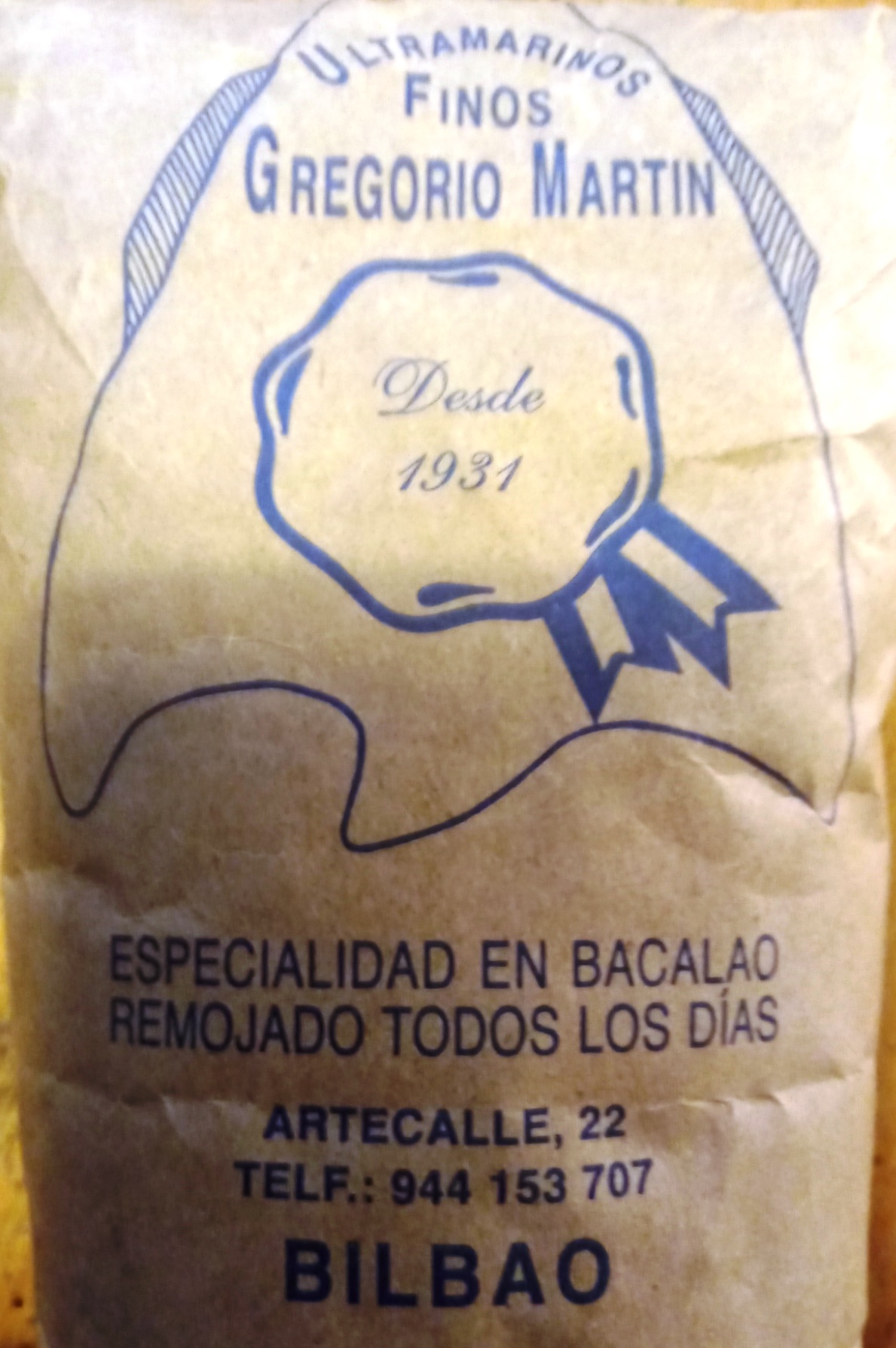 To hell with the 2016 referendum 🖕

Tuesday 3rd January


Just one map today. In 2022 the planet's (human) pop­ul­at­ion pas­sed 8 bil­lion. Where are we all? Click/tap to en­large this chart (cour­tesy of Vis­ual Cap­it­al­ist) - then zoom-and-scroll or what­ever you usu­ally do: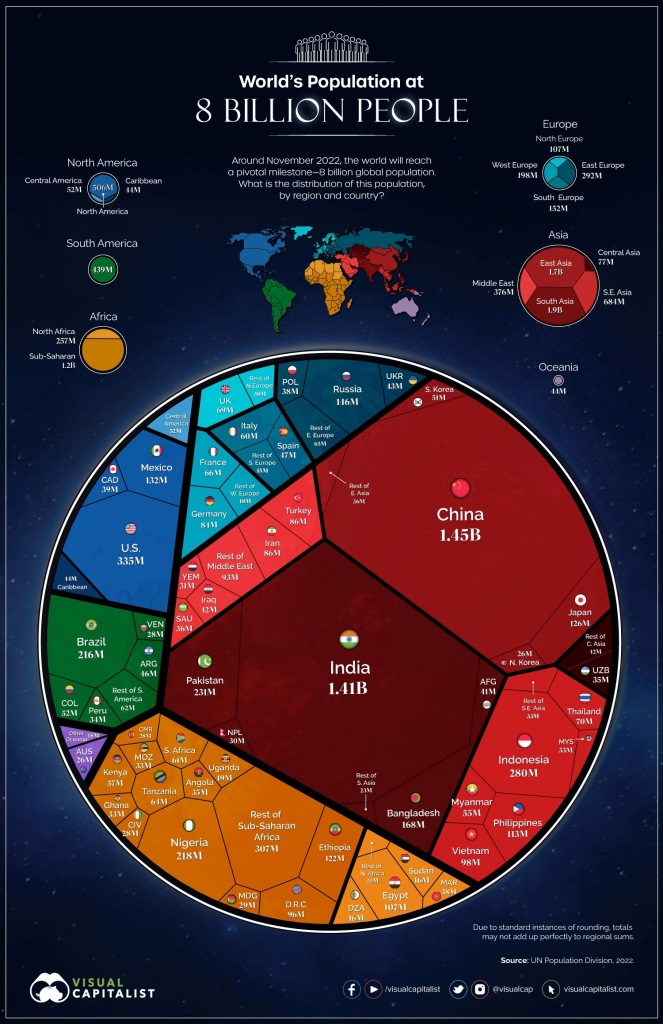 Monday 2nd January


This new year I've decided not to do a summary of the previous twelve months. We all know too much about it al­ready. Inst­ead - the only look­ing back I'll do - I'm post­ing a char­ming and ing­eni­ous Sgt. Pep­per "in mem­or­iam" trib­ute by grap­hic art­ist Chris Barker to many (187) of those we lost in 2022. A pic­ture, numb­ered key and list of names. You will have to "click to enl­arge" to see the det­ail, pref­er­ab­ly on the larg­est screen you own.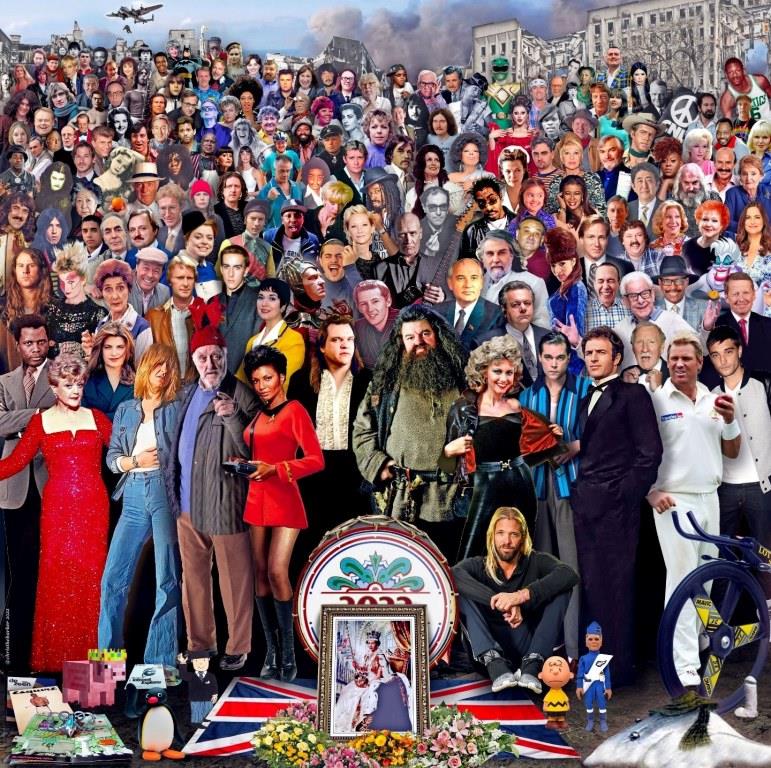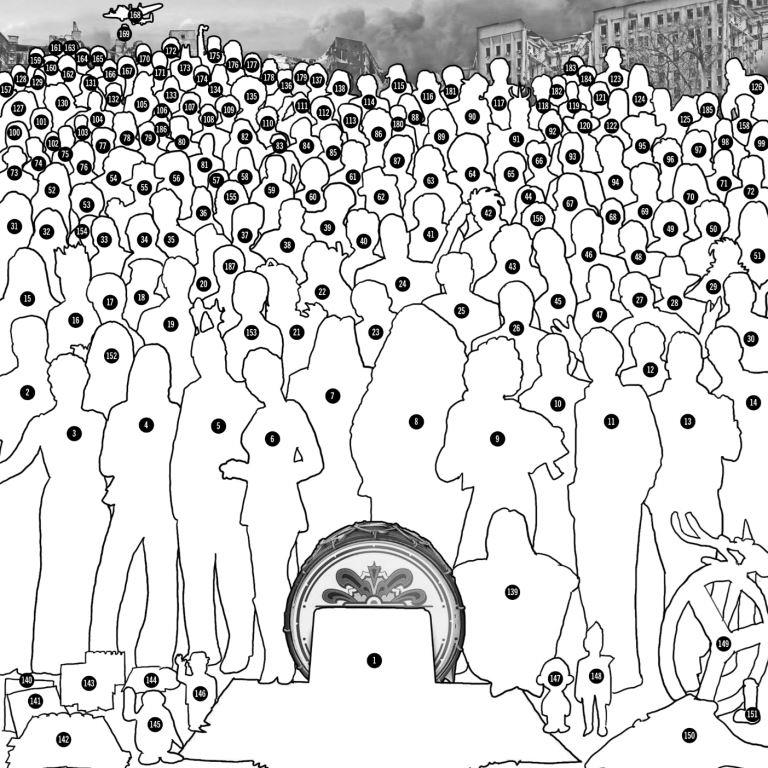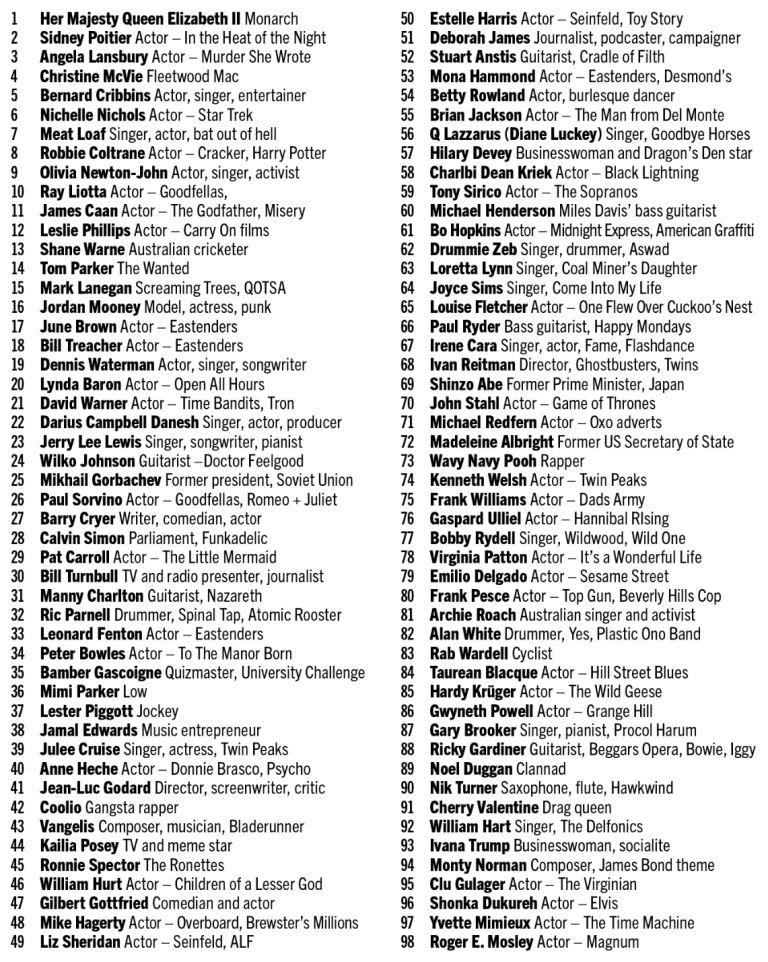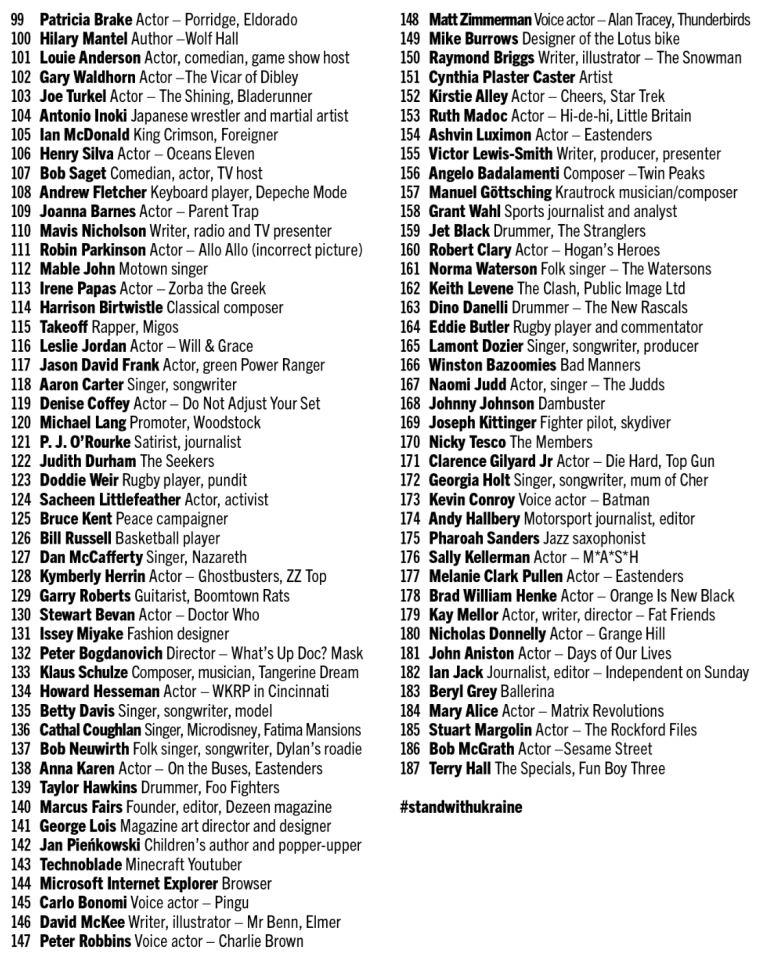 Sunday 1st January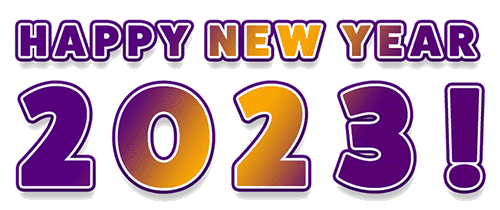 I hope you all had a good Twixmas.

Resolutions, eh? I've decided that I have only one, which I will apply to all of those others I have carried forward from previous years with cons­um­mate pro­crast­in­at­ion. "Do it dif­fer­ent­ly". This means that when I falter, for example when tempted to break the promise I've made to go to the gym, I'll seek a way to get round my obj­ect­ions or sub­stit­ute an equa­lly ben­ef­ic­ial alt­ern­at­ive.

The Christmas break has been marked in this house by a not­able abs­ence of news cons­ump­tion, with cons­equ­ent lift­ing of the spirits. Kids, cooking, eating, visits to the local, breezy out­ings on the common. Precious little "dooms­croll­ing". Al­though I've spoken in these pages about the effect of dig­est­ing grim media output in recent years, I'm late in coming to this term, which Mark Bara­bak of The Times def­ined as "an exc­ess­ive amount of screen time dev­oted to the abs­orp­tion of dyst­op­ian news." Odd, because it grew out of lockdown-induced Covid pand­emic dist­ress, which is where this blog started. It was one of the "words of the year" chosen by the Oxford Dict­ion­ary in 2020. Mer­riam-Web­ster had this at the time:


"Doomscrolling and doomsurfing are new terms refer­ring to the tend­ency to cont­inue to surf or scroll through bad news, even though that news is sad­den­ing, dis­heart­en­ing, or dep­ress­ing. During times of crisis and un­cert­ain­ty, some of us pay more att­ent­ion to the news, looking for ans­wers. And this might not surp­rise you, but we have to say it: a lot of the news is bad. And yet we keep scrol­ling, keep read­ing art­icle after art­icle, unable to turn away from inf­orm­at­ion that dep­resses us."


Guilty as charged. So ... do it differently.

I can't ignore world events, nor should I. That would be "news avoid­ance", anot­her phen­om­en­on I've missed that has grown in the nearly three years of this blog. It's a nat­ur­al reac­tion for many - I've been temp­ted - but not neces­sar­ily a good thing, as evid­enced in the title of a Sept­emb­er 2022 paper I spot­ted - "How News Feels: Anti­cip­ated Anx­iety as a Factor in News Avoid­ance and a Bar­rier to Pol­it­ic­al En­gage­ment", by Benj­am­in Toffa, Univ­ers­ity of Min­nes­ota, and Ras­mus Kleis Niel­sen, Univ­ers­ity of Ox­ford (19 pages):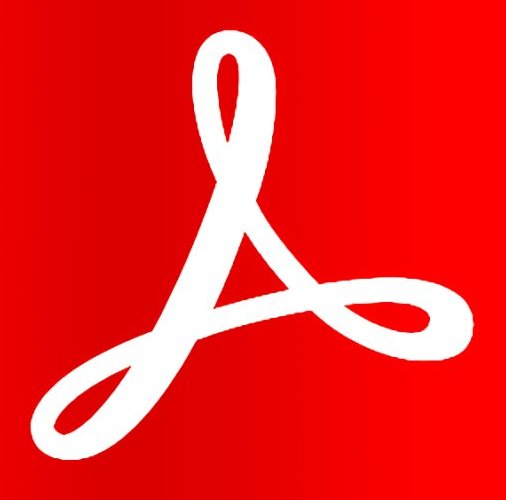 . No need to read this rather tur­gid bit of res­earch, I've only pos­ted it for comp­lete­ness - it was the idea and title that caught my att­ent­ion.

I don't want to be politically disengaged but I need balance this year. Con­cent­rate on use­ful act­ion rather than mood­ily over-obs­erv­ing, like giving sup­port to Stroud's refu­gee camp­aign group, any­thing that will remove the Tor­ies from off­ice, mit­ig­at­ion of Brexit damage.

I may throttle back my love affair with political cartoons. Here's just one for the New Year, courtesy of Kevin "Kal" Kall­augher, cart­oon­ist for The Econ­om­ist and the Balt­im­ore Sun. I intend to give less mental house room to these people (click to enlarge):